By Simon Ward
Economist Simon Ward discusses characteristics of the MSCI EM equities index, raising questions about its suitability as a benchmark for emerging markets investing.
The characteristics of the MSCI Emerging Markets (EM) equities index have changed significantly in recent decades, raising questions about its suitability as a benchmark for EM investing.
The index is now dominated by China, the weight of which rose to 33.2% on June 1 following the addition at end-May of more than 200 A shares with an inclusion factor of 2.5% of their market capitalization.
China's weight on June 1, surprisingly, was not the largest single-country weight in the history of the index - Malaysia's weight was 33.8% at the inception of the index on January 1, 1988, when there were only 10 country constituents compared with the current 24 - see first chart.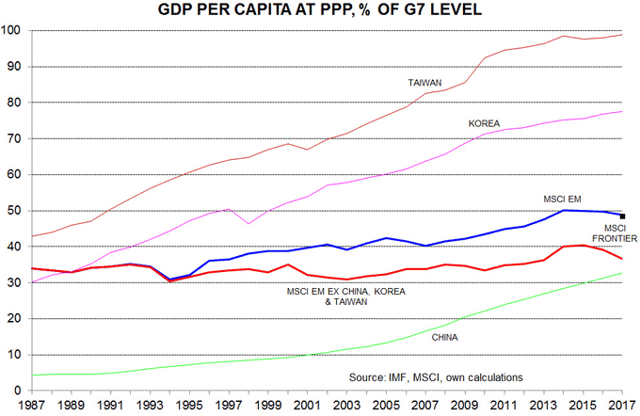 The largest single-country weight, however, has averaged 20.5% over the 30-year history of the index - well below the current Chinese level. China's weight, moreover, is likely to increase further - the A share factor is scheduled to rise to 5% at end-August, while it is reasonable to assume full inclusion within 10 years. (The phased inclusion of Korea and Taiwan in the 1990s/2000s occurred over seven and nine years, respectively). MSCI previously estimated that China would account for about 42% of the index if the A shares were included fully, based on then-prevailing market capitalizations.
The rise of China has resulted in the index providing less regional diversification. At end-1999, Europe, the Middle East and Africa (EMEA) accounted for 31.5% of the index, with Latin America at 28.2%. The weights on June 1 were 13.9% and 10.6%, respectively, with Asia up to 75.5%. Asia's weight could exceed 80% if/when the Chinese A shares are fully included - second chart.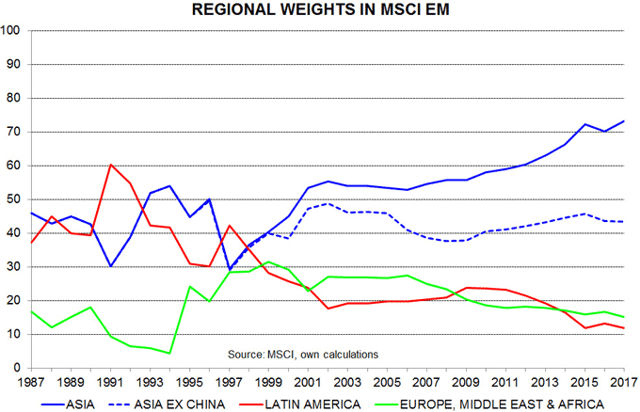 The index has also become less "emerging." The third chart shows the relative income levels of the EM index (a market capitalization-weighted average of the constituent countries) and selected countries. Relative income is measured by GDP per capita at purchasing power parity expressed as a percentage of the G7 level. At its inception in 1988, the index represented countries with an average income of about one-third of the G7 level. That proportion has risen to about a half, mainly reflecting the inclusion and rapid growth of Korea and Taiwan. Taiwan's GDP per capita is now close to the G7 average while Korea's is within the G7 range. From an economic perspective, neither country should be represented in an EM index.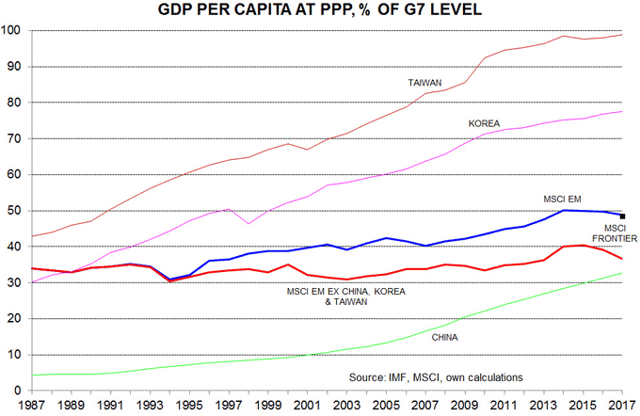 Investors, arguably, should now allocate to Korea and Taiwan within the developed markets portion of their equity portfolio. Removing them from the EM benchmark, however, would further magnify China's dominance. There is a case for separating out China to reflect its size and unique economic characteristics and to make explicit the allocation decision between China and the rest of EM - in the same way that investors often separate a developed markets portfolio into U.S. and "international" buckets.
Stripping China, Korea and Taiwan from the MSCI EM index would create a benchmark with similar characteristics to the "old" EM index: GDP per capita of the benchmark constituents would be less than 40% of the G7 level - third chart - while the weights of EMEA and Latin America would be much closer to that of Asia - fourth chart.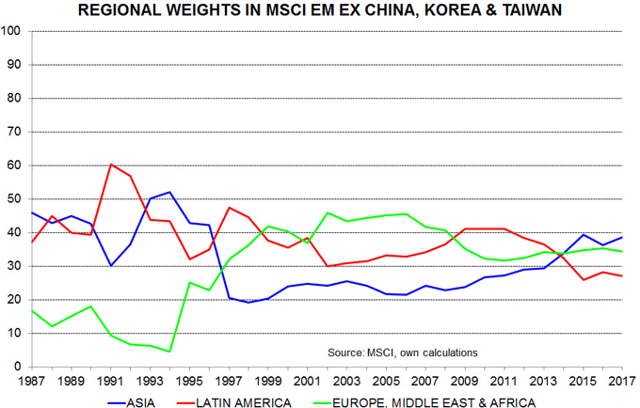 Disclaimer: Please consider the charges, risks, expenses and investment objectives carefully before investing. Please see a prospectus or, if available, a summary prospectus containing this and other information. Read it carefully before you invest or send money.
The opinions and views expressed are as of the date published and are subject to change without notice. They are for information purposes only and should not be used or construed as an offer to sell, a solicitation of an offer to buy, or a recommendation to buy, sell or hold any security, investment strategy or market sector. No forecasts can be guaranteed. Opinions and examples are meant as an illustration of broader themes and are not an indication of trading intent. It is not intended to indicate or imply that any illustration/example mentioned is now or was ever held in any portfolio. Janus Henderson Group plc through its subsidiaries may manage investment products with a financial interest in securities mentioned herein and any comments should not be construed as a reflection on the past or future profitability. There is no guarantee that the information supplied is accurate, complete, or timely, nor are there any warranties with regards to the results obtained from its use. Past performance is no guarantee of future results. Investing involves risk, including the possible loss of principal and fluctuation of value.
Terms of Use
Janus Henderson Investors © 2001-2018. All rights reserved.