Dividends and dividend growth are simple factors that can help investors find a wonderful basket of companies, whether they buy the individual stock holdings, or buy an ETF. Dividends will find profitability. As they say ...
You can't fake a dividend.
Or let's say you can't fake a dividend for too long. If you're faking, eventually you'll be exposed.
Dividend growth can help investors find a long track record of business success. As I like to write, a meaningful dividend growth history is a divining rod that has a habit of finding wonderfully successful companies that have the potential to continue that business success. That's why Benjamin Graham suggested that we the defensive or unsophisticated investors insist on at least a 20 year history of dividend payments. Benjamin Graham is the godfather of dividend growth investing. He was attempting to help 'protect' investors from too much speculation and guesswork. He was trying to attach some form of safety net; but of course no investment approach is infallible.
The Dividend Aristocrats (BATS:NOBL) and the Dividend Achievers (NYSEARCA:VIG) are two of the most popular funds for finding a meaningful dividend growth history. The Achievers Index demands at least 10 years of dividend growth, while the Aristocrats Index goes the distance and requires at least 25 years of dividend growth. Of course, it's a tall order for a company to be able to increase its dividend for many years, never mind for decades.
What we might find with these types of companies is more stable or consistent business success compared to the broad based market such as the S&P 500 (IVV) or the more inclusive total market funds such as Vanguard's (VTI) that holds over 3600 stocks. We might find more reliable dividends and more reliable dividend growth. For the total return oriented investor, we might find better risk adjusted returns.
Vanguard launched VIG in 2006. Courtesy of portfoliovisualizer.com, here's VIG vs the S&P 500 index, from June of 2006 through to end of June 2018. Portfolio 1 is VIG.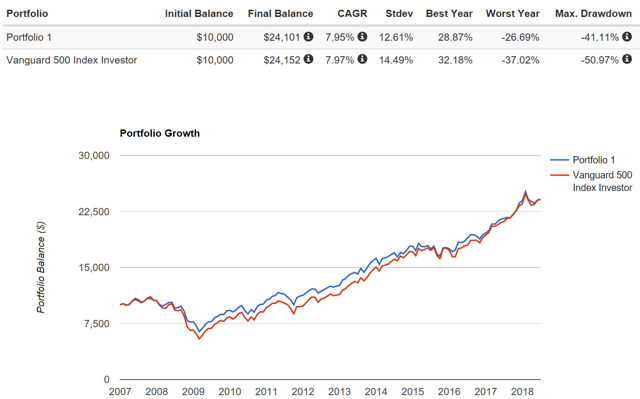 It's a virtual tie with respect to total returns. But we see lesser volatility and a lesser drawdown in the last major market correction by way of VIG. VIG has delivered better risk adjusted returns through a market correction. The total return advantage is created by that lesser drawdown through that major market correction of 2008-2009. If we start the clock in January of 2009 we see a different picture.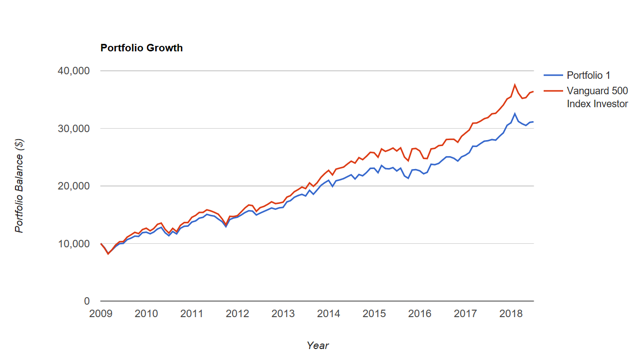 Of course the recent success of the cap weighted S&P 500 has been delivered courtesy of the technology sector and to some degree those popular FAANG Stocks of Facebook (FB), Apple (AAPL), Amazon (AMZN), Google (GOOG) and Netflix (NFLX).
While there is a technology component to VIG, it is only 9.1% of the index weighting, and that is dominated by the top holding of Microsoft (MSFT) and Texas Instruments (TXN) in at #9 for the index and VIG.
All told, we see the same returns from inception. The reason for that event is because the market can be quite efficient or consistent in pricing the large cap stocks. And certainly there is so much overlap between VIG and the S&P 500, it's more than difficult to break away from the index that we are usually recreating or mimicking. Most active managers are index trackers, knowingly or not. Of course when one creates a mutual fund, they will typically track or skim an index and charge some large fees for the 'service'. A retail investor might also unknowingly track an index or indices blend. The retail investor might then simply be spending an awful lot of time evaluating individual holdings with no added benefit. If they get very active, or emotional, they will often create opportunity costs.
And these days perhaps the markets are getting even more efficient, so suggests The Economist, and Dale.
So how about that VIG vs NOBL? While the Dividend Aristocrat Index has been tracked for quite some time, the ETF NOBL has a shorter history from late 2013. Here's a look at that brief history. Portfolio 1 is VIG, Portfolio 2 is NOBL. Oh, did I mention past performance does not guarantee future returns?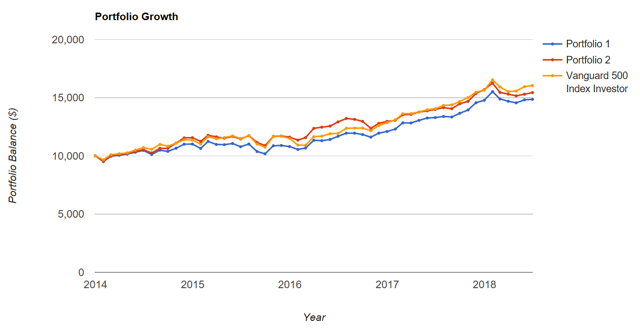 While there's been no major correction, we did not go through a market cycle, we see that The Aristocrats are off to an early lead over The Achievers. As expected NOBL also trails the S&P 500. While not a major test, we do see that NOBL had a lesser drawdown through the modest market declines in 2015.
On the income front there is a slight advantage for VIG. The following graph is based on an initial investment of $10,000.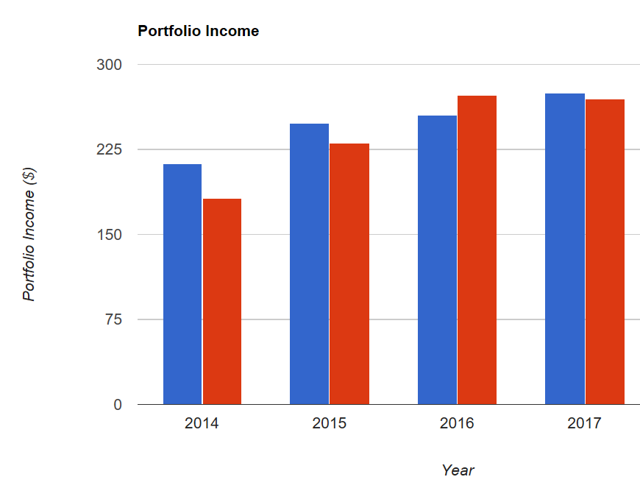 Of course, while NOBL has a brief history the Aristocrats Index has been tracked for quite some time. Seeking Alpha readers are fortunate to have Ploutos who delivers simple strategies with a history of beating the markets. Here's his latest on the Aristocrats with 5 Ways to Beat The Market: Update on Dividend Growth. In that article, Ploutos demonstrates the long term outperformance of the Aristocrats over the S&P 500, once again delivered courtesy of lesser drawdowns through major market corrections.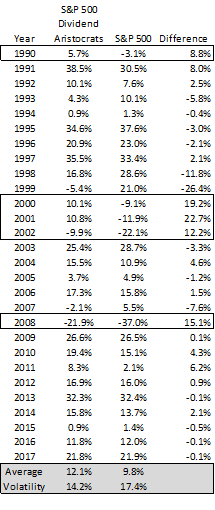 The Achievers did not hold up as well as the Aristocrats in 2008.
-21.9% for the Aristocrats vs - 26.7% for the Achievers (according to portfoliovisualizer). It may be no surprise that the greater history of dividend growth for the Aristocrats delivered greater stability. A 25 year history of increasing dividends might mean that a company has to maintain its business strength and success through two market cycles. We might get a better best of breed by way of those Aristocrats. That said, we don't know how this will play out, it's possible that with the 'lesser cap' nature of the Achievers there's the potential of greater total returns by way of VIG. There might be stronger earnings growth (over time) from those Achievers.
In the end, I think Mr. Benjamin Graham was onto something here. The Achievers and Aristocrats are likely wonderful investments for those who seek generous total returns with lesser volatility. It might be simple logic to suggest that a quarter century of dividend growth might equal greater dividend health and a group of companies more able to weather those nasty storms.
If one is an index skimmer, they can certainly grab the Aristocrats among the Achievers. That would mean that those Aristocrats have passed the smart beta dividend health screens of the Achievers Index.
Maybe you'd create your own Achievocrats Index?
Author's note: Thanks for reading. Please always know and invest within your risk tolerance level. Always know all tax implications and consequences. If you liked this article, please hit that "Like" button. If you'd like notices of future articles, click the "Follow" button.
Happy Investing.
Dale