This article is the latest in the Market Sounds Of Summer series on Seeking Alpha.
"I can read the writing on the wall"

- Kodachrome, Paul Simon, There Goes Rhymin' Simon, 1973
The stock market has an increasing concentration problem. The U.S. stock market continues to hold up well despite the ails of the rest of the world. And one specific segment of the market is the primary driver of these ongoing gains. It makes the market look better than it otherwise would as long as this concentrated momentum lasts. Of course, what comes around goes around, and this same momentum will make the market look much worse than it otherwise would once this momentum breaks. Such will be the opportunity for the patient and calculated active investor once this break finally takes place.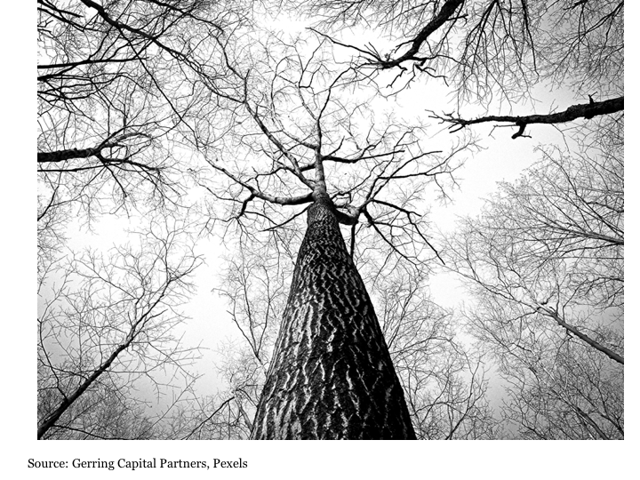 "Everything looks better in black and white"

- Kodachrome/Maybelline, Simon & Garfunkel, Concert In Central Park, 1991
Partying like 1999 all over again. The tech sector is once again the rage of the U.S. stock market. Highlighting the power of technology in today's market, it is the only sector other than financials and consumer discretionary that has outperformed the S&P 500 Index since the February 2016 lows nearly two and a half years ago now.
For financials, take out the month of November 2016 and it would be underperforming the S&P 500 Index by more than -5 percentage points instead over this time period.
For consumer discretionary, take out Amazon (NASDAQ:AMZN) and Netflix (NASDAQ:NFLX), which are technology adjacent stocks that just so happen to be in XLY, and this sector would also be underperforming over this time period.
In summary, you are left with only one sector in technology whose performance has been so powerful that it has left the remaining 10 sectors effectively underperforming the broader market for well over two years. Put more simply, without the tech sector, the performance of the S&P 500 Index would look quite a bit worse since February 2016 than the black and white headline returns suggest.
Consider the powerful momentum behind tech in the past year. Since last summer, every single sector has seen its weighting in the S&P 500 Index decline with the exception of two. Consumer discretionary has seen its weight increase by +0.6%. But once again, if you took out tech adjacent Amazon and Netflix, the weighting to consumer discretionary would have actually fallen by -1.0%. The other, of course, is information technology, which has seen its weighting in the S&P 500 Index increase by a whopping +4.0% over the past year to more than 26%, or more than one-quarter of the entire market. Only once in modern history has a market sector made up more than tech does today. That was technology back in 1999 and early 2000. Thankfully, we all remember how well that ended.
Consider the concentration of names driving tech. What is even more notable is that a select few names within tech are driving the entire sector higher. In other words, today's stock market is doubly concentrated. Gains are concentrated in one sector, and the gains within this sector are concentrated among a select group of names. Thankfully, we also know how well a stock market driven higher by a small handful of names also ends.
For the purposes of discussion, let's throw momentum faves Amazon and Netflix into the tech basket. This leaves us with a list of 12 names that are primarily responsible for driving the market higher. These names account for more than 80% of the increase in the tech sector's weighting in the S&P 500 Index over the past year (we've already discussed the impact of Amazon and Netflix on the consumer discretionary weighting). Also included for illustrative purposes is their total return since the start of last year to show how not red, not white, but scorching blue hot these stocks have recently been. It should also be noted that most of these are not little companies but already ranked among the largest companies in the world prior to their latest hot streak.
Apple (NASDAQ:AAPL) +111%
Microsoft (NASDAQ:MSFT) +127%
Amazon +270%
Facebook (NASDAQ:FB) +108%
Visa (NYSE:V) +83%
Intel (NASDAQ:INTC) +50%
Mastercard (NYSE:MA) +102%
Netflix +192%
Nvidia (NASDAQ:NVDA) +136%
Adobe (NASDAQ:ADBE) +150%
Salesforce.com (NYSE:CRM) +115%
Excuse me for a moment while I urgently step away to apply Neosporin and bandages to my fingers after typing in these blistering hot return numbers... Thanks, I'm back.
Once again, all are tech or tech adjacent. Lots of doubles on the above list too with a near triple and one near quadruple. And notably, all but one hail from the large cap growth segment of the market, with Intel as the lone representative from the large-cap value space. Notable.
"Mama don't take my Kodachrome away"

- Kodachrome, Paul Simon, There Goes Rhymin' Simon, 1973
Beautiful pictures, but a fundamental problem. For anyone wondering what momentum looks like, this is what it looks like in tabular form. And it looks beautiful when it is firing on all cylinders. But just as quickly as turning on a bright light in a photographer's dark room can ruin so many wonderful pictures, the switch can flip even more quickly to the downside once the momentum trade finally breaks. And the longer and further this "growth at any price" momentum trade runs, the more painful it will ultimately be.
When I think back on all the stuff I learned in finance. Let's just assume that these tech companies that are transforming the world to help justify their stock price gains are able to continue this growth into the future. And while the important consideration of "at what price?" has been suspended for the time being, it will eventually return. As a result, it is worthwhile to consider where these companies stand relative to their long-term average valuations even after factoring in their varying rates of success in growing their business as of late.
By my estimates - and I know some will vocally disagree including those select few that will explain what I don't understand about the dominance that Company X from the list above is set to enjoy in the year 2525 that explains why it is not overvalued but instead actually deeply undervalued today - each of the companies on the list of 12 companies mentioned above with the exception arguably of Facebook and Intel is currently overvalued anywhere between 25% and 100% or more over fair value. As for Facebook, it is still trading at 30 times earnings, which is a lofty valuation in its own right in absolute terms. And I would contend even Intel is currently overvalued by roughly 15% at the present time. Putting this all together and balancing it out across these 12 power names, they are collectively currently overvalued by about 45% to 50% on average.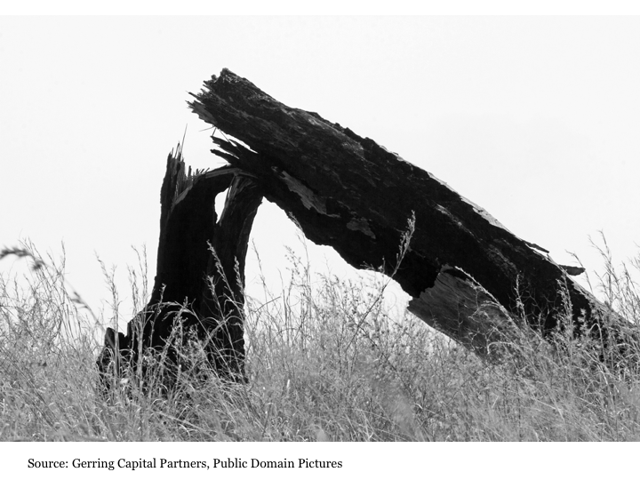 "Everything looks worse in black and white"

- Kodachrome, Paul Simon, There Goes Rhymin' Simon, 1973
The pain of mean reversion. Why is this overvaluation important? Because eventually this momentum will break. And eventually valuation will matter once again. And eventually these stocks will mean revert. And in order to mean revert, these stocks will need to fall by roughly -30% to -35% before returning to fair value. And given that these 12 stocks make up more than 20% of the entire S&P 500 Index, this implies a decline in value on the entire S&P 500 Index of between -6% and -8% just so that this small group of 12 stocks that makes up just over 2% of the entire headline benchmark can return to historically normal valuations. And this assumes that the rest of the S&P 500 Index trades flat, which isn't going to happen when the top of the market finally surrenders.
The pain of momentum mean reversion. Of course, we're not talking about mean reversion among staid value stocks. Instead, we're talking about mean reversion among some of the most blazing hot and sexy stocks in the marketplace today. The same stocks that institutions and hedge funds have piled into over the last several years to chase returns and save their bacon. The same stocks that retail investors that love to chase the latest growth narrative have piled into in droves. The same stocks that central bank liquidity has been fueling higher for so many years now. When these high-flying stocks finally break, they almost certainly will not simply mean revert to fair value.
Instead, they will almost certainly overshoot to the downside, sometimes dramatically and for an extended period of time (remember how quickly tech stocks bounced back after the tech bubble burst? It took over a decade) as the so many investors piled into these names find their way back out.
So while a -30% to -35% pullback might bring these stocks back to fair value, they might end up eventually falling back even more into undervalued territory once the momentum bough finally breaks. As a result, giving back half of their value or more should not be considered out of the question.
Sound unreasonable? Given that most of these stocks doubled, tripled or nearly quadrupled in part on growth but much more so on the wave of valuation expansion over the last 18 months, what is so unreasonable in considering that they may simply give a large portion of these gains back at some point in the future (and still be trading higher since the start of last year, no less). Certainly not unreasonable at all.
Implications for the U.S. stock market. What this ultimately means for the U.S. stock market is the following. A few soaring tech stocks are essentially all that's left in driving the S&P 500 Index higher. Ultimately, they will break too. And since they have become such a major part of the overall index, when they break, it will make the market look like it is doing worse than otherwise under the surface.
How can this be? Consider the following. If ten out of eleven stock market sectors have effectively been underperforming the overall market for more than two years, it means that when technology finally breaks, even if it does so infamously, that at least some of these currently trailing sectors will become leaders and outperform the market. Some might even be capable of posting respectable if not impressive gains even of the broader S&P 500 Index.
A playground for active management. Still sounds implausible? Consider the following historical perspective from the last time when technology was this large a percentage of the S&P 500 Index. The day the technology bubble burst was March 10, 2000. In the subsequent period over the next two years through the end of May 2002, the tech sector lost roughly -70% of its value and took the broader S&P 500 Index into bear market in the process. But while everything looked worse in black and white for U.S. stocks, a number of sectors such as consumer staples, financials, and utilities were gaining as much as +30% or more. If you're locked into a passive strategy, you were simply riding the market down over this more than two-year time period. But for those active managers that were prepared, it was a market still filled with total return opportunities even as the previously high-flying tech sector burned with flames that scorched the headline S&P 500 Index along with it.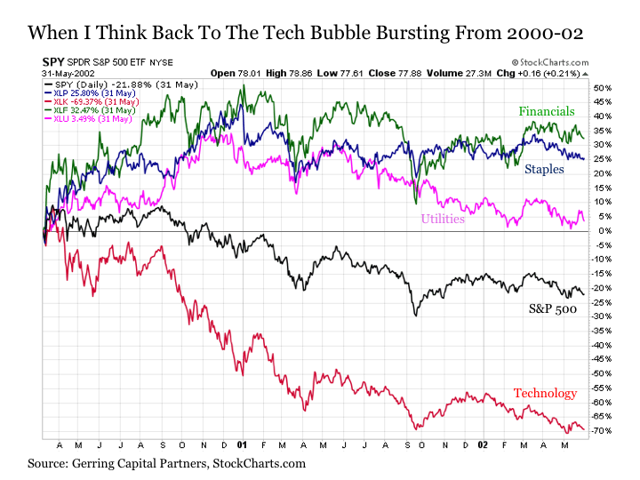 The return of the active management playground. It must be noted that the uptrend in technology stocks remains very much intact today, thanks in large part to the 12 names listed above. And despite the premium valuations, technology is continuing to assert its market dominance today. Exactly when technology will finally surrender remains to be seen, and the magnitude of the subsequent downside may not be nearly as severe as last time around, but patience and a close eye remain warranted nonetheless, particularly at this stage of the game. With all of this being said, it can be strongly argued that the best time to position for what lies ahead on the other side is not waiting until the inflection point has been reached, but instead positioning ahead of the turn.
In an upcoming Instablog post on Seeking Alpha, I will be exploring in more detail those areas of the market that appear best poised to assume upside leadership once the overvalued technology sector finally peaks and starts to roll over.
Disclosure: This article is for information purposes only. There are risks involved with investing including loss of principal. Gerring Capital Partners and Retirement Sentinel make no explicit or implicit guarantee with respect to performance or the outcome of any investment or projections made. There is no guarantee that the goals of the strategies discussed by Gerring Capital Partners or Retirement Sentinel will be met.
Is your investment portfolio ready for the coming volatility?
I am hosting a FREE ONLINE TRAINING EVENT on Wednesday, July 25 with Brian Bain from Investor In The Family to discuss how to set up your portfolio not just to survive but actually thrive in an increasingly volatile market.
If you are interesting in learning more about this free event and joining us on Wednesday, please click on the following link.
Is Your Portfolio Ready For The Coming Volatility?
Thanks and I look forward to meeting up online this Wednesday!
Disclosure: I/we have no positions in any stocks mentioned, and no plans to initiate any positions within the next 72 hours.
I wrote this article myself, and it expresses my own opinions. I am not receiving compensation for it (other than from Seeking Alpha). I have no business relationship with any company whose stock is mentioned in this article.
Additional disclosure: I am long selected individual stocks as part of a broad asset allocation strategy.