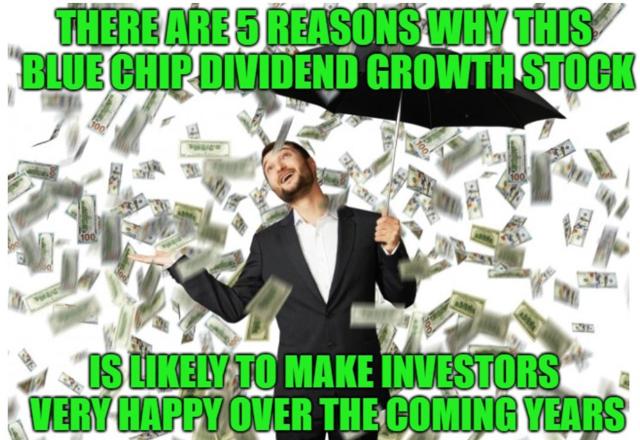 (Source: imgflip)
The core of my dividend growth retirement portfolio's strategy is to buy quality companies at attractive prices. I'm specifically looking for blue chip names, meaning industry leaders with excellent track records of strong and consistent growth in sales, cash flow, and dividends over time.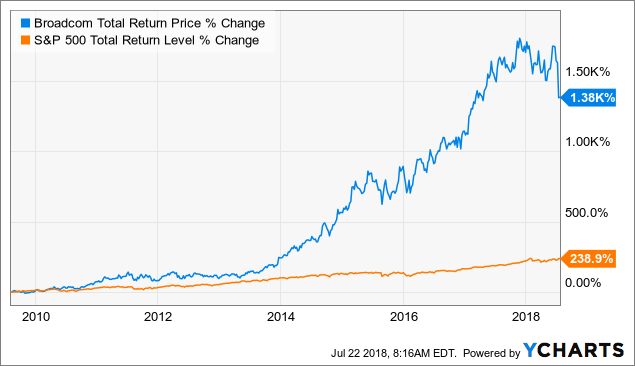 Broadcom (NASDAQ:AVGO) is certainly such a blue chip, which has managed to greatly enrich investors over the past decade. In fact, Broadcom's total returns over that time have been a stellar 31% CAGR compared to the S&P 500's 13%.
However, past performance is no guarantee of future results. This is why I'm looking for companies with numerous positive factors (competitive advantages, growth catalysts, top notch management) that will be able to continue to deliver market beating returns over time.
Let's take a look at five reasons why Broadcom is one of my favorite tech dividend growth stocks. Specifically, at the reasons why I think it has what it takes to deliver: generous, safe, and rapidly growing dividends for many years, if not decades to come. And just as importantly, find out why at today's highly attractive valuation, I consider Broadcom to be one of the highest quality undervalued dividend tech stocks you can buy today.
1. Industry Pioneer Is Growing Like A Weed
Founded in the 1960s, Broadcom has a rich history of pioneering technology that underpins the future of the global economy. For example, in the 1960s, it introduced the first commercial LED displays and in the 70s was the first to commercialize fiber optic transmitters and receivers.
Today, the semiconductor company is a leading provider of technology for: data center networking, home connectivity, broadband access, telecommunications equipment, smartphones, base stations, data center servers and storage, factory automation, power generation, alternative energy systems, and electronics displays.
The modern Broadcom was formed from the 2016 $37 billion merger of Avago Technologies and Broadcom, at the time the largest semiconductor merger in history. However, the company has a long history of both industry leading innovation and consolidation, but also one of the best merger execution track in the industry (more on this in a moment).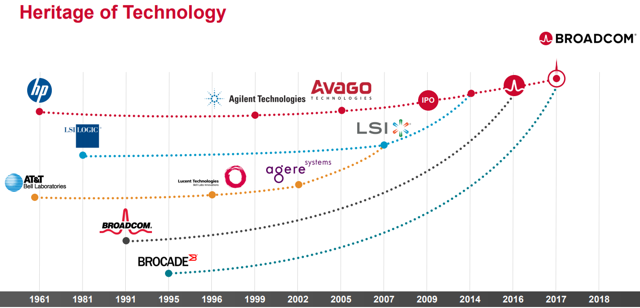 (Source: Broadcom investor presentation)
The company has four main business segments: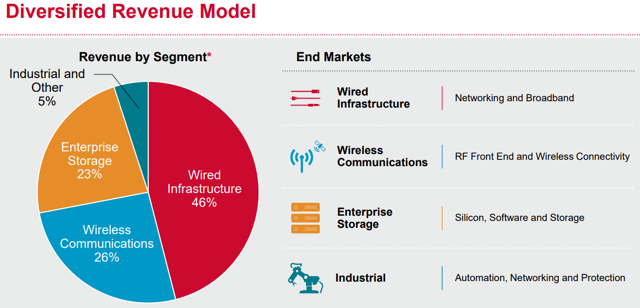 (Source: Broadcom investor presentation)
In Q1 2018, the company saw strong sales growth across all its business segments:
Wired infratructure: revenue growth 9%
Wireless communications: 13% revenue growth
Industrial: 21% revenue growth
Enterprise storage: 63% revenue growth
Note the huge spike in enterprise storage was due to the 2017, $6 billion acquisition of enterprise storage company Brocade.
| | |
| --- | --- |
| Metric | Q1 2018 Results |
| Revenue Growth | 20% |
| Operating Income Growth | 150% |
| Net Income Growth | 745% |
| Free Cash Flow Growth | 60% |
| FCF/Share Growth | 66% |
| Dividend Growth | 72% |
(Sources: earnings release, Morningstar)
It should also be noted that thanks to tax reform, Broadcom's net income saw a permanent but one time $2.6 billion boost in its last quarter. Management expects that thanks to tax reform, its long-term effective tax rate will be about 10%. What investors need to focus on instead is its strong growth in revenue, operating income and free cash flow or FCF.
Thanks to ongoing cost cutting (synergies from previous mergers) and ever larger economies of scale, Broadcom was able to boost its gross margin by 3.7%. Combined with strong organic and merger related growth in the top line, this translated into a spectacular 66% increase in FCF/share. Free cash flow is what's left over after running the business and investing in future growth. It's what funds dividends, buybacks, and repays debt. In its latest quarter, Broadcom was able to convert an amazing 42% of revenue into free cash flow, which is what allowed it to nearly double its dividend over the same quarter last year.
For Q2 2018, management's guidance calls for slower, but still impressive growth in both its top and bottom lines:
revenue growth: 12% YOY
adjusted EPS growth: 17% YOY
This guidance implies continued margin expansion, which bodes well for the company's future FCF and dividend growth prospects. Of course short-term growth, even as impressive as this, is nice. But what should really get investors excited is the company's strong long-term growth catalysts.
2. Strong Long-Term Growth Potential
In 2013, Broadcom had an addressable market of $60 billion per year. By 2019, it expects that to rise to $200 billion and continue growing strongly into the future. There are two main growth catalysts for Broadcom.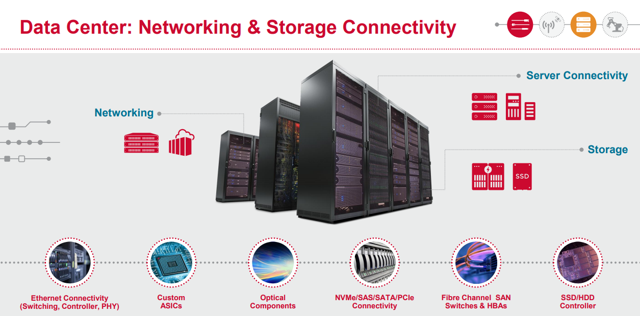 (Source: Broadcom investor presentation)
The first is data centers, which are seeing incredible growth thanks to the rise of cloud computing.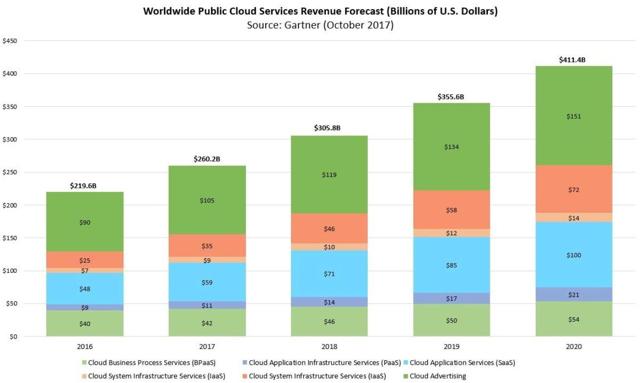 (Source: Gartner)
Analyst firm Gartner estimates that the cloud computing market will grow about 21% in 2018, on its way to nearly doubling between 2016 and 2020. Broadcom's goal is to continue providing the hardware backbone that underpins the booming cloud businesses of companies such as: Amazon (AMZN), Microsoft (MSFT), Alphabet (GOOG) (GOOGL), and Alibaba (BABA).
But the growth in data centers isn't just a short-term growth catalyst for Broadcom. That's because several mega trends, which are expected to last for the foreseeable future, are likely to drive ever stronger demand for data centers, and the hardware that runs them.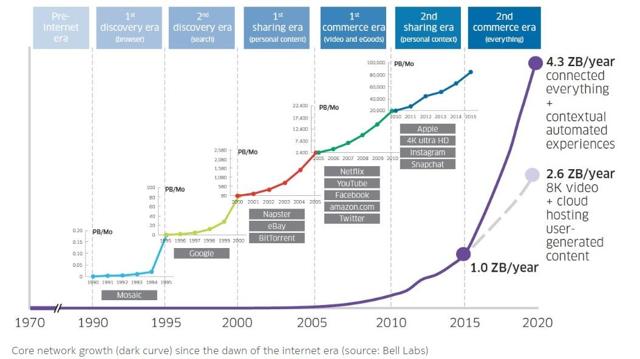 (Source: Cisco Systems)
The first is massive growth in mobile data, created by the upcoming switch to 5G. This will not just enable much faster internet and mobile data speeds, but underpin the so-called "Internet of Things" or IoT. This is where sensors will be placed into everyday devices, both at the consumer and industrial level, to provide real time data input and artificial intelligence or AI driven analysis. Intel (NASDAQ:INTC) estimates that by 2020, 200 billion devices will be connected to the IoT. That will create a flood of new data that artificial intelligence based machine learning will be feeding on to optimize the maintenance and repairs of everything from municipal infrastructure, to industrial technology, and consumer devices.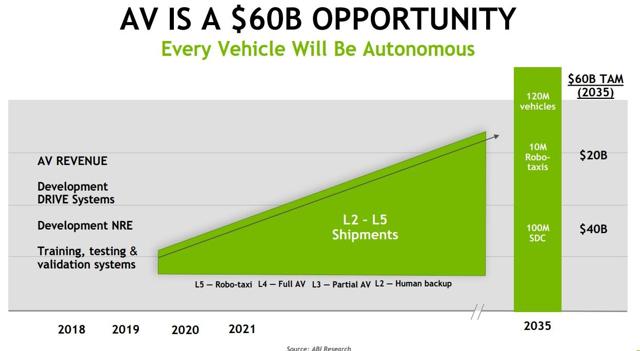 (Source: Nvidia)
The IoT is at the heart of the coming rise of driverless cars, which Nvidia (NVDA) estimates will total 120 million vehicles on the world's roads by 2035. In other words, Broadcom's best growth catalyst is its strong presence in providing the core infrastructure at the heart of the cloud computing/AI/mobile data boom.
The other catalyst is increased industrial automation, which currently makes up just 5% of Broadcom's sales. However, according to Nvidia, only about 10% of the world's factory capacity has been fully automated. The industrial automation market is expected to grow from $155 billion in 2017, to $239 billion by 2023. That's a growth rate of 7.4% CAGR, which is about double the rate of global economic growth. Broadcom not only is expanding its product offerings into the hardware that allows for this rapid automation, but that secular industrial trend is similarly going to feed back into its core growth catalyst of data centers/cloud computing/AI infrastructure.
Or to put another way, Broadcom already has a strong presence in some very important and fast growing future tech trends. And thanks to its world class management team's mastery of diversification via M&A, it's likely to only become an even more dominant tech company in the future.
3. World Class Management That's Mastered M&A
Good management is essential to any investment thesis, since investors are paying and trusting company executives to adapt to fast changing industry conditions and invest their capital profitably. Broadcom is led by Hock Tan, a 35-year industry veteran who has been CEO since 2006.
A good proxy for quality management is strong profitability and high returns on capital. And Broadcom's margins and return on invested capital, or ROIC, is among the best in the business. Note that the sky-high net margin is driven largely by tax cut benefits.
| | | | | | |
| --- | --- | --- | --- | --- | --- |
| Company | Gross Margin | Operating Margin | Net Margin | TTM FCF Margin | TTM ROIC |
| Broadcom | 50.9% | 25.1% | 74.2% | 34.2% | 27.5% |
| Industry Average | 27.0% | 5.8% | 4.9% | NA | 8.7% |
(Sources: Gurufocus, CSImarketing, Morningstar)
What's more the company's profitability has been trending up over time, especially its all important FCF margin.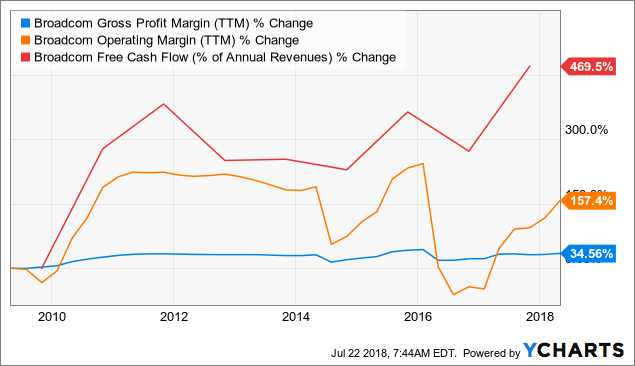 This is largely a result of two factors. First, Broadcom continues to invest aggressively into R&D to continue improving its products which sell for a steep premium but command a loyal customer base (wide moat).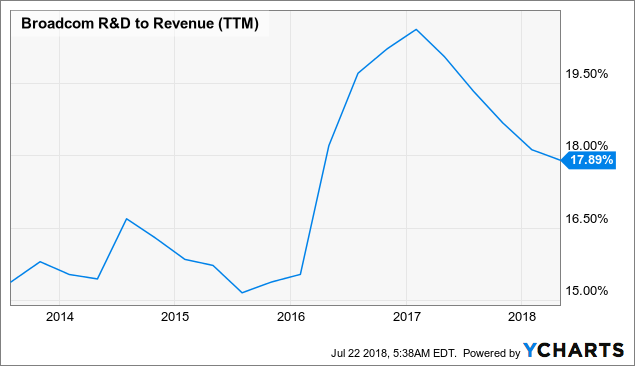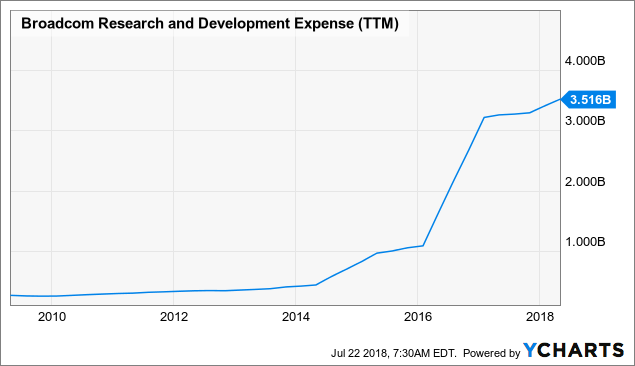 Over the past five years, the company has always invested over 15% of revenue into R&D ($3.5 billion in the past 12 months). And thanks to its strong revenue growth over the last decade, the company's R&D budget has increased 13 fold over the past 10 years. In fact, today Broadcom's R&D budget is the third largest in its industry. But Broadcom's R&D spending isn't wasteful, but highly focused. That's why 75% of its workforce of about 15,000 people are engineers, which allows it to leverage its increasing research budget into over 24,000 patents worldwide with another 2,000 pending. More importantly, the company is very good at monetizing those innovations into products that actually boost sales and cash flow.
The other major reason for Broadcom's high profitability is its leading economies of scale. That includes a world spanning supply, logistics, and manufacturing base that allows it to source the lowest cost raw materials and components that meet its high quality standards.
What's especially impressive about Broadcom's stellar profitability and returns on capital is that the company is among the most active tech companies when it comes to mergers and acquisitions. For example, in recent years, Broadcom built its current empire via a series of major acquisitions including:
CyOptics: $400 million in 2013
LSI Corp.: $6.6 billion in 2014
PLX Tech: $300 million in 2014
Emulex: $606 million in 2015
Broadcom/Avago Tech merger: $37 billion in 2016
Brocade: $6 billion in 2017
In 2017, a study by analyst firm KPMG found that only 31% of mergers actually created shareholder value, with 32% destroying value and 37% being neutral. This is why companies that are too acquisition friendly tend to have below average ROIC, which is certainly not the case with Broadcom. This is a testament to management's ability to remain disciplined in its approach to acquisitions, including: avoiding overpaying, achieving strong cost synergies, and integrating different corporate cultures and distribution networks well.
The secret sauce to Broadcom's M&A prowess is very targeted towards acquiring top franchises in key growth markets. For example, it wants to own just the #1 or #2 industry players in each field (with goal of becoming #1). This is why when Avago Tech bought LSI, it kept the enterprise business and drive controller businesses, but sold off the more commoditized (lower margin) business units.
This disciplined approach to acquisition fueled growth continued in 2017 when it bought Broacade, greatly expanding its network storage business and helping to drive the strong growth the company enjoys today. And of course, we can't forget that Broadcom recently made a $121 billion bid for Qualcomm (QCOM), the largest mobile chip maker in the world. When that deal was scuttled by a hostile Qualcomm board and the President banning the merger, Broadcom immediately went on the hunt and recently announced it was buying CA Technologies (NASDAQ:CA) for $18.9 billion in cash (mostly debt).
That deal might seem a bit odd, since CA Tech's main business is in IT software for mainframes, which are a slowly declining industry. In fact, CA Tech's mainframe software business saw -1% sales growth in fiscal 2018. However, while the growth trajectory of that business might be flat to slightly negative, the operating margins on that IT software are 64%. This is why the deal (expected to close by the end of 2018) is expected to boost the company's adjusted EBITDA margins from 48% today to 55% and become instantly accretive to both EPS and FCF/share.
And as CEO Hock Tan explains:
"With its sizable installed base of customers, CA is uniquely positioned across the growing and fragmented infrastructure software market, and its mainframe and enterprise software franchises will add to our portfolio of mission-critical technology businesses. We intend to continue to strengthen these franchises to meet the growing demand for infrastructure software solutions." - Hock Tan, Broadcom CEO
In other words, the reason for the CA Tech acquisition (which Broadcom is buying for a reasonable 16 times free cash flow) is predicated on gaining a dominant position (26% market share) in a new highly lucrative and FCF rich business. In fact, in mainframe software and applications, CA is the industry leader with 42% market share compared to IBM's (IBM) 34%.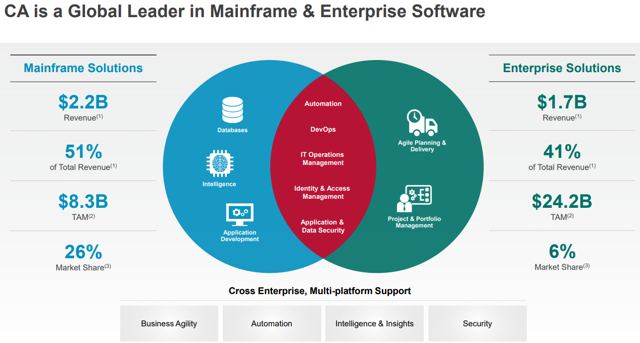 (Source: Broadcom acquisition presentation)
The company will also be gaining a small but faster growing enterprise solutions business, though operating margins on those services range from 3% to 9%. Management believes that it will be able to boost those significantly in the future as Broadcom becomes an ever larger "one stop shop" for meeting the mission critical needs of future IT corporate clients.
The deal is expected to add $18 billion in total debt to Broadcom's balance sheet, factoring in CA Tech's $500 million net cash position. Fortunately, the deal is going to significantly boost the company's top and bottom lines, including both its free cash flow, and retained FCF (free cash flow minus dividends).
| | |
| --- | --- |
| Metric | Merger Accretion |
| Revenue | 21.6% |
| Operating Income | 29.1% |
| FCF | 17.1% |
| Retained FCF | 16.2% |
(Sources: Morningstar)
Thus, while Broadcom's debt level will effectively double, it will be retaining about $5 billion in annual free cash flow to help pay down its debt quickly, which management has stated is its intention. This is why credit rating agencies aren't worried about its credit rating, and S&P just reiterated its positive outlook for the company's rating.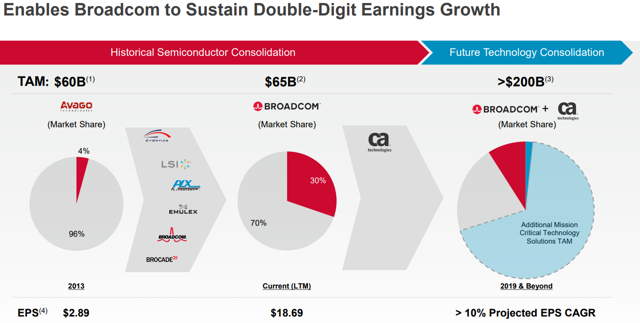 (Source: Broadcom CA Tech acquisition fact sheet)
Most importantly, the CA Tech purchase helps Broadcom in its long-term goals of expanding into a much larger total addressable market. Essentially, Broadcom is attempting to turn itself from a leading player in the semiconductor industry into a fully diversified tech conglomerate.

(Source: Broadcom investor presentation)
Management believes will be able to drive double-digit EPS growth for many years to come. If the company can execute on its strategy, then that would spell great news for income investors, including in the form of potentially market crushing returns over the next decade.
4. Dividend Profile: Generous, Safe, And Fast Growing Dividend Plus Market Crushing Return Potential
| | | | | | |
| --- | --- | --- | --- | --- | --- |
| Company | Yield | TTM FCF Payout Ratio | Simply Safe Dividend Safety Score (Out Of 100) | Projected 10-Year Dividend Growth | 10-Year Potential Annual Total Return |
| Broadcom | 3.3% | 36% | 87 (Very Safe) | 10% to 14% | 13.3% to 17.3% |
| S&P 500 | 1.8% | 40% | NA | 6.2% | 4% to 8% |
(Sources: Gurufocus, Morningstar, FastGraphs, Yardeni Research, Multpl.com, Simply Safe Dividends, Gordon Dividend Growth Model, John Bogle)
The most important part of any income investment is the dividend profile which consists of three parts: yield, dividend safety, and long-term payout growth potential.
Broadcom's current yield is not just double the industry average (1.6%) but is nearly twice that of the S&P 500. More importantly, it represents just 36% of the company's FCF, meaning there is a large safety buffer.
Of course, a safe dividend is about more than just a low payout ratio. It also requires a strong balance sheet, especially in an M&A heavy and capital intensive industry such as this.
| | | | | | | |
| --- | --- | --- | --- | --- | --- | --- |
| Company | Debt/Adjusted EBITDA | Interest Coverage Ratio | Debt/Capital | Current Ratio | S&P Credit Rating | Average Interest Cost |
| Broadcom | 1.8 | 14.6 | 42% | 5.9 | BBB- (positive outlook) | 3.2% |
| Industry Average | 1.8 | 55.9 | 44% | 2.3 | NA | NA |
(Sources: Gurufocus, Morningstar, FastGraphs, CSImarketing)
Post the CA Tech merger, Broadcom's debt/Adjusted EBITDA (leverage) ratio will rise to 3.0, and its net debt/EBITDA will be a still rather high 2.1. However, due to its much stronger retained FCF ($5 billion per year), the company could pay off all the debt it's taking on to fund this deal within about three years and a half years.
In the meanwhile, the company continues to enjoy an investment grade credit rating that allows it to borrow at very cheap levels, far below its sky-high ROIC. That's largely to do with its large amounts of retained FCF as well as its rock solid current ratio (short-term assets/short-term liabilities). For context, a current ratio above 1.0 is considered safe. Broadcom's ratio of 5.9 signals that the company can easily handle its total debt hitting $35 billion post CA Tech merger.
As for dividend growth potential, there Broadcom has proven itself a star. While the dividend is relatively new, it has grown at a torrid pace.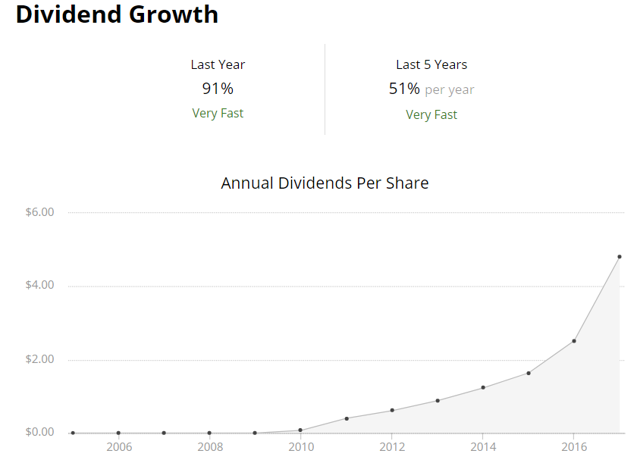 (Source: Simply Safe Dividends)
Of course, much of that growth has come due to FCF payout expansion. Most likely Broadcom won't be able to exceed a 50% payout ratio over the long term while continuing to deliver the share buybacks it's so fond of.
This means that soon Broadcom's dividend will only be able to grow at the same rate as its EPS and FCF/share. Fortunately, analysts expect that growth rate over the next 10 years to be between 13% and 14%. All such long-term forecasts must be taken with a healthy grain of salt. However, I think the company's strong growth catalysts and proven M&A ability should allow it to at least hit its long-term target of double-digit EPS growth.
That should translate into double-digit dividend growth. Or it will after Broadcom is done paying down the $18 billion in debt it's accruing to purchase CA Tech. Investors might need to be content with single-digit payout growth until that happens. Fortunately, the share price should track the company's underlying EPS growth.
Ultimately, this means that Broadcom should be capable of roughly 15% total returns over the next decade. That's good enough to quadruple your money within a decade. Not just is that much stronger than the S&P 500's historical 9.2% total return (since 1871), but it's much higher than the 4% to 8% total returns the market is likely to generate over that time from its current valuations.
5. Valuation: One Of The Most Undervalued Names In Tech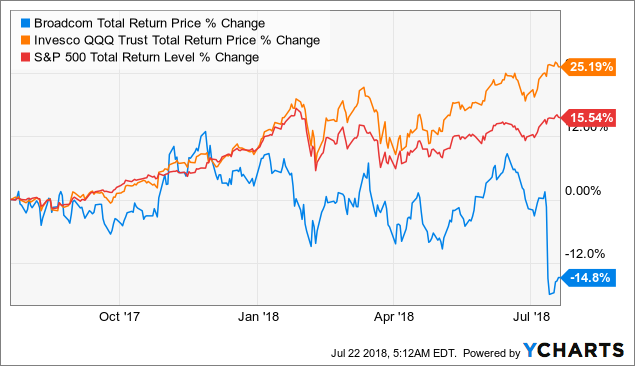 Due largely to the post CA Tech acquisition announcement, Broadcom's shares have badly underperformed the broader market over the past year. However, thanks to its booming sales, earnings, and cash flow, its valuation has now fallen to ridiculously low levels that make it a screaming buy.
Now it should be noted that there is no 100% objectively correct way to value a company. There are dozens of possible metrics and models you can use, and each has their strengths and weaknesses. This is why I like to use several approaches in concert to maximize my chances of buying a great company at fair value or better.
The first value screen I use is the total return potential from the dividend profile. This is based on the Gordon Dividend Growth Model, which has proven relatively accurate since the 1950s. This model says that total returns equal yield + long-term dividend growth. The model assumes a starting valuation that's approximately equal to fair value, and a stable payout ratio, meaning that dividend growth is a proxy for earnings and cash flow growth.
I only recommend dividend stocks that have a reasonable chance of at least matching, but preferably beating the market. Otherwise why not just own an index fund? For my own portfolio I require a good chance at double-digit total returns. On both counts, Broadcom passes this valuation screen with ease.
But note that the Gordon Dividend Growth Model assumes a stock starts out at fair value. If you can buy it undervalued, then multiple expansion can boost your long-term total returns even more. This brings me to my second screen, which looks at a stock's forward PE.
I do this for two reasons. First, PE ratios tend to be mean reverting over time, meaning they cycle around a relatively fixed point that approximates fair value. Second, using an approach pioneered by Benjamin Graham (Buffett's mentor and the father of modern value investing), we can use a PE ratio to estimate what long-term growth rate is baked into a stock price. If the implied EPS growth rate is very low, then it means the company is likely to crush low expectations and see significant multiple expansion.
| | | | | | |
| --- | --- | --- | --- | --- | --- |
| Forward PE Ratio | 9-Year Average PE | Implied 10-Year EPS Growth Rate | Yield | 5-Year Average Yield | 9-Year Median Yield |
| 10.2 | 28.4 | 0.9% | 3.3% | 2.8% | 1.3% |
(Sources: Gurufocus, FastGraphs, Simply Safe Dividends, Benjamin Graham)
Currently, Broadcom's forward PE ratio is a rock bottom 10.2, which is nearly 2/3 less than its average since 2009. That implies the company is probably very undervalued. It also means the stock is priced for nearly zero growth, which is in my opinion an absurdly pessimistic view. With management guidance being for long-term EPS growth that's at least 10X the implied growth rate, I expect Broadcom's valuation multiple to expand significantly over the next decade.
Finally, I look at the yield compared to its long-term average yields. This is because, as an income investor, the yield is the valuation metric that most closely fits with my core investing philosophy. And as with most valuation multiples, yields tend to be mean reverting meaning that they can give us a good estimate of how close to fair value a stock is trading. I usually use both a five-year average yield and a longer-term median yield to make sure that potential changes in the business model don't skew the data and give a false reading.
In this case, Broadcom didn't really become a dividend growth stock until 2011 which is why its 9-year median is so low. So for valuation modeling purposes, we should use the five-year yield. During this time period, Broadcom was already known as a dividend stock so the reading is more accurate.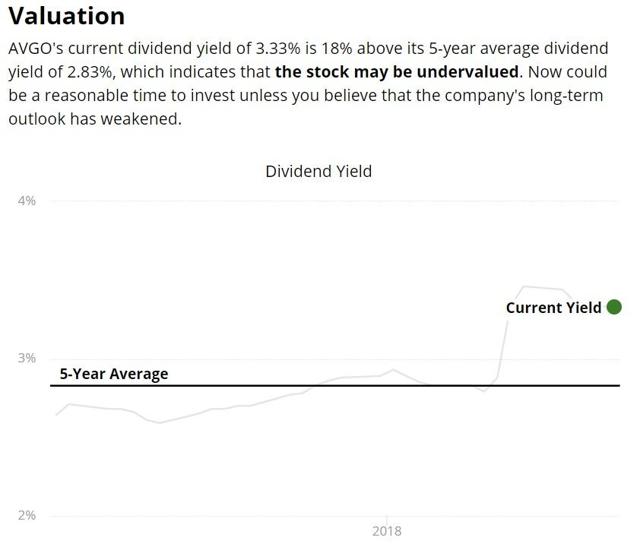 (Source: Simply Safe Dividends)
The current yield is 18% higher than the average five year yield, implying the stock could be that much undervalued.
| | |
| --- | --- |
| Estimated Fair Value | Discount To Fair Value |
| $313 | 33% |
(Sources: Gurufocus, FastGraphs, Benjamin Graham, Gordon Dividend Growth Model, Simply Safe Dividend)
Taking into account all of these approaches, I estimate that Broadcom is approximately 33% undervalued. Anything over 25% is, in my view, a "screaming buy" and Broadcom's margin of safety is much higher than that.
And for a blue chip of this caliber, that makes it a "strong buy" in my view, for any income growth investor who is comfortable with the company's risk profile.
Risks To Consider
While Broadcom's low payout ratio and fast growing FCF make it a low-risk dividend stock, that doesn't mean there aren't some risks that investors need to be aware of.
For one thing, Broadcom is highly exposed to currency risk due to the fact that just 7% of its revenue is generated in the US. The company has redomiciled in the US post tax reform and reports earnings and pays dividends in US dollars. Thus, if the US dollar were to strengthen (as it's been doing in 2018 due to rising interest rates), that could create growth headwinds because non-USD sales will translate into fewer greenbacks.

(Source: Broadcom 10K)
In addition, with so much China exposure, we can't forget that an escalating trade conflict poses a potentially significant risk to the company's business. Not just in terms of global supply chain disruption but also potential direct China sale losses created by retaliation against President Trump's threat of imposing tariffs on all of China's US imports. Such tariffs come in waves, with the last round of $200 billion in imported goods tariffs scheduled to hit in September, and the remaining $250 billion likely to go into effect in January 2019 (due to the 90-day comment period). Should a resolution to the trade conflict not appear by then, there is going to be increasing uncertainty about Broadcom's medium-term growth prospects. That at the very least could continue weighing on the stock even if it doesn't directly affect the company's long-term growth prospects.
Speaking of medium-term risks, we can't forget that Broadcom has significant exposure to certain key customers. According to management, about 20% of revenue is derived from Apple (AAPL) which means that the company is somewhat exposed to any potential weakness in future iPhone sales. Recently, Nikkei Asian Review reported that Apple is telling suppliers to expect about a 20% decrease in orders over the next few months. While such reports have proven to be false in the past (implying iPhone sales were falling off a cliff), the fact remains that any sharp decrease in orders might result in a significant decline in the company's top line growth. For example, if the 20% order decline rumor is true, then it would mean about a 4% decrease in revenue for Broadcom consuming about 33% of its expected revenue growth for this year.
Investors also have to realize that various aspects of the company's business can be seasonal. For example, while in Q1 2018, wireless chip sales to both Apple and Samsung (OTCPK:SSNLF) increased, Samsung orders are expected to fall in the coming quarter resulting in roughly flat wireless revenue growth. According to Tan:
"While we are still very positive on the North American phone maker, we are not seeing strength in the Korean phone maker."
With top end smartphone sales now flattening out, it's possible that the company's wireless growth will slow in the future. Fortunately, the company's ongoing diversification into other businesses should help continue driving good overall sales and cash flow growth.
And of course, we can't forget the biggest potential risk to Broadcom's overall growth strategy, its heavy use of M&A. While the company's track record is excellent in terms of making accretive deals, even the best management teams can trip up.
Specifically, there is no guarantee that Broadcom's latest foray into IT software will work out. After all, Intel spent $7 billion over the years attempting to break into a new growth industry (cyber security), only to later abandon the effort in 2016 as a failure resulting in large write offs for shareholders.
Bottom Line: Broadcom Is One Of The Best Long-Term Dividend Growth Tech Stocks You Can Buy
While it's understandable that the market might be spooked by Broadcom's large and somewhat unusual acquisition of CA Tech, the stock's recent decline is also a great buying opportunity. Because while large scale mergers are indeed challenging to pull off well, Broadcom's track record at successful growth through acquisitions is not just unmatched in the industry, but among the best of any company in Corporate America.
Management's impressive ability to consistently generate industry leading profitability and returns on capital, which are increasing over time, gives me full confidence that this tech blue chip has a bright future. Combined with its proven dividend friendly corporate culture, that bodes very well for income investors, who are likely to enjoy: generous, safe, and fast payout increases for the foreseeable future.
And while the company does face its fair share of risks in the future (as all stocks do), at today's highly attractive valuation, I consider Broadcom a strong buy for most long-term income growth investors.