On Friday, July 20, 2018, Nordic telecommunications firm Telia Company (OTCPK:TLSNF) announced its second quarter 2018 earnings results. These results were quite good, with profits, cash flow, and EBITDA showing respectable year-over-year growth. The company is also in the process of acquiring a Swedish broadcasting firm and TDC's Norwegian business, which could have implications for it going forward. In general, investors are likely to be pleased with the company's performance in the quarter and will most likely want to hold onto their shares.
As my long-time readers are no doubt already aware, it is my usual practice to share the highlights from a company's earnings report before delving into an analysis of its results. This is because these highlights provide background for the remainder of the article as well as serve as a framework for the resultant analysis. Therefore, here are the highlights from Telia Company's second quarter 2018 earnings results:
Telia Company reported net sales of SEK 20.814 billion. This represents a 5.2% increase over the SEK 19.785 billion that the company had in the prior year quarter.
The company reported an adjusted EBITDA of SEK 6.443 billion in the second quarter of 2018. This represents a 6.9% increase over the SEK 6.047 billion that the company had in the prior year quarter.
Telia Company announced the acquisitions of Bonnier Broadcasting and Danish telecommunications firm TDC's Norwegian business.
The company reported total free cash flow of SEK 3.114 billion in the quarter. This compares quite favorably to the SEK 2.772 billion that the company had in the prior year quarter.
Telia Company had a net income of SEK 2.244 billion in the second quarter of 2018. This compares to a loss of SEK 201 million in the second quarter of 2017.
The first thing that I am sure many investors noticed in these results is the fact that nearly all the important measures of profitability increased year-over-year. Indeed, Telia Company itself pointed this out right at the beginning of its earnings presentation.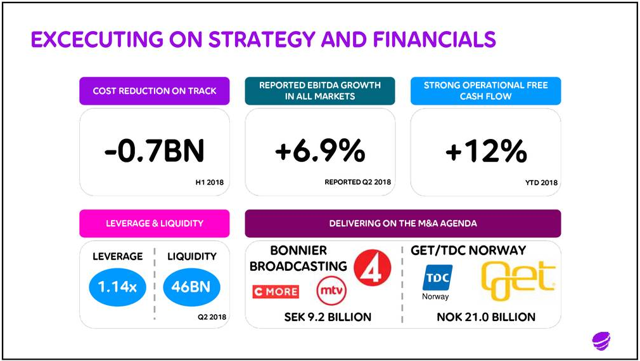 Source: Telia Company AB
One of the major reasons for this strong growth has been that Telia's mobile revenues have been increasing. As we see here, the company's mobile-derived revenues increased by 0.6% in the second quarter of 2018. While this was the lowest growth rate that the company experienced over the trailing twelve month period, growth is still a positive thing.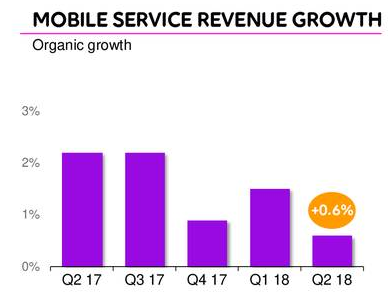 Source: Telia Company AB
It is worth noting though that not all of this growth came from the company adding new subscribers. Instead, the company has been focusing on increasing the amount of revenue that it brings in from each of its users. As we can see here, it has been successful at this, growing its average revenue per user in each of the markets in which it operates: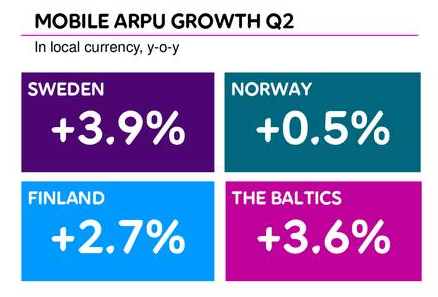 Source: Telia Company AB
This is generally a good strategy for the company as developed markets, such as the Nordics and Baltics, have very high mobile and even smartphone penetration, which means that the only realistic way for a telecommunications company to grow its subscriber base at a level exceeding population growth is to take those subscribers from another carrier. This can be an expensive proposition. Thus, it makes more sense to increase the value of the services that the company provides to its existing customers and thus increase its average revenue per user. Telia is thus following a good strategy here.
One strategy that Telia has been using recently is that the company has been working to make itself more efficient and reduce its cost structure. We see that it made further progress on this goal in the second quarter. As shown in the slide earlier, Telia Company has reduced its costs by a total of SEK 700 million over the first half of the year. As we would expect, this had a positive effect on the company's profits. As already mentioned, Telia's EBITDA increased by 6.9% year-over-year in the most recent quarter. Telia Company attributed this to better performance in Sweden due to cost controls.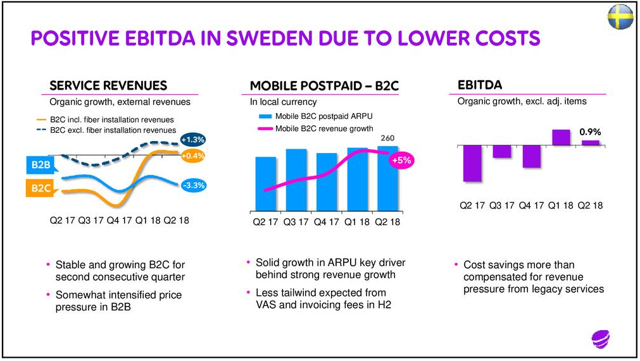 Source: Telia Company AB
With that said, there were certainly a few other items that had a positive impact on profitability, including the Swedish krona declining against both the Norwegian krone and the euro, the lower costs were a significant factor.
It was nice to see that the company's profit growth came from several different markets. In fact, Telia Company managed to produce EBITDA growth in six of the seven markets in which it operates. Out of all of the national markets, only Denmark delivered a profitability decline.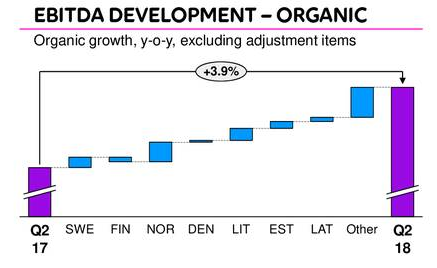 Source: Telia Company AB
It is nice to see that Telia Company managed to deliver growth in multiple markets. This helps to keep it diversified and protects the company somewhat from localized weakness or political problems that may affect a single company but are less likely to affect all of the markets in which the company operates.
Without a doubt, the biggest single piece of news that accompanied the earnings report was a move by Telia to acquire Swedish broadcaster Bonnier Broadcasting and the Norwegian arm of Danish telecommunications firm TDC. With the former acquisition, Telia joins the recent trend of telecommunications companies acquiring media firms in order to gain content to stream over their networks. The latter acquisition increases Telia's footprint in the wealthy Norwegian market. These two acquisitions should also enhance the company's bottom-line. This is shown quite clearly here:

Source: Telia Company AB
As we can see here, the acquisitions of both of these companies should boost Telia's annual EBITDA by approximately SEK 3.5 billion. Telia will also have to acquire the debt of these two firms but considering that the net debt/EBITDA of the two companies combined is only 0.8x, this should not really pose a problem.
Overall, Telia's earnings results were quite strong here. The company is also positioning itself quite well for the future through two synergistic acquisitions. While Telia certainly lacks the global scale that it had a few years ago, it does certainly appear to be a solid player in the hyper-competitive markets that it has chosen to focus on, which is something that its shareholders should appreciate.
Editor's Note: This article discusses one or more securities that do not trade on a major U.S. exchange. Please be aware of the risks associated with these stocks.