Water utilities are a sought after commodity in the investment community because of their regulation backed stable income streams. These constant streams of profits are then paid out to shareholders, and explains why the list of dividend champions is populated by numerous utilities. Today's spotlight focuses on one such water utility in American States Water Co. (NYSE:AWR). With one of the longest dividend growth streaks going (63 years), we will take a look at what makes the dividend drip at American States Water.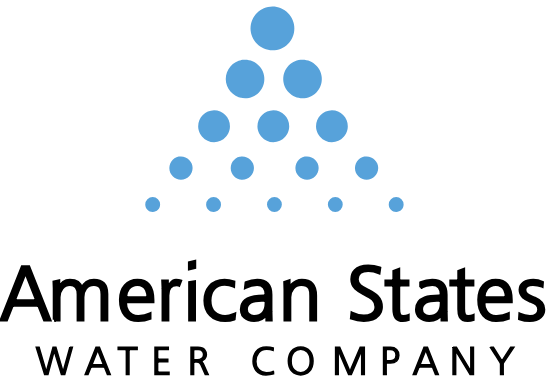 source: American States Water Co.
A Multi-Pronged Business
American States Water is a water utility by name, but it does dabble in some other avenues.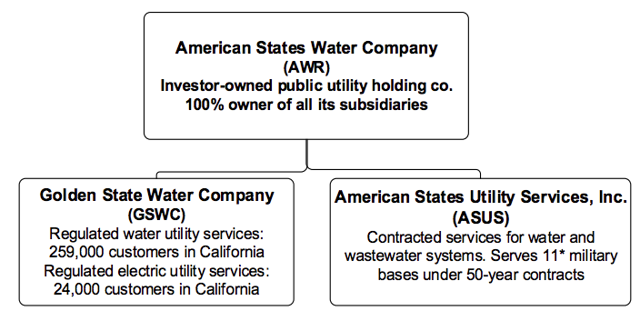 source: American States Water Co.
The company consists of two subsidiaries called the Golden State Water Company, and the American States Utility Services, Inc. The GSWC is a regulated utility that provides water (primarily) and electricity to more than a quarter million customers throughout California. The ASUS is a water/wastewater services provider that currently serves 11 military bases around the country with long term contracts.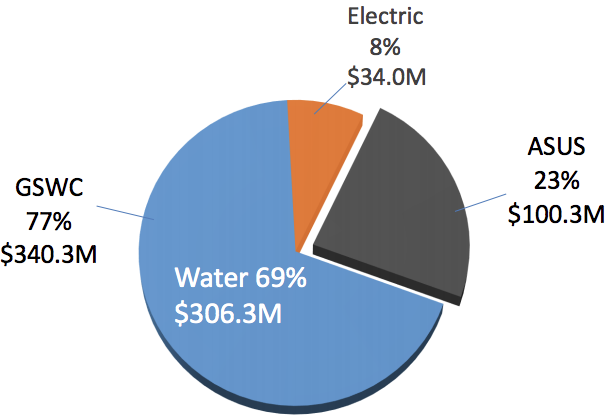 source: American States Water Co.
The majority of revenues for American States Water come from the GSWC - about 77%, with the rest coming from the ASUS military business.
The GSWC is the legacy business of American States Water. The regulatory environment is favorable in California, and allows American States a steady income stream by guaranteeing a rate of return on infrastructure upgrades. These infrastructure investment expenses are recouped via depreciation, and through the regulated return on the base rates.
The ASUS is not regulated, and was started in 1998. It generates revenues by charging for operations and maintenance, as well as the replacement and upgrading of assets. Since then, it has expanded and will look at continuing to do so. The company is waiting to hear back on various bids to privatize other bases throughout the country over the next five years. This business segment offers American States both a means of diversifying the business further, as well as an opportunity for additional profits.
Robust Performance
Over the past decade, American States Water has been able to gradually push its earned return on equity higher, and maintain status as a "best in class" among peers. For a utility, return on equity is essentially the profitability of the company. This has been helped by the ASUS business segment.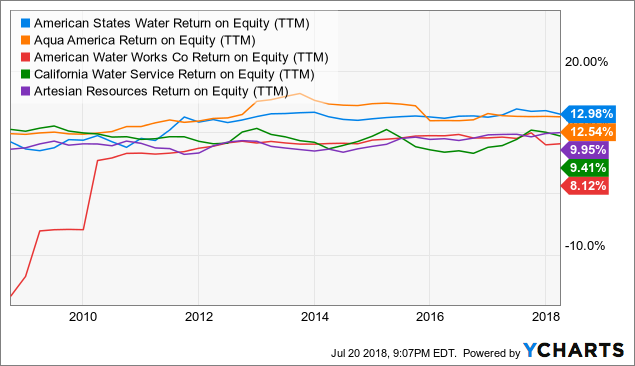 This high return on repeated capital investments has fueled earnings growth for the company. Over the past seven years, earnings have grown at a CAGR of 8%. While peers such as Aqua America have sought growth by aggressively adding customers through acquisitions, American States has managed to grow more organically. The diversity of having the additional ASUS subsidiary and its high earned ROE have helped make this possible.


source: American States Water Co.
Over the past five years, the customer base has remained relatively static. Additionally, the length of mains in service has only grown 56 miles to 2,783 over the past 10 years.
Using Aqua America as an example one more time (to contrast the vastly different methods of operation), we look at CAPEX as a percentage of revenue. American States isn't building out as much infrastructure, and thus requires less of a CAPEX expenditure every year. Aqua America typically acquires these smaller utilities in need of infrastructure upgrades. Both have very similar ROE and dividend growth rates. The point is not to prove one better than the other, rather that there are multiple ways to skin the cat in the utility business.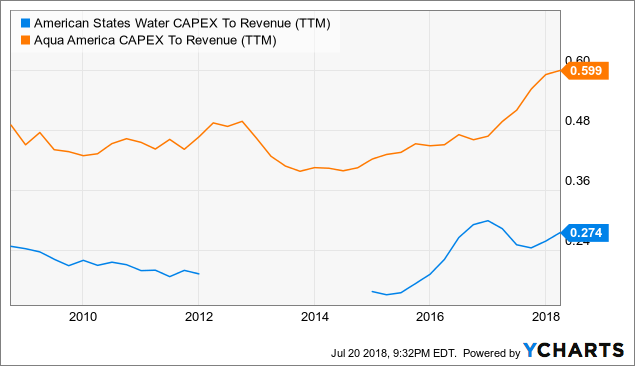 American States spending less on CAPEX certainly has benefits however. The company is less levered than its peers. By quite a bit actually.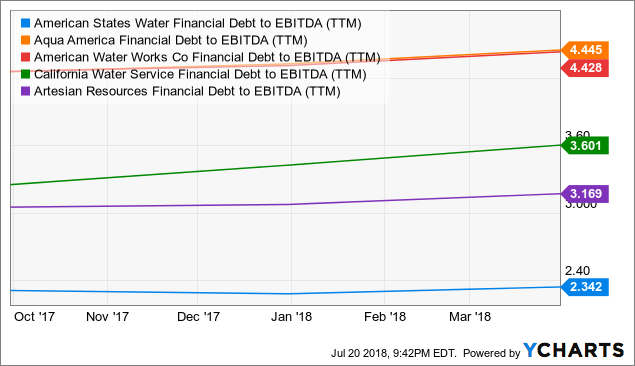 This will insulate American States a bit from rising interest rates. The economy is hot, and rates seem to be on pace to steadily move higher in the years to come.
Dividend Outlook
The main draw to American States is (predictably) the dividend. At 63 years, it is the longest active streak among dividend champions.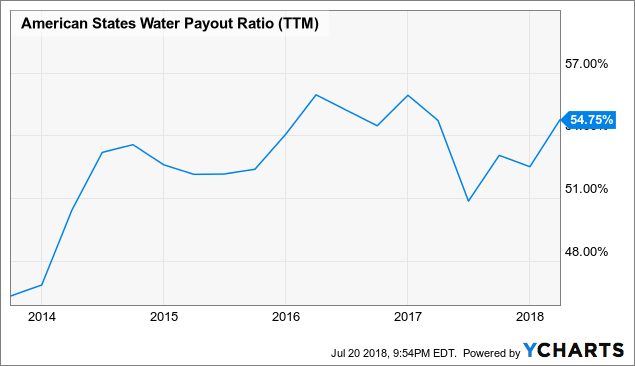 The dividend has increased at a CAGR of 7.6% over the past decade, and American States Water has done a good job of keeping the payout ratio at a manageable percentage of bottom line earnings. Management has a long term target dividend growth rate of 5% or higher. Delivery on this will ensure inflation beating raises for investors, and the financials (steady profits, clean balance sheet, manageable payout ratio) of American States indicate no imminent hurdles to this goal.
Opportunities & Threats
Being a utility, there are limited factors to impact the business - both opportunity and threat wise. Utilities serve a core need to human life, and are regulated so a competitor cannot come into the picture to challenge the business.
Yet there are some variables specific to California, where the majority of American States Water's business calls home. Fresh water is a bigger issue for California than it is for many states throughout the country.
The state faces two major variables in the form of infrastructure needs and swings in precipitation. The 2017 California infrastructure report card predicts that the state will require $44.5B in infrastructure needs over the next 20 years. Additionally, the state goes through periods of extended droughts. The last several years have been extremely dry with the exception of a very wet 2017.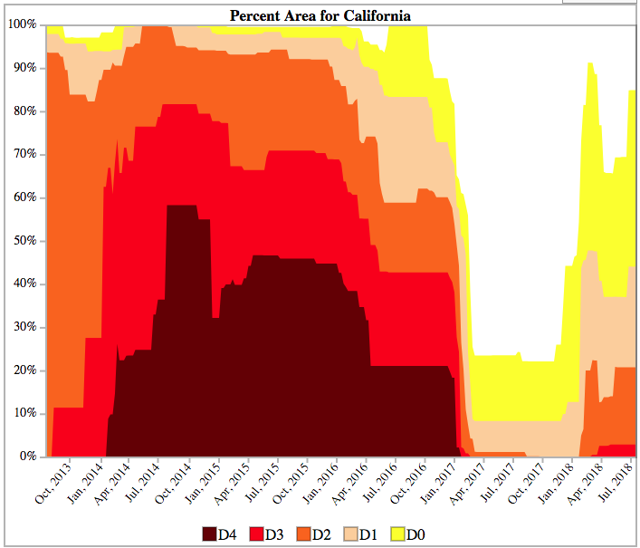 source: Drought.gov
These factors have pros and cons for a water utility such as American States Water. Infrastructure upgrades will be an obvious boost for the company as regulations ensure a return on these outlays. Periods of severe drought can hurt business because in severe situations (such as the red and dark red areas on the above map), restrictions and tiered pricing are typically put in place to discourage consumers from using water.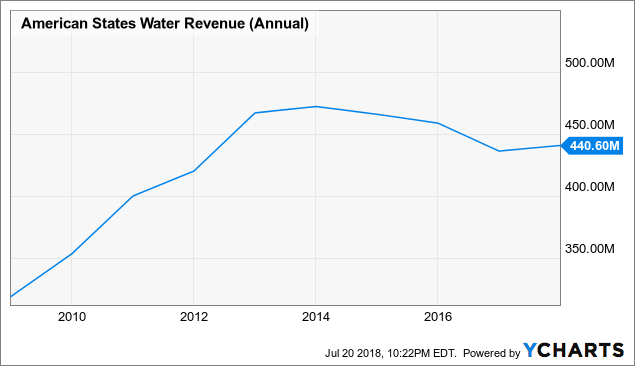 This has a lot to do with why revenue growth has really suffered over much of the past several years.
Valuation
One of my personal observations with the utility sector as a whole, has been that investors seeking safe dividend income over the past decade have pushed up valuations throughout the sector. Today, shares are near their 52 week highs at just over $60 per share.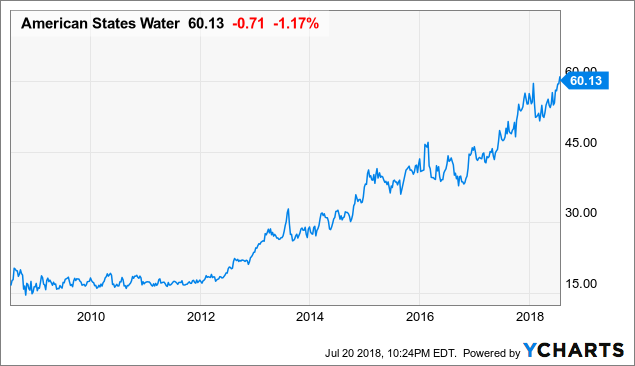 Analysts have American States earning approximately $1.75 per share in 2018. Based on the current share price of just over $60, the stock is currently trading at just over 34X earnings. This is an egregious valuation for a utility because the growth rate of a utility is very limited. The current multiple is about 50% higher than its decade median multiple of 22X earnings. Even the dividend yield of 1.7% is drastically less than the median yield over the past 10 years of 2.6%.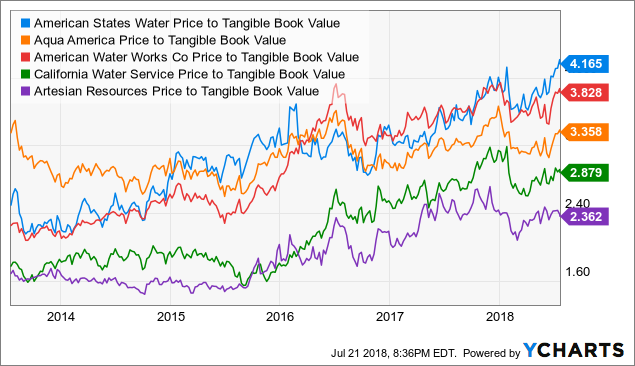 Comparing the rise of share price against book value for the peer group, American States is actually trading at the highest price to book ratio of the group. This is despite starting out in the middle of the pack five years ago. The decade median price/book ratio for American States is 1.82, so we can see that the stock's price has drastically outrun the book value of the company for years.
Wrapping Up
American States Water is a well run utility that features a nice mix of regulated water and electric business, with the additional military contracts for upside. The company does a great job handling its financials by keeping leverage to a minimum. It's steady business is likely to keep the 63 year dividend growth streak running for years to come.
The company's utility business is focused in California, which makes American States reliant on the ebb and flows of variable factors such as regulations, weather, and infrastructure needs.
However despite the company's clean balance sheet, regulatory moat, and history of dividend growth - the valuation is so high that I wouldn't even be able to look hard at this stock without a price cut on shares of 50%. This would mean a $30 target price on shares. I realize this would be a drastic price movement, but I cannot emphasize enough how miserable a long term investment would be at these levels. The stock is trading like Visa (V), despite a growth trajectory that is capped at a modest level in exchange for reliability.