Likely Scenario: Yield Curve Inversion In 2018, Recession In 2019.
Includes:
AGZ, BIL, BKT, BXUB, BXUC, CLTL, DFVL, DFVS, DLBL-OLD, DLBS, DMRL, DTUL, DTUS, DTYL, DTYS, EDV, EGF, EPS, FIBR, FLAT, FTT, GBIL, GNMA, GOVT, GSY, HYDD, IEF, IEI, IVV, LTPZ, MBB, OPER, PBTP, PLW, PPLC, PST, RINF, RISE, RSP, RVRS, RYARX, SCHO, SCHP, SCHR, SDS, SFLA, SH, SHV, SHY, SPDN, SPIP, SPLX, SPMB, SPTI, SPTL, SPTS, SPUU, SPXE, SPXL, SPXN, SPXS, SPXT, SPXU, SPXV, SPY, SSO, STIP, STPP, STPZ, TAPR, TBF, TBT, TBX, TDTF, TDTT, TFLO, TIP, TIPX, TIPZ, TLH, TLT, TMF, TMV, TTT, TUZ, TYBS, TYD, TYNS, TYO, UBT, UPRO, USFR, USMC, UST, USTB, VFINX, VGIT, VGLT, VGSH, VMBS, VOO, VRIG, VTIP, VUSTX, ZROZ
by: Global Opportunities Analyst
Summary
The Yield Curve Inversion Theory Has Become Very Popular.
It Is Quite Possible That The Dreaded Yield Curve Will Turn Negative In A Few Months.
Because The Theory Has Become Extremely Popular, This Awareness Of The Yield Curve Inversion In Itself Can Cause A Hastening Of The Next Recession.
Everybody is talking about the flattening yield curve. The inversion of the spread between the 10-year and the 2-year treasury yields has proved to be a fairly accurate predictor of recession in the past decades. This time around the difference is that everybody is talking about it. I haven't seen any research done on this, but I do remember that not many talked about the dreaded yield curve back in 2006, when it stayed mostly negative until early 2007, or back in year 2000 when it was deeper in the red (more than 0.45%). Since the flattening of the yield curve seems to be such an accurate predictor of recessions to come, can anything be done about it? It probably doesn't really matter. The yield curve doesn't seem to go negative when central bank rates are too low. But recessions do happen anyway. Recessions have happened in much lower interest-rate systems, like Japan, where the yield curve hasn't inverted for decades. Too low interest rates seem not to work with the yield inversion theory. However, in a country like the US, where inflation is already above the central bank's 2% target, keeping interest rates too low for too long could result in hyperinflation. Hyperinflation in itself, as numerous cases have shown (and there are current cases like Argentina and Turkey, let alone extreme situations like Venezuela), does more harm to the economy.
The subject of the yield curve inversion has become so widespread and important that even congressional committee members have been asking Fed Chairmen about the subject in recent years, most recently Chairman Powell on July 17th and 18th. Why does the yield curve inversion happen? The inversion of the yield curve is nothing but a simple indication that monetary policy is too tight, as short-term interest rates exceed long-term inflation expectations. Monetary policy usually becomes tight because there is too much demand for short-term funding, mostly because of too much speculation and investments. Potential excesses in investment and speculation pushes central banks to hike interest rates in order to contain inflation.
Since early 1980s, as the Fed succeeded in taming inflation and bringing it back to its stated goal of 2%, the private sector has ever increasingly taken on more debt with ever lengthier maturities. The debt accumulation has, over time, been adopted by other countries as well. This ever increasing debt load does not allow for the high interest rates that used to be the norm in the 1990s or earlier. At the same time inflation has been tamed in the US for decades already and nobody really thinks it will consistently overshoot the Fed target of 2%. Therefore it would be reasonable to be relatively happy about a 10-year yield that is higher than 2%, and it is above 2.8% now, which makes it quite decent. Will the 10-year yield rise a lot above 3% in the coming months, or couple of years? Of course it is not impossible but, just as I argued last month, it is unlikely, mostly due to the massive amount of debt out there. Because of all the debt it is unlikely that the economy could handle high interest rates. And as long as the 10-year yield stays above 2% I think it maintains quite a bit of attraction for potential investors. The Fed has already raised its rates to 2%, which, I would think is neither relaxed nor tight - just about neutral. After-all a 2% inflation is the stated target of the Fed. The Federal Reserve aims to raise its funding rate two more times this year and three more times in 2019. In case that does happen it would take Fed funds rate above 3%. A flattening, and eventual inversion, of the yield curve has happened before every recession since the 1970s, and it will happen next time too. However, as I mentioned earlier, this time around the difference seems to be the amount of attention that is being paid to it. Why this matters? Because the flattening of the yield curve this time around, because of all the awareness and dread about it, might actually hasten the arrival of the next recession. Previous yield curve flattening/inversions, in 1998 and 2005, did not cause any panic in the market and both stock, and real estate, prices did quite well for almost two more years (chart below). Next time things may no longer stay rosy for that long.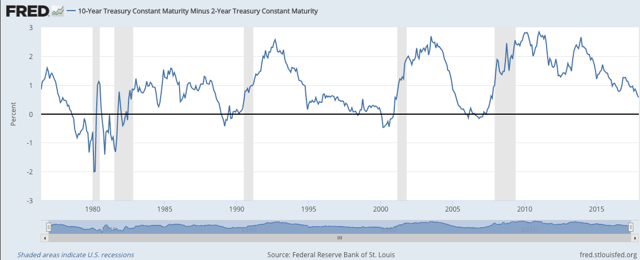 Occurrences of the yield curve flattening can happen pretty quickly. Back in 2005 the 2-year and 10-year treasury yields differential took no longer than 5 months to fall from 0.25 to below zero. However the stock market continued to do well for two more years. The housing market did well only for a few more months. Will a similar situation follow this time around? As the Fed continues to raise rates more above 2% it wouldn't be surprising to see at least a slight inversion later this year.
Two more rate hikes this year would easily take the 2-year treasury yield -which is almost 2.6% now - to 2.8% or so. Would it be surprising to see a completely flat, or negative, yield differential between the 10-year and the 2-year treasuries then? Of course not. It would be absolutely reasonable, and quite likely. Higher short-term interest rates are deflationary (they are actually meant to contain inflation), so a higher Fed funds rate will lower inflation expectations over the long run, and that would be unlikely to push the 10-year treasury yield higher. But it could influence it, at least slightly, to the downside.
Will that mean that things will be just fine for at least 2019, and probably some of 2020 - as it happened with previous yield curve inversions - or will investors recognize the obvious (as they believe the yield curve inversion is the best recession indicator) and sell earlier in the anticipation of the inevitable market declines? I would definitely not bet on the vast majority of investors ignoring what THEY believe to be the best indicator of a recession to come. I think risk-asset investors will react sooner this time; when they will see a flat, or slightly negative, yield curve, and they will either sell or stop investing. And this reaction, in anticipation of a perceived impending recession in the near future will, most likely, bring the dreaded recession quite a bit (months, or maybe even more than a year) nearer. Thus, in case a hypothetical recession would have happened in 2020, the fact that so many investors and money managers (almost all of them) watch the flattening of the yield curve, in case the complete flattening happens this year the panic that it would cause, in itself, would likely bring that hypothetical recession closer, to 2019.
Disclosure: I/we have no positions in any stocks mentioned, and no plans to initiate any positions within the next 72 hours. I wrote this article myself, and it expresses my own opinions. I am not receiving compensation for it (other than from Seeking Alpha). I have no business relationship with any company whose stock is mentioned in this article.