Data from California's motor vehicles department last year showed there was an average of 149 disengagements per 1000 km the autonomous vehicles drove. Comparing last year's result with 2016, it was a 44%+ decline in average number of disengagements. How close are towards safe self-driven vehicles now?
Consumers are becoming more aware of the developments in the autonomous driving arena, as indicated by recent consensus sentiment. A recent global consumer study by Deloitte reveals that there has been a major shapeshift in the percentage of consumers who do not believe in the safety of self-driven cars - a staggering average of 26% decline was found in the consumers, who are dispersed in 15 countries. But there are a multitude of active challenges for the manufacturers, which will not be easy to solve.
Consider the extra $5000 consumers have to pay now for the autopilot features in Tesla (TSLA) or SuperCruise (GM). Is it worth it? Deloitte's report shows that a substantial portion of consumers in the U.S., Germany and Japan are not willing to pay the additional price for the autonomous features in a vehicle. Is it because the safety is not adequate or because the prices are too high? Either way, innovation will find itself a way. Fluctuation in consumer sentiment across a wide array of dimensions at best indicates that challenges for autonomous vehicle manufacturers lie on a broad spectrum of perspectives, from challenges within the technology itself to the consumers' faith and willingness to pay a premium for the autonomous features.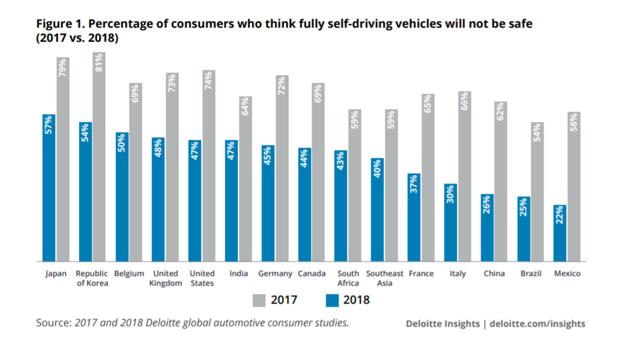 To understand the phases in autonomous vehicle (autonomous vehicle in this article mostly addresses land-based vehicles) technology, let's take a step-by-step approach, as suggested by a research paper in last year's IOP conference series. The research shows six levels of driving automation: driver assistance, partial automation, conditional automation, high automation and full automation. Recent developments suggest that we are somewhere in the conditional automation mode, which means that an automated driving system will perform all aspects of the dynamic driving task in certain driving modes, while a human driver will respond appropriately to a request to intervene. Recent drive tests show that Tesla's "enhanced autopilot" periodically asks you to take control by flashing a lighted ring, Cadillac's SuperCruise will need you meet a set of conditions which includes activation of adaptive cruise control, the collision system set to alert and brake, limited access freeway, camera sensors not being covered/damaged and more, and the Mercedes E400 coupe will allow you to take your hands off the wheel for brief periods, before alerting you to take control over the system. These three examples show various degrees of conditional automation.
"We're encouraged by this progress, but there's still a long road ahead. To provide the best experience we can, we'll need to master snow-covered roadways, interpret temporary construction signals and handle other tricky situations that many drivers encounter."- Google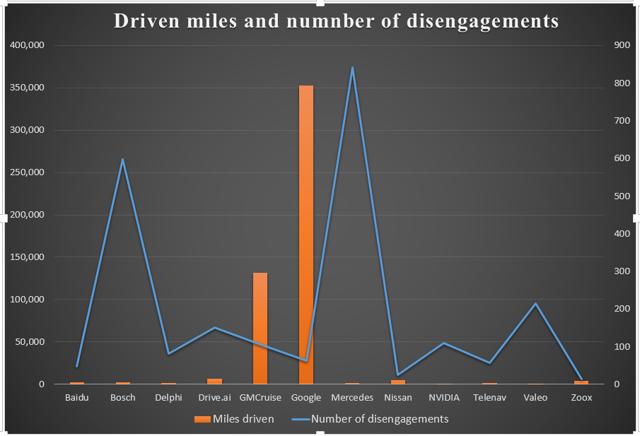 (Data Source: California DMV, data table directly extracted from The last driver license holder)
Tesla's existing fleet of 300 thousand-plus cars might give it a starting advantage in terms of gathering real-world data through its existing autopilot system because Google (GOOG) has only 600+ vehicles on road. Tesla reports that its autopilot mode has driven over 1.2 billion miles, which is roughly 15% of Tesla's total miles, while Waymo has self-driven over 7 million miles, with 2.7 billion miles simulated driving last year. Recently, Google announced that Waymo will add 62,000 Chrysler vans and 20,000 Jaguar I-PACE vehicles to its fleet. No wonder Google will approach expansionary strategies aggressively. It will be very interesting to see Google and Tesla competing head-to-head with each other for the first time.
Earlier in May, GM and Softbank vision fund partnered together, where Softbank will invest $2.25 billion and GM will invest $1.1 billion. $900 million will be invested by Softbank initially, and the remaining $1.35 billion when GM's cruise autonomous vehicles will be introduced commercially. Current data suggests that Google and GM have a leading position in the autonomous vehicle industry. Note that Tesla didn't report in the last disengagement report, but it should rank in top five comparing stats from Tesla Autopilot Miles. So, the current competition boils down to Google, GM and Tesla, at least on a broad, representational level.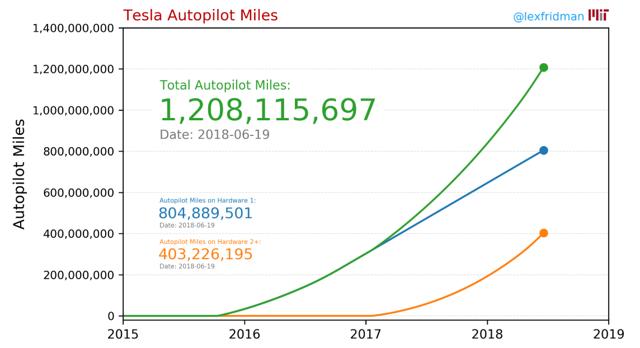 (Source: Tesla Autopilot Miles)
IHS Markit forecasts that more than 33 million autonomous vehicles will be sold globally in 2040, a substantial increase from the 51,000 units forecast for the first year of significant volume in 2021. Because it would be difficult to assume average purchase price of autonomous vehicles, we will try to indirectly estimate the market value forward in 2040 and then discount it back to now.
To make as few assumptions as possible, I will make a simple assumption based on a rational point. I will assume that consumers will not pay the extra price for autonomous cars, and as a result, the maximum average price an autonomous car can charge in next 22 years should not be more than that of the manually driven cars. Last 10 years' data show that average car purchase price has posted 2% annual growth. Using this as the long-term growth factor, the average car price will stand at roughly $57,671 in 2040 (current U.S. average price is $36,270). Multiplying $57,671 with IHS's forecast of 33 million autonomous vehicle sales in 2040, we find an implied market value of $1.90 trillion. Using an expected inflation rate of 3% as discount factor, I have found that the present value stands at roughly $991.6 billion. Now, everyone knows that the autonomous vehicle market definitely doesn't have $991 billion sales in 2018, and the current market cap of the whole automobile industry is between $700 and $800 billion. But conceptually, we can try to quantitatively assess the potential worth of the autonomous vehicle market at this point of time. Once the industry starts building momentum, growth rates should topple each year.
"The first autonomous vehicle volumes - beyond retrofit test vehicles - will arrive in 2019 through driverless mobility services," said Egil Juliussen, Ph.D. and director of automotive technology research at IHS Markit. "Volumes will surpass 51,000 units in 2021 when personally owned autonomous cars reach individual buyers for the first time, and IHS Markit forecasts estimate nearly 1 million units will be sold in 2025 across shared fleets and individually owned cars."
Considering that your portfolio has a broad exposure to the automobile sector, how can you maximize the expected return? I have taken General Motors, Google, Tesla, Ford (F), Fiat-Chrysler (FCAU) and Honda (HMC) and constructed an optimal portfolio. The only constraints were to allocate minimum 15% and maximum 30% in each of the first three securities (GM, GOOG, TSLA) and a minimum of 5% in others. Initially, the portfolio was set equal weighted. Then, I used Portfolio Visualizer to calculate an optimal portfolio with Sharpe ratio maximization as the goal. As you can see, although the expected variance of the optimal portfolio increased to 20.22% from 17.62% (because variance optimization was not the goal), expected return improved dramatically from 15.75% to 23.20%, reflecting a 28.74% improvement in the Sharpe ratio and 37.4% improvement in the Sortino ratio.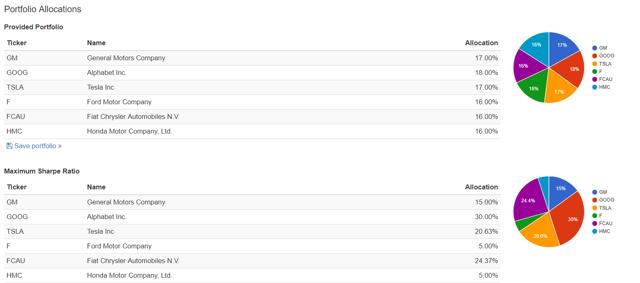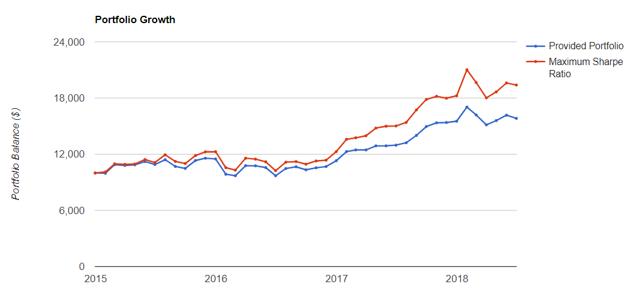 Fully self-driven cars have a long way to go. But just like innovation in other fast-paced industries driven by exponential organizations, once growth starts to pick up, it skyrockets through a fast-paced phase to totally different levels. History has proven that growth by exponential organizations (exo) were far ahead than analyst estimates. Exo have disproportionate impact in terms of leveraging accelerated technology. The autonomous vehicle manufacturers have the capacity to become exponential organizations where growth will march exponentially. Be prepared, and don't forget to allocate a portion of your portfolio towards the emerging dominant technologies for long-term growth. That's how wealth is built.