Are you a debtor or a saver? If you are like me - a saver - you've suffered through more than seven years of miserably low interest rates on your holdings. If you are a debtor, it's the reverse: You've enjoyed seven years of amazingly cheap money.
Now, finally, that trend is reversing. The Federal Reserve began gradually increasing its key short-term interest rate - the Federal Funds Rate - in December 2015 and has indicated that four quarter-point increases are likely in 2018.
The Federal Funds Rate now stands in the range of 1.75% to 2.00%. And these increases have made a meaningful difference for savers.
In December 2015, a 4-week Treasury was paying 0.19%. It is now paying 1.86%.
In December 2015, a 1-year Treasury was paying 0.51%. It is now paying 2.41%.
Vanguard's settlement fund, the Treasury Money Market Fund (MUTF:VUSXX), now has an SEC yield of 1.85%, up from near zero three years ago.
Even banks are getting into the act, with many offering up to 2.0% on savings accounts and 2.5% on one-year CDs.
These returns reflect a long, slow, painful crawl upward. Savers looking for ultra-safe investments have been punished by artificially low interest rates, with performance well below the rate of inflation. This chart compares the Federal Funds Rate (which effectively sets short-term and money-market rates) with the annual inflation rate since 1991: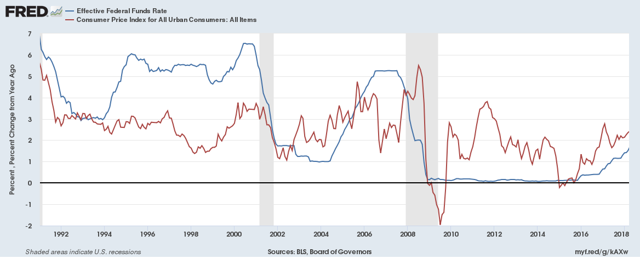 For most of the last 17 years, short-term interest rates have been held under the U.S. inflation rate. This includes the near-zero rates that continued from December 2008 to December 2015, even as inflation remained above 1% for much of that period. These low rates punished savers, denying them safe income and pushing some into riskier investments. Pension funds also suffered as rates fell well below their projections.
Into
this picture steps ...
To be clear, I do not mean for this article to present a political viewpoint. But last week I was annoyed when President Trump, being interviewed on CNBC, argued against the current Federal Reserve policy of gradually increasing interest rates as the economy improves.
JOE KERNEN: Wage gains. Do you worry that – is it time for the Fed to be doing what it's doing? Just to get a policy question in. Should they be raising rates on the trajectory that is indicated right now, in your view?

PRESIDENT TRUMP: I put a very good man in the Fed. I don't necessarily agree with it because he's raising interest rates, I'm not saying I agree with it, and I don't necessarily agree with it, I must tell you I don't. I'm not thrilled because we go up and every time you go up, they want to raise rates again. I don't really - I'm not happy about it. ...

Now I'm just saying the same thing that I would have said as a private citizen. So somebody would say, Oh, maybe you shouldn't say that as a President. I couldn't care less what they say because my views haven't changed. I don't like all this work that we are putting in to the economy and then I see rates going up ...
President Trump is famous for using debt to build his business, and I can understand his affection for low interest rates. But does it make sense - in any historical context - for short- and medium-term interest rates to remain below the U.S. inflation rate, currently running at 2.9%?
To get at the answer, I set out to find the level of key interest rates at times since 1990 when the U.S. inflation rate (CPI-U) was in the range of 2.8% to 3.1%. Here are the results for selected months: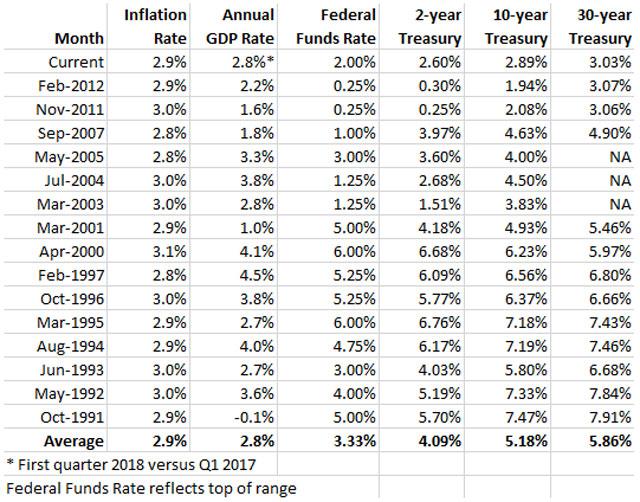 Once you move to before July 2011, when the Fed began aggressive quantitative easing, the Federal Funds Rate was higher than or equal to the inflation rate in 10 of the 13 examples. The average of all 16 examples is an inflation rate of 2.9% - just as it is today - and a Federal Funds Rate of 3.33%. The average annual GDP rate of 2.8% also matches the 2.8% year-over-year increase in quarter 1 of 2018.
So a more reasonable Federal Funds Rate would be in the range of 3.25% to 3.50%, which might result in the two-year Treasury rising to 4.0%, the 10-year to 5.2% and the 30-year to 5.9%. And the Federal Reserve's Open Market Committee appears to agree with this assessment. Here is a chart showing the FOMC's summary of economic projections for the Federal Funds Rate, predicting a rate of 3.4% in 2020:
My point is ...
The economy is healthy, inflation is rising and we have departed the dire economic period of 2008 to 2009. Interest rates in July 2018 are not too high -- in fact, they remain below historical levels. Gradually rising interest rates would be a signal of a renewed, healthy economy, and reward savers and those on fixed incomes.
So how should investors approach the future? Unless the economy stumbles badly, short-term interest rates should continue climbing on the path projected by the Federal Reserve. One way to capture these rising rates would be to invest in 4-week or 13-week Treasurys, rolling them over after each maturity.
An even simpler strategy would be to put your cash to work in a top-grade money market fund, such as Vanguard's Treasury Money Market Fund (VUSXX, current yield 1.85%) or Prime Money Market (VMMXX, current yield 2.05%), which have been reacting quickly to rising rates.