If you haven't heard of Robinhood, it is a highly simplified brokerage platform that allows for commission free trading. It has a sleek design, is simple to use, and is becoming the brokerage of choice for Millennials and Generation Z.
What makes Robinhood even better is that they openly publish the top held positions of all their users. Here are the top 20 stock holdings as of last month (in order):
This valuable information goes utilized by many in the investment community. With Robinhood, we can get an idea of who exactly is the marginal buyer on many equities. We can also see what industries and sectors people under 30 are interested in investing in. It appears they like to have a mix of the "old" and the "new" with a heavy bias toward "the next big thing".
These are also a very close replica to the brands millennials buy from (i.e. the only businesses they know). There is a bias toward chip-makers, social media, cars, online shopping, and "those really old companies" like General Electric, Bank of America, and Ford.
Fundamentals
We wanted to find the fundamentals of a "typical" company held in a Robinhood account. Here is the data: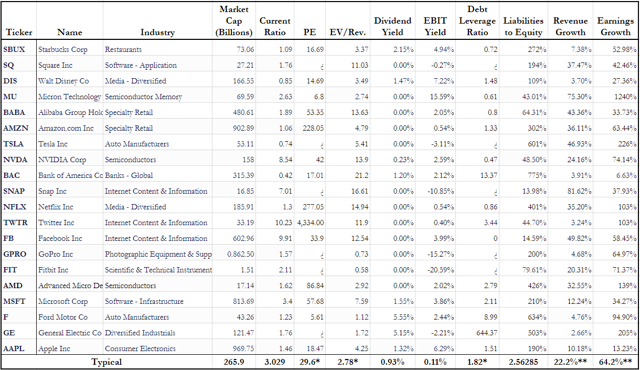 * - Harmonic mean used to avoid outlier bias
** - Median used to avoid outlier bias
Source: Unclestock.com
The "typical" company held in a Robinhood account (i.e. held by young retail investors) has an extremely high market cap of a quarter trillion, a healthy current account, a high PE valuation of about 30 (companies with no earnings were counted as zero not negative, so the true value should be even higher), a very high enterprise value to revenue of about 2.8, a low dividend yield of 93 bp, an earnings before interest tax yield of 11 basis points, and relatively high leverage.
Those figures all seem alarming, but these companies also have very high top and bottom line growth rates.
In short, these retail investors have a bias toward "debt-fueled growth at a highly unreasonable price", far from "growth at a reasonable price".
The Index
Perhaps even more interesting than fundamentals is how these stocks perform as an index. Particularly, to see if the index gives us clues into market sentiment.
We created an index of a 5% weighting of each of these companies dated back to the beginning of 2014. For the companies that did not trade that far back, we blended that 5% into those companies' most similar ETF. For example, our "SNAP" allocation becomes the Invesco DWA Technology Momentum ETF (PTF) before SNAP's IPO.
Here is the index vs S&P 500 (SPY):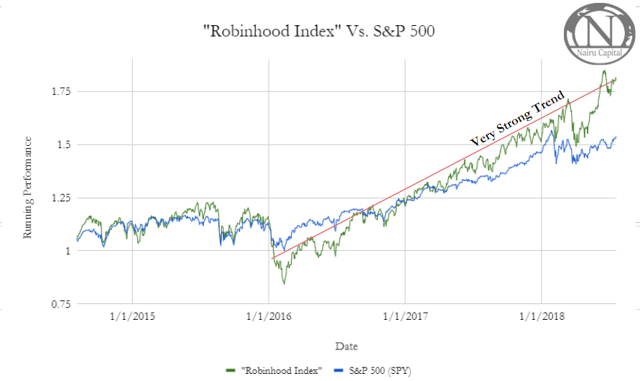 Data Source: Google Finance
As you can see, there is a very strong trend in this index vs. that of SPY. It has been increasing at a rate of 25% per annum since the beginning of 2016 to this day. That said, the recent large drop in March followed by the intense rally May and June is concerning. It may show that retail speculation in the markets is at a turning point.
To have a closer look, we will graph the two above charts as a ratio of each other. This shows us how a "short SPY long Robinhood Index" strategy would perform.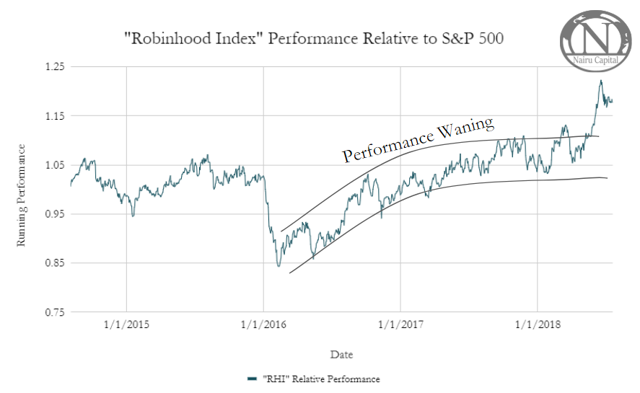 Data Source: Google Finance
The strategy has seen weakening outperformance to the market until last month when it exploded higher. Our theory is that a month ago when the S&P 500 was failing to break below 2,700, it was retail speculators who brought it back up. When buying, they bought primarily the "Robinhood top stocks" and left sectors like Industrials, Financials, and Materials all out in the cold.
Bottom Line
The bottom line is this should be bad news for the market. If financial assets are being transferred from "smart money" to "dumb money" while still maintaining their price, a lot of volatility could arise. The "Robinhood top stocks" are like the FANGs, but with a much more complete and diverse picture. We can see that these companies have sky-high valuations and alarming debt burdens.
They certainly have growth, but only at the cost of "buying into a bubble" and of possible bankruptcy (TSLA, GE, F) (We would contrarian-ly add AMZN, NFLX, and AMD to that list due to high leverage and low cash-flow).
We will be monitoring this "index" closely over the coming weeks and months as we believe it is a great signal to measuring young retail investor sentiment.
Disclosure: I am/we are short NFLX, TSLA, AMD, FB. I wrote this article myself, and it expresses my own opinions. I am not receiving compensation for it (other than from Seeking Alpha). I have no business relationship with any company whose stock is mentioned in this article.