They are the stocks that so many investors love today. They are the big dogs – the ten largest companies by market capitalization in the United States. Many claim that they will dominate the world into the future with corresponding blow out stock price performance. But if history is any guide, many will turn out to be lousy investments over the next decade.
The list. Presenting the ten largest stocks by market cap in the United States today in order of size.
Apple
Microsoft
Amazon
Google
Facebook
Berkshire Hathaway
JP Morgan Chase
ExxonMobil
Johnson & Johnson
Bank of America
The investor love for these companies is well documented. And many have been absolutely dominant in recent years.
But should we expect these companies to continue to dominate into the future?
And should investors expect comparable rewards to what they have realized to date in these powerhouse names?
To help answer these questions, let's look back on the top ten lists from two key dates in history – 1999 and 2006. Why 1999 and 2006? Because we are in the midst of one of the finest bull markets in history in 2018, and 1999 and 2006 marked the high points for the last two bull markets before the current incarnation still running today.
The Top 10 From 2006
Going back in order, let's start with 2006. Here's the top ten in order from a little over a decade ago. Also included is the cumulative returns of each of these stocks from January 1, 2007 to the present since landing on this top ten list. It is worth noting that the S&P 500 Index is higher by +150% over this time period.
ExxonMobil +45%
General Electric -47%
Microsoft +367%
Citigroup -86%
Bank of America -31%
Procter & Gamble +74%
Wal-Mart +150%
Johnson & Johnson +170%
Pfizer +132%
AIG -95%
Let's tally up the scorecard. Only two out of the ten names on the 2006 list – Microsoft and Johnson & Johnson – managed to outperform the S&P 500 Index in the eleven plus years since. One other in Wal-Mart effectively matched the benchmark, while only three others managed to post positive returns over this time period. As for the remaining four, Bank of America is lower by a third, GE by half, and both Citigroup and AIG nearly evaporated along the way.
In summary, a 20% relative win rate, while 7 trailed the market, some by a considerable margin. Moreover, we have a 40% absolute loss rate, as 4 out of the 10 "titans" from 2006 are deep in the red more than eleven years later.
The Top 10 From 1999
We'll now go further back nearly two decades from today to the ten largest companies in the U.S. in 1999. Here's the list along with the cumulative performance since January 1, 2000 through today. Also note that the S&P 500 Index is higher by +169% over this time period, which of course is not far from the return since January 1, 2007.
Microsoft +173%
General Electric -55%
Cisco Systems -2%
Wal-Mart +72%
ExxonMobil +219%
Intel +88%
Lucent Technologies -97%
IBM +84%
Citigroup -76%
America Online -97%
Back to the scorecard. Only one company in ExxonMobil managed to outperform the S&P 500 Index in any meaningful way in the two decades since. Microsoft effectively matched the market over this time period, but investors were lower by -30% to -70% for up to thirteen years on until they started to get their payoff in the past five. As for the rest, only three others managed to generate positive returns, but still trailed the broader market by a significant margin. The remaining five stocks are still lower today including General Electric that is lower by more than half, Citigroup that is lower by three quarters, and two companies in Lucent Technologies and America Online that effectively don't exist anymore, as their tiny remaining fragments were eventually swallowed by Nokia and Verizon, respectively.
In summary, a 10% relative win rate and a 50% absolute loss rate nearly two decades on. Unexciting results to say the least.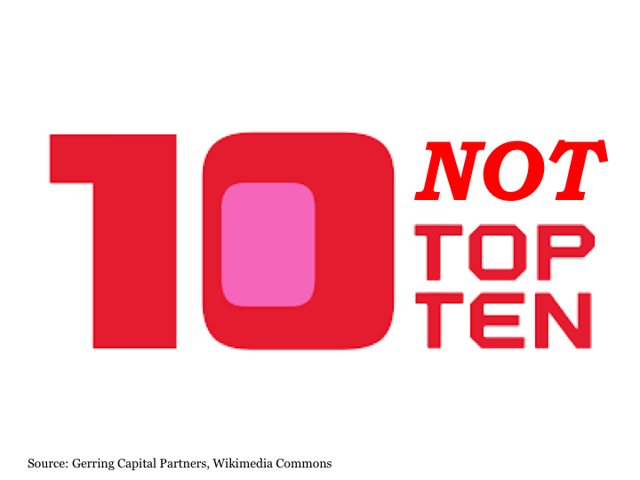 Back To Today's Top 10
Maybe it will be different this time for today's top ten. Maybe they will be the companies still dominating the market a decade from now with their $3 trillion market caps and their collective 35% weighting on the S&P 500 Index. Maybe, because we all know how well proclaiming "it's different this time" works when it comes to investing. For just because a company is changing the world today doesn't mean that they will be continuing to do so five years from now. Rarely is it the same companies that are transforming the world over and over again. It is part of the curse of becoming big.
Then again. Or maybe, just maybe, a new set of companies will rise from the pack with their own revolutionary technologies in the years and decades ahead. Some of these companies are likely already well on their way in climbing up the 500. And maybe some of the more established and value-oriented companies that have been getting overlooked by investors as of late will resume their market leadership roles in the coming years and find their way back into the top ten.
What we should reasonably expect. Some of the companies on today's top ten will likely still be on the list in 2022 and 2027. But recent history suggests that we should reasonably expect anywhere between 6 to 8 new names on the list in the future, that hardly any will outperform the broader market over the next decade, and that up to half will end up losing money in absolute terms over this same time period.
Put simply, today's top ten list is hardly a source for excitement for long-term investors seeking consistently strong portfolio returns in the future if history is any guide. Yet so many investors remain absolutely ebullient about many of these very same names on today's top ten list.
It should be interesting to see how well this latest group does in working to overcome this historical precedent and deliver over the next decade. While I do like a few quite a bit, I remain inclined to look elsewhere for better attractively valued total return opportunities in the coming years.
Disclosure: This article is for information purposes only. There are risks involved with investing including loss of principal. Gerring Capital Partners and Retirement Sentinel makes no explicit or implicit guarantee with respect to performance or the outcome of any investment or projections made. There is no guarantee that the goals of the strategies discussed by Gerring Capital Partners and Retirement Sentinel will be met.
Is your investment portfolio ready for the coming volatility?
I am hosting a FREE ONLINE TRAINING EVENT on Wednesday, July 25with Brian Bain from Investor In The Family to discuss how to set up your portfolio not just to survive but actually thrive in an increasingly volatile market.
If you are interesting in learning more about this free event and joining us on Wednesday, please click on the following link.
Is Your Portfolio Ready For The Coming Volatility?
Thanks and I look forward to meeting up online this Wednesday!
Disclosure: I am/we are long XOM,PG,PFE. I wrote this article myself, and it expresses my own opinions. I am not receiving compensation for it (other than from Seeking Alpha). I have no business relationship with any company whose stock is mentioned in this article.