Midstream stocks, led by MLPs, were positive for a third straight week. After starting slow, things turned around Wednesday when oil reversed intra-day. Then Thursday, the MLP Index rallied 2.5% after the final FERC ruling generated big excitement around some beaten-down FERC-impacted and some additional excitement for MLPs broadly.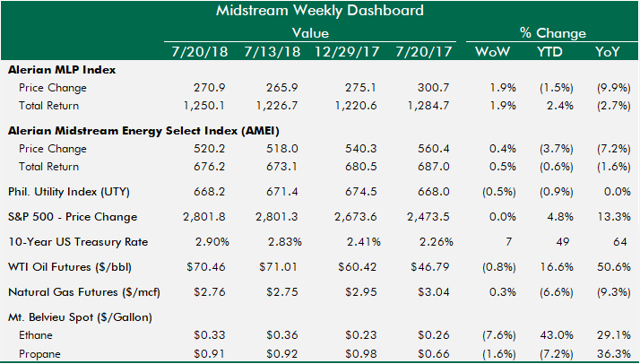 The excitement proved short-lived, with a 1% drop on Friday. The sell-off Friday looked like a combination of a few things. First, dividend stocks (REITs and utilities) sold off hard Friday, and interest rates were up.
Second, the market seemed to second guess itself as far as just how positive the FERC ruling is for the stocks that rallied 20%+ on Thursday (TCP sold off 12% Friday after +27% Thursday), and how the income tax allowance (ITA) issue will be handled for partially owned, but fully-consolidated MLPs.
Taking a step back, the MLP Index is up 2.4% including distributions in 2018, solidly in the green and gaining on the S&P 500. With a good round of results, that gap could narrow and set up for a strong finish to the year. KMI's positive earnings drew less attention than normal, but they bode well for earnings season.
Basically, what I am saying is that while President Trump is doing double negative double talk, midstream got double positives this week, and I don't see any reason MLPs wouldn't rally. But, if I'm wrong, what I meant to say is that I don't see any reason MLPs would rally.
Headline Win for MLP Structure
Beyond the narrow group of MLPs directly impacted by FERC, the elimination of ADIT liability seems to be the bigger deal for broader midstream, removing a hindrance to better fund flows. It was disappointing that on a day when MLPs got a headline win on an issue that crushed MLPs early in the year, MLPs were only able to muster enough interest for the 3rd best day of the year and not even a 3% rally overall.
The inertia of the move away from investing in MLPs is picked up (helped by the FERC), and the evolution doesn't just revert in an instant. After four months of investors reducing FERC and MLP exposure, the will to jump back into FERC-exposed MLPs or MLPs in general isn't necessarily there.
"Never waste the opportunity offered by a good crisis"
The above quote has been attributed to Machiavelli, but it has also been popularized by Winston Churchill and Rahm Emanuel. Sponsors of FERC-impacted MLPs moved quickly to simplify structures in the wake of the initial FERC ruling. That uncertainty was resolved to some degree this week, but corporate restructuring plans put into motion in recent months are not likely to revert.
TCP is unlikely to restore its prior distribution (following a 35% cut last quarter), EEP and SEP are unlikely to cancel plans to be acquired by ENB, and WMB will not likely cancel its pending simplification merger. Also, BWP is not coming back. Loews Corporation (NYSE:L) was barely quick enough to act to take advantage of the FERC crisis, closing the buy-in of BWP the day before the final FERC notice.
Internet Lingo: Am I Doing This Right?
I have a Twitter account (@mlpguy) where I follow mostly fellow investors large and small. I am a very small and specific part of #fintwit. When on Twitter, occasionally I come across what my brain reads as a meaningless collection of letters, but which in fact means something specific. Examples include: SMH (shaking my head), FTW (for the win), TFW (that feeling when), IRL (in real life), MTFBWY (May the Force be with you).
I always struggle with those. One that I only recently figured out is TBT (Throwback Thursday). It usually accompanies old photos or nostalgic references to better days in the past.
This week's FERC announcement should be considered the MLP version of Throwback Thursday, and not only because FERC walked back some of the pain and confusion from earlier this year. Also, because the muted sector price reaction and lack of Friday follow-through conjure up nostalgia for the days when MLPs were more relevant in the #fintwit world and real world.
Interesting that the big MLP events this year have happened on Thursdays. The initial FERC NOPR, then "Simplification Thursday," when more than 10% of the Alerian MLP Index announced buy-ins by corporate parents, and then this Thursday.
Winners & Losers
DM opened Thursday up 35% and finished the day up 23.4%, TCP finished even better on Thursday (+27.2%). Thursday morning in our office it was noted while guessing how big gains would be for those two that we hadn't had this much fun since 2014 when we'd guess how much the IPO pop for the latest MLP IPO would be.
TCP gave back 11% of those gains Friday, to finish up "just" 14% this week. WPZ also reacted positively to the FERC ruling, but also because of the Atlantic Sunrise in-service date update. On the downside, a distribution cutter (NASDAQ:BKEP) and a potential distribution cutter (NYSE:BPL) were the worst performers of all midstream this week.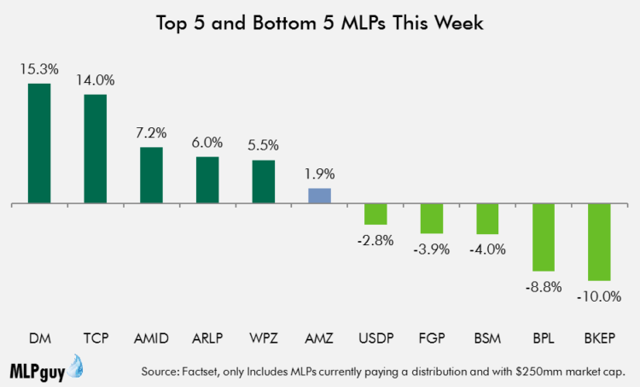 Interesting that DM and TCP were among the best performers last week as well. BPL gave back all of its gains from last week, following a downgrade in outlook from Moodys. On the YTD leaderboard, EQM climbed out of the bottom 5, replaced by BPL. On the top 5, CEQP is now up more than 40% so far this year.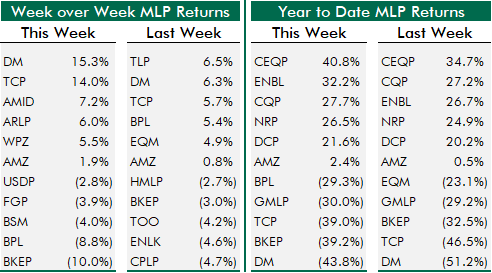 General Partners and Midstream Corporations
MLPs were the focus late in the week, and midstream corporations underperformed MLPs as a group. Natural gas pipeline names WMB, TGE (I'll adjust the ticker next week from TEGP), and ETE led the way. KMI posted strong quarterly results due to strong gas pipeline results, but it was overshadowed by the MLP focus late in the week. OKE has a rare appearance near the bottom of the group.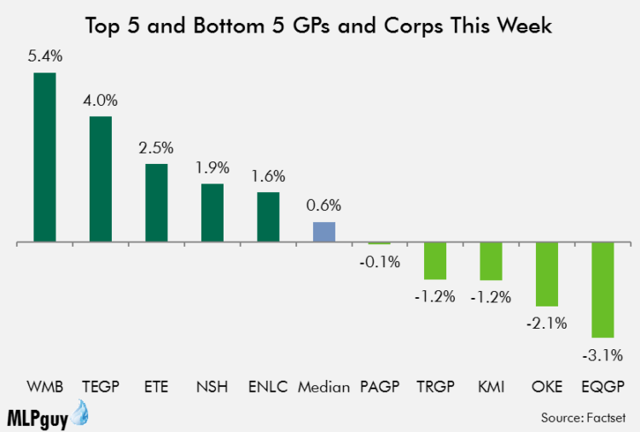 Each of the bottom 5 from last week traded up this week. On the YTD leaderboard, WMB climbed out of the bottom 5, replaced by EQGP.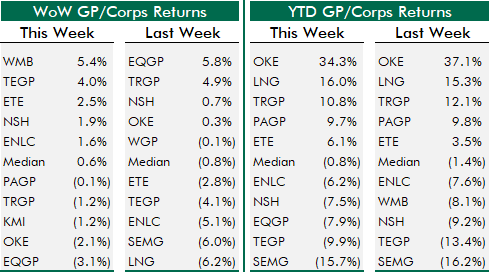 Canadian Midstream
Canada underperformed again this week. ENB suffered from some press regarding the opposition planned for the approved Line 3 Replacement project in Minnesota. ENB and TRP were the best performers in Canadian midstream on Thursday, benefitting from a positive readthrough of the FERC ruling and their subsidiary MLPs.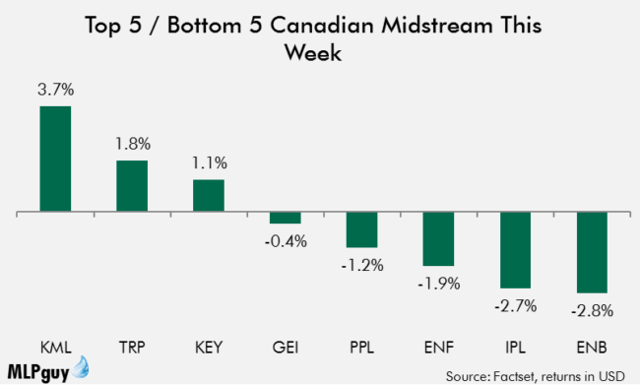 Still limited differentiation on the YTD leaderboard in Canada, although the biggest names (TRP and ENB) remain at the bottom, despite strength in recent months. Canada's slow start to the year and still wide differentials have hurt the group's performance relative to U.S. midstream.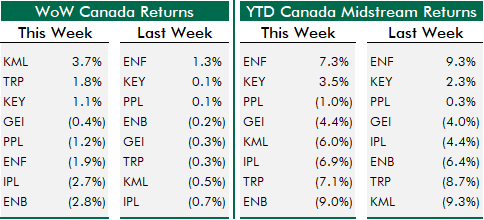 News of the (Midstream) World
Some capital markets activity this week, which was nice to see, with both preferred and common equity issuance. In addition, 3 zombie MLPs have been put out of their misery (BWP, RMP, NSH). Finally, somewhat under the radar, Enterprise announced a solution for loading bigger ships full of U.S. oil destined for global markets.

Capital Markets
Energy Transfer (ETP) priced public offering of 16mm of its 7.625% Series D Fixed-to-Floating rate cumulative redeemable perpetual preferred units at $25/unit raising $400mm (press release)

Distributions fixed at 7.625% through August 15, 2023, then switch to 3-month LIBOR +4.738%
PBF Logistics (NYSE:PBFX) announced registered direct issuance of 1.8mm units with Tortoise Capital for gross proceeds of $35mm (press release)
Growth Projects / M&A
Enterprise Products (NYSE:EPD) announced it is planning to develop an offshore crude oil export terminal off the Texas Gulf Coast (press release)

The terminal would be capable of fully loading very large crude carriers which have capacities of 2mm barrels
The project could include 80 miles of 42-inch diameter pipeline to an offshore terminal capable of loading and exporting crude oil at approximately 85,000 barrels per hour
PBF Logistics (PBFX) announced the acquisition of storage assets located on the Delaware River from Crown Point International for $107mm (press release)

Assets include a storage facility with 4mm barrels of multi-use capacity, an Aframax-capable marine facility, a rail facility, a truck terminal, equipment, contracts and other assets
Other
FERC issued final ruling on the notice of proposed rulemaking from March 15 which included some positive changes for MLPs (press release)

Natural gas MLPs that are consolidated by a parent corporation are eligible to recover a tax allowance
Accumulated deferred income tax (ADIT) reimbursement concerns have been eliminated for pipelines that state they are not tax paying entities
Plains All American's (NYSE:PAA) request for exclusion to the imported steel tariffs for its $1.1bn Cactus II pipeline was denied by the Commerce Department (Reuters)

Commerce Department argued there is suitable product available from domestic producers whereas PAA said that only three mills in the world, all outside of the US, could produce the needed steel
Another special rebalance of the Alerian MLP Index series this week when NSH and RMP close their respective mergers with affiliated MLPs next week (press release)

This comes on the heels of special rebalances for TEP's merger and BWP's buy-in
RMP holders approved the EQM merger, transaction to close 7/23 (press release)
NSH holders approved the NS merger, and closed their transaction Friday afternoon (press release)
Distribution Announcements
20 Distributions announced, one distribution cut from a tiny MLP that had announced last quarter the cut was coming

AM and PSXP still putting up 20%+ annual growth numbers