Brookfield Infrastructure Partners L.P. (NYSE:BIP) is trading at reasonable valuations, offers a 4.7% distribution yield with 8%+ annual distribution growth, and is packaged with an excellent credit rating, high liquidity, and a safe payout ratio.
I consider it a good buy at current prices, and have recently increased my own long-term position in the partnership.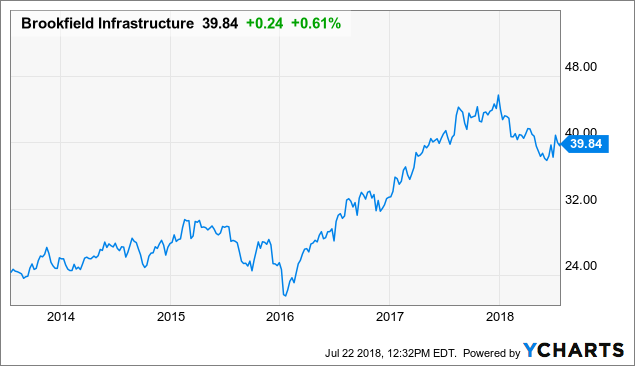 Brookfield's Business Model
Brookfield Infrastructure Partners is a publicly traded partnership that invests in and operates infrastructure around the world.
Here is their recent map of operations: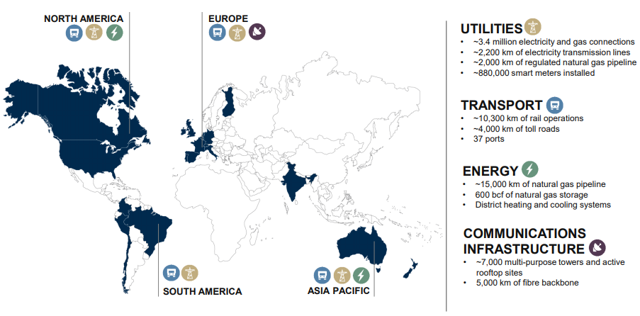 Source: BIP Corporate Profile
The partnership has electric and gas utilities, rail and toll road operations, natural gas pipelines, communication towers, and fibre infrastructure.
BIP's general partner, incentive distribution rights (IDRs), and 30% of the limited partnership units are held by its Canadian parent company Brookfield Asset Management (BAM). The other 70% of limited partnership units are publicly traded.
BIP's model is simple in concept, but complex in terms of accounting and expertise.
In short, they buy undervalued/distressed infrastructure assets in a contrarian fashion, improve them with refinancing and expansion, and then ultimately sell them at much higher valuations years later. Then, they recycle the money into more undervalued/distressed assets.
For example, during the financial crisis a decade ago, they bought shipping ports, lumber real estate, and other cyclical infrastructure at a bargain from distressed sellers, and held the assets as the global economy recovered. Then, within the last couple of years, they have invested heavily in Brazil during their worst recession in history.
To do this, BIP leverages its wide-moat advantages. The partnership maintains a BBB+ credit rating, which is top-tier compared to MLP peers, and thus has access to low-cost debt markets to refinance debt-burdened assets. Their parent company, BAM, has hundreds of investment professionals working to find and drop down deals to BIP. Their investing mandate is global, and so unlike domestic utility companies, they can go to distressed economies around the world to buy assets for less than they are worth.
According to BIP's Corporate Profile document, they have sold 11 businesses since the inception of the partnership, for an average 25% internal rate of return. The most recent case was their Chilean electricity transmission business, which generated an 18% internal rate of return on safe utility assets over an 11-year period.
The $70 Trillion Potential
According to McKinsey & Company, almost $70 trillion needs to be spent on infrastructure globally through 2035, or about $3.7 trillion annually.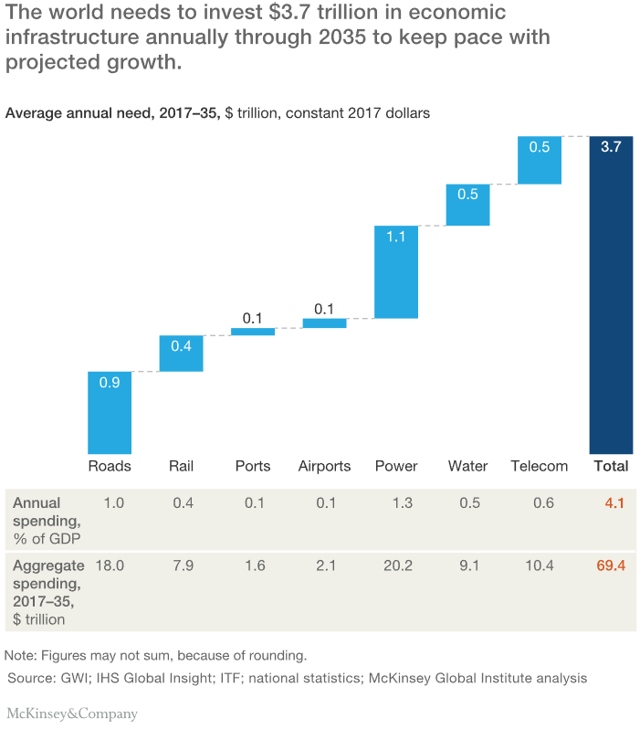 Source: McKinsey Global Institute
To put that into perspective, BIP's 2017 revenue was about $3.5 billion, less than 0.1% of McKinsey's projected worldwide annual infrastructure spending needs. Their possibilities of expansion over the next decade are virtually without limit as long as they can continue to capture just a tiny fraction of global infrastructure spending and existing assets.
Strong Long-Term Results
BIP's stated goal is to have a 12-15% long-term return on equity, and to grow distributions by 5-9% per year.
Since inception they have outperformed their targets, with 11% annual distribution growth: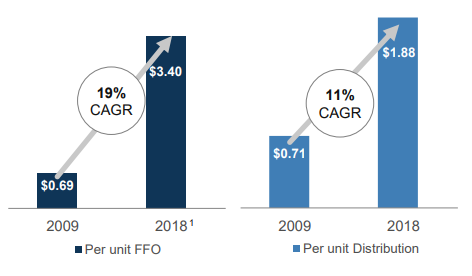 Source: BIP Corporate Profile
I initially invested in the partnership back in early 2010 at a split-adjusted price of about $11/unit, when the global economy wasn't so rosy and units were yielding well over 6%. Now units are about $40.
BIP, which recently spun off into a partnership from its parent company Brookfield Asset Management, had purchased undervalued shipping ports and other infrastructure from struggling companies, and thus positioned themselves to benefit from a global recovery. And they did so in spades.
Fast-forward to 2015, I sold my units after a big run-up in price and five years of collecting distributions. But, instead of leaving the investment entirely, I invested that money into BIP's parent company, BAM, and therefore maintained significant exposure to BIP.
In 2017, I re-entered my direct position in BIP, this time in a retirement account, while still holding BAM shares in my taxable account. And now in 2018, I've added again to my BIP position. The current price at under $40/unit is less than it was a year ago, despite continued FFO and distribution growth, simply because valuations have contracted to more reasonable levels than they were last year.
I consider BIP to be an ideal core holding, and the partnership is also one of the top recommendations in my 15+ safe high yield dividends list.
BIP Vs. MLPs
BIP is structured as a Bermuda-based partnership, which is similar to a master limited partnership but not quite the same:

Source: BIP Corporate Profile
One of the most relevant differences is that incentive distribution rights (IDRs) are capped at 25% for BIP rather than the standard 50% for most MLPs. They will pay, at max, 25% of their cash flow to their parent company Brookfield Asset Management, plus a management fee of 1.25% of the market cap.
Over the past few years, there has been a trend in the industry towards eliminating IDRs, because the 50% level has proven to be unsustainable. Brookfield's different partnership structure has set the IDR cap at 25% since inception, which means BIP unitholders get a bigger share of the cash flow and the partnership is unlikely to run into long-term issues related to IDR unsustainability.
Second, BIP is less likely to generate Unrelated Business Taxable Income (UBTI) than most MLPs. This makes it safer to hold in a retirement account. I personally hold my units in a Roth IRA, and therefore don't have to deal with the annual K1 like I used to.
Third, BIP pays out only 60-70% of its FFO as distributions, which means a modest yield (currently 4.7%), but faster and safer distribution growth compared to most MLPs.
Risks
Brookfield operates around the world, and is therefore subject to currency risk. Although they hedge their currency exposure, their cash flows do decrease if the U.S. dollar appreciates relative to other currencies like the Brazilian real and the Indian rupee. Specifically, according to their 2017 annual report, 57% of their investment equity is hedged while 43% is not.
The partnership is exposed to the possibility of a global economic slowdown. Fortunately, due to investing in a contrarian way, they are positioned mostly in relatively safe non-cyclical assets in this late stage of the business cycle. Electric utilities, gas pipelines, and data towers are all rather recession-resistant.
On the other hand, their rail lines and toll roads are more vulnerable to volume reductions related to reduced economic activity, and they recently announced a deal with Enbridge to buy Enbridge's natural gas gathering and processing assets in Canada, which introduces more vulnerability to the cyclical aspects of the energy sector.
Infrastructure is a highly asset-heavy industry, and therefore requires substantial leverage to operate. Rising interest rates can put some pressure on margins. Fortunately, BIP maintains a strong BBB+ credit rating and low levels of leverage for the industry. In addition, 85% of its total debt is non-recourse to BIP, meaning that most debt is structured at the project level rather than the corporate level. Most of their debt is fixed-rate, and only 20% of it matures in the next three years according to the BIP Corporate Profile.
I fully expect BIP to take advantage of the next global economic downturn, but investors should prepare for a bumpy ride. The United States is currently in the second longest expansion in history, interest rates are rising, and there are several indicators that we're relatively late in the business cycle.
Like other businesses, BIP will likely decrease in valuation during the next recession, and the yield may increase to 5-6% or more. I would consider this an opportunity to buy more units. However, we don't know when the next recession or major bear market will be, and today's price of $40/unit with a 4.7% distribution yield still represents a solid long-term bargain.
Valuation Analysis
The most straightforward way to value BIP is to estimate its long-term distribution growth rate. The sum of the distribution yield and the long-term distribution growth rate is the approximate total return you can expect from the partnership, assuming there are no massive changes in valuation between your buy price and your sale price.
The company targets 5-9% annual distribution growth, and it currently pays approximately a 4.7% distribution yield. This means that total long-term returns are estimated to be 9.7% to 13.7%, even though the underlying assets are mostly safe utilities. This is favorable compared to the S&P 500's historical 9-10% annual rate of return, including a dividend yield of under 2% currently.
In reality, the partnership has grown distributions by 11% per year since 2009, well above management's targets, and overall returns have been well into the double digits.
More recently, the partnership gave investors an 8% distribution increase so far in 2018, and gave about 14% last year.
The partnership has a fairly low hurdle to reach its goals. Many of its assets have built-in inflation escalators, they generally benefit from gradually rising real GDP, and with a payout ratio of only 60-70%, they have plenty of liquidity to reinvest cash flows into new revenue streams: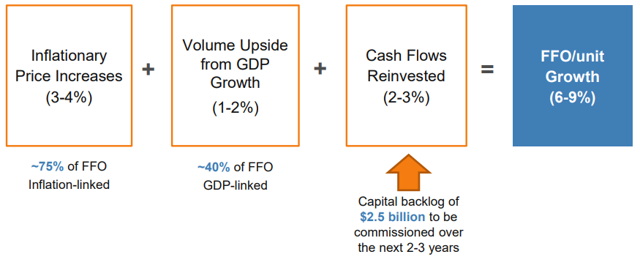 Source: BIP Corporate Profile
During its most highly-valued periods, BIP's distribution yield has dipped below 4%. During its earlier stages almost a decade ago, and during the fall of oil prices a few years ago, the yield was well over 6%.
The current yield is roughly in line with its 5-year typical level: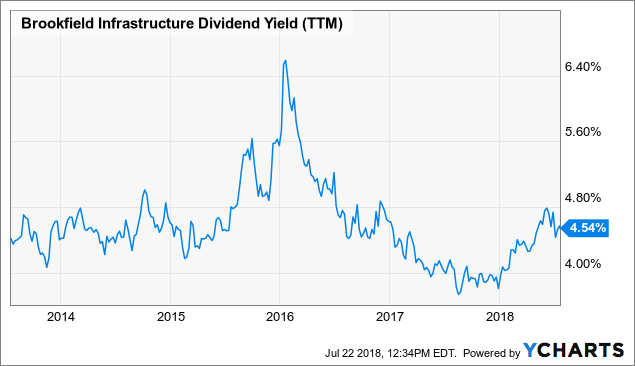 As of this writing, BIP units trade for about $40 USD, and offer a distribution yield of 4.7% based on $0.47/quarter distributions. I view it as a buy.
While it's not a bargain price, I consider this to be a great business at a reasonable price. The current yield plus expected distribution growth is poised to outperform the S&P 500 over the long term simply by meeting the lower end of management distribution growth targets.
There are many high-flying stocks whose current valuations don't make sense to me, like Microsoft (MSFT). The S&P 500 is historically expensive based on almost every metric, from the CAPE ratio, to market-cap-to-GDP, to dividend yield. In this sort of environment, BIP offering a 4.7% yield and high single-digit distribution growth is a welcome respite.
Final Words
Management expertise is a hard metric to measure, but it historically has been one of Brookfield's strongest attributes. It's not an accident that BIP and its parent company BAM have soundly beaten the market over the long term, and there's no sign of the outperformance ceasing any time soon.
For many companies, executives get traded around like Pokemon cards, but both the CEO and the CFO of Brookfield Infrastructure Partners have been with the partnership since its inception from Brookfield Asset Management about a decade ago. The CEO of Brookfield Infrastructure Partners, Sam Pollock, is a senior managing partner of Brookfield Asset Management and has been with the company since 1994.
The CEO of Brookfield Asset Management, Bruce Flatt, has been with the company since 1990, has been CEO for 16 years, and has overseen this transformation of BAM into a manager of four publicly traded partnerships including BIP. From 2002 when Flatt became CEO to 2017, BAM returned 1,350% to investors compared to 183% for the S&P 500.
BAM has large insider ownership, and BAM itself owns 30% of BIP plus its IDRs, meaning that executive incentives are strongly aligned with shareholders and unitholders of the company and its partnerships. The company has a strong culture of valuation, and most of the executives including Flatt and Pollock are Chartered Professional Accountants.
The partnership is, in my opinion, a strong core holding and one to continue to accumulate on dips.