Closed-end fund investors are always looking to get a good deal on the funds they purchase; I have been covering a lot of lists lately and decided it was time for muni bond funds to get some love. They offer investors the chance to grab some tax-free distributions, often seen as higher quality than corporate bonds due to the state and federal government backing them. Further, municipality defaults have shown to be a rare occurrence, at least in their long history of existence. New York, all the way back in 1812 appears to be the first official Muni bond offering.
True, rising interest rates may be a concern but this has been hitting these funds now since the Fed even began talking about interest rate hikes. Additionally, with the latest announcements from BlackRock and Nuveen pertaining to their monthly distributions amounts; a large majority of which they cut their muni distributions. I believe could be a good opportunity for investors to at least start thinking of these funds. So with that being said, please proceed with caution and do your own due diligence before investing in anything.
Purchasing these funds can also help add diversification to investors portfolios. No..you can't just go 100% tech stocks and expect things to be grand forever. I don't care what has happened for the last few years, the long-term market cycles will eventually come calling.
Using the CEFconnect fund screener to find funds at a discount, I have additionally narrowed in on funds that have better potential by adding a two more criteria to be included:
Muni funds with a national focus and NOT considered "high yield." This helps with two things; more interesting for readers as they are not state specific to have a broader appeal, and additionally, with taking out what would be considered "high yield" should give us in general, even higher quality.
Funds with at minimum $300 million in market cap, in general, this offers investors greater liquidity and potentially lower fees.
In addition, these funds all pay on a monthly schedule, I'm not familiar with any Muni funds that even pay on a quarterly schedule.
This list will be in order from lowest to highest current discount as of 7/19/18 reported NAV and share price.
Eaton Vance Municipal Bond Fund (EIM)
With a current share price of $11.95 and a NAV price of $13.29, this fund gives investors a chance to scoop up shares at a 10.08% discount. This fund was definitely not immune to the pressures of rising interest rates; before 2013 this fund actually often traded at a premium. This fund currently yields 4.81%. EIM had cut its distribution early this year, but it appears that the fund is still not earning its distribution. The latest UNII report for June indicates the fund only earned a 94.1% coverage ratio of its distribution.
I'm a little disappointed with Eaton Vance, I generally view EV very favorably but this may not be the greatest showing of what their management potential is in the CEF space.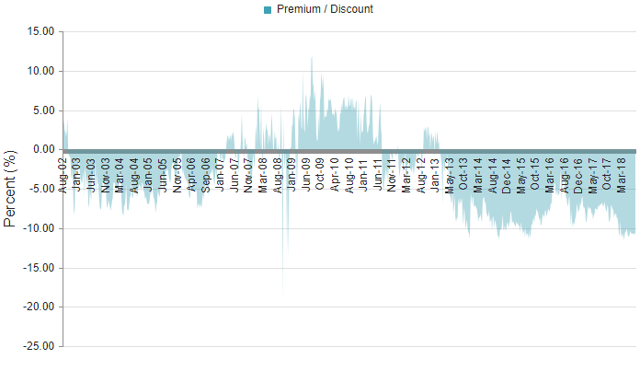 Source - CEFconnect
Putnam Municipal Opportunities Trust (PMO)
PMO currently trades at $11.75 per share and a NAV price of $13.12; giving investors a quite attractive 10.44% discount. This fund has frequently traded at a discount, and you would have to go all the way back to pre-2005 to catch this fund at a premium. This is disregarding the quick blip to a premium in late 2012. Putnam unfortunately doesn't appear to provide a UNII report, which is too bad, being a muni fund this is quite an important thing. CEFconnect does show a positive UNII balance however, as of 4/30/18 of $0.0239. PMO did cut their distribution starting with March's payment.
One thing that is worthy to note, is the fact that this fund has an expense ratio of 0.84%. In addition to this low rate, when adding in interest rate expense of 0.19%, this fund reports a total expense ratio of 1.03%. In my personal opinion, this is quite low.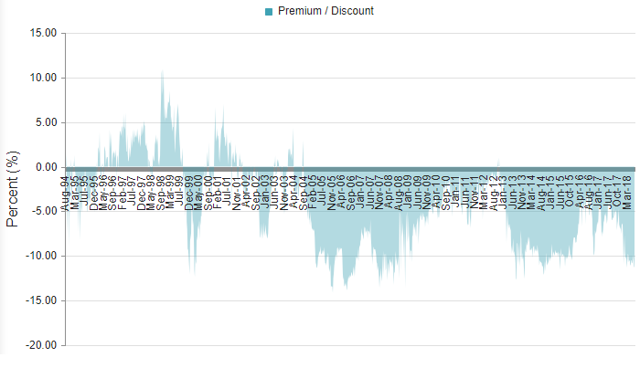 Source - CEFconnect
Invesco Value Municipal Income Trust (IIM)
IIM currently has a NAV per share amount of $15.84, with a market price of $14.17; offering investors a 10.54% discount. This fund is interesting for the fact that for about half the year of 2016 the fund had been trading at a premium but generally does not over its long-term history. This fund yields 5.25% and actually hasn't cut its distribution in 2018 so far, last cut was back in September 2016.
This fund is also showing a pretty healthy UNII balance as of 2/28/18 of $0.0469, it would appear that this fund will not have to cut in 2018, at least in my opinion I wouldn't expect one. This may be a positive as it appears the other funds attempted to hold their distributions for longer but ultimately had to cut. This fund is also well above its 5-year average discount that it typically trades at of 5.77%.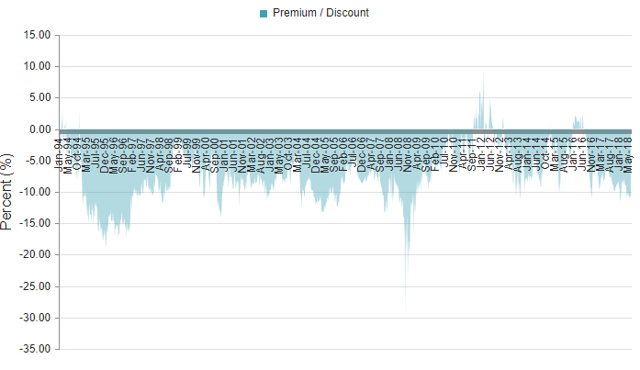 Source - CEFconnect
Nuveen Quality Municipal Income (NAD)
I have actually previously had an article with NAD as the focus. The fund currently trades at a share price of $13.29, with a NAV price of $15.06, makes this fund trade at an 11.75% discount. This fund has several things going for it, the 10-year annualized NAV returns are at almost 7%. In addition to quite compelling returns in the muni space, this fund is a large fund with just over $3 billion in assets. This provides plenty of liquidity if you want to get rid of shares in a hurry with average volume of 361k shares traded a day.
A couple drawbacks with this fund is that the fund is reporting a negative UNII balance as of 5/31/18 in the amount of -$0.0398 and NAD is slightly under earning its distribution as well, as of May 31 the fund had average earnings of $0.0565 and paying out $0.0575. This is even with a cut earlier this year in February. Something an investor would definitely want to keep an eye on.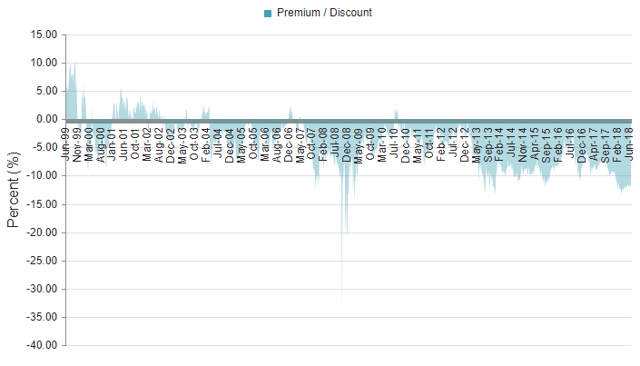 Source - CEFconnect
Nuveen AMT-Free Quality Municipal Income (NEA)
NEA, another very large muni fund offering by Nuveen with almost $4 billion in assets. This fund averages 463k shares traded daily, offering significant liquidity. The current NAV price sits at $14.78, with the share price at $13.04, giving NEA a discount of 11.77%. This is a fund with a more recent cut that was announced for July's distribution, and with a previous cut in October 2017 as well. This fund does show a negative UNII balance of -$0.0362 but this doesn't reflect the most recent cut, it will take time to rebuild a UNII balance but the fund as of May 31, 2018 shows a 103.18% coverage ratio.
This fund also emphasis being AMT-free. Which, AMT stands for alternative minimum tax and is intended to prevent tax abuse by wealthy individuals. This is nothing that I have to worry about personally but may be an added bonus for some readers.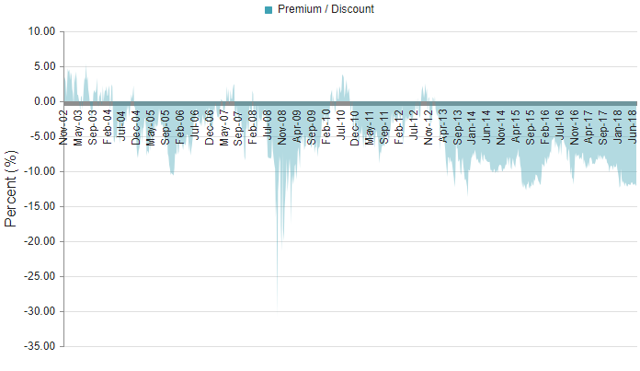 Source - CEFconnect
AllianceBernstein National Municipal Income Fund (AFB)
AFB currently trades at a share price of $12.70, with a NAV per share of $14.42, giving potential investors a chance to buy shares at an 11.93% discount. This fund had cut their distribution to start off this year in January. The majority of this fund is in AA and A rated munis, with 68% of the portfolio classified in those two credit qualities. This can be potentially attractive for being even more conservative.
The fund is showing a slightly negative UNII balance of -$0.0141 as of 4/30/18 but as of April 30, 2018 has been earning its distribution for the three months prior with an almost 107% coverage for those three months.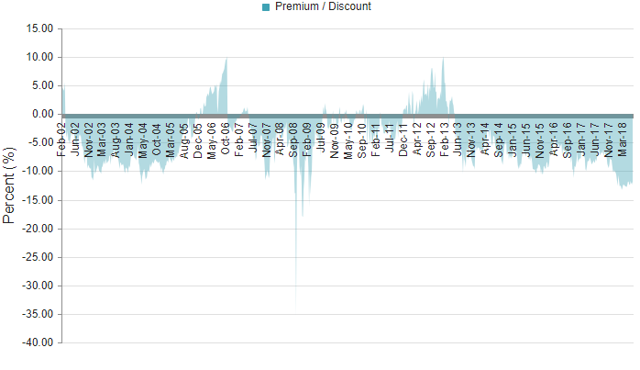 Source - CEFconnect
BlackRock Muni Intermediate Duration Fund (MUI)
The last fund on the list comes in at a 12.81% discount as the share price currently trades at $13.17, with a NAV of $15.14. This is the fund that pays the lowest distribution yield at 4.05%, this might just be a coincidence but felt it note worthy. MUI had cut its distribution starting in April of this year. The fund shows a coverage ratio of 104.34% as of May 31, 2018 and a UNII balance of $0.019006 as per BlackRock's UNII report.
The low yield of this fund may be turning some investors off, but the fund has been earning its distribution and has built up some UNII as well. The fund also trades at an attractive 1-year z-score of -1.20, indicating the fund is becoming quite oversold relative to its typical range. The 5-year average discount is currently at 9.18%, further indicating the fund is in the bargain bin.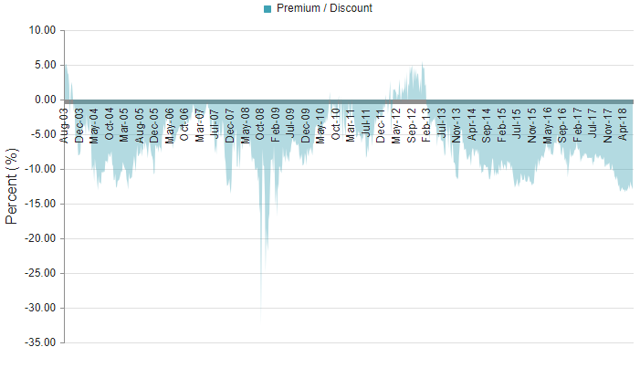 Source - CEFconnect
Conclusion
This list can provide a good starting point for readers looking to get into muni funds, it contains the funds that are at the greatest discount, which, a CEF investor should always take into consideration. While interest rate increases on the horizon can continue to put a damper on these funds, I believe, that the quality and diversification can prove to be attractive for a longer-term investor that wants a well-rounded portfolio. Muni funds also provide tax-free income to investors that hold them and have extremely low default rates.
Fund

Discount/

Premium

Market Yield
1-Year Z-score
Total Assets Managed
Leverage
Total Expense
EIM
-10.08%
4.81%
-0.60
$906 M
40.04%
2.00%
PMO
-10.44%
4.33%
-1.00
$638 M
29.47%
1.03%
IIM
-10.54%
5.25%
-1.20
$938 M
36.04%
1.59%
NAD
-11.75%
5.19%
-0.80
$3.04 B
39.24%
1.34%
NEA
-11.77%
4.92%
-1.00
$3.884 B
38.82%
1.35%
AFB
-11.93%
4.33%
-0.80
$647 M
38.46%
1.76%
MUI
-12.95%
4.05%
-1.20
$866 M
37.29%
2.16%
Information compiled for the table from CEFconnect and fund sponsor's websites.
Please feel free to leave any questions or comments below in the comment section! If you like this article, please consider clicking the "Follow" button above to stay up-to-date on future articles.
Disclosure: I/we have no positions in any stocks mentioned, and no plans to initiate any positions within the next 72 hours.
I wrote this article myself, and it expresses my own opinions. I am not receiving compensation for it (other than from Seeking Alpha). I have no business relationship with any company whose stock is mentioned in this article.