Market Intro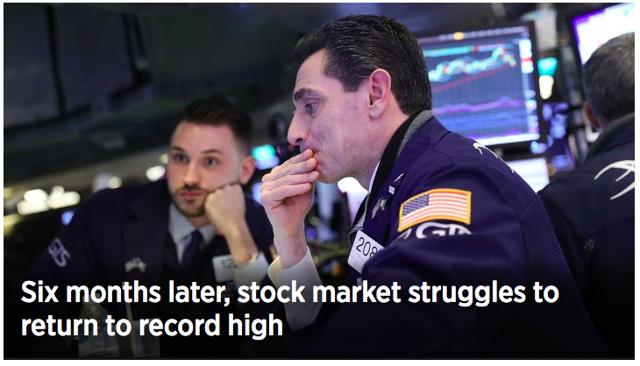 CNBC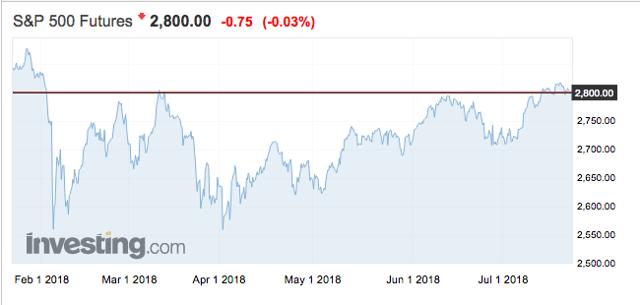 After an exuberant start to 2018, the S&P 500 (SPY) has more or less moved sideways over the past six months. This is quite atypical to the last five years, where one rarely needed to wait longer than a month or so for the index to hit new highs. Of course, the related NASDAQ (QQQ) and Russell 2000 (IWM) indexes have continued their upward trajectories, posting strong showings even over this same six-month period.

Corresponds (at least for now) with…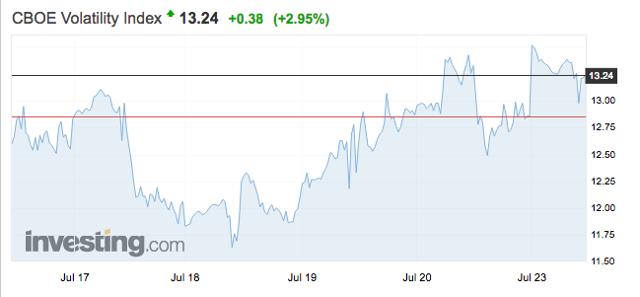 At least for now, spot VIX is waiting to see a push higher in realized vol before entertaining the idea of higher readings.
Thoughts on Volatility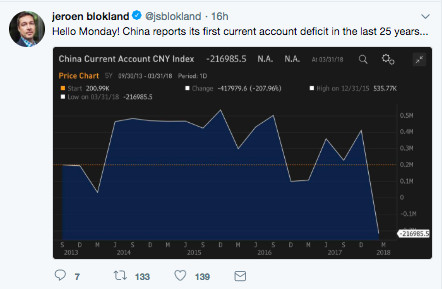 Not to be a conspiracy theorist but…convenient? China (FXI), which at least allegedly exercises a great deal of control over the reporting of its macro data, reports its first current account deficit print (meaning that the nation imported more than it exported) in a quarter century, just as trade spats kick into higher gear. In reality, the Chinese may have imported a larger-than-normal amount of oil for instance. The Chinese Yuan has fallen a good deal of late, which also carries a negative impact. The impact of a deepening Yuan depreciation could prove disruptive for equities, as it was for about seven months or so between the summer of 2015 and February 2016.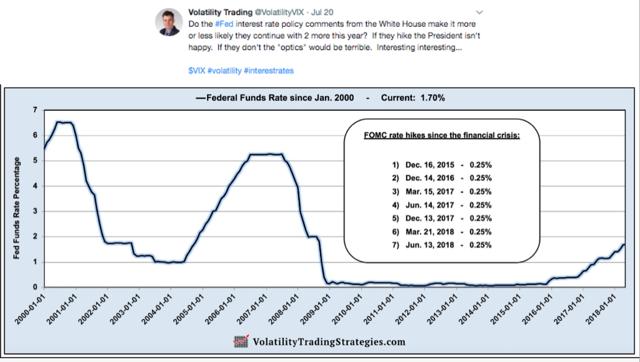 President Trump is not happy about the trajectory of the Fed Funds rate, at least according to his tweet. He did say in his Friday morning CNBC interview, however, that he put the right man in charge. My take is that the market is reading these statements correctly by not making too much of them, at least for now. If President Trump truly worked to intervene with political pressure, then asset markets truly ought to vigorously respond. The reality is that this looks like the President hedging his political capital; if the economy does slow down, he can say that he was against the pace of hiking.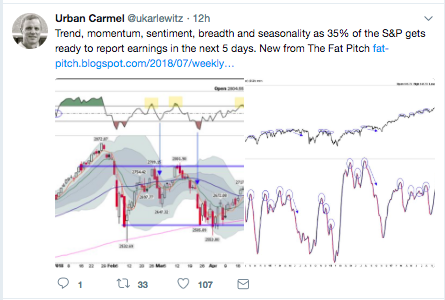 Thank you to Urban Carmel for reminding us that this is a very important week in terms of earnings releases. Strong earnings has likely been the key counter-trend force to the larger macro spats that have at times over the last month or so inflicted drawdowns on long investors. A strong set of earnings reports - with strong forward guidance - could hold the keys to an attempt at new all-time highs on the S&P.
Term Structure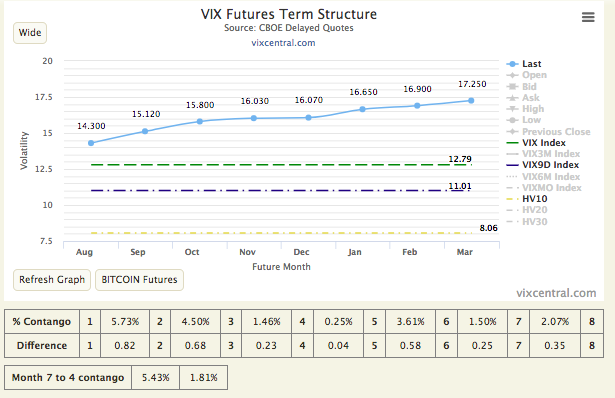 The HV10 keeps dropping: only a couple weeks ago it posted a 13-handle; short-term averages can move quite quickly. The VIX9D Index hangs almost 1.8 vol points below her more well-known relative. I will say that to my mind, the March contract really does look a touch out of place in relation to the current environment. The back month VX contract now trades almost 4.5 vol points above spot, which itself sports a pretty nice volatility risk premium if we use (spot-20d HV) as a metric.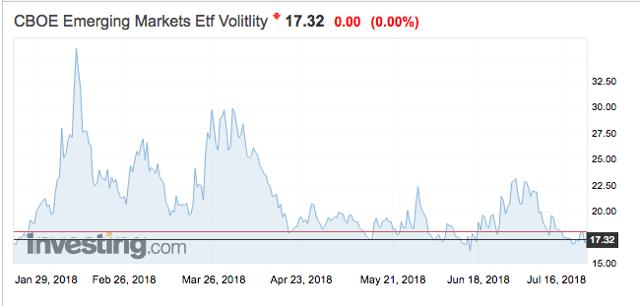 There's a reasonable gap between emerging markets vol and S&P 500 vol. That makes sense most of the time; it especially makes sense at present given the macro backdrop. It interests me all the more, then, that the EEM VIX is approaching its lowest levels of the last six months. Markets really are trying to put political strife to the side. Note that comparable lows on this index reached in mid-June did not hold.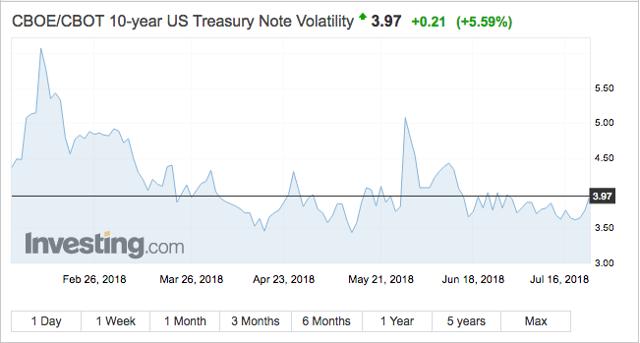 After trying to settle into a lower range, Treasury VIX looks to have turned a corner. This to my mind is a pretty important signal to suggest that we will not be able to sustain VIX readings in the twelves or lower for too long. Put differently, I see realized equity vol as bottoming out pretty soon here. It's likely a bit early to go long vol (VXX, UVXY, TVIX), but it's also likely a good time to lighten up on short vol positions if you have them (SVXY), although I suspect that the midterm short-vol holding ZIV would hold up pretty well even if spot jumped up a few points.
Conclusion
If this is your first time reading Market Volatility Bulletin, thanks for giving it a try. If you're a regular, we thank you for your ongoing contributions in the comments section.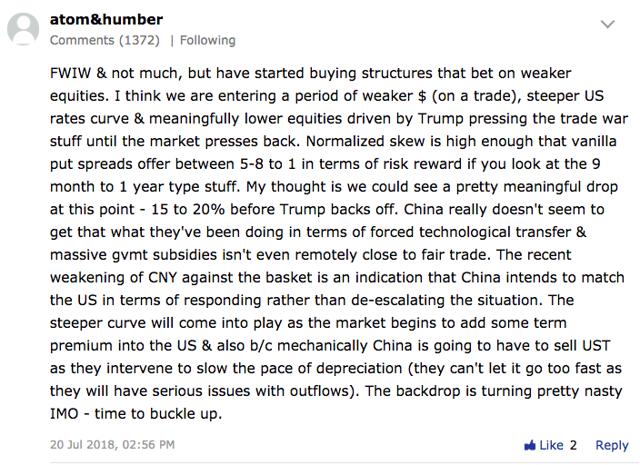 Atom & Humber offered some views and observations in the last MVB that are worth your while. Regardless of whether or not you agree with his assessment, the key is that selling some of the deeper, skewy puts (if done correctly) can offer decent returns on put spreads as the nearer-money strikes may be more reasonably priced (in vol terms).
Thank you for reading.
Please consider following us.
Disclosure: I/we have no positions in any stocks mentioned, and no plans to initiate any positions within the next 72 hours. I wrote this article myself, and it expresses my own opinions. I am not receiving compensation for it (other than from Seeking Alpha). I have no business relationship with any company whose stock is mentioned in this article.
Additional disclosure: I actively trade the futures and options markets, potentially taking multiple positions on any given day, both long and short. I also hold a more traditional portfolio of stocks and bonds that I do not "trade". I do believe the S&P 500 is priced for poor forward-looking returns over a long timeframe, and so my trading activity centers around a negative delta for hedging purposes.