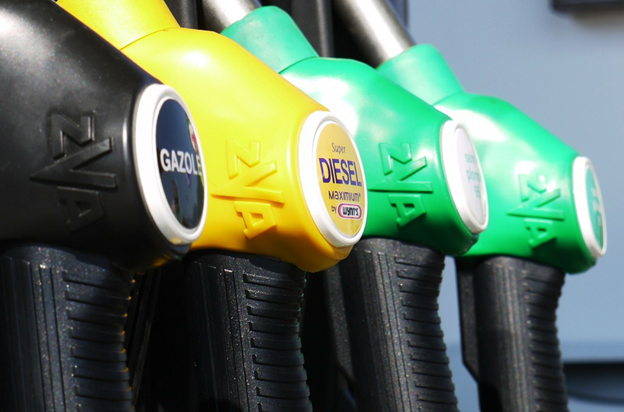 Image credit: Pixabay
Investment Thesis
The global supply-demand balance for oil market is expected to witness further declines in inventories and higher prices in the second half of 2018. These changes will lessen the risks of a stock-out of the oil market in 2018. Given this market scenario, analysts believe the oil market to be in deficit, with the recent buildup reflecting a constant sluggish Chinese imports.
Increase in oil production will be modest going forward despite the pressures from oil consumers due to accelerating decline in production from Iran and Venezuela. Although economists are still confident that global economic growth is solid, the fundamentals of the Emerging Markets remain intact more specifically for the larger economies that play a vital role in oil demand growth such as India and China.
In this economic research, we will evaluate how much the outlook for oil has changed globally with focus on China, Venezuela and Iran productions.
A Rebalanced Market?
Oil inventories in the Organisation for Economic Co-operation and Development (OECD) fell below its five-year average. Hence, OPEC has declared that the global oil market has rebalanced. According to Goldman Sachs (GS), oil inventories declined 4% below the five-year average levels, which is consistent with the backwardation in Brent-deferred time spreads. Inventories are to be exact 3.8% below average and only 1.2% above the 2011 to 2014 average.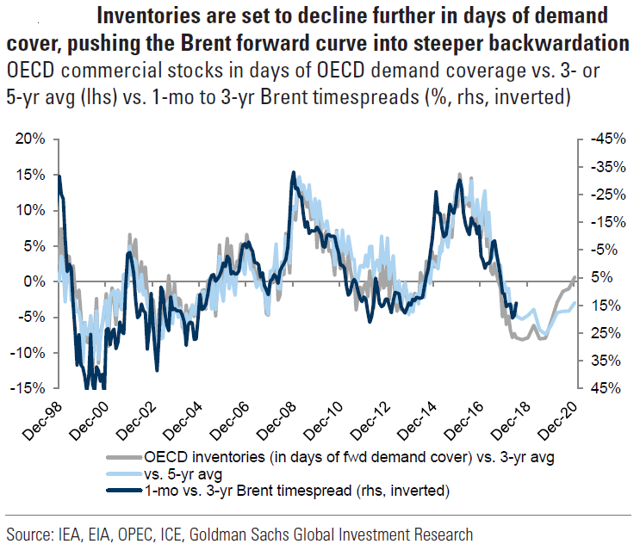 Source: IEA, EIA, OPEC, ICE, Goldman Sachs Global Investment Research
The drivers of this re-balancing are rising disruptions, strict OPEC compliance, and strong demand. This trend appears to be well entrenched and leads to further steady declines in oil inventories.
But Why Rising Inventories?
GS identified three factors that are contributing to this current market trend of rising oil inventories:
China contributed to the recent oil products stock buildup. More particularly, it contributed to rises in

gasoline after a bull run this year ahead of the introduction of its new tax on crude. Chinese oil refineries booked an enormous year-on-year increase of 0.6 million barrels per day from January to May with net exports up 210,000 barrels per day. European refineries ran lower though with the global oil market still experiencing excess refining capacity once Chinese refinery utilization increases.

Chinese imports are expected to recover. Some 0.8 million barrels per day of new refinery capacity are expected to come out later this 2018. It should tighten the crude markets in Atlantic and North Seas.
Lately, imports data for May Chinese crude revealed a 0.4 million barrels per day drop on a month-on-month basis. GS noted a larger drop in incoming vessels as indicated by the 0.2 million barrels per day floating storage unwind between April and May. This trend is going to continue until the end of the year given the Shandong refinery maintenance, with Kpler's estimated Qingdao imports seen falling since May.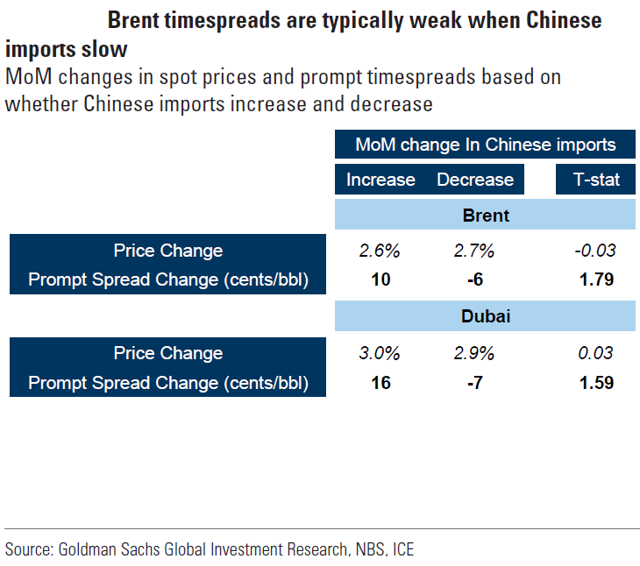 Source: Goldman Sachs Global Investment Research, NBS, ICE
More Trade Quota
China's refined oil exports would steadily climb due to the issuance of more trade quotas. According to the Chinese Ministry of Commerce, the second batch of refined oil export quotas for the general trade and processing trade hit 19.33 million tons and 3.67 million metric tons respectively. This translates to an increase of 19.3% and a decrease of 2.4% respectively as compared to the first batch of oil exports.
The first two batches of oil quotas have reached a combined 43 million metric tons. It is almost equivalent to the whole quota issued last 2017 at 43.03 million tons. Of the 19.33 million metric tons of quota for general trade, gasoline comprised 5.36 million metric tons while diesel had 9.78 million metric tons.
Of the 3.67 million metric tons of quotas allocated for processing trade, gasoline took up 0.29 million metric tons, diesel had 0.14 million metric tons, and kerosene took 3.24 million metric tons.
Meanwhile, Xinhua News reported that China has raised the retail prices of diesel and gasoline last May. This is the fifth increase since the end of March. Based on the report of National Development and Reform Commission of China (NDRC), the retail prices of diesel and gasoline will increase by RMB250 and RMB260 per ton, respectively.
Emerging Markets
Oil production in Venezuela has steadily fallen over the past six months at a rate of 60,000 barrels per day on a month-on-month basis. It reached its lowest level in 35 years. The lack of payment to foreign investors has pushed oil drilling activities in May to plummet at its lowest level (22-year lows) despite higher oil prices. This trend suggests oil production declines would still continue.
Analysts are now assuming that production will decrease to 1.0 million barrels per day towards the end of 2018 from what used to be 1.36 million barrels per day last May. This would lead to a quarterly decline rate of 10% which should extend in 2019.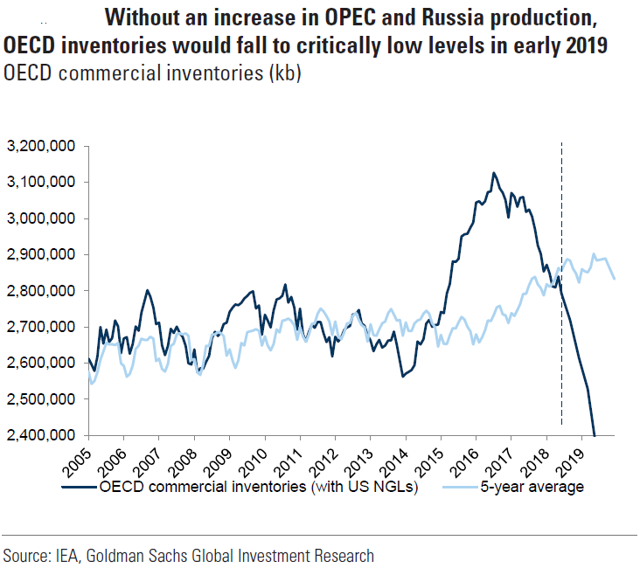 Source: IEA, Goldman Sachs Global Investment Research
GS added that assuming 375,000 barrels per day of exports will be dedicated to the Russian and Chinese debt repayment; dollar-earning exports are currently at 825,000 barrels per day. These exports and the central bank gold reserves would both reach zero next summer at the rate of the past six months. This suggests a further deterioration in the political landscape and risks of further oil production losses before running any sustainable recovery.
Iran may increase oil exports or floating storage in the short term. Analysts anticipate a steady decline in Iran crude. Thus, Iran is expected to compensate exports of 20% every six months as of the third quarter of this year in consistence with:
The US Treasury guidance that consumers start reducing imports ahead of the November re-implementation of the secondary sanctions, and

the level of import cuts required last time these sanctions were in place.
Iraq is the only OPEC country outside of the Gulf Cooperation Council (GCC) that could also increase production through a political agreement with Kurdistan. Political instability following the recent inconclusive elections however makes this an uncertain outcome and for now.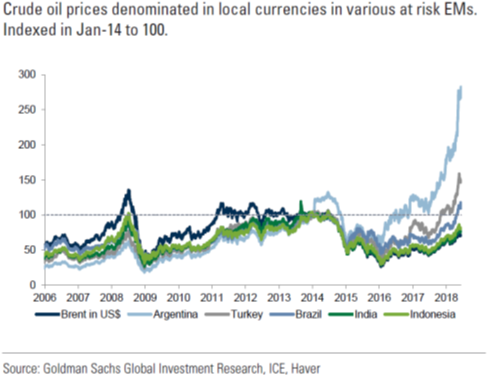 Source: Goldman Sachs Global Investment Research, ICE, Haver
My Takeaway
In my opinion, oil production will continue to fall steadily by 10% every quarter (based on GS estimates). I can tell investors that they can anticipate there is no near catalyst for oil output to keep steady as of the moment.
Oil output for Venezuela, Libya and Nigeria has fallen due to disruptions. However, I expect that there is a possibility for Venezuela's oil production to rebound in the medium term or perhaps a more than couple of years.
At the moment, investors must take a cautious stance that there are other disruptions that may arise like in Libya with the deteriorating health of Libyan military commander General Haftar who restored peace and stability in Eastern Libya. Further, the Nigerian presidential elections next year could lead to disruptions, given that oil output was affected during two of the past three elections.
Overall, I recommend a cautious view to investors on the oil sector's fundamentals. They could expect earnings growth for the Central & Eastern Europe, Middle East and Africa (CEEMEA) energy sector.
I maintain a conservative stance on the crude oil price to hover just around the $60 per barrel from 2021 onwards (based on Deutsche Bank (DB) estimate). The current crude oil price already outpaced that level. However, investors must remain concerned with the weak underlying fundamental drivers behind the rally in crude oil price. Investors must focus on the longer-term fundamentals, paying attention closely to a mix of uncertainties on the demand and supply sides of the equation.
Inflationary expectations in Russia have greatly declined and the companies are demonstrating a strong ability to control costs. However, the oil volume advances will not be sufficient to offset inflationary pressures when they come after the OPEC production cut deal. The upcoming tax hikes which include the most recent excise tax decisions will not help the cash flow and earnings growth of the Russian companies.
Finally, I also believe that investors in gold hedge funds could well expect that funds will be more bullish in light of these oil trends. Intensified geopolitical tensions and investors were bearish as net-long positions in the precious metals more than doubled to 61,000 lots after the gold hedge funds stock piled. Hence, gold bullion price fell below $1,300 an ounce as a result of a stronger greenback that triggered a sell-off of gold exchange traded funds. US dollar remains the key driver of gold prices lately which supersede the safe-haven demand factor in gold from increasing geopolitical risks.
This article was written by Gold News business journalist Hans Centena. If you found this article to be informative and would like to hear more about my investment research, please consider hitting the "Follow" button above.