Utility companies are very stable, capital-intensive business that are naturally protected from competition and are expected to guarantee a dividend income for shareholders. When investing in utilities, however, one should probably try to avoid being confined in a stagnant business activity, especially in the present context of rising interest rates. By incorporating companies that operate in geographies where demand is steadily growing, a global-diversification strategy could help to mitigate this risk while capturing good investment results.
We take a look at three Latin American countries (Chile, Brazil, and Argentina) where demand for electricity presents a secular growth trend that is only slowed down during recession periods (see Appendix: Electricity consumption trends below). This secular growth trend is in sharp contrast to most developed nations: electric power demand has been stagnant in the US since 2005 and in the UK since at least 1990.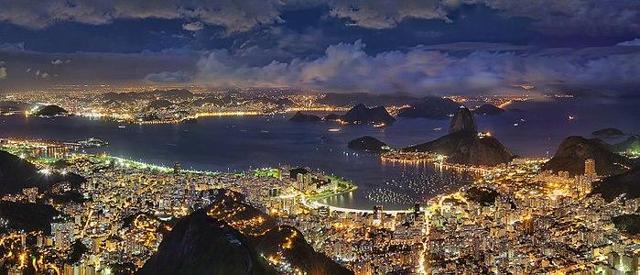 Facing a growing demand for electricity, Latin American utilities continue to keep the lights on.
Three Latin American Power Generator Companies
The focus of the present article is on stable, cash-generative, and growing utility companies which are trading at reasonable prices, and which are located in different Latin American countries:
Enel Generación Chile (NYSE:EOCC-OLD), a Chilean power generator controlled by Enel.
Compañía Paraneanse de Energía (NYSE:ELP), a Brazilian state-controlled integrated utility.
Central Puerto (NYSE:CEPU), an Argentinean private power generator with no control group.
This list is by no means comprehensive. To the best of this author's knowledge, there are no publicly traded pure-play electricity companies in Mexico, the second major Latin American economy.
Before digging deeper into each of these companies, let's look at what the market is offering right now, in terms of price multiples. For comparison purposes, the valuation multiples of these companies are compared with that of American Electric Power (NYSE:AEP), but I believe that the general picture is very similar for most US utilities (NYSEARCA:XLU).
Current EV/EBITDA ratios, dividend payouts, and debt levels
| | | | | |
| --- | --- | --- | --- | --- |
| | Enel Generación Chile | ELP | Central Puerto | AEP |
| EV/EBITDA | 7.2 | 8.36 | 3.8 | 14.2 |
| Net debt/EBITDA | 1.3 | 5.6 | -2.15 | 9 |
| Dividend payout | 65% | 41% | 22% | 65% |
| Dividend yield | 6.5% | 6.4% | 2.67% | 3.2% |
| Withholding tax | 35% | 0% | 7% | 0-30% |
| After-tax yield | 4.2% | 6.4% | 2.5% | 3.2% - 2.24% |
Source: Morningstar for EOCC, ELP and AEP, company's presentation for CEPU.
Note on withholding taxes: Chile's dividend withholding tax depends on the applicable rate of the year in which the distributed income was generated, not distributed: since 2018 that rate is 35% for non-residents (the future of a US-Chile bilateral tax treaty remains uncertain). Argentina's corporate tax law has just been modified: the new law lowers corporate taxes from the previous 35% to 30%, but introduces a dividend withholding tax of 7%, and it is expected that, from 2020, corporate taxes will be further reduced to 25% and dividend withholding taxes increase to 15%, where the applicable rate will depend on the year in which the income was generated. US dividend withholding tax depends on a number of factors: US individuals can opt for tax-deferred investment accounts, while non-residents generally pay a 30% rate, in the absence of a bilateral tax treaty.
Chile's EOCC: an unlevered and growing 4.2% dividend yield in the region's most stable country.
Chile is usually considered the most stable country in the region, with an investment-grade rating on its sovereign debt. As a copper giant and with more than 50% of its exports relying on the metal, Chile's currency is highly correlated to copper prices (some news on a recent upward movement here and on a downward movement here). Thus, investing in a Chilean utility such as EOCC could be an interesting play, especially for the copper bulls.
For a more in-depth description of the company, an excellent article by SA contributor Caiman Valores can be found here, with an indicative fair value of $30 per share, thus with a 50% upside from today's price.
AEP vs. EOCC. At the same payout ratio, AEP looks roughly twice as expensive as Chile's EOCC on EV/EBITDA. The after-tax dividend yield of EOCC is a healthy 4.2%, which is still 30-50% higher than AEP (depending on taxes) and should be expected to grow faster. There is one important difference, though, that could make investing in EOCC even more appealing than in AEP, which is the low debt of EOCC. As AEP business is mostly funded through debt, the stock looks pretty vulnerable to increases in interest rates, not just from the dividend yield that should be demanded by investors in such scenarios, but also from the business fundamentals that could put pressure on the company's profitability.
Brazil's ELP: a levered play on GDP-growth recovery
Brazil, the largest economy in Latin America, is slowly moving away from a severe recession that has affected the country since 2014. As the electricity market is deregulated (that is, generators sell their energy via freely negotiated contracts with large users or via energy auctions to distributors) and largely dependent on hydroelectricity (and thus, on water reservoir levels), the price of electricity is quite volatile. ELP, as an integrated utility company (involved in generation, transmission, distribution, and even in telecommunications), has seen an important decline in profitability under the present circumstances: in comparison to 2014, the TTM EBITDA has fallen 30% in Reals, and the Real has, in turn, fallen almost 50% against the US-dollar.
With declining profits, and with the increasing level of debt the company has to resort in order to meet its required long-term growth targets, in 2015, the company had to cut its dividend payout to the minimum of 25% of operating cash flow set by the company's statute. Two years later, the payout has increased to the present 42% of cash flow. If profitability increases alongside the payout ratio, ELP could prove an excellent investment.
Stephen Simpson gives a great risk/reward analysis in his 2017 article, which had a $9 target price, thus a 63% upside on today's price.
EOCC vs ELP. Now let's compare Chile's EOCC with Brazil's ELP. While the EV/EBITDA slightly favors the Chilean company, Brazil's tax-free dividend payments make the 6.4% yield 50% more attractive than its Chilean counterpart. ELP is, therefore, a more leveraged and volatile play on Brazil's growth and GDP recovery, with a higher present yield and significant upside.
Argentina's CEPU: deep pockets at the beginning of an investment cycle
Now let's move on to Argentina's CEPU, a company about which I have written a more detailed article that can be found here. Trading at roughly half the price of its Latin American peers on an EV/EBITDA basis, it is the cheapest of all the stocks we are considering. However, this low EV/EBITDA ratio stems from the company's negative debt position, as a significant part of CEPU's financial position stems from certain non-current trade receivables described in the aforementioned article and in the company's presentation.
To summarize the investment case in CEPU, it is important to note that Argentina is currently running an energy deficit, with a highly inefficient installed power capacity, and that there is an ongoing process of market reform (towards liberalization of the sector) and the beginning of an investment cycle led by the private sector. In this context, electricity prices paid to generators have been set in US dollars, and for new projects, 15 or 20 years, PPA is signed with electricity prices 125% higher than the "Legacy" energy prices currently under operation. Consequently, in spite of the constant ARS depreciation, CEPU has been able to grow its cash-flow in US dollar terms, and as new projects continue to come online, sustained earnings growth are guaranteed by long-term contracts. During the present period and until most new projects are completed, however, a low dividend payout ratio is to be expected.
The recent downturn in the stock price is perhaps best explained by the following events:
The recent slump in the ARS currency. This, however, shouldn't affect CEPU's cash flows, on the contrary, it should reduce the required expansion Capex in USD terms.
A cabinet change that triggered energy-intervention panic. In response to those rumors, the new energy Minister reaffirms and further invigorates the ongoing trend of energy sector liberalization.
Local interest rates in ARS are in record highs of a monthly 3% and government USD-bond yields are in the 8-9% per year, which diverts equity investors towards fixed income and limits the possibility of buying stocks on margin in the Buenos Aires stock exchange.
Argentina has been recently reclassified as an Emerging market by MSCI, and apparently, that event has triggered the sale of Frontier market funds, but not yet purchases of EM funds.
In the aforementioned article, I have estimated a fair value of $20 per share for the base scenario, offering a 90% upside from today's prices, and I also believe that the downside should be very limited from the present prices (however, emerging markets are very volatile and an even better bargain could be offered).
Final remarks
As a final remark, I believe all the mentioned companies in the Latin American power generation sector should provide very attractive returns over time.
For an investor looking for global diversification in countries regarded as stable, Chile's EOCC looks like a sound choice, especially for those bullish on copper. The main risk, in this case, is a slowdown of global growth which could limit copper demand and hurt both the Chilean GDP and its currency. In this case, the low leverage ratio of the company should limit the downside.
For a high yield and leveraged play on Brazil's GDP recovery that could lead to even higher yields, ELP is a sound way to go (there are even more leveraged Brazilian utilities to consider like CIG). The risk is that electricity prices don't recover, that local interest rates put additional pressure to these leveraged companies, and therefore profits remain subdued.
For the more enterprising investor, CEPU's rock-bottom valuation should be hard to ignore. In a country where capital is scarce, and in what still looks like the beginning of an investment cycle in the energy sector, a private company run by management-owners should be expected to deploy its debt-free capital at very high rates of return. The major risk here is that the country moves into a prolonged recession, which could then lead to a major confidence and/or sovereign debt crisis, potentially leading to capital controls, etc; political uncertainty could also lead to a subdued stock price during the present investment phase, and only recover when the dividend payout is increased (in approximately two or three years from now).
These (and probably other) Latin American power generation companies are attractive investments for global investors seeking stocks with wide economic moats, solid growth potential and interesting yields. The present EM sell-off has left these stocks with a considerable upside, and the sustainable and growing dividend yields will continue to reward investors as they wait for share price appreciation over time.
Appendix: Supporting data
Electricity consumption trends
| | |
| --- | --- |
| Electricity consumption | |
| In the US: flat since 2005. | |
| In the UK: flat since 1990. | |
| In Chile | |
| In Brazil | |
| In Argentina | |
Source: enerdata.net
Disclosure: I am/we are long CEPU. I wrote this article myself, and it expresses my own opinions. I am not receiving compensation for it (other than from Seeking Alpha). I have no business relationship with any company whose stock is mentioned in this article.