Notes from the oilfield almanac
At the Daily Drilling Report (NYSE:DDR) we focus exclusively on the stocks of companies that we believe will participate in the energy industry's return to health. We are keeping a light in the window for it anyway, the recovery is a long time coming in some sectors.
Oil seems to be in a one-step forward, two back quagmire these days. So many factors pushing and pulling it that entire articles are needed just to discuss. That's been pretty well done this week, so we will satisfy ourselves with just documenting the levels here-in.
This week along with all the other extraneous trade war, political back and forth that impacts our favorite hydrocarbon, the EIA report showed a significant build in inventories of over 5-mm bbl vs an anticipated draw of over 5-mm bbl, and domestic production hitting 11 mm bbl for the first time. Oil and many oil-related stocks suffered as a result. An increase in imports weighed on the markets this week. These are forecast to decline as U.S. production continues to ramp. This may be a story that takes time to develop as some of the required infrastructure is still being built out.
Some did not though, and that's what keep it interesting around the DDR.
Earnings season is upon us. Already industry bell-weathers, Schlumberger, (SLB) and Baker Hughes, (BHGE) have reported and remained largely flat to slightly weaker on the news. One ray of optimism emerged from the conference calls on each though regarding offshore and long-cycle projects tenders. Both companies reported a significant early uptick in this activity, particularly on the exploration side.
A drop of water figuratively speaking in the vast desert of cold-stacked oil rigs. But a new development, and positive sign none the less.
We remain optimistic on oil, but must acknowledge our thesis has taken a couple of shots to the body.
Dollar strength relative to other currencies.
The Aramco IPO, now looking a little flakey.
Other factors supply/demand outlook and declining storage averages still favor the overall improvement we expect YoY in the All-Star portfolio.

The DDR Gazette
It was a bit of a slow week at the DDR. I was on a teaching assignment with my old company, M-I SWACO (div Schlumberger, (SLB) ), down in Houston, and that pretty well wrapped up my days. I always come back after these teaching interludes all charged up. It's great to spend time with these young engineers, and perhaps help them along just a little in their careers. And, the great thing about teaching is, it's not a one-way experience. I learn from these young folks every time.
You can teach an old dog new tricks!
Still, we took care of business here at the DDR. We offered up a new candidate for inclusion in the Oilfield All-Star portfolio to start off. Then we hosted a guest article from Laurentian Resources, and passed one of ours along to him. Then we indulged in brief reviews of a couple of DDR stalwarts, both of which have been positive contributors to the portfolio. Finally, we discussed a company that's gotten a lot of very positive ink recently. We had read some of these articles, and thought that our subscribers should have a different view point.
Let's dig in.
The NKOTB: CSI Compressco LP
We thought this was such a neat idea, that it was ultimately put out to the free side of SA. The thesis here is that pipeline MLP's are starting to shed their 'leper' status in the investing space, after a 4-year period where they simply could not do anything right. Fortunes were lost as they imploded, with many only recently bottoming.
Earlier this year we started wondering about this, and put out an internal article in the DDR, recommending Energy Transfer Partners, (ETP). We got in at $17.00/sh and recently it's topped $20. Nothing succeeds like success, and we gave this space some more thought as the idea's validity was tested.
Sometimes lights just go off in our head when an idea hits hard enough to stick around for a while. These are sometimes called 'epiphanies'. Here it is. Many of these pipelines will be transporting natural gas to various markets, and every single cubic foot of it will need compression to get in the line. This is due to the natural gas associated with shale production.
So why not take a look at a company in the business of providing compression services? We couldn't think of a reason why not, so we did. And, the one that popped up was CSI Compressco, (CCLP), a beaten down MLP that had lost 80% of it's value from a few years ago. Here is a link to the public article we posted on this idea, "CSI Compressco LP, Ready For A Turnaround?"
We have already been rewarded with an 8% gain from our entry level on CCLP. Albeit, this is from a low level, it's a ~$6.00 stock after all. But, "parts is parts", right?
As discussed in the article, and reminded by a number of commenters, CCLP is a risky play. There are good reasons it's a $6.00 stock, with a ~13% yield on the distributions. If this is something you might be interested in, be sure and take a look at the long article (including the comments).
BP
Given an average oil price of $74, we are expecting a strong quarter from BP, (BP). We talked internally about why this might not immediately move the stock higher, but our confidence in the the long term thesis for this stock remained undimmed for appreciation and income.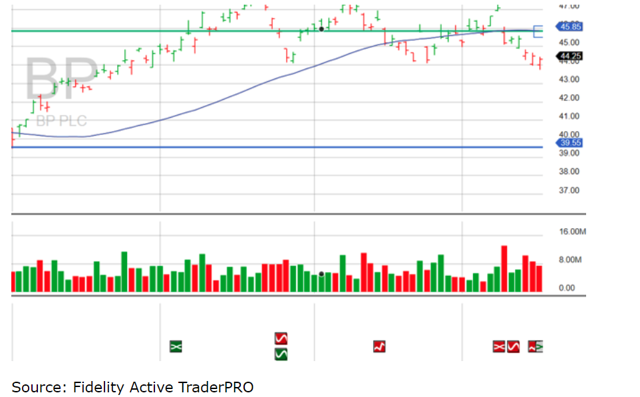 So you can see that BP (and probably other big oil stocks) has been going through a number of bearish indicators recently, right up to today. Where a little ray of sunshine popped up. With the gain we saw today the price cross the 50 day MA.

Support and resistance lines show the stock is currently in the upper end of the range, meaning that if it were not to confirm this move today with continued gains, we might see lower levels, conceptually down to the support level of $39.55.

On March, 9th it began a 2-month ramp from $39.55 to $47.79, where it began its current descent. Ultimately forming a Diamond Top on 6-15, an intermediate term forward bearish indicator. It did not disappoint, at this level and has drifted back to the mid forties.
Source: internal DDR article
BP will enter an accumulation area in the DDR at about $42.00/sh. It is already our largest position.
Petrobras (Petroleos Brasileiros)
We entered Petrobras, (PBR) at the tail end of the down draft on June 6th. It had basically been cut in half in a couple of weeks on new corruption fears. We got in at $9.50/sh. A few weeks after that, in early July, I put out an article entitled, "Petrobras: On The Rise With Room To Run" . The DDR was up 8% on its position in just a few weeks.
Evidently there are a lot of folks trapped in PBR from much higher levels, as the comments ran from...shall we say, from the indignation "are you out of your mind investing in this criminal enterprise????" side of the scale. To "nice catch, boa sorte". I am paraphrasing here, just a bit, but that's the gist of the comments.
Here is a curiosity though. It has continued to advance, in the face of a marked down draft for nearly every other oil stock we follow. I am really not reading anything into that except as an indication the selling that took place from mid-May to mid-June was way over done, and the stock is gradually seeking a more appropriate level for a company with its size and assets.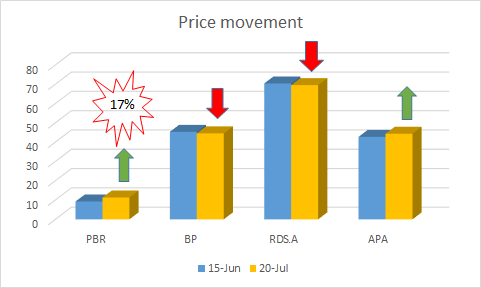 Source: SA, Chart by author
Currently the DDR is up 17% on its entry point in PBR. Can you say, Cha-ching! While we expect further price appreciation based on improving fundamentals, (oil prices, growth in production as new capital comes into the country), we are holding at these levels.
Obviously, PBR is a risky play for all kinds of reasons that have been well documented, in the linked article above, and others. But, to me, the risk is balanced here. To a point. I don't view PBR as a long term holding. If reaches, the levels it started at in May, I'm calling a 'two-bagger' and heading for the exit.
Laurentian's article
Guest article: "The Oil Patch Of Egypt" discussed an area that really hasn't gotten a lot of ink from other writers who've covered Apache (including this one). Laurentian Research filled in some gaps nicely with his trademark quality research, and knowledge of geology. It was the type of read I enjoy, and what makes him unique in writers covering the energy space on SA.
We already liked Apache, but after reading Laurentian's article, we liked it even better. The essence of great writing in my book.
Select Energy Services
Finally we did one of our cautionary articles on Select Energy Services, (WTTR) for the subscribers of the Daily Drilling Report. Fellow 'professional' energy writer, and whom we deem a peer on energy topics, Laurentian Research also published it on the TRNH for the benefit of his subscribers. The point of this article was to give our subs a more informed picture of this microcap company.
The tone of the article was that it has been over promoted in a recent series of articles. In a couple of areas particularly. Water sourcing and chemical manufacturing are heavily hyped in these articles. We did not find much evidence to support the hype, as we discussed. At some point this article will be released to the free side.
Looking ahead
We will be digesting earnings reports as they come from members of the DDR's Oilfield All-Stars. Look for articles on HAL, SLB, BHGE, BP, RDS.A, PBR, ETP, HCLP, and APA. Perhaps some others as well. Tetra chief among them, but they are a late reporter, so we'll have to be patient.
Your takeaway
It is getting harder to find under-appreciated gems in the OSV space. That doesn't mean they aren't there. It means we aren't just tripping over them as we did a year and half ago.
Over view of the energy industry is that the trend is still higher for oil and the industry in general.
Disclaimer: I am not an accountant or CPA or CFA. This article is intended to provide information to interested parties. As I have no knowledge of individual investor circumstances, goals, and/or portfolio concentration or diversification, readers are expected to complete their own due diligence before purchasing any stocks mentioned or recommended.
A last favor. If you enjoyed this free article, please give it a like by clicking orange 'like button that will appear just below this verbiage. And, of course please give me a 'follow'.