Key points
A slide in the Chinese yuan is sparking fears of a sharper devaluation that could rattle global markets. Are the worries justified? We see the yuan depreciating moderately in response to slower growth, financial deleveraging and escalating trade tensions. We expect China to rely mostly on fiscal and monetary tools, rather than the currency, to manage any growth slowdown in the second half.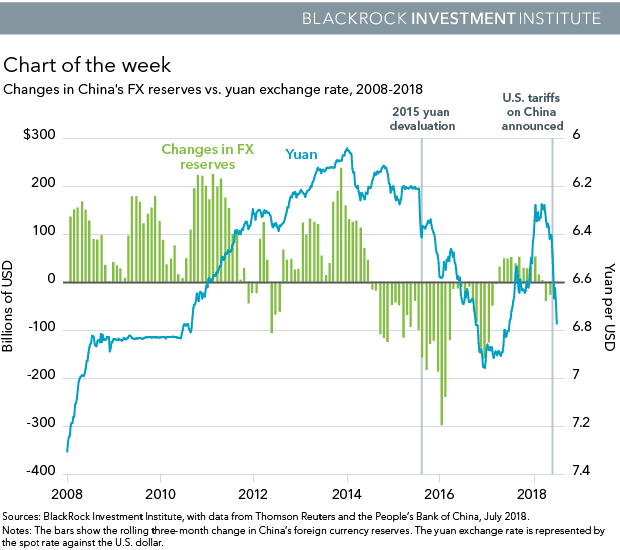 The Chinese currency posted its biggest monthly fall against the U.S. dollar on record in June - just as the trade tussle between China and the U.S. heated up. The yuan has slid 4% so far this year, with the fall accelerating since mid-June, when U.S. President Donald Trump announced a 25% tariff on $50 billion of Chinese imports. See the blue line in the chart above. We do not see China resorting to a 2015-style devaluation to cushion the blow. Back then, a lack of market confidence in China's policy framework contributed to capital flight (see the green bars), spooking global markets. Today, China has stricter capital controls in place - and improved coordination between policymakers. We believe this should give the government confidence to allow the yuan to gradually slide lower.
Slow and steady
The recent tumble in the yuan and China's stock market has stoked fear: a 2015-style rapid depreciation could spark big capital outflows and another rout in global markets. Yet, we expect the Chinese authorities to let the yuan gradually depreciate in a controlled manner through the year-end. A moderately weaker yuan may lend a hand to Beijing in its balancing act: seeking to keep the economy humming, while cracking down on financial leverage and cushioning the impact from escalating trade actions. It could boost exports, mitigating blows from reduced domestic investment as a result of the deleveraging campaign. Other factors are weighing on the yuan. U.S. dollar strength is one. Diverging monetary policies in China (easing) and the U.S. (tightening) is another.
The policy, regulatory and growth dynamics in China today are different from those in 2015. Authorities have become more coordinated in their approach to fiscal, monetary and FX policies; China's economy is in a better place, and so is the global economy. Beijing has policy tools at its disposal to prop up the economy, with potential for more monetary easing and fiscal spending in the second half. The People's Bank of China's (PBoC) recent move to boost market liquidity is one such example. We also take comfort in the PBoC governor's pledge not to use the currency as a weapon in potential trade wars. A sharp yuan depreciation would undermine Beijing's deleveraging effort by driving capital flight and further tightening domestic financial conditions, in our view. It could also fuel inflation and dampen foreign investors' growing interest in China's domestic stock and bond markets.
Bottom line: We see moderate yuan depreciation ahead but are aware of rising risk from trade actions. (See our BlackRock geopolitical risk dashboard for more). We like selected opportunities in emerging market (EM) Asia equities, including China, as we think these risks are largely priced in and have resulted in attractive valuations. We see the gradual addition of China A-shares to global equity indexes as opportunities for global investors to gain exposure to the country's consumer market. We are neutral on rates and credit in China.
Week in review
Fed Chairman Jerome Powell was upbeat on the U.S. economy in his congressional testimony, but acknowledged potential harm from high tariffs. President Trump threatened tariffs on all Chinese imports and criticized the Fed's rate increases. The Fed's "Beige Book" business survey showed tariffs are the top worry for U.S. businesses, and Department of Commerce hearings suggested widespread opposition to car import tariffs.
U.S. banks reported strong second-quarter earnings. Financial stocks led the U.S. market up. European equities firmed, led by autos and chemical stocks. China's onshore A-shares weakened.
Strong U.S. retail sales underscored solid economic growth in the second quarter. UK inflation and retail data disappointed. Weak data and concerns about Brexit helped push the British pound lower against major currencies.
Week ahead
| Date: | Event |
| --- | --- |
| July 24 | Nikkei Japan manufacturing Purchasing Managers Index (PMI); Composite PMI for France, Germany, eurozone and the U.S. |
| July 25 | European Commission President Jean-Claude Juncker meets with U.S. President Donald Trump to try to defuse trade tensions |
| July 26 | European Central Bank monetary policy meeting |
| July 27 | U.S. advance second-quarter GDP |
The U.S. economy likely grew at a healthy clip in the second quarter. Consensus estimates point to annualized quarter-on-quarter GDP growth of 4%, as fiscal stimulus kicked in. The strong growth momentum likely will reassure the Fed to stay on its normalization path. Our BlackRock GPS points to growth well above trend, and signals that consensus may be still too cautious on U.S. growth over the coming year. This will be the busiest week in the Q2 earnings season in the U.S. and Europe. U.S. companies are expected to post exceptionally strong earnings growth, thanks to tax cuts. The tech sector is seen leading in top and bottom line growth, extending a recent trend.
Global snapshot
Weekly and 12-month performance of selected assets
| Equities | Week | YTD | 12 Months | Div. Yield |
| --- | --- | --- | --- | --- |
| U.S. Large Caps | 0.0% | 4.8% | 13.3% | 1.9% |
| U.S. Small Caps | 0.6% | 11.2% | 19.1% | 1.2% |
| Non-U.S. World | 0.3% | -2.7% | 4.8% | 3.2% |
| Non-U.S. Developed | 0.6% | -1.4% | 5.2% | 3.3% |
| Japan | 1.3% | -1.7% | 9.0% | 2.3% |
| Emerging | -0.5% | -6.2% | 3.3% | 2.9% |
| Asia ex-Japan | -0.7% | -5.1% | 5.1% | 2.7% |
| Bonds | Week | YTD | 12 Months | Yield |
| --- | --- | --- | --- | --- |
| U.S. Treasuries | -0.1% | -0.9% | -0.8% | 2.9% |
| U.S. TIPS | -0.4% | 0.0% | 1.8% | 3.0% |
| U.S. Investment Grade | -0.1% | -2.4% | -0.8% | 4.0% |
| U.S. High Yield | 0.1% | 0.7% | 2.3% | 6.4% |
| U.S. Municipals | 0.1% | 0.2% | 1.2% | 2.6% |
| Non-U.S. Developed | 0.2% | -1.4% | 1.1% | 0.9% |
| Emerging Market $ Bonds | -0.2% | -3.3% | -0.3% | 6.3% |
| Commodities | Week | YTD | 12 Months | Level |
| --- | --- | --- | --- | --- |
| Brent Crude Oil | -3.0% | 9.3% | 48.2% | $73.07 |
| Gold | -1.2% | -5.6% | -1.2% | $1,230 |
| Copper | -1.4% | -15.2% | 3.2% | $6,148 |
| Currencies | Week | YTD | 12 Months | Level |
| --- | --- | --- | --- | --- |
| Euro/USD | 0.3% | -2.3% | 0.8% | 1.17 |
| USD/Yen | -0.9% | -1.1% | -0.4% | 111.41 |
| Pound/USD | -0.7% | -2.8% | 1.3% | 1.31 |
Source: Bloomberg. As of July 20, 2018
Notes: Weekly data through Friday. Equity and bond performance are measured in total index returns in U.S. dollars. U.S. large caps are represented by the S&P 500 Index; U.S. small caps are represented by the Russell 2000 Index; Non-U.S. world equity by the MSCI ACWI ex U.S.; non-U.S. developed equity by the MSCI EAFE Index; Japan, Emerging and Asia ex-Japan by their respective MSCI Indexes; U.S. Treasuries by the Bloomberg Barclays U.S. Treasury Index; U.S. TIPS by the U.S. Treasury Inflation Notes Total Return Index; U.S. investment grade by the Bloomberg Barclays U.S. Corporate Index; U.S. high yield by the Bloomberg Barclays U.S. Corporate High Yield 2% Issuer Capped Index; U.S. municipals by the Bloomberg Barclays Municipal Bond Index; non-U.S. developed bonds by the Bloomberg Barclays Global Aggregate ex USD; and emerging market $ bonds by the JP Morgan EMBI Global Diversified Index. Brent crude oil prices are in U.S. dollars per barrel, gold prices are in U.S. dollar per troy ounce and copper prices are in U.S. dollar per metric ton. The Euro/USD level is represented by U.S. dollar per euro, USD/JPY by yen per U.S. dollar and Pound/USD by U.S. dollar per pound. Index performance is shown for illustrative purposes only. It is not possible to invest directly in an index. Past performance is not indicative of future results.
Asset class views
Views from a U.S. dollar perspective over a three-month horizon
Asset Class
View
Comments
Equities
U.S.
Unmatched earnings momentum, corporate tax cuts and fiscal stimulus underpin our positive view. We like momentum. We prefer quality over value amid steady global growth but rising uncertainty around the outlook. Financials and technology are our favored sectors.
Europe
Relatively muted earnings growth, weak economic momentum and heightened political risks are challenges. A market dominated by value sectors also makes the region less attractive in the absence of a growth upswing.
Japan
The market's value orientation is a challenge without a clear growth catalyst. Yen appreciation is another risk. Positives include shareholder-friendly corporate behavior, solid company earnings and support from Bank of Japan stock buying.
EM
Economic reforms, improving corporate fundamentals and reasonable valuations support EM stocks. Above-trend expansion in the developed world is another positive. Risks such as a rising U.S. dollar, trade tensions and elections argue for selectivity. We see the greatest opportunities in EM Asia.
Asia ex Japan
The economic backdrop is encouraging, with near-term resilience in China and solid corporate earnings. We like selected Southeast Asian markets but recognize a worse-than-expected Chinese slowdown or disruptions in global trade would pose risks to the entire region.
Fixed Income
U.S. government bonds
We see rates rising moderately amid economic expansion and Fed normalization. Longer maturities are vulnerable to yield curve steepening but should offer portfolio ballast amid any growth scares. We favor shorter-duration and inflation-linked debt as buffers against rising rates and inflation. We prefer 15-year mortgages over their 30-year counterparts and versus short-term corporates.
U.S. municipals
Solid retail investor demand and muted supply are supportive, but rising rates could weigh on absolute performance. We prefer a neutral duration stance and up-in-quality bias in the near term. We favor a barbell approach focused on two- and 20-year maturities.
U.S. credit
Sustained growth supports credit, but high valuations limit upside. We favor investment grade (IG) credit as ballast to equity risk. A temporary surge in M&A-related issuance has cheapened IG valuations. Higher-quality floating rate debt and shorter maturities look well positioned for rising rates.
European sovereigns
The ECB's negative interest rate policy has made yields unattractive and vulnerable to the improving growth outlook. We expect core eurozone yields to rise. We are cautious on peripherals given tight valuations, political risks in Italy and the upcoming end to the ECB's net asset purchases.
European credit
Increased issuance and political risks have widened spreads and created some value. Negative rates have crimped yields - but rate differentials make currency-hedged positions attractive for U.S.-dollar investors. We are cautious on subordinated financial debt despite cheaper valuations.
EM debt
Valuations of hard-currency debt have become more attractive relative to local-currency bonds and developed market corporates. Further valuation support comes from slowing supply and strong EM fundamentals. Trade disputes and a tightening of global financial conditions are downside risks.
Asia fixed income
Stable fundamentals, cheapening valuations and slowing issuance are supportive. China's representation in the region's bond universe is rising. Higher-quality growth and a focus on financial sector reform are long-term positives, but a sharp China growth slowdown would be a challenge.
Other
Commodities and currencies
*
Declining global crude inventories underpin oil prices, with geopolitical tensions providing further support. We are neutral on the U.S. dollar. Rising global uncertainty and a widening U.S. yield differential with other economies provide support, but an elevated valuation may constrain further gains.

Overweight Neutral

Underweight
* Given the breadth of this category, we do not offer a consolidated view.
This post originally appeared on the BlackRock Blog.