By Tajinder Dhillon
18Q2 earnings season is underway with 44 companies reporting last week. Exhibit 1 provides a summary of reporting results.
Exhibit 1: Earnings Season Results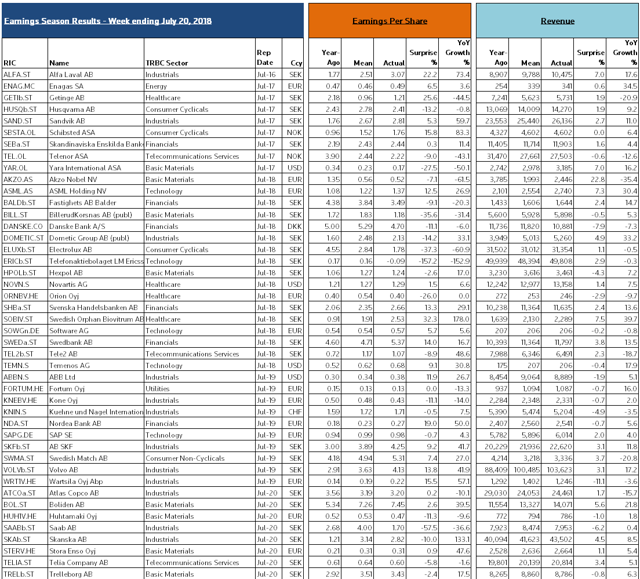 Source: Thomson Reuters I/B/E/S
Overall Recap
Of the companies that reported this week, 50% beat EPS expectations and 48% missed EPS expectations. In addition, 64% beat revenue expectations and 36% missed revenue expectations.
The company which beat EPS expectations by the largest amount was Swedish Orphan Biovitrum AB (OTCPK:SWTUY) with a positive 32.3% surprise. The company which missed EPS expectations by the largest amount was Telefonaktiebolaget LM Ericsson (ERIC) with a negative -157.2% surprise.
The company which beat revenue expectations by the largest amount was Akzo Nobel NV (OTCQX:AKZOY) with a positive 22.8% surprise. The company which missed revenue expectations by the largest amount was Wartsila Oyj Abp (WRT1V.HE) with a negative -11.1% surprise.
Strong European Demand for Industrials
Volvo (OTCPK:VOLAF) had a stellar Q2, exceeding sales of 100 billion SEK for the first time ever, in part due to a weaker krona which has dropped almost 8% this year. Regarding the Trucks division, it noted strong demand globally with a gradual improvement in the European supply chain but still a concern to CEO Martin Lundstedt. "Europe is still in a stretched situation, obviously. We have high demand and we have high volumes out from the European production system … And it continued to be very stretched in North America, primarily now driven, actually, by the difficulty to find labor in North America for our suppliers … this is something that is not Volvo-specific and not even industry-specific, but more of a general thing that is happening in North America for the time being."
ABB (ABB) also noticed strongest customer demand from Europe this quarter, which had the largest regional growth - "In Europe, base orders rose 12%. Growth was broad based, particularly strong in Italy but also higher in Germany, the U.K., Norway, Spain and France." It is very excited about its position within the Electric Vehicle space, providing a leading charging infrastructure for vehicles. "By 2030, an estimated 24% of new cars sold globally will be electric. This is the equivalent of up to 25 million electric vehicles being sold each year and a total of 100 million electric vehicles on the road in total. EV charging infrastructure will grow exponentially with the number of charge points installed in a year expected to expand more than tenfold by 2030." It noted its Terra HP charger, which is the world's first easy fast charger which can charge a 200-kilometer range refill within 8 minutes, as a result has led to "ground-breaking" orders from the United States and Europe, according to CEO Ulrich Spiesshofer.
Akzo Nobel NV - Painting a Bleak Picture?
Akzo Nobel NV reported very strong revenue this quarter, leading the week with the strongest revenue surprise of 22.8%. However, its EPS missed expectations by 7% and experienced a YoY growth rate of -61.5%. Cost inflation is a core driver as mentioned by CEO Thierry Vanlancker, "As expected, higher raw material cost continued to impact us in the second quarter 2018 … raw material inflation is projected to continue for the remainder of 2018, although at a slower rate than during the start of the year. Robust pricing initiatives are in place to compensate for higher raw material cost. This remains our key focus for the commercial organization."
Semiconductors Continue Strong Growth
ASML Holding NV (ASML) reported the strongest growth rates this week within the Technology sector, with YoY EPS and revenue growth rates of 26.9% and 30.4%, respectively. Looking at Exhibit 2, we can see the exceptional performance by this industry over the last 5 years by looking at the Datastream European Semiconductors Index. We can see that between 2016 and 2017, the index doubled from 500 to a 1000.
Exhibit 2: European Semiconductors Index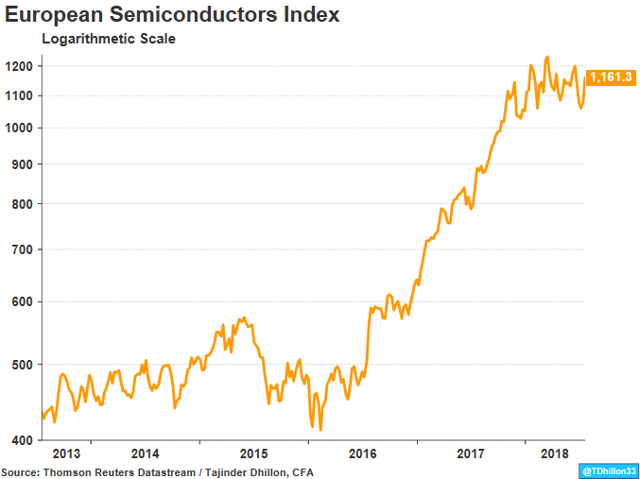 CEO Peter Wennink highlighted strong demand for its full product offering, as customers require stronger computing power, "the positive industry environment and increasing litho intensity continues to drive strong demand in both logic and memory markets as customers migrate to more advanced nodes."
"Progress in high-performance compute requires similar advances in the memory road map execution for both volatile and non-volatile memory. Memory strength in both DRAM and NAND is driven by increasing content per device as well as expanding end market applications. And in DRAM, to meet the current bit growth demand expectations of between 20% to 25%, we see customers continuing with technology migrations and greater capacity additions."
Exhibit 3 outlines the price for Dynamic Random-Access Memory (DRAM), which has seen a surge in price over the last 5 years.
Exhibit 3: DRAM Index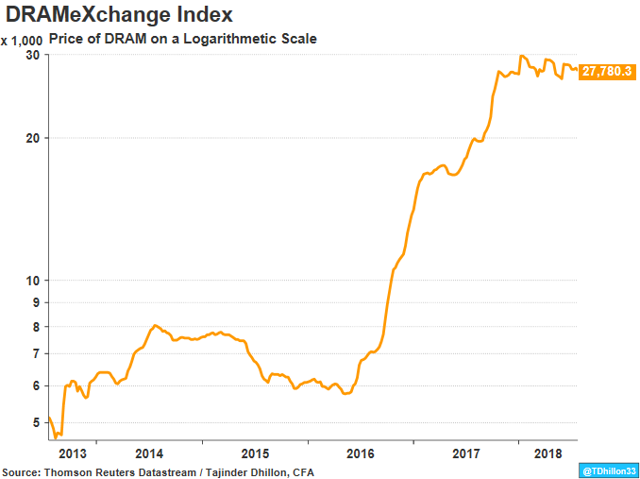 Editor's Note: This article discusses one or more securities that do not trade on a major U.S. exchange. Please be aware of the risks associated with these stocks.