Quarterly earnings season is upon us... yes, it's that time again. And I wonder what Energy Recovery (NASDAQ:ERII) will report this time: a pleasant surprise (defined as meeting Schlumberger's (NYSE:SLB) "milestone 1" and reaping a $25 million "reward" payment), or another disappointing update on the never-ending efforts to meet Schlumberger's specifications and (finally) commercialize the Vor-Teq product. After all, it is only three months shy of three years ago (October 2015) when Schlumberger paid ERII $75 million as a result of the Vor-Teq licensing agreement.
Remember, the previous CEO predicted the two milestones (and $50 million in aggregate payments) would be made in 2016. Now, here we are with another CEO in mid-2018, and the first milestone requirements have still yet to be satisfied.
To be sure, Seeking Alpha contributor Philaretos made some good points in the May article titled "Don't Expect A Recovery From Energy Recovery." I especially liked the previous milestone guidance timeline in that article. Who knows, maybe the Vor-Teq "milestone 1" goal will be something handed down from CEO to CEO and generation to generation.
Milestone 1 In Q2? Didn't Happen!
I say that ERII likely did not get the $25 million payment in Q2 for (finally) hitting SLB "milestone 1" because of this slide in the last month's company presentation: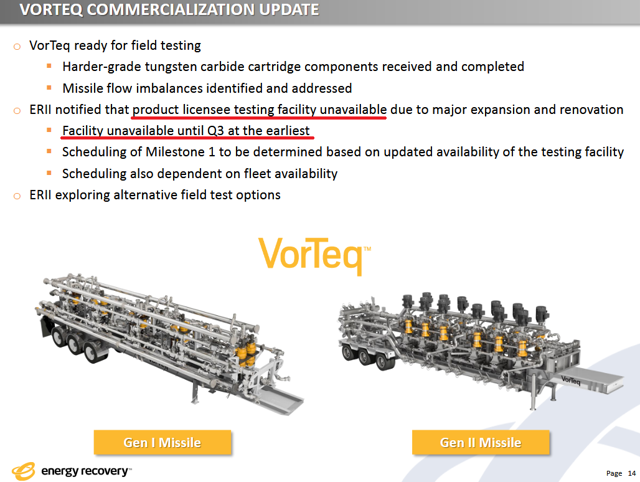 (Source: June Presentation)
The good news is that Vor-Teq v2.0 is (finally) ready for field testing. The bad news is ERII then says the "product licensee testing facility unavailable" until "Q3 at the earliest." But that doesn't sound like a "field test" to me, it sounds like an SLB testing facility, i.e., a controlled environment (or lab). So meantime, why aren't Schlumberger and ERII testing Vor-Teq v2.0 on a live well (ERII is "exploring alternative field test options"). Is that because no producer will agree to use one of their wells as a guinea pig until "facility testing" passes muster? Or because Vor-Teq really isn't ready? Regardless, it's yet another disappointment for shareholders and, with the latest "excuse", it seems that Vor-Teq's future is - once again - somewhat open-ended. The saga continues.
Yet, I am still optimistic that at some point, hopefully before I am very old and need the money for assisted living, ERII will eventually meet the milestones and commercialize Vor-Teq. I say this mostly because I have faith that a blue-chip engineering company like Schlumberger would not have plunked down $75 million on Vor-Teq had it not performed some level of technical due diligence and concluded that success was much more likely than failure. The other side of that argument is, of course, that $75 million is a drop in the bucket for a company like SLB, and perhaps they just took a flyer on the project. Regardless, investors should make no mistake: ERII's future is increasingly "all about Vor-Teq," which is shown below: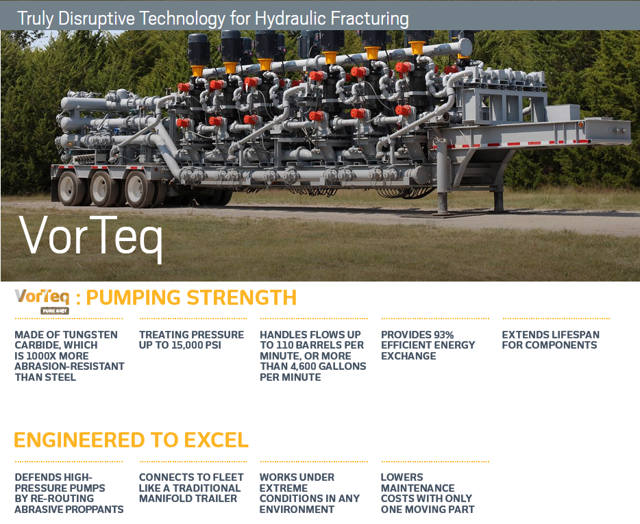 (Source: Energy Recovery)
The Salt Water Desalination Business
Meanwhile, Energy Recovery's PX products continue to dominate the global salt water reverse osmosis ("SWRO") desalination business. The year started off with a bang as ERII announced four new contracts, resulting in $23.2 million of new orders during Q1 alone:
$6.2 million to supply PX Pressure Exchangers for desalination projects in Saudi Arabia. The orders are expected to ship in the first half of 2018.
$2.9 million to supply PX Pressure Exchangers for desalination projects in Asia. The orders are expected to ship in the second quarter of 2018.
$4 million to supply PX Pressure Exchangers for desalination projects in Egypt. The orders are expected to ship in the first half of 2018.
$10.1 million to supply PX Pressure Exchangers for water projects in Saudi Arabia.
So that was a great start to the year. In addition, the company said:
We believe that the current expansion phase in the desalination business cycle will continue throughout 2018.
However, I would note that there were no new contracts announced during Q2. But that's ok, ERII's order flow is typically back-end heavy (and lumpy). The good news is most of the orders listed above should have been shipped during Q2. And while $23.2 million in orders might not seem like much, for a small company like Energy Recovery it's substantial. After all, Water Segment revenue in Q2 of last year was only $9.8 million, while total revenue was only $12.2 million. So I expect Q2FY18 yoy comparisons are going to be very favorable. That is especially true given the 70.8% gross margins the company achieved in Q1 for the Water Segment.
Balance Sheet
Another attractive attribute of ERII is that the company has no debt and ended Q1 of this year with ~$91 million in cash. In addition, it repurchased $3.5 million of stock during Q1 (409,850 shares for an average price of an estimated $8.53/share... closed today at $8.26), and at the end of Q1 had 53,987,000 shares outstanding. So the cash position at the end of Q1 equates to about $1.68/share.
Summary and Conclusion
After reaching a high of nearly $16 in September 2016, likely as a result of the previous CEO's milestones guidance, Energy Recovery stock has spent much of the last three "waiting years" around $8/share, or about where it is now. Note that is up from $2.65 prior to the SLB licensing announcement (see chart below). The point is, Vor-Teq expectations have been built into ERII stock price. At some point, the company has to deliver on the Vor-Teq milestones or the stock will head back down.
Bottom line: I am holding my shares for now but getting increasingly nervous that "milestone 1" doesn't seem to be a priority for Schlumberger, and perhaps never was. Meantime, the shale boom continues pretty much unabated. What a lost opportunity!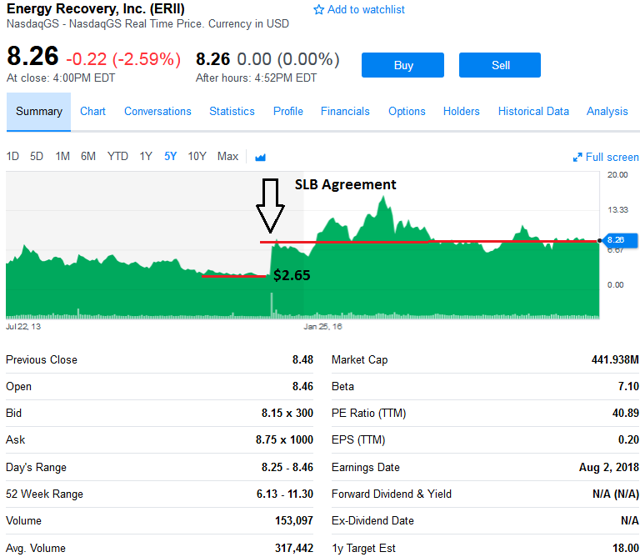 (Source: Yahoo Finance)
Disclosure: I am/we are long ERII. I wrote this article myself, and it expresses my own opinions. I am not receiving compensation for it (other than from Seeking Alpha). I have no business relationship with any company whose stock is mentioned in this article.
Additional disclosure: I am an engineer, not a qualified investment advisor. While the information and data presented in my articles are obtained from company documents and/or sources believed to be reliable, they have not been independently verified. Therefore, I cannot guarantee its accuracy. I advise investors conduct their own research and/or consult a qualified investment advisor. I explicitly disclaim any liability that may arise from investment decisions you make based on my articles. Thanks for reading and I wish you much success with your investments.