Stock Market Review
Three times in four months S&P 500 (NYSE:SPY) failed to penetrate the 280-resistance level, and now we are here again for the fourth time, making the 280-resistance level (also the Fibonacci resistance) the key milestone for the bull market to watch.
While the market is respecting the 280-resistance level, it is very unusual that we are flirting with this important resistance with such complacency and low volatility, meaning that the market is comfortable at these levels but waiting for more clarity from the earnings season and resolution of the trade war issues before volatility picks-up and/or directional move is initiated. Supportive of this assumption and somewhat bullish, is consistent and somewhat strong money-inflows, especially institutional (purple line on the SPY chart #1), while put/call ratio indicators have turned bearish two weeks ago (charts #2). This is telling us is that investors are still bullish on the stock market but choose to rather hedge then liquidate their stocks and portfolio.
The timing of the various price scenario is uncertain, but the price outcome below is still intact from last week:
Failure to significantly break and stay above the 280-resistance will also result in breaking the recent bullish trendline, where both events would lead to accelerating money-outflows, fast run on the 267-support level and development of a reversal bearish price pattern.
Success in penetrating the 280-resistance level will make this important resistance level and even more important support level and a base for the next leg of the bull market with price target at 306-resistance.
Chart #1 - SPY (Courtesy of TD Ameritrade ThinkorSwim)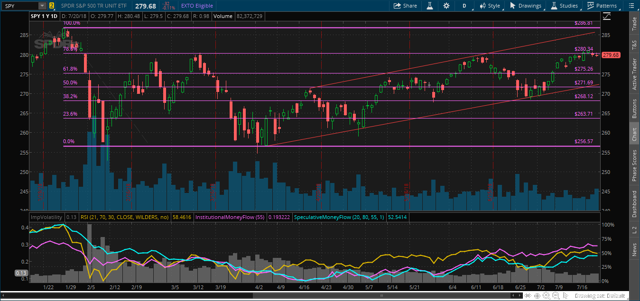 Sentiment Analysis
Equity-only put-call ratios (equal weighted and volume weighted) remain on sell signals. it is unusual that the ratios are moving in the same direction as the stock market, since they should be moving in opposite directions. Typically, we would wait for one of the two (market or put/call ratios) to give in and thus the inverse relationship between stock prices and the put-call ratios resumes. But this time and as I mentioned above the situation might be an exception. Simply stated, traders are buying a lot of puts even though the stock market is rising. They could be overly worried about a market decline, or they could be taking advantage of the fact that implied volatility is now quite low again, so protection is cheap. In either case, their actions are distorting the "normal" speculative nature of put buying, which is contrary fashion to the market itself.
Chart #2 - SPX Equal and Volume Weighted Put/Call Ratio (Courtesy of The Options Strategist)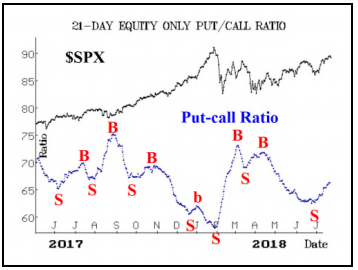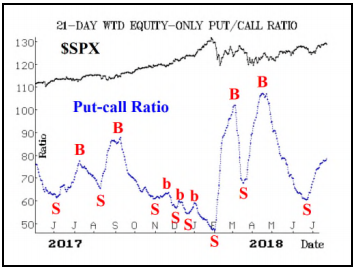 Volatility is slightly on the bullish side. On days that the market is up, volatility declines. On days that the market is down, or perhaps gets a blast of negative news which causes a short-term negative reaction, volatility barely rises. If the Volatility Index (CBOE:VIX) continues to trend flat to lower, that is a positive factor for stocks. The well-established range for the VIX is between 15 (the complacency support) and 19 (the worry resistance), so if VIX trades within this range (with minor and temporary spikes above 19), it is a positive indicator for stocks.
Chart #3 - VIX (Courtesy of The Options Strategist)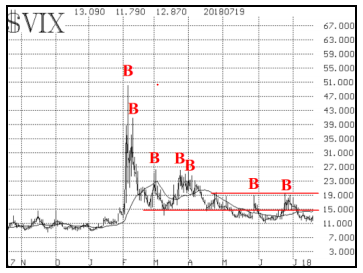 Additional positive indicator for stocks is the weekly VIX futures premium, where the Friday's chart (Chart #4) is showing it is well in the bullish territory at 16.02% vs. 13.07% last week ending July 13.
Chart #4 - Day Weighted VIX Futures Premium (Courtesy of CBOE and iVolatility)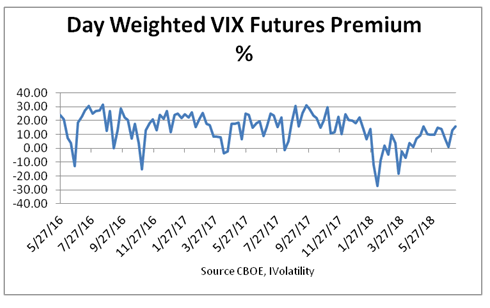 Macro Map
The macro field is back in the focus and we will take a look at the ones that are potential market movers and catalyst in the short term.
Dollar (NYSE:UUP) – There is talk about the dollar surge and strong and lasting bull market in the making, but this holds true only when looking at the short-term to mid-term cycles, where long-term cycle is signaling that dollar is at the lower peak of the downward sloping price channel. The recent daily dollar index sell-off is very indicative of a market top, however well supported by weekly bullish surge, suggesting that the dollar has started a consolidation phase that might last few weeks to few months. The implication of the impeding dollar moves is very critical and depended by the major commodities mentioned below.
Chart #5 - UUP (Courtesy of TD Ameritrade ThinkorSwim)
Crude Oil (NYSE:USO) – Crude oil has been on a good bull run, impressive that is given that the dollar was also strong. The bullish bias and trend from mid-2017 is intact, however higher volatility in 2018 particularly in the last month are making traders nervous and difficult to predict the probability and timing of the bull market continuation. The main catalyst for higher crude oil prices is clearly the dollar range or bear market, as it would be difficult for crude oil to continue a bullish trend if the dollar also continues the bullish trend. We expect USO to trade in a 13 to 15 range in falling volatility environment for the next two months.
Chart #6 - USO (Courtesy of TD Ameritrade ThinkorSwim)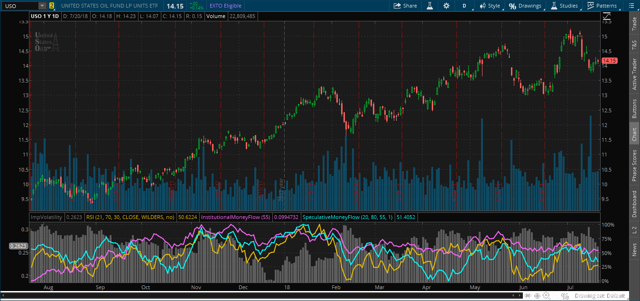 Precious Metals (NYSE:GLD) and (NYSE:JJCTF) – There are two critical events for gold that are signaling a mid-term cycle bottom for gold – dollar finishing or pausing the bullish trend and GLD hitting a critical 115 support, which is also the 50% Fibonacci retracement from the July 3-2017 130.15 high. In support of a meaningful reversal is also the put call ratio that has turned from bearish to a strong buy - not seen since late 2017 – clearly signaling a short squeeze. The missing link to confirm bullish reversal for gold are the money-flows that are showing oversold levels but not signaling an imminent bullish trend yet. Copper is in the same technical and dollar dependency situation as gold, but in a shorter cycle. JJCTF has reached the 30 Fibonacci 50% retracements from the December 23-2017 2 high of 37.88.
Chart #7 - GLD & JJCTF (Courtesy of TD Ameritrade ThinkorSwim)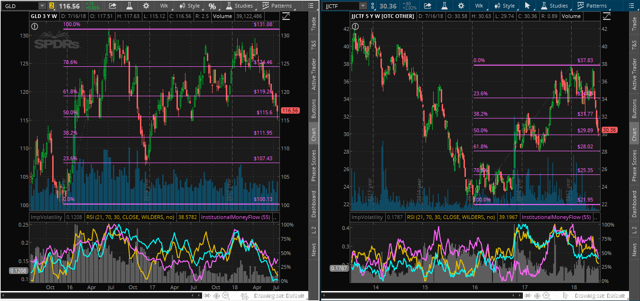 Bond Yields - The 10-year 2-year yield spread is right now widely followed asset, and the debate will it or will it not reach inversion point and will it or will it not correctly predict the next recession. Probable answer for both questions is yes. The current falling yield spread pattern and recent downward acceleration is indicating that this is a stronger and/or longer cycle that the prior falling yield spread cycles, meaning that the yield spread might not just overshoot without hesitation the 0 inversion point and the April 2000 low of -0.46, but it might go much deeper to uncharted levels - somewhere in the vicinity of the early 1980's range -1.75 to -2.00. The Elliot Cycle and Fibonacci price targets are yielding similar results: First price target at around inversion point of 0, and second price target at around the early 1980's levels of -1.75.
Chart #8 - 10-year 2-year yield spread (Courtesy of TD Ameritrade ThinkorSwim)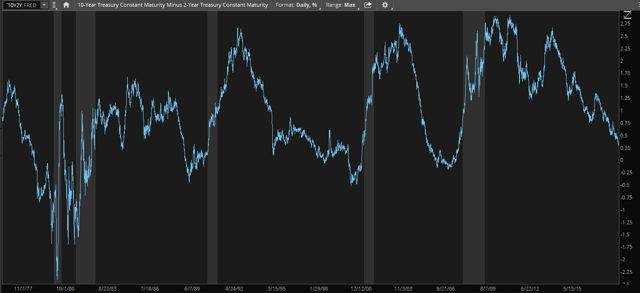 Sector Map
The ongoing sector theme is rise of cross-sectional volatility, falling correlations, and some rotation themes – but probably no significant sector rotation developing until the second half of the earning season, as usually is the case. Notable sector activity and rotation are the following:
Energy (NYSE:XLE) – The energy sector is stabilizing just below the longer-term 78.5 resistances and shorter-term 73.5 support (Chart #9). Clearly the catalyst and lead for the next move is crude oil we discussed above.
Chart #9 - XLE (Courtesy of TD Ameritrade ThinkorSwim)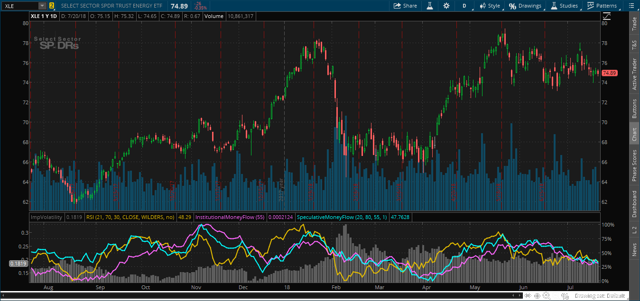 Materials (NYSE:XLB) – Materials sector is trading in the range, despite Alcoa fallout and Gold bear market. On the industry level however, there is some rotation going on, where our focus are the gold miners (NYSE:GDX) that are trading on very strong supports with accelerating and diverging from price institutional money-inflows (purple line on Chart #10 below). Key to watch is the domino effect of neutral-weaker dollar and neutral-strong gold as catalyst for gold miners sustainable bull market. Notable mention on the sell side is the construction materials industry with very strong and consistent money-outflows.
Chart #10 - XLB (Courtesy of TD Ameritrade ThinkorSwim)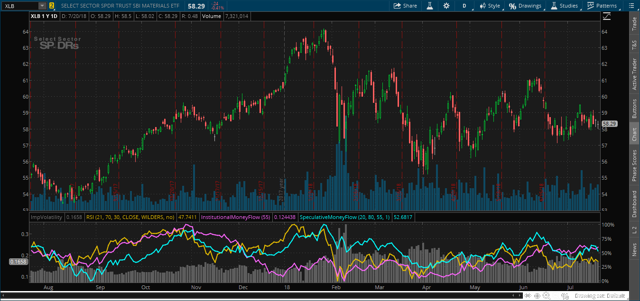 Consumer Cyclicals (NYSE:XLY) – Consumer Cyclicals sector based on price action last week is signaling a very strong topping pattern formation with lagging money-flows. There is also plenty of industry rotation within the sector, but it seems there is not one industry that can lead and carry the sector to new highs. To make things even harder for the sector is handful of industries that are dragging the sector down with significant money-outflows. Notable mentions are: Media (despite all the M&A activities); Hotels, Restaurants and Leisure; Automobile Parts; and Automobiles. The latter two are trading on very weak supports – if broken would most likely trigger a bear market on the sector level.
Chart #11- XLV (Courtesy of TD Ameritrade ThinkorSwim)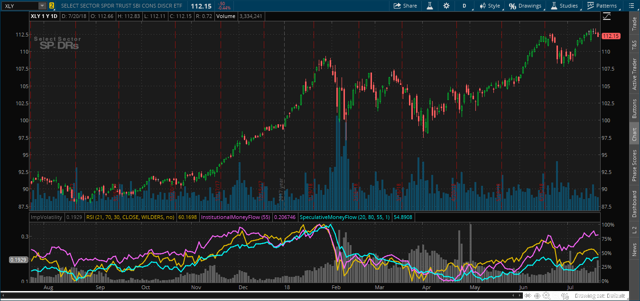 Index & Sector Scorecard
Table #12 – Index & Sector Scorecard (Courtesy of Clarendon Global)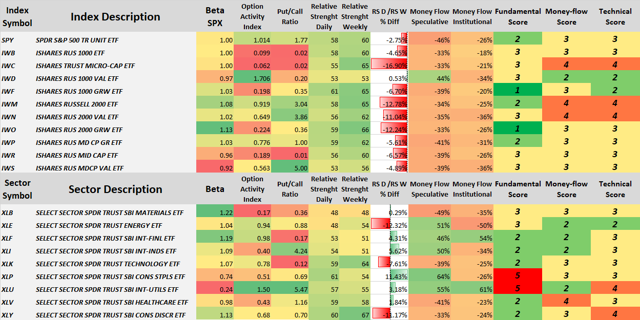 Sector Specific ETF Picks
Based on our cross asset and sector analysis above, below is a list of ETF picks with specific options trading suggestions.
VanEck Vectors Gold Miners ETF (NYSE:GDX) Long OTM Calls
Buy GDX Jan-21-18 20 Calls
The options on GDX are extremely cheap, so buying ATM long far-out expiration calls is a simple yet most efficient strategy to benefit the eventual rise in implied volatility, while giving enough time through several quarterly cycles for the bull market to materialize and benefit from the price rise.
Chart #13 - GDX (Courtesy of TD Ameritrade ThinkorSwim)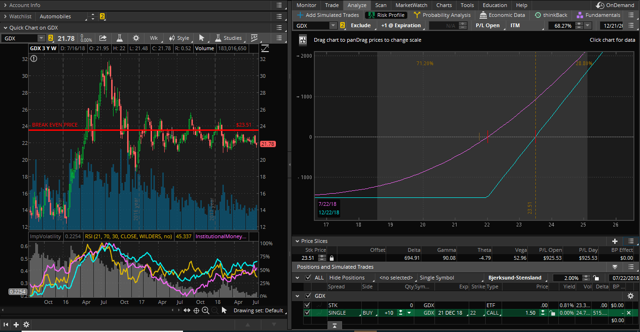 The United States Oil ETF, LP (NYSE:USO) Short Strangle
Sell Sep-21-18 15 Calls and Sell Sep-21-18 13 Puts @ 0.43 credit mid-point
In the energy complex, playing the crude oil by collecting expensive premium in a short-term range bound market is the way to go while waiting for trading set-ups for the energy ETFs or stocks
Chart #14 - USO (Courtesy of TD Ameritrade ThinkorSwim)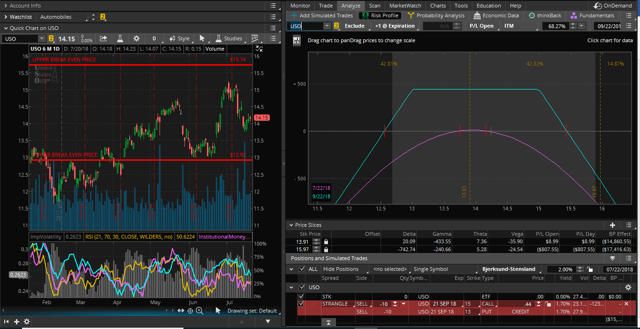 Consumer Discretionary Select Sector SPDR ETF (NYSE:XLY) Short Naked OTM Calls & Long OTM Calendar Put Spread
Sell 113 Sep-21 -18 Calls @ 2.16 credit mid-point
Long Calendar Spread - Sell Sep-21-18 109 Puts and Buy Dec-21-18 109 Puts @ 1.70 debit mid-point
Consumer Cyclicals are well set-up to play the bearish call spreads – collect good premium on the bearish to neutral price forecast and/or long calendar put spread – where due to time decay, shorter duration expiration will depreciate faster than the longer-term duration, with an option to close or leave open the longer-term duration at the time of shorter duration expiration. It is most efficient from the risk/reward point of view to play both trades for net credit of 0.46.
Chart #15 - XLY (Courtesy of TD Ameritrade ThinkorSwim)