The ECB will announce its policy decisions next week, on Thursday, 26 July. The meeting will be followed by President's Draghi press conference. ECB Staff macroeconomic projections will be updated in September, meaning that this meeting will be probably used to discuss recent developments and the monetary policy adequacy.
At their meeting in June the Governing Council expressed their expectations that monthly bond purchases will be halved in September and then ended in December. However, it is worth noting here that if purchases had not been concluded, the ECB would soon hold more than one third of sovereign bonds of certain countries, leading to legal problems due to the OMT ruling of the European Court of Justice.
Furthermore, the ECB member Peter Praet recently stated: "First, the anticipated end of net asset purchases remains conditional on incoming data confirming the medium-term inflation outlook." The latter confirmed once again that the ECB Governing Council members did not formally commit themselves to end the QE by the year end but rather expressed an expectation that will depend on the data. However, an extension seems likely only in case of major shock due to before explained regulatory requirements.
The ECB explicitly stated at their meeting in June: "Third, we decided to keep the key ECB interest rates unchanged and we expect them to remain at their present levels at least through the summer of 2019 and in any case for as long as necessary to ensure that the evolution of inflation remains aligned with our current expectations of a sustained adjustment path."
Chart 1: ECB main interest rates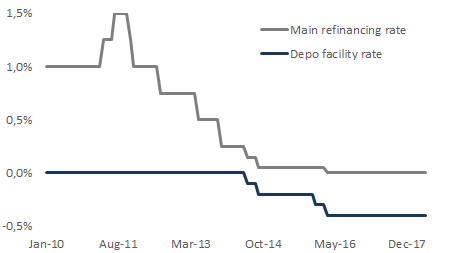 Source: ECB
No GDP data have been published since the June meeting. The key data include the PMIs for June and industrial production data for May (the July Flash PMI will be published tomorrow). The June Composite PMI provided some relief as it rose by 0.8pp to 54.9, having otherwise declined for four consecutive months by a cumulative 5pp. Euro area industrial production rebounded in May, increasing by 1.3% mom after -0.9% mom decline in the previous month. Labor market dynamics remain favorable as the number of unemployed fell further by 125k in May while the unemployment rate is at its lowest level since the end of 2008 (8.4%).
The final HICP reading showed that headline inflation had risen from 1.9% in May to 2.0% yoy in June which is the highest level since February 2017. However, core inflation (ex-energy, food, alcohol and tobacco) eased down from 1.13% in May to 0.9% in June and is thus still significantly below the ECB medium-term target of 2%.
That said, the most recent activity data should provide some relief to the ECB as their latest broad-macroeconomic outlook is still on track. However, let us not forget that both the ECB and the European commission lowered their initial euro zone 2018 growth expectations by 0.3pp and 0.2pp to 2.1%, respectively. While core inflation fell short of expectations, I believe that the ECB will stick to the June script at their forthcoming meeting as GDP growth is still on an above-trend trajectory and headline inflation recently reached 2%.
Table 1: ECB June forecasts
| | | | |
| --- | --- | --- | --- |
| | 2018. | 2019. | 2020. |
| Change in real GDP | 2,10 | 1,90 | 1,70 |
| March projection | 2,40 | 1,90 | 1,70 |
| Unemployment rate | 8,40 | 7,80 | 7,30 |
| March projection | 8,30 | 7,70 | 7,20 |
| HICP inflation | 1,70 | 1,70 | 1,70 |
| March projection | 1,40 | 1,40 | 1,70 |
| Core HICP inflation | 1,10 | 1,60 | 1,90 |
| March projection | 1,15 | 1,50 | 1,80 |
Source: Eurosystem staff macroeconomic projections , June 2018
Chart 2: European Commission GDP forecasts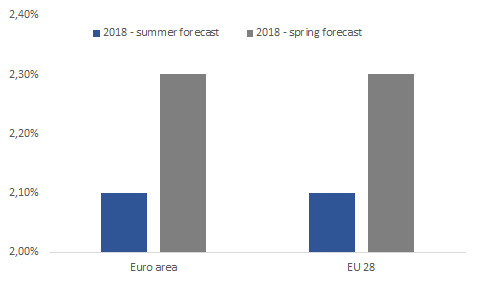 Source: European Commission summer forecast
The main market development since the June meeting suggest downward re-pricing of monetary policy expectations. Long-term yields moved lower, with the 10-year Bund falling by roughly 10bp to 0.37%. The euro weighted exchange rate fell by 1.3% and 2-year German yield fell by 4bp in response to the ECB announcements on June 2014, only to approach pre-meeting levels in the past few days.
Chart 3: Bund curve today and before June meeting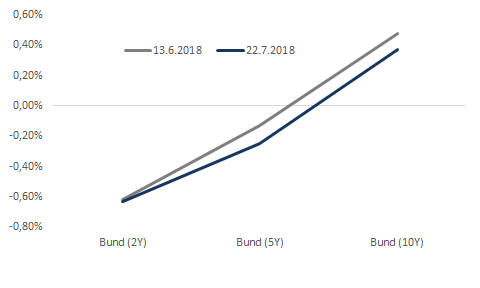 Source: Reuters
The EUR/USD exchange rate increased above 1,17 mark at the end of last week as president Trump criticized the Fed for hiking rates and accused China and the European union for manipulating currencies and putting the US at a disadvantage. The ECB Council meeting will show once again that there are no fundamental arguments that would support euro appreciation in the near term. After all, the growth lower than initially expected while core inflation is hovering around just 1%. Furthermore, the Governing Council dovish rhetoric regarding the first interest rate increase confirms that interest rate differential between the euro zone and the US is set to widen further in the near term.
Chart 4: GER-UST 2 year spread and EUR/USD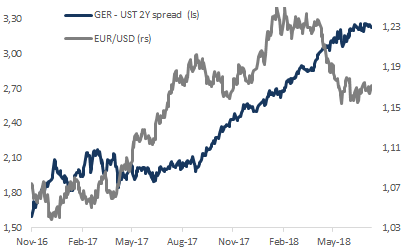 Source: Reuters
All in all, I believe that the ECB Council will use this meeting to once again confirm their willingness to keep interest rates around current lows for another year which will erase the impact of Trumps comments and push EUR/USD exchange rate lower while risks to the yields are again tilted to the downside.
Disclosure: I/we have no positions in any stocks mentioned, and no plans to initiate any positions within the next 72 hours.
I wrote this article myself, and it expresses my own opinions. I am not receiving compensation for it (other than from Seeking Alpha). I have no business relationship with any company whose stock is mentioned in this article.