There are two words that can describe this article: markets recover. Unpacking that statement more, it can also be said that not only do markets recover but they can sometimes recover quicker than you expect. A great quote that can be applied here is from Howard Marks: "We may not know where we're going, but we sure as heck ought to know where we stand."
In this quote, Marks is referring to valuations while this article is about past market movements. In my opinion, his view on valuations can be applied to market movements as well because my interpretation of this quote is stating that even if you have no idea what is going to happen, you should still do your research to see how things panned out in the past.
Since we are halfway through the year, looking at the chart below and exploring what has happened in the past in terms of intra-year declines and annual returns seems like a worthwhile endeavor. It's been some eventful past six months, but if we are up on the year at the end of 2018, it will be the 16th time out of seventeen years, since 1980, in which we had a decline of 6% to 10% and still closed positive.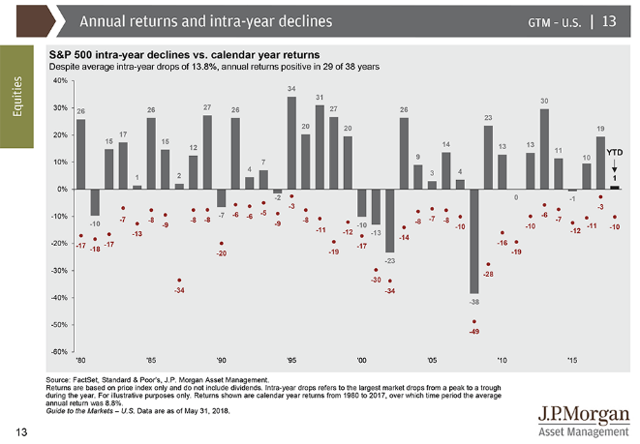 The above chart comes from JP Morgan Guide To The Markets. We all know that past performance is no guarantee of future performance but it is important to still know what happened in the past. For the analysis, intra-year declines were broken up into buckets of five and then were counted how many years fell into each bucket. Lastly, they were then broke up into years that ended positive and years that ended up negative.
| | | | |
| --- | --- | --- | --- |
| Intra Year Decline | Positive Annual Return Years | Negative Annual Return Years | Total |
| 1 - 5 | 3 | 0 | 3 |
| 6 - 10 | 15 | 1 | 16 |
| 11 - 15 | 5 | 1 | 6 |
| 16 - 20 | 4 | 4 | 8 |
| 21 - 25 | 0 | 0 | 0 |
| 26 - 30 | 1 | 1 | 2 |
| 31 - 35 | 1 | 1 | 2 |
| 36 - 40 | 0 | 0 | 0 |
| 41 - 45 | 0 | 0 | 0 |
| 46 - 50 | 0 | 1 | 1 |
| Total | 29 | 9 | 38 |
As you can see from the table above*, the most frequently occurring intra-year decline since 1980 has been between 6% and 10%, but 15 out of the 16 times that this has happened, we have ended the year with a positive return. Currently, in 2018, we have had an intra-year decline of 10%. With this chart though, we have the benefit of hindsight. At the time a decline is happening, this chart isn't likely to help because the next decline will look different from ones in the past. However, it can help by giving you a reminder that markets do recover even from large declines with the best example from the chart being 1987.
The lesson that can be learned from this data is that market declines, especially those greater than 5%, are not to be feared and should be expected. The 5% buckets listed are arbitrary and different ones can be used, but the data will tell the same story: markets have ended the year positive about 75% of the time even with large declines of 10% or more.
The chart also illustrates Warren Buffett's famous quote of "Be fearful when others are greedy and greedy when others are fearful." However, it is important to be the right amount of fearful and the right amount of greedy because future returns and declines are uncertain. With that being said, a great quote about asset allocation is from Cliff Asness in a podcast interview on Masters in Business saying "A great strategy you can't stick with is obviously vastly inferior to a very good strategy you can stick with."
Being diversified can not only help smooth out the graph above in terms of declines, but potentially returns as well at the same time. This data has hopefully put previous market declines into perspective for you and will put future drops into perspective as well, especially when we see more headlines in the future saying something along the lines of "S&P 500 Has Its Largest Intra-Day(Point) Decline Ever."
*2011 was a year in which the largest decline was 19% and we finished the year flat. I marked it as a negative year in the table above, but an argument can be made to mark it positive as well.
Disclosure: I/we have no positions in any stocks mentioned, and no plans to initiate any positions within the next 72 hours. I wrote this article myself, and it expresses my own opinions. I am not receiving compensation for it (other than from Seeking Alpha). I have no business relationship with any company whose stock is mentioned in this article.