In a July 16 article, "Fifty Is Nifty," I described a potential expansion of my retirement income portfolio from 30 individual equities up to as many as 50. I explained my decision to add AbbVie (ABBV), Apple Hospitality REIT (APLE), Brookfield Infrastructure Partners (BIP) and Main Street Capital (MAIN). This brought the number of individual equities in the portfolio to 34.
Today's article describes two more additions and updates my watchlist.
Something old: Canadian Utilities Ltd has raised its dividend for 46 consecutive years
Canadian Utilities (Tor:CU) (NYSE:OTCPK:CDUAF) is an old diversified utility based in Alberta, but it's new to me. I established a position at $25.23 on July 23, 2018. It is now 0.94% of the portfolio.
A concise history of the utility is available from Funding Universe, beginning in 1911 with the founding of the Canadian Western Natural Gas, Light, Heat and Power Company.
By the 1980s, the utility served 600,000 natural gas customers and 150,000 electric customers. It now operates as part of the ATCO Group, which holds 52% of CU's shares. (I own shares of the ADR, which trades on the New York Stock Exchange under the symbol CDUAF, but for simplicity I will use the Toronto Exchange symbol CU.)
From 2013 to 2017, its percentage of adjusted earnings from regulated utilities rose from 65% to 99%. No public company in Canada has a longer history of consecutive annual dividend increases. This puts it at the head of the class of the Canadian Dividend All-Stars.
CU now serves two million customers globally. These sentences from CU's website provide insight into the company's present structure:
​​"Canadian Utilities Limited (NASDAQ:CU) is a diversified group of companies principally controlled by ATCO Ltd., which in turn is principally controlled by Sentgraf Enterprises Ltd., a Southern Family holding company.

"The CU share registry has both non-voting (CU) and voting common (CU.X) shares. Please visit the Investor FAQ section for a complete list of trading symbols."
If you choose to invest in CU, you're investing alongside Chief Executive Officer Nancy Southern, whose family controls the voting shares. Ms. Southern is the Chair and CEO of both ATCO Ltd and Canadian Utilities Ltd. This paragraph from her biography on the CU website is instructive:
"After joining the ATCO Board of Directors in 1989, Ms. Southern served as Co-Chair of ATCO for 16 years prior to being elected Chair in December 2012. Ms. Southern was named President & Chief Executive Officer of ATCO Ltd. in 2003. She serves on the boards of all ATCO subsidiary companies."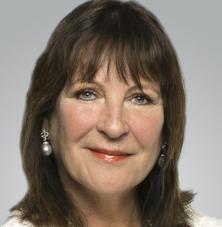 Before I read about Ms. Southern, I listened to the audio webcast of CU's 2018 Annual General Meeting of shareholders. I was impressed with her gracious style of presentation and the confidence she demonstrated. After I read her history, I understood the source of her confidence--she has a controlling interest in the company.
(Nancy Southern photo from CU Website)
Ms. Southern's father was Ron Southern, an iconic business leader in Canada, known for building ATCO and Spruce Meadows, a world-class equestrian facility, led by his other daughter, Linda Southern-Heathcott. An article in the Globe and Mail following Ron Southern's death in January, 2016, gives a good summary of his life, including this paragraph:
"Mr. Southern was the co-founder and controlling shareholder of Atco Ltd., a sprawling, international operation with its hands in power generation, natural gas distribution and an array of camp services for remote and temporary work sites. The company is best known for its distinctive Atco work trailers, and has built everything from lodges for oil sands workers in Northern Alberta to modular buildings for Abu Dhabi construction workers, to mobile shelters in Antarctica."

(Photo from CU website)
CU has approximately 5,400 employees and assets of $21 billion CAD, operating in these areas, as described on the CU website:
Structures & Logistics (workforce housing, innovative modular facilities, construction, site support services, and logistics and operations management);
Electricity (electricity generation, transmission, and distribution);
Pipelines & Liquids (natural gas transmission, distribution and infrastructure development, energy storage, and industrial water solutions); and
Retail Energy (electricity and natural gas retail sales).
ATCO has operations in 9 Canadian provinces and all 3 northern territories, as well as Texas, Idaho, Alaska and Colorado.
In 2016, the company expanded its modular building business into Chile.
In 2017, ATCO/CU acquired a 35-megawatt hydroelectric power station in Veracruz, Mexico, as part of their continued growth in the region.
The company's Australian business includes a green hydrogen clean energy innovation hub that was featured at CU's 2018 Annual General Meeting. The photo below from the CU 2017 Annual Report is a hybrid house in Mannville, Alberta.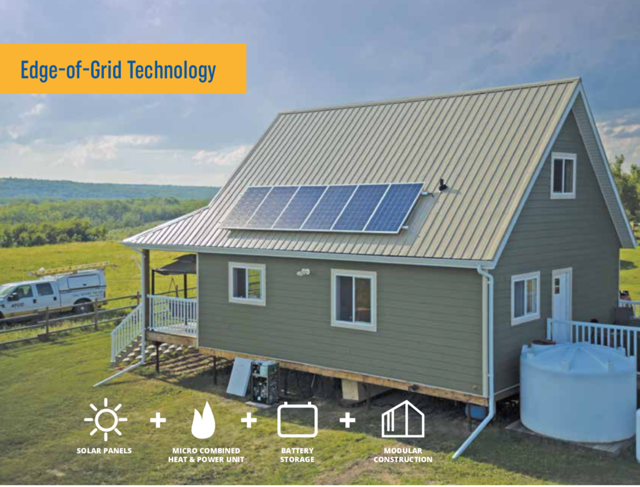 CU 2017 revenues were $4027 million (all figures are Canadian dollars), up from $3399 million in 2016. Per share earnings were $1.54, compared with $2.06 in the prior year. Q1 2018 adjusted earnings were $181 million, or $0.67 per share, compared to $213 million, or $0.79 per share in Q1 2017. The company said the downturn was due to "rate rebasing under Alberta's regulated model." In April, 2018, CU raised the dividend 10%.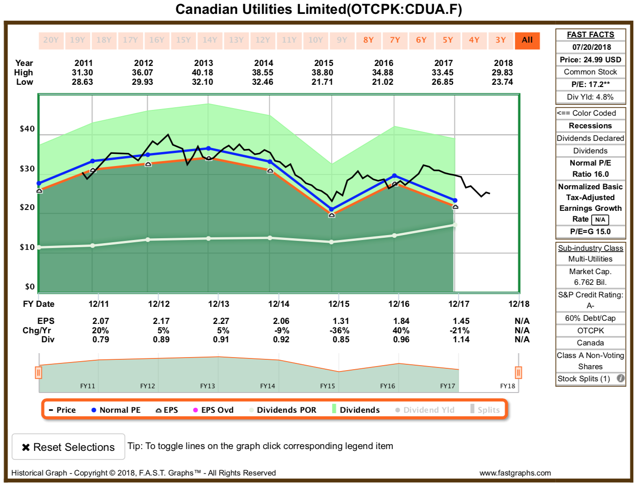 (Graph from F.A.S.T. Graphs)
As indicated in the F.A.S.T. Graph, CU has a Standard & Poor's credit rating of A-. The outlook is stable.
The company pays a quarterly dividend of $0.3933 CAD. At a recent currency exchange rate of $1.00 CAD = $0.7615 USD, the quarterly dividend equates to $.30 USD, or $1.20 USD annually. At a recent price of $24.99 USD, the dividend yield was 4.79%.
Something blue: Has IBM finally turned it around?
I re-established a position in International Business Machines (IBM) on July 20 at $147.72. IBM, "Big Blue," has been an on again, off again holding for me. This time, I've chosen to establish a "half position" in IBM, which is now 0.97% of the portfolio. I am encouraged by the company's recent Q2 earnings release and earnings call, though there's a long way to go. I want IBM back in the portfolio because I see growing potential for IBM's Cloud and Blockchain. I'll watch it more closely if I own some shares. If the positive trend continues, I'll consider making it a full position (of around 2.0% of the portfolio).
I last wrote about IBM a little over a year ago, on June 18, 2017, "IBM: What Would Watson Do?" (I've made this article an author's pick so it is removed from the paywall.)
Stone Fox Capital's July 18, 2018 article, "IBM: Not Enough Credit" was strongly bullish. Zen Analyst was less optimistic in a July 20, 2018 article, "IBM Q2 Is 'Good', But Questions Remain."
These two recent articles provide a description of the IBM "glass," which appears to me to be about half full (and, therefore, half empty). Hence, my "half position."
The best case scenario is that the transition to their "Strategic Imperatives" is beginning to get some traction, aided by growth in the Cloud and Blockchain. The worst case scenario is that the company is slowly "cashing out" by buying back shares, thereby artificially inflating the per share earnings numbers. Zen Analyst notes a weak cash flow trend and a 1% decline in Cognitive Solutions based on constant currency.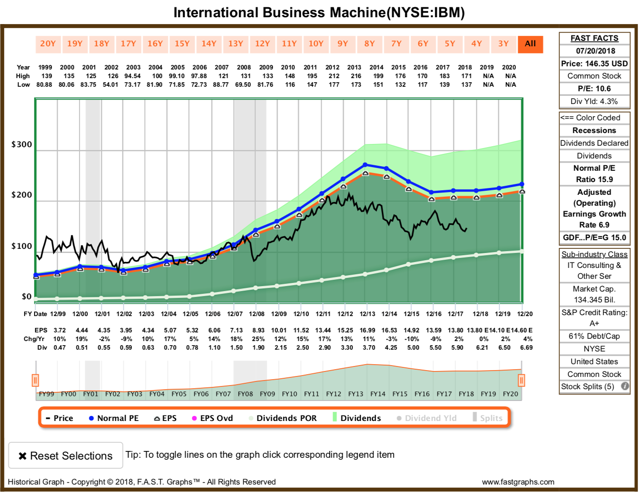 (Graph from F.A.S.T. Graphs)
CEO Ginni Rometty said in the Q2 earnings release, "We delivered strong revenue and profit growth in the quarter, underscoring IBM's progress and momentum in the emerging, high-value segments of the IT industry."
$20 billion in revenue was an increase of 4% (2% currency adjusted);
Trailing 12 month Cloud revenue was $18.5 billion, up 23% (20% currency adjusted);
GAAP earnings from continuing operations was up 5% to $2.61.
As noted in the F.A.S.T. Graph, IBM has a S&P credit rating of A+. IBM has increased the dividend for 23 consecutive years. The current annual dividend of $6.28 provided a yield of 4.29% at the July 20, 2018 closing price of $146.33.
Updated watchlist
I appreciate the lively conversation in the comment thread that followed the July 16 article. Reader comments continue to help me formulate my strategy. In light of these conversations and my ongoing study, I have refined my watchlist. The previous article listed 16 companies on the watchlist.
With the purchase of Canadian Utilities Ltd and IBM, there are now 14 companies on the watchlist. Here are my top three current choices:
Toronto-Dominion Bank (TD), in the financials sector, is at the top of my watchlist. S&P gives it a credit rating of AA-. The dividend has been raised for 7 consecutive years and the quarterly rate is $0.67 CAD/$0.51 USD, for a yield of 3.52% at Friday's closing price of $57.91 USD. My target price is $55.06 USD, which would be a yield of 3.7%.
Cummins Inc (CMI), in the industrials sector, has a S&P credit rating of A+. The dividend has been raised for 12 consecutive years. The quarterly dividend is $1.14, for a yield of 3.35% at $136.13. My target price for CMI is $130.29, which would equate to a yield of 3.5%. CMI makes diesel engines and they are entering the electric truck business.
Manulife Financial Corporation (MFC), in the financials sector, is a Canadian company with global operations. MFC offers insurance and investment services and is best known in the U.S. through its John Hancock subsidiary. MFC has a S&P credit rating of A. The dividend has been raised for 5 consecutive years. The quarterly dividend is $0.22 CAD/$0.17 USD, for a yield of 3.73% at a price of $17.98 USD. My target price is $16.72 USD, for a yield of 4.0%.
The other 11 companies on the current watchlist are:
Possible replacement: Duke Energy
Since disclosing this list in the July 16 article, I've done more study about companies in the utilities sector. I may drop FTS and add Duke Energy (DUK). Duke has a S&P credit rating of A-. It has raised the dividend for 13 consecutive years. The current yield is 4.42%.
My study of Canadian Utilities Ltd came by way of a John Lawlor article about Fortis on May 9, 2016 (now paywalled). When I created the watchlist, Fortis was my top utility choice, but I discovered that S&P recently put Fortis (rated A-) on negative watch. On March 21, 2018, S&P said:
"We reviewed the impact of the U.S. tax reform on Fortis Inc. (Fortis), and the company's consolidated credit metrics are weaker than expected. There are key pending regulatory decisions that add to the downside risk and could further stress credit metrics.

"As a result, we are revising our outlook on Fortis and subsidiaries ITC Holdings Corp., Tuscon Electric Power Co., FortisAlberta Inc., and Caribbean Utilities Co. Ltd. to negative from stable.

"We are also affirming our ratings on the companies, including our 'A-' long-term issuer credit ratings."
I like FTS, but for now I'm considering removing it from the watchlist.
Possible addition: Prudential Financial
I'm considering the addition of Prudential Financial (PRU) to the watchlist. PRU has a S&P credit rating of A, it has raised the dividend for 10 consecutive years, and the current yield is 3.80%.
Conclusion
I offer this article as an introduction to Canadian Utilities Ltd and IBM. It is not my intent to advocate the purchase or sale of any security. My purpose is to offer ideas for stocks to study and to share a journal of my effort to design and maintain a retirement income portfolio that puts a priority on a relatively safe stream of growing dividends from companies with histories of rising dividends, and with strong financials and solid future prospects. Your goals and risk tolerance may differ, so please do your own due diligence.
I am in the process of executing a final rollover from a pension account to my IRA and I will provide an update of the portfolio after the rollover is accomplished. A complete list of holdings is included in the disclosure statement and on my Seeking Alpha profile.
Your opinions are important. Your comments enrich our discussion. I always learn from our Seeking Alpha conversations.
If you are not yet a follower, I invite you to click the "Follow" button at the top of the page. After you click "Follow," you can check "Get Email Alerts," and you will receive an email when an article is published.
Disclosure: I am/we are long JNJ, MSFT, XOM, AAPL, WMT, ADP, PFE, MRK, PG, MMM, CSCO, RY, NWN, PEP, IBM, TXN, KMB, QCOM, SPG, CDUAF, CLX, PPL, WEC, ABBV, NNN, O, SKT, EPD, BIP, BEP, VTR, BCE, T, WPC, MAIN, APLE, RVT, RMT, VTI, VEA, VWO, VYM, VYMI, VOE, VBR.
I wrote this article myself, and it expresses my own opinions. I am not receiving compensation for it (other than from Seeking Alpha). I have no business relationship with any company whose stock is mentioned in this article.
Editor's Note: This article discusses one or more securities that do not trade on a major U.S. exchange. Please be aware of the risks associated with these stocks.