Quick Take
Cushman & Wakefield plc (NYSE:CWK) intends to raise $765 million from the sale of its common stock in a U.S. IPO, according to an amended S-1/A registration statement.
The company provides commercial brokerage and related advisory services globally.
CWK is growing revenue as a result of its recent major acquisitions and the IPO appears reasonably valued based on revenue metrics compared to public competitors.
Company & Technology
Chicago, IL-based Cushman & Wakefield was founded in 1917 "to put their clients and people at the center of what's next in the world of real estate." The company provides commercial brokerage and advisory services worldwide.
Company management is headed by Executive Chairman and CEO Brett White, who has been with the firm since 2015. White was previously the CEO for CBRE from 2005 - 2012 as well as President from 2001 - 2015.
The company has 400 offices in 70 countries across six continents. Cushman is a leading firm in many of their key markets. Cushman & Wakefield serves the world's real estate owners and occupiers. Through the company's platform, it offers a wide range of services to these customers.
Investors in the firm include TPG Funds (44.7% pre-IPO), PAG Asia Capital (33.6%) and the Ontario Teachers' Pension Plan Board (11.7%).
Below is a brief overview video of the company's services:
(Source: Cushman Wakefield)
Cushman is among the largest real estate services firms in the world, with 48,000 employees. The company's largest service line includes property management, facilities management, facilities services and project and development services. The second largest service line is leasing which includes owner representation and tenant representation. Owner representation leasing includes contracting a multi-year agreement with a building owner to lease available space.
Within capital markets, Cushman represents buyers and sellers in real estate purchase and sales transactions. Financing to support purchases is also arranged. In addition, the company provides valuation and advice on real estate debt and equity decisions to clients.
Customer Acquisition
Cushman has a pipeline of potential acquisitions across geographic and service lines. The company plans to leverage its platform and technology investments to continue to expand its geographic and service capabilities.
Management cites its investments in technology as a strong factor in positioning the firm to expand the number and types of service offerings that the company delivers to global customers.
Management lists the following as keys trends in the industry:
Continued Growth in Occupier Demand for Real Estate Services
Institutional Investors Owning a Greater Proportion of Global Real Estate
Owners and Occupiers Continue to Consolidate Their Real Estate Services Providers
Global Services Providers Create Value in a Fragmented Industry
Increasing Business Complexity Creates Opportunities for Technological Innovation
(Source: S-1/A statement)
Market & Competition
According to a 2017 market research report by IbisWorld, from 2012 to 2017, the global commercial real estate brokerage and advisory industry experienced revenue of $3 trillion, representing a CAGR of 5.4%.
The main factors driving market growth are expanding business and retail operations across the globe. The U.S. is the single-largest CRE market in the world. However, demand for commercial real estate in the EU is projected to improve in the years ahead.
According to National Real Estate Investor, the commercial real estate brokerage firms market is growing in both leasing and investment sales volumes. Firms reviewed in the report posted more than $100 billion in transactions in 2015.
Major competitors in the commercial real estate brokerage and advisory space include:
CBRE Group (CBRE)
Jones Lang LaSalle (JLL)
Newmark Grubb Knight Frank (NMRK)
Colliers International (CIGI)
Eastdil Secured
Management lists several competitive strengths that position them to capitalize on key trends in the commercial real estate services industry. These include:
Global size and scale
Breadth of service offerings
Comprehensive technology strategy
Industry-leading capabilities in acquisitions and integration
Capital-light business model
Financial Performance
Cushman's recent financial results can be summarized as follows:
Increased topline revenue, but at a decreasing rate of growth
Increased gross profit
Uneven but declining gross margin
Uneven cash flow used in operations
Below are the company's financial results for the past three calendar years (Audited PCAOB):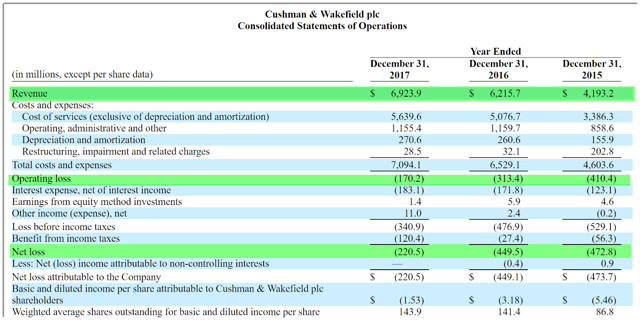 (Source: S-1/A statement)
Total Revenue ($)
Q1 2018: $1.8 billion, 21% increase vs. prior
2017: $6.9 billion, 11.3% increase vs. prior
2016: $6.2 billion, 47.6% increase vs. prior
2015: $4.2 billion
Gross Profit ($)
Q1 2018: $295 million
2017: $1.3 billion
2016: $1.1 billion
2015: $800 million
Gross Margin (%)
Q1 2018: 16.7%
2017: 18.8%
2016: 17.8%
2015: 19.0%
Cash Flow from Operations ($)
Q1 2018: ($171 million) cash used in operations
2017: $4.4 million cash flow from operations
2016: ($335.1 million) cash used in operations
2015: ($43.6 million) cash used in operations
As of March 31, 2018, the company had $438.7 million in cash and $5.4 billion in total liabilities.
IPO Details
CWK intends to sell 45 million shares of common stock at a midpoint price of $17.00 per share for gross proceeds of approximately $765 million.
Assuming a successful IPO at the midpoint of the proposed price range, the company's post-IPO market capitalization would be approximately $3.37 billion, excluding the effects of underwriter over-allotment options.
Management says it will use the net proceeds from the IPO as follows:
approximately $470.0 million to reduce outstanding indebtedness, in particular to repay our Second Lien Loan, which matures on November 4, 2022 and had a weighted average effective interest rate of 8.87% as of December 31, 2017;

approximately $130.0 million to repay the outstanding amount of the Cassidy Turley deferred payment obligation;

approximately $11.9 million to terminate our management services agreement; and

approximately $107.4 million for general corporate purposes.
Management's presentation of the company roadshow isn't available at this time.
Listed bookrunners of the IPO are Morgan Stanley, J.P. Morgan, Goldman Sachs & Co., UBS Investment Bank, Barclays, BofA Merrill Lynch, Citigroup, Credit Suisse, William Blair, TPG Capital BD, HSBC, Credit Agricole CIB, China Renaissance, Academy Securities, Loop Capital Markets, Ramirez & Co., JMP Securities, Fifth Third Securities, The Williams Capital Group and Siebert Cisneros Shank & Co.
Expected IPO Pricing Date: August 1, 2018.