As earnings season revs up and the prospects for news-related volatility mount, the potential for a short-term pullback in the immediate term has increased. More than a few market commentators have drawn attention to this possibility, and rightfully so. Yet some have taken the extreme position that even the stock market's intermediate-term uptrend might be seriously threatened by trade-related selling in the coming weeks. In today's commentary we'll go over the evidence which disputes that conclusion and instead points to the stability of the uptrend, particularly among growth stocks.
One of the best ways, in fact, of measuring the overall health of the broad equity market is by looking at the demand for growth stocks. Growth stocks come into their own when a bull market has matured and investors are no longer as concerned for safety as they are with capital gains. In just the last few years we've seen investor sentiment lean away from dividend investing and move toward the pursuit of growth. This implies an increased willingness to take on more of the risk associated with growth stock investing, which in itself can be a sign that investors are less likely to be spooked by every contrary wind (as they were in the years following the 2008 crash). Instead, the pursuit of growth implies they're far more likely to stay the course and hold on through the periods of volatility which occur from time to time.
A growth stock is essentially defined as a company whose earnings are expected to grow at an above-average rate relative to the market. Growth stocks typically don't pay dividends since growth companies prefer to reinvest earnings in capital projects. Since growth stock investing usually involves a momentum-based approach, growth stocks typically come into vogue when the stock market's longer-term forward momentum has been well established and can be counted on to be self-reinforcing. By the time growth stocks hit their stride, it usually takes a lot more than just news-related volatility to serve as a significant setback to the market's upward trend. This is why taking the pulse of growth stocks in the aggregate can serve as an important barometer for the stock market's strength and stability.
An excellent way of taking the market's pulse is by examining the trend of the Russell 1000 Growth Index (RLG). RLG presents a comprehensive overview of the growth stock universe and affords investors the ability to discern by looking at the chart whether or not investors are confident enough about the market's intermediate-term outlook to be interested in growth stocks. A sustained rising trend in RLG of at least three consecutive months can be taken as a sign that there is sufficient investor confidence in the growth outlook. This in turn provides an invaluable sign that broad market forward momentum is likely to remain up in the coming months since RLG tends to lead the S&P 500 Index (SPX), as shown below.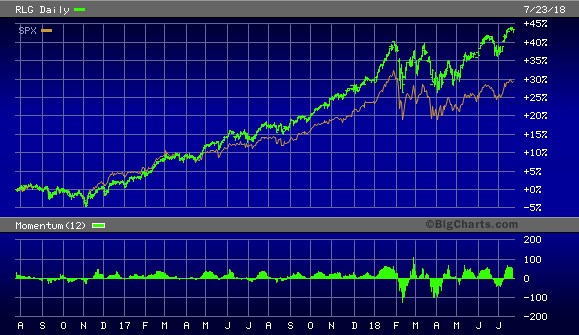 Source: BigCharts
Another way of measuring the relative strength of the growth stocks is to compare the Russell 1000 Growth Index with the S&P 500 Index. Doing so yields the following graph, which stands in sharp relief to the relative performance of other segments of the market right now. Indeed, this graph tells a story in no uncertain terms that the impressive forward momentum of the growth stocks should provide a measure of residual strength for the rest of the market. Put another way, the powerful forces of demand behind the growth stock uptrend will likely provide a "rub" for the market which should prevent a serious decline from developing during earnings season.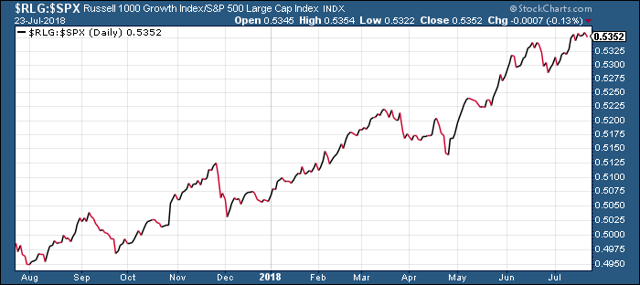 Source: StockCharts
As I intimated in today's headline, growth stocks very likely hold the key for the summer broad market outlook. Even with the chance that earnings season will bring an increase in volatility, and possibly even a market-wide pullback, the relative strength and forward momentum of the growth stocks as reflected by the RLG tell us to expect a summer rally once earnings season is over. In any case, as long as RLG remains above its 50-day and 200-day moving averages investors can assume that bull market conditions still prevail.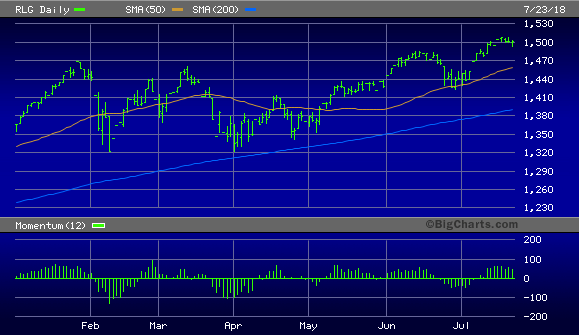 Source: BigCharts
Turning our attention to the stock market's immediate-term internal condition, I would point out that the 4-week rate of change (momentum) of the NYSE 52-week highs and lows is trying to reverse its recent decline. This important indicator, which can be used as a confirmation of the stock market's near-term path of least resistance, is turning around as you can see here. While the indicator still has a way to go before complete recovery it does at least provide one more piece of evidence that any pullbacks from here won't seriously threaten the market's upward trend.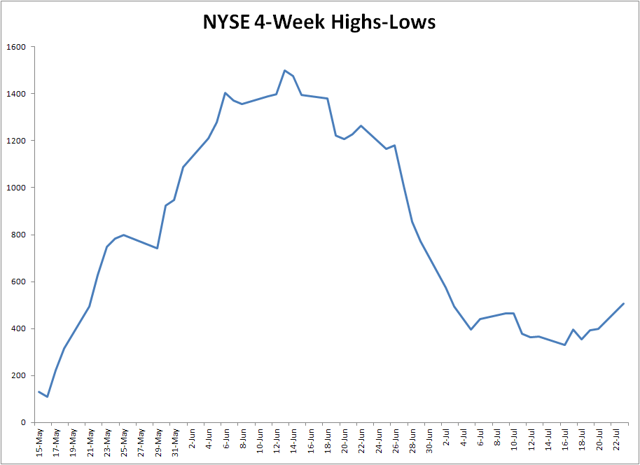 Source: WSJ
Meanwhile the cumulative new 52-week highs-lows indicator for the Nasdaq remains in an upward trend, as shown below. This is of special significance to our discussion of growth stocks since many of them tend to be in the tech sector. This indicator, which is an excellent way of measuring the incremental demand for equities, continues to tell us that the bulls control the intermediate trend.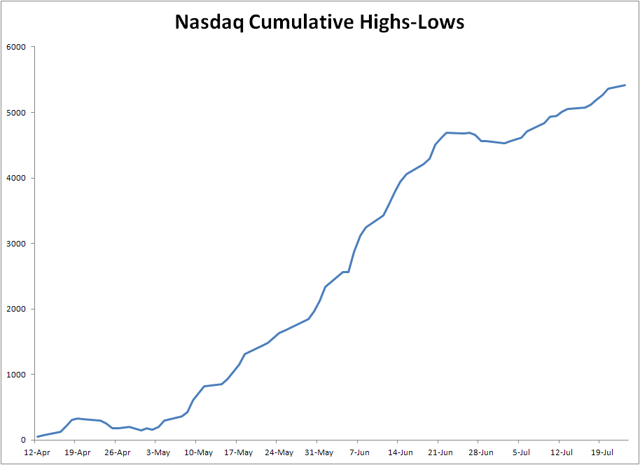 Source: WSJ
On a strategic note, investors should maintain intermediate-term bullish exposure to the stock market via ETFs and outperforming individual stocks in strong sectors. My continued preference is for tech sector stocks, particularly in the e-commerce sphere, consumer discretionary stocks and real estate equities. Now would also be a good time to prune portfolios by trimming losses among under-performing large cap stocks, raising stops on all long positions, and taking some profits on winners.