Market Intro

CNBC: Tuesday 2:38 EST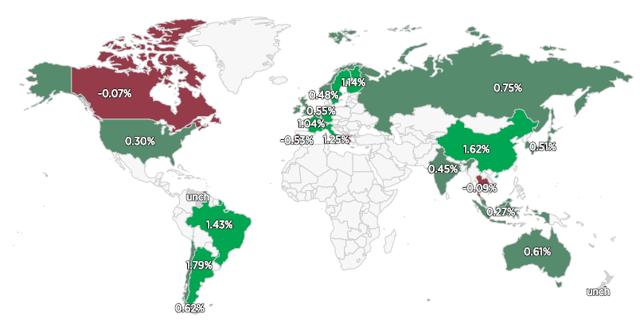 Google earnings arguably gave the whole world a boost after Monday's close. Shares of the tech giant at one point were up about 5% in the pre-market.

CNBC: Google
The S&P 500 (SPY) nudged to 2831 in the morning session, before spilling lower into the afternoon. Spot VIX dutifully acted in the opposite direction to the S&P, bottoming very near to 12 in the earlier part of today's trade, and reversing higher during the afternoon. The 12-handle may prove to be, for now, an area of resistance for implied US equity volatility (VXX).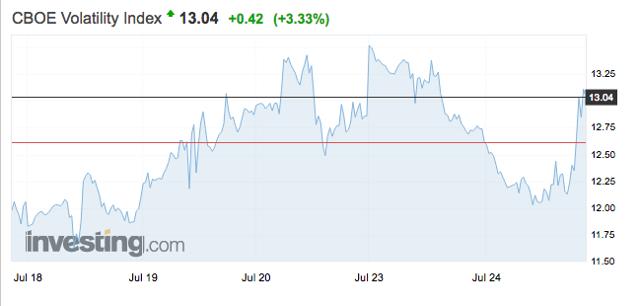 Thoughts on Volatility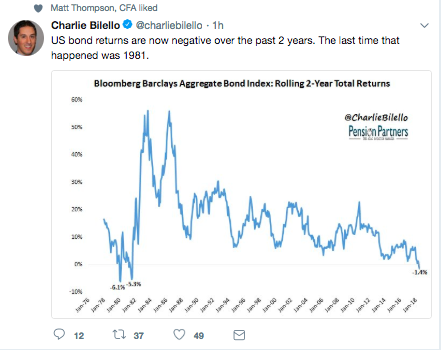 Most of the "most hated bull market in history", as it is frequently known, has coincided with a continued bull market in bonds (AGG). That is to say that investors have benefited from positive correlations between this major asset pair. This is more or less true all over the world. The drawdown in bonds over the past two years is fairly minimal, but also noteworthy. Would correlations remain positive if bonds were to continue a downward price path?

Matt Thompson reminds us that VIX essentially measures just the implied volatility on a basket of options. In reality it does not track any of the popularly referenced "options Greeks" (delta, gamma, theta, or even vega). Put option performance is a function of all these related factors, and as such would have an altogether different trajectory than spot VIX itself. Which is also to say that trading VX futures is not the same as trading options on the S&P 500 (or options on VX for that matter).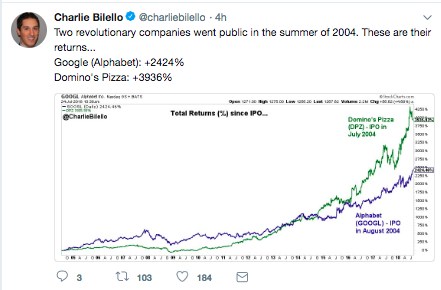 I rarely feature two tweets from the same author in an MVB, but this one I really enjoyed: returns can and frequently do come from the least expected places. With the market caps of Google (GOOG) (NASDAQ:GOOGL), Amazon (AMZN), and Apple (AAPL) each hovering near $1 trillion, it may be worthwhile to ask if better forward returns are grazing in other pastures.
Term Structure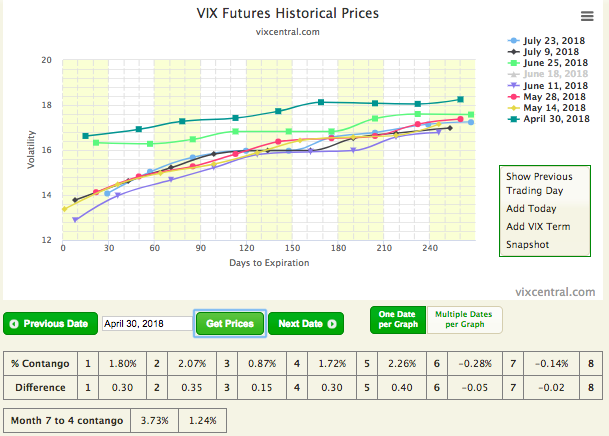 The black line demonstrates today's term structure in relation to other VX term structures over the last two months. While the current shape favors the sleepy side, it is by no means at the bottom. This is why I still claim that the short-vol positions (SVXY, ZIV) still enjoy a modest advantage. I will clarify though and state that I think it is difficult to legitimately get realized vol much lower than we're seeing it.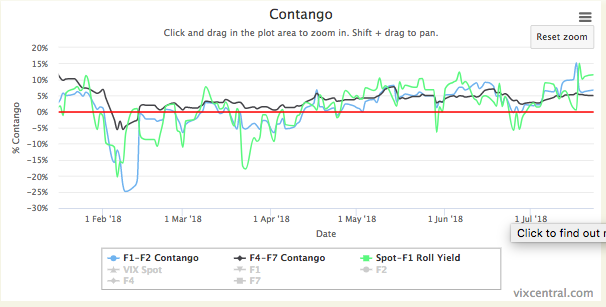 Spot-F1 roll yield is actually quite high for a front month so far from expiration (Aug 21 is the last full trading day). This also favors vol shorts at the moment, though to be honest given the current set up I would say that the yield is overdone. With 10D HV at less than seven, however, what is spot VIX to do?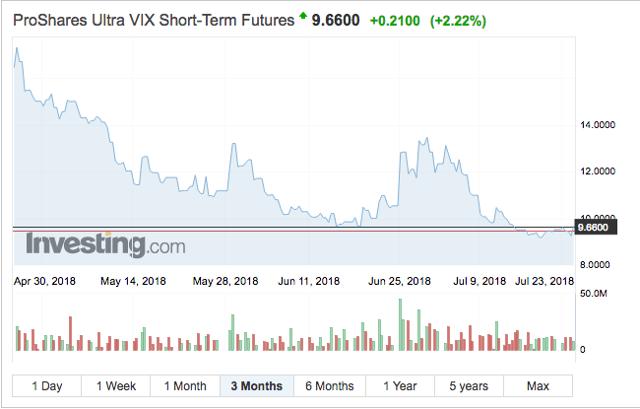 You probably do not need me to tell you that the last three months have not been kind to the 1.5x leveraged long VIX ETP known as UVXY. The asset has shed approximately 50% of its value over the last ninety calendar days. There have been run ups, but you had to be ready to shed the position quite readily. Furthermore, the bumps were really only profitable if you got in near a price of $10/sh. Vol was truly oversold about five weeks ago: today is a little less certain.
Conclusion
If this is your first time reading Market Volatility Bulletin, thanks for giving it a try. If you're a regular, we thank you for your ongoing contributions in the comments section.
Thank you for reading.
Please consider following us.
Disclosure: I/we have no positions in any stocks mentioned, and no plans to initiate any positions within the next 72 hours.
I wrote this article myself, and it expresses my own opinions. I am not receiving compensation for it (other than from Seeking Alpha). I have no business relationship with any company whose stock is mentioned in this article.
Additional disclosure: I actively trade the futures and options markets, potentially taking multiple positions on any given day, both long and short. I also hold a more traditional portfolio of stocks and bonds that I do not "trade". I do believe the S&P 500 is priced for poor forward-looking returns over a long timeframe, and so my trading activity centers around a negative delta for hedging purposes.