With many stocks in the current market showing extended valuations, I've recently looked for some reasonably-valued companies that have strong growth. The Charles Schwab Corporation (SCHW) fits the scenario of having strong growth with an attractive valuation. Charles Schwab is growing revenue and earnings growth at double-digit rates as the company drives organic growth and market share gains. I expect this growth to continue as the bull market and strong economy attracts new customers for the company.
Driving Organic Growth
Charles Schwab has a strategy to drive organic growth and grow market share. The bull market helped to attract more investors for the company. The company is seeing record numbers of new accounts, core net new assets, and trading activity. Here are the year-over-year highlights from Q2 2018:
Total active brokerage accounts increased 7% in Q2 to 11.2 million.
Total client assets increased 12% to $3.4 trillion.
Trading activity increased 29% in the first half of 2018 as compared to the first half of 2017.
The company achieved this through their strategy of seeing things "through clients eyes". This strategy strives to maximize benefits for clients by giving them great value. It's about giving customers what they want at a good price. This leads to clients giving Charles Schwab more of their money, which leads to strong financial results. This creates a circle of growth for the company.
Charles Schwab's customer satisfaction is evident as they achieved the J.D. Power and Associates "Highest Investor Satisfaction" award for three years in a row. For example, the company has a goal-based investing strategy for clients, where a plan is designed based on what clients are trying to achieve. Clients can also choose to use a robo-advisor or to work with an actual professional based on their preference. The company also offers competitively-priced low equity trades for $4.95, which beats the $8.90 average cost per trade among leading brokerages. No transaction fee mutual funds and $0 commission ETFs are also offered.
These features help attract and retain clients as they can choose the best method that fits their goals and level of comfort. Clients can also trade with low trading fees. So, Charles Schwab is an easy sell to prospective clients from my perspective. This will help drive growth in future quarters.
Charles Schwab is showing strength in growing Advisor Services, which achieved 15% growth in client assets in Q2. This shows that the company is effective in obtaining clients and more of their assets. It also demonstrates that Charles Schwab is a trusted name for clients seeking registered investment advisors [RIAs].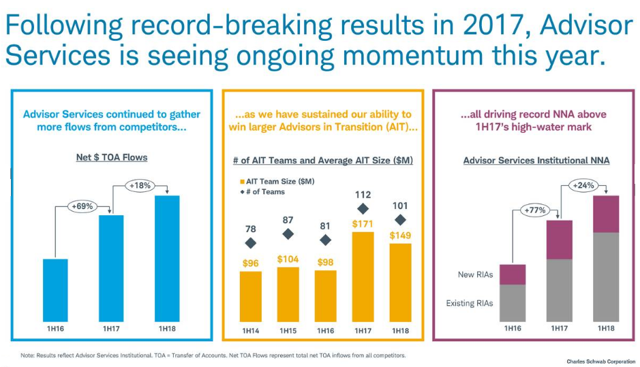 source: Charles Schwab July 2018 Summer Business Update
The company is striving to continue to drive organic growth and increase market share through their strategies. Investments are being made in the following for future growth:
Expand the retail distribution channels
Offer the most complete RIA platform
Investments in the RIA industry's future
Continue to offer innovative products at a great value
Updates to their technology
All of these initiatives should work together to maintain and grow the business. With these initiatives, Charles Schwab can continue to achieve success in growing revenue and earnings. The first half of 2018 is a great example of how the company is successful in executing their strategy.
Charles Schwab is poised to benefit from further interest rate increases. The company derives about 50% of revenues from interest. Therefore, as rates increase, Schwab's net interest margins will increase. This will help drive higher profitability.
Schwab is using sweep money market funds for clients' cash to grow the balance sheet by about 15% this year. The company is on track as they grew the balance sheet by 8% in the first half of the year. Schwab reached $262 billion in consolidated assets in Q2, exceeding their goal of $250 billion. As interest rates increase and as more money is swept into money market funds, Schwab will be earning more interest on this large quantity of cash.
Low Valuation on a Long-Term Growth Basis
Charles Schwab is trading at a reasonable valuation using the 5-year PEG ratio. I like to use the PEG ratio for companies with above average earnings growth. Since Charles Schwab is expected to grow earnings at an average of about 26% annually (consensus) over the next five years, I view the PEG ratio as an appropriate valuation metric.
Here's how Charles Schwab compares among the major investment brokerages:
SCHW

TD Ameritrade

(AMTD)

CME Group

(CME)

Goldman Sacs

(GS)

Morgan Stanley

(MS)

PEG (5-yr)
0.82
0.60
1.66
0.69
0.77
source: finance.yahoo.com
Charles Schwab is trading below the average PEG of 0.91 for the major investment brokerages listed here. I typically like to see the PEGs of high growth companies between one and two. So, when I see a high growth company trading with a PEG below one, I get excited. This shows that the valuation is low as compared to the long-term expected earnings growth.
Given what Schwab has achieved so far this year, I think the analyst estimates are reasonable. The company is on track for 17% revenue growth this year and is expected to follow that up with 12% revenue growth in 2019. This top line growth combined with an ROE of 15.6% and a net margin of 26.87%, the consensus earnings estimates look achievable.
Outlook for Schwab
I'm expecting Schwab's strategies of offering innovative products at a great value and offering a complete RIA program to drive above average revenue and earnings growth through at least 2019. With the PEG at a low level (below one), I expect the stock to easily increase approximately in-line with earnings growth.
The risk to my investment thesis would be a large shift of clients to competitors and/or more new clients going to competitors. Competitors could lower trading fees and offer similar products to attract new clients. It is possible that a large brokerage could undercut Schwab's trading fees in an attempt to gain new clients. The good news is that I don't think this would happen with those working with RIAs as they have ongoing trusted relationships with clients. However, it could happen with clients using robo advisors and those using Schwab just for trading activity.
Overall, Schwab has the right strategies in place to grow revenue and earnings at strong, above average rates. This growth comes from having a good understanding of customers' needs and giving them the products/services that they are looking for at great prices.
My one-year price target for the stock is $70. This is based on the stock being driven higher from the average earnings growth of 48% for 2018 and 17% for 2019 for about a 32% to 33% gain. This stock growth will be supported by the low PEG ratio, which should allow the stock to increase approximately in-line with earnings growth.
Let me know your thoughts on Schwab in the comment section below. If you like getting free analysis for great investment ideas, click on FOLLOW at the top of the article near my name. That will allow my articles to display on your homepage as they are published.
Disclosure: I/we have no positions in any stocks mentioned, and no plans to initiate any positions within the next 72 hours. I wrote this article myself, and it expresses my own opinions. I am not receiving compensation for it (other than from Seeking Alpha). I have no business relationship with any company whose stock is mentioned in this article.
Additional disclosure: The article is for informational purposes only (not a solicitation to buy or sell stocks). I am not a registered investment advisor. Investors should do their own research or consult a financial advisor to determine what investments are appropriate for their individual situation. This article expresses my opinions and I cannot guarantee that the information/results will be accurate. Investing in stocks involves risk and could result in losses.