U.S. Treasuries took it on the chin Monday as a spike in yields and a plunge in long-term bond prices commanded Wall Street's attention. The latest setback for T-bonds serves as a vivid reminder that the longer-term outlook for interest rates is up and that even short-term bond market rallies can't be taken for granted. In this commentary we'll review the evidence which shows that the bond bulls haven't fully regained control over the near-term trend despite a spirited effort recently.
While short-term Treasuries were lower on Monday, it was the depth of the decline in long-term bond prices which sent a chill down bond investors' spine on Monday. The iShares 20+ Year Treasury Bond ETF (TLT), which many investors use as a benchmark, was down 1.23%. In falling so sharply in the last two sessions, TLT has retraced more than 50 percent of its rally since May. This is technically significant since many investors consider a loss of more than 50 percent of an advance as confirmation that sellers are now in control of the market.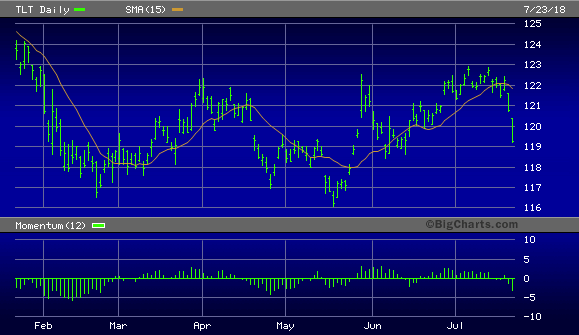 Source: BigCharts
While my expectation has been that the short-term relief rally in the TLT would likely continue a while longer, I've also recommended hedging this short-term optimism. Along these lines, in my recent bond market commentaries I've emphasized that short-term bond traders should exit long positions in TLT if it violates the 120.00 level. Now that TLT is below this level, traders should be back in a cash position while awaiting the next confirmed short-term bottom in the U.S. Treasury market. I've also recommended that long-term oriented investors either remain underweight bonds (and overweight stocks) or else avoid bonds altogether due to the long-term bear trend still underway in the U.S. Treasury market. The fact that bonds can't seem to get keep their short-term rallies intact underscores that there are significant headwinds standing in the way of a resumed long-term bond bull market.
Arguably the biggest reminder that the U.S. Treasury market is still long-term bearish can be seen in the following graph. This shows the progression of the CBOE 10 Year Treasury Note Yield Index (TNX), which can be viewed as a proxy for the dominant direction of U.S. interest rates. The TNX is clearly in a rising trend, and is now back above its widely watched 50-day moving average as of July 23. One way of delineating the longer-term trend in Treasury yields is by comparing the position of the 200-day moving average with the TNX itself. As the chart exhibit shows below, TNX remains above its important trend indicator.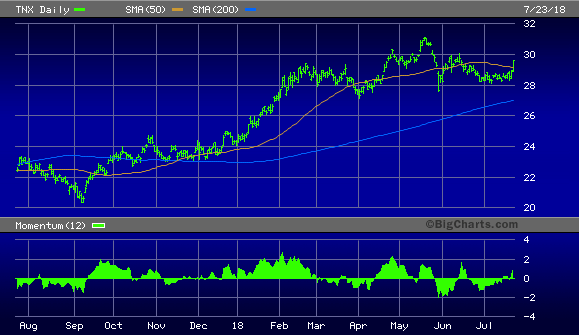 Source: BigCharts
Another way of measuring the strength of the rallies in the 20+ Year Treasury bond ETF (TLT) is by comparing it with the 10 Year Treasury yield index (TNX). Being able to assess the relative strength of TLT compared with TNX is an invaluable tool which typically will confirm whether the intermediate-term (3-9 month) trend for TLT is strong or weak. While TLT did manage to establish a series of higher highs during its May-July rally, it failed to outperform the TNX on a relative basis. The following graph shows that during the latest rally phase, the TLT:TNX ratio failed to made a higher high. Thus the recent rally in the 20+ Year Treasury bond ETF failed to confirm its relative strength versus the 10 Year Treasury yield index. The latest decline in TLT all but closed the latest relative strength window for the bond market.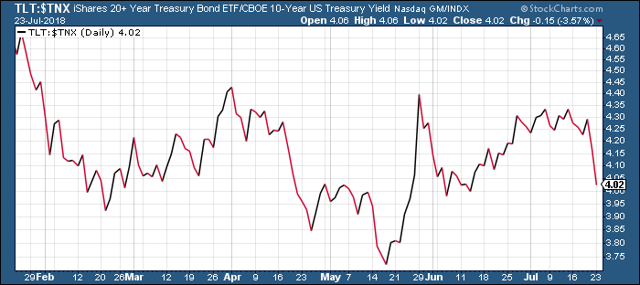 Source: StockCharts
So with the TLT having retraced over half its May-July rally and falling back below its immediate-term (15-day) trend line, bond traders find themselves back in the position of waiting for the next confirmed bottom. This will require a reversal of the TNX below its aforementioned 15-day moving average (see graph below).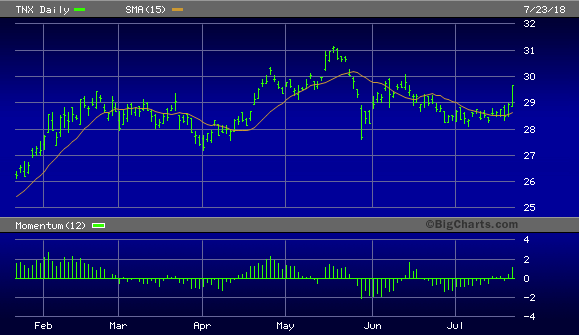 Source: BigCharts
Another indication of returning strength to the bond market will occur once short-term bonds reverse the weakness they've lately shown. As previously discussed, the best indications of Treasury bond market strength occur when short-term bonds confirm the 20+ Year bond ETF (TLT). Shown here is the daily chart of the iShares 3-7 Year Treasury Bond ETF (IEI), which needs to reverse its recent pattern of lower highs and return above its 15-day moving average to confirm an immediate-term low.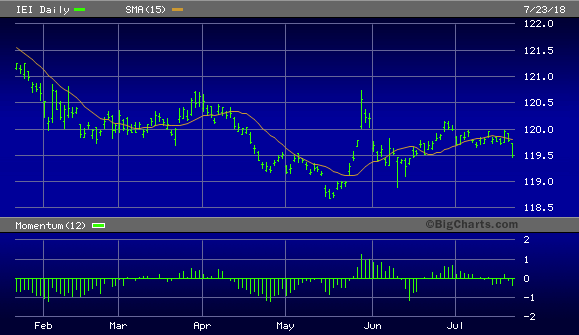 Source: BigCharts
On a strategic note, I recommend that short-term bond traders remain in cash for now while long-term investors remains underweight Treasuries and allocate most of their portfolio to stocks which have more long-term upside potential than T-bonds.