By Brian Demain, CFA
Portfolio Manager Brian Demain discusses how a small percentage of stocks are driving returns in U.S. mid-cap stocks and what that means for investors.
Looking at the first half of 2018, it may appear as though mid-cap stocks - particularly mid-cap growth - had a good run. For the six-month period, the Russell Midcap Growth Index delivered a total return of 5.38%, compared with a loss of 0.16% for its value counterpart, the Russell Midcap Value Index. There's just one catch: gains among mid-cap growth stocks were not widespread. In fact, more than half of the benchmark's return was driven by the top quintile of stocks, based on valuation. When you include the second quintile, the figure jumps to more than 70%, according to analysis by investment banking firm Jefferies. In other words, the most expensive equities drove the bulk of mid-cap growth's returns.
For Some Mid-Caps, Lofty Valuations
We think this is a trend worth watching carefully. For one, valuations of high-flying mid-caps are reaching extreme levels. At the end of June, the top decile of performers in the Russell Midcap Growth Index had a weighted-average price-to-earnings (P/E) ratio of 57 (using the next 12 months of estimated earnings), compared with 32 for the benchmark. Even by growth standards, that is expensive. Furthermore, many of these top performers were concentrated in just a handful of industries, including Software-as-a-Service (SaaS), medical devices and consumer Internet - the same industries where we are seeing a flood of private capital or a rise in initial public offerings. Such capital flows often carry a whiff of speculation, as investors chase past performance regardless of valuation.
To be fair, some of the outperformance is warranted. SaaS, medical devices and consumer Internet are benefiting from sound fundamentals as the shift to the cloud accelerates, innovation continues in healthcare and advertising dollars migrate online. In addition, these companies have been insulated from recent worries over rising input costs and global trade skirmishes.
But we'd argue that valuation is an equally important concern. And today, based on discounted cash flows, we think investors have to use exceptionally aggressive assumptions to make sense of certain P/Es. Should the market correct, the pullback for these stocks could be severe. After all, when multiples soar, it can take a while before valuation-conscious buyers return to the market.
Exhibit 1: Pricey Mid-Caps Post Big Returns
So far this year, stocks with the highest valuations in the Russell Midcap Growth Index have contributed the most to the benchmark's total return.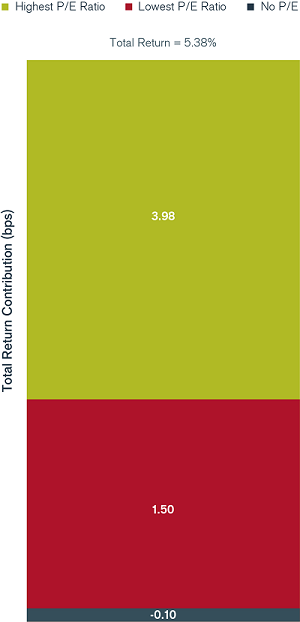 Source: Jefferies, FTSE Russell and FactSet. Data are year-to-date as of 6/30/2018
Notes: P/E ratios are based on the next 12 months of estimated earnings. Highest P/E ratio made up of the top two quintiles of stocks by valuation within the Russell Midcap Growth Index. Lowest P/E ratio consists of the bottom three quintiles. No P/E ratio is companies with no earnings for the period.
Staying Focused
With that in mind, we believe investors should maintain a disciplined approach. Just as some mid-caps carry extreme valuations, others trade below the market average. Structural challenges, such as those found in retail today, can merit bargain bin prices. But in other cases, the headwinds may only be temporary.
Take W.R. Berkley Corporation (WRB), a specialty insurer that provides insurance policies for niche categories, including inland marine transportation and oil tankers. The company operates primarily in the U.S., and so, has benefited from tax reform. It also continues to see steady demand and is delivering a healthy return on equity - a key measure of profitability for the insurance industry. However, W.R. Berkley falls within the financial sector, which lately has been weighed down by worries about the flattening yield curve. As a result, the firm's forward P/E is well below what we think a business model with this return and growth profile should have. Should the market correct, a stock such as W.R. Berkley may have less to fall than some of the highly valued darlings of the mid-cap growth sector.
____________
Russell Midcap® Growth Index reflects the performance of U.S. mid-cap equities with higher price-to-book ratios and higher forecasted growth values.
Russell Midcap® Value Index reflects the performance of U.S. mid-cap equities with lower price-to-book ratios and lower forecasted growth values.
Price-to-Earnings (P/E) Ratio measures share price compared to earnings per share for a stock or stocks in a portfolio.
Basis Point (bp) equals 1/100 of a percentage point. 1 bp = 0.01%, 100 bps = 1%.
Disclaimer: Please consider the charges, risks, expenses and investment objectives carefully before investing. Please see a prospectus or, if available, a summary prospectus containing this and other information. Read it carefully before you invest or send money.
The opinions and views expressed are as of the date published and are subject to change without notice. They are for information purposes only and should not be used or construed as an offer to sell, a solicitation of an offer to buy, or a recommendation to buy, sell or hold any security, investment strategy or market sector. No forecasts can be guaranteed. Opinions and examples are meant as an illustration of broader themes and are not an indication of trading intent. It is not intended to indicate or imply that any illustration/example mentioned is now or was ever held in any portfolio. Janus Henderson Group plc through its subsidiaries may manage investment products with a financial interest in securities mentioned herein and any comments should not be construed as a reflection on the past or future profitability. There is no guarantee that the information supplied is accurate, complete, or timely, nor are there any warranties with regards to the results obtained from its use. Past performance is no guarantee of future results. Investing involves risk, including the possible loss of principal and fluctuation of value.
Janus Henderson Investors © 2001-2018. All rights reserved.
C-0718-18636 01-30-19