By Gary Alexander
President Trump told an interviewer last week that he is "not happy" about the Fed raising rates. The Fed is probably "not happy" about the President raising tariffs, either, but most Fed governors talk in a veiled language called "Fedspeak," so we're not likely to see any escalating war of words between Gentleman Jay Powell and our outspoken President. However, we'll soon see a showdown on their GDP projections.
After the Tax Cuts and Jobs Act passed last December, the White House Council of Economic Advisers projected that annual GDP growth would average above 3% per year over the next decade. The Federal Reserve's Summary of Economic Projections (SEP) is not so optimistic. In their June SEP, the Fed's median projections for real GDP growth in 2018, 2019, and 2020 are 2.8%, 2.4%, and 2.0% on a full-year (Q4 to Q4) basis, respectively. Beyond that, the Fed sees a dismal run of 1.8% growth in the early 2020s.
The Fed's downbeat projections may be related to rising federal deficits, rising in conjunction with their projection of the median federal funds rate, which they see rising to 3.1% in 2019 and 3.4% in 2020. With annual deficits projected to rise to $1 trillion in 2020, that implies $700 billion or more in interest costs to service the $22 trillion in federal debt by the year 2020, if federal spending is not contracted before then.
So far, the White House is right. The preliminary second-quarter GDP figures come out this Friday, but we have the Atlanta Fed's "GDPNow" econometric model to go on between now and then. Their latest estimate (as of July 18) is for a robust 4.5% annualized growth rate in the quarter that ended June 30.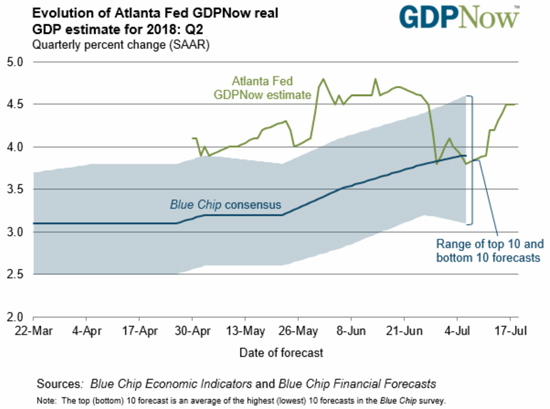 Graphs are for illustrative and discussion purposes only. Please read important disclosures at the end of this commentary.
Some of the latest second-quarter growth-related statistics are coming in at very high single-digit rates. Retail sales were up 6.6% in June over the same period in 2017 and 5.4% excluding gasoline sales. Even more impressive, May's business sales (released at the same time) were up 8.5%, year over year, the largest yearly gain since November. 2011. Ed Yardeni reminds us (in "Happy Sales," July 17, 2018) that "this series is highly correlated with aggregate S&P 500 revenues," so this augurs well for Q2 revenues.
Despite all the dire warnings of trade war slowing global growth, the global picture is actually improving. According to Yardeni (in "Happy World Revenues," July 18, 2018), the forward revenues of nearly all of our major trading partners are going up "at record highs, providing an upbeat assessment of the current global economic outlook." Since the start of 2017, Japan's forward revenues are up 6.8% and the UK series is up 6.9% since the start of 2016, defying all the doomsday prophecies of the anti-Brexit crowd.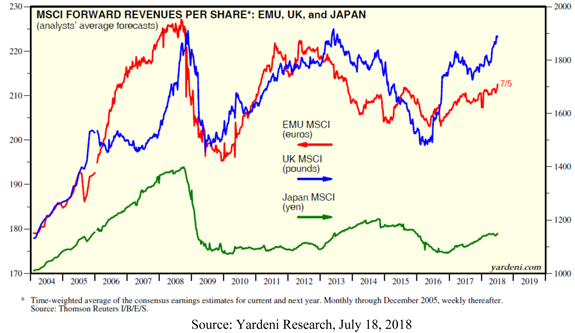 Graphs are for illustrative and discussion purposes only. Please read important disclosures at the end of this commentary.
Is This Bull Market About to Become the Longest in History?
Last Friday in Monaco, Beatrice Chepkoech of Kenya knocked more than eight seconds off the world record for the women's 3,000-meter steeplechase during a Diamond League race of world-class runners.
Records are made to be broken, including stock market records.
In less than a month, this bull market could become the longest in history. The previous record ran for 3,452 days (almost 9.5 years) from October 11, 1990 to March 24, 2000, when the S&P 500 rose from 295.46 to 1527.46, a huge 417% gain. According to most pundits, the current bull market began March 9, 2009. It will turn 3,453 days old on August 22, 2018, but there are two problems with this calculation:
#1: The S&P 500 may have already peaked on January 26, 2018 at 2,872.87. If we don't exceed that number sometime after August 22, then the bull market ended in January, at less than nine years' length. Granted, the S&P closed within 2% of that all-time high last Wednesday, but "close" is no all-time high.
#2: We have already seen two 15% corrections in the last nine years, so this bull market has already been slain, twice. According to Ned Davis Research, there have been two bear markets since 2009:

Although the S&P 500 "only" fell 15% in 2015-16, shares of small companies fell over 26% in that time span, as measured by the Value Line Geometric Index. This is why Ned Davis Research called the 2015-16 decline a "bear market." According to Davis, the current bull market dates from February 11, 2016 so, according to this reckoning, the current bull market is just a toddler - three years and five months old.
Even if you want to be a stickler and insist on a 20% S&P correction, this bull is under seven years old - not within shouting distance of the 1990s record. Neither is it as robust. This bull market, at its January peak, was up 330%, which is still far short of the 417% gain amassed during the Roaring 1990s. And don't forget, the recent decade's gain was preceded by a "lost decade" of net losses from 2000 to 2009.
Even after considering all of these historical comparisons, all records are made to be broken. The 1990s recovery broke the previous record, and this bull market could break that record, if you want to stretch the numbers to ignore the two downdrafts in 2011 and 2015-16. Either way, bull markets do not die of old age, but of deteriorating fundamentals, and we do not see any deterioration in U.S. corporate earnings yet.
Disclosure: *Navellier may hold securities in one or more investment strategies offered to its clients.
Disclaimer: Please click here for important disclosures located in the "About" section of the Navellier & Associates profile that accompany this article.