Dr. Copper And Mr. Market
Includes:
COPX, CPER, DDM, DIA, DOG, DXD, EEH, EPS, EQL, FEX, FWDD, HUSV, IVV, IWL, IWM, JHML, JJCTF, JKD, OTPIX, PSQ, QID, QLD, QQEW, QQQ, QQQE, QQXT, RSP, RWM, RYARX, RYRSX, SCHX, SDOW, SDS, SFLA, SH, SMLL, SPDN, SPLX, SPUU, SPXE, SPXL, SPXN, SPXS, SPXT, SPXU, SPXV, SPY, SQQQ, SRTY, SSO, SYE, TNA, TQQQ, TWM, TZA, UDOW, UDPIX, UPRO, URTY, UWM, VFINX, VOO, VTWO, VV
by: Charlie Bilello
Copper is said hold a PhD in economics, its price movements containing key information about the U.S. stock market and the economy.
With the sharp decline in the metal of late (52-week low, down 17% YTD), many are suggesting this is a negative omen. Does the historical record confirm this assertion? Let's take a look.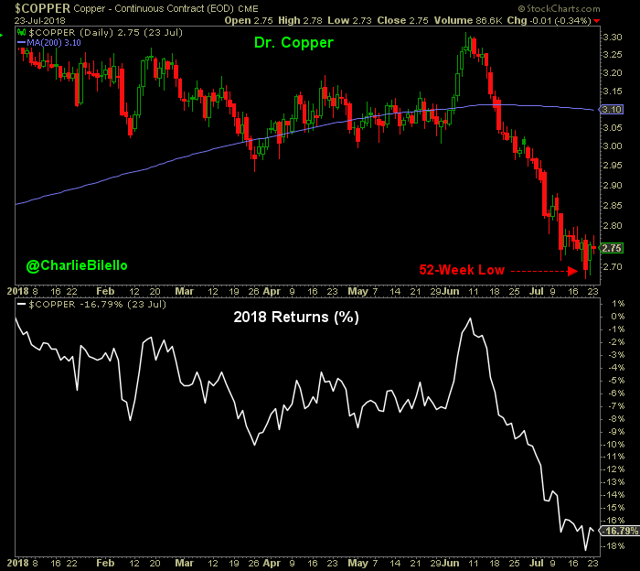 Data sources for all charts/tables herein: StockCharts.com, Bloomberg.
Dr. Copper and Mr. Market
Since 1972, the correlation between the return of copper in a given year and the return of the S&P 500 is essentially 0 (0.08). In plain English, that means it's a coin flip as to whether they will move in the same direction (they have in 53% of years).

But surely, copper being up is better for the S&P 500, right? Not necessarily. The opposite has actually been true on average. The S&P 500 has gained 12.3% annualized in years when copper is down, versus only 9.0% when copper is up.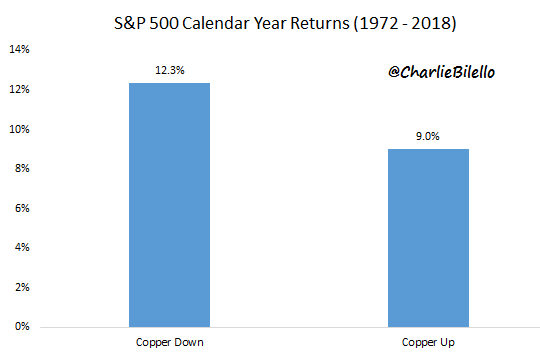 Yes, there are many times when copper and stocks have moved together (longest run: 2003-2010). But "moving together" at times is much different than saying they "have to" or are "likely to" move together.
If you tell me copper is going higher next year (eg.: 2003-07), I would say the odds favor the S&P 500 is going higher as well, but I would make the same prediction if you told me copper was going lower (eg.: 1995-98). The corollary: Copper tells you next to nothing about the direction of the S&P 500. They move together at times, and they move in opposite directions at other times.
What about the U.S. economy?
Is copper a better signal there, given its doctorate in economics?
Not exactly. The calendar year correlation between copper and U.S. Real GDP is slightly negative (-.04).

Similar to U.S. equities, that does not mean there aren't times when copper is down and the U.S. economy is in recession. There are. We last saw that in 2008 during the global deflationary collapse, and this is what many point to at the first sign of weakness in copper. What they fail to report, though, is the much more common occurrence: when copper is down (eg.: 1983-84, 1995-98, 2013-15) and no recession occurs.
Even in the classic example of 2008, copper did not peak until July, when the U.S. economy was already 7 months into a recession. What value did it provide at that point? Certainly no more than the U.S. stock market itself, which tends to peak ahead of U.S. recessions (October 2007 in this case).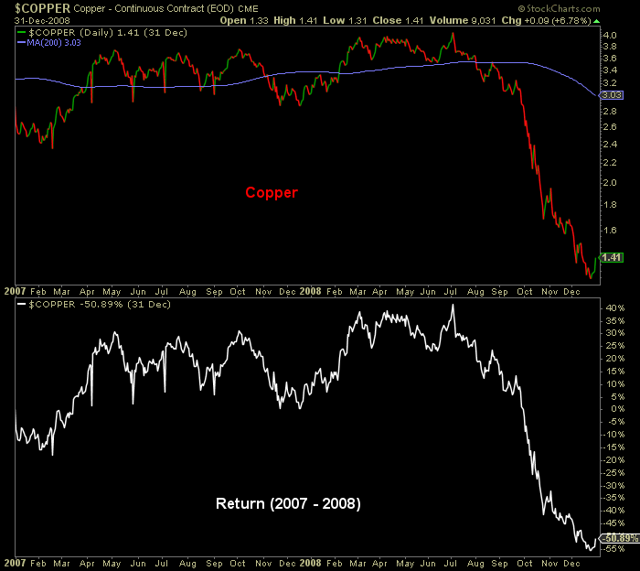 Evidence > Opinion
Why, then, is "Dr. Copper" is widely used by pundits as an "important signal," often as a harbinger of doom? Because it is their job to entertain, and Dr. Copper has a nice ring to it.
But isn't copper used in many parts of the economy (homes, factories, electronics, etc.), and therefore a gauge of demand and growth?
Yes, it absolutely can be at times, but it is just one gauge among many in what is a complex and diversified U.S. economy and stock market. Also, the price of copper responds to not just demand but supply as well, and it is not always easy to differentiate between the two.
So, is the recent decline in copper bad news for the U.S. stock market and economy? You are now equipped to answer that question using evidence instead of opinion.