I've been practicing dividend growth investing for about five years now, and one thing I like to do is track the dividend increase announcements made by companies on my watch lists and in my portfolio.
I do so because when a dividend increase is announced, it gives investors an opportunity to lock in a higher yield than what the market is currently pricing in. For example, if a stock is yielding 2.5% and then announces a 20% increase to the dividend, the forward yield instantly becomes 3%. If a 5% yielding stock raises the dividend by 10%, the forward yield becomes 5.5%, and so on.
Companies generally announce dividend increases on a set schedule, with new dividend rates declared following board meetings or alongside quarterly earnings reports.
Sometimes a dividend increase is accompanied by disappointing earnings, which causes the stock to sell-off. This is doubly beneficial, as it gives you the opportunity to buy at a higher dividend yield from the newly increased payout, plus gives you a higher yield from a reduced share price.
Going through my spreadsheet of increase announcements, I've identified four companies that look like interesting opportunities for investors following their recent dividend increases. They are all high quality companies with long track records of dividend growth, yet for varying reasons are trading at a discount to their historical valuation levels.
Philip Morris International (PM) caught me by surprise when it announced a 6.5% increase to the dividend on June 8th. This was surprising because the company has always announced dividend increases in September, so this one came three months early.
It was also surprising because it was the largest increase given in the last five years. The company has raised by just 2-3% a year for the last three years, so seeing this one come in at 6.5% caught my attention.
However, the market hasn't been very impressed, as shares continued to sell off following the dividend hike, and are now trading at price levels not seen since 2015.
The July 19th earnings announcement was a mixed bag of results, as the company beat earnings estimates, yet lowered guidance for the year. Growth in the iQOS product also seems to have stalled, raising questions about its potential impact for the company. However, the market shrugged off those question marks, and the stock rose over 4% on the day.
Looking at the long-term chart, Philip Morris seems to be finally returning to growth after several years of declining earnings. The company increased EPS by 5% in 2017, and is expected to grow by about 9% in 2018. Analysts are expecting high single-digit growth going forward as well.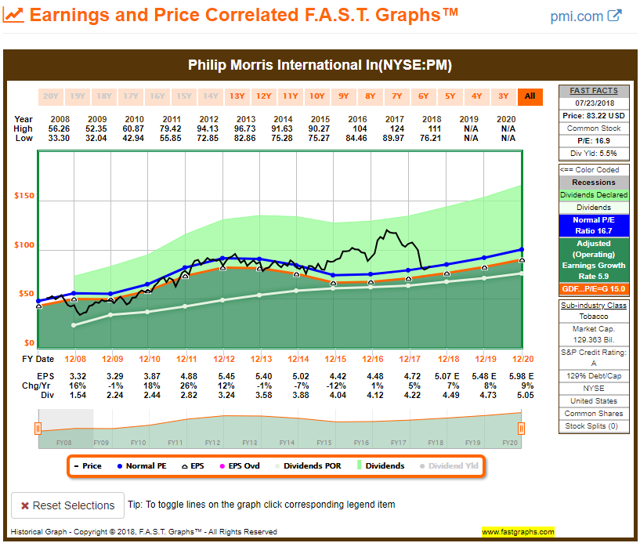 With the dividend increase and lowered guidance of $5.02-$5.12 in earnings, the payout ratio now sits at about 87%. This is a bit lower than in recent years, but is still above what I'd consider a comfortable level.
I don't see the dividend being in any sort of danger, as the company has the cash flows to cover it, but I do expect dividend growth to lag earnings growth over the next several years until it returns to a more normal level.
Philip Morris is now yielding about 5.5%, which is by far the highest of any of the companies on my consumer staples watch list, making this an excellent opportunity for income investors.
Starbucks Corporation (SBUX) continued its trend of strong dividend growth when it announced a 20% dividend increase on June 19th. The amount of increase wasn't a surprise, but the timing was, as the company typically announces new dividend rates in late October.
Starbucks also announced a large increase to its share repurchase program, raising the buyback authorization by $10 billion to a total of $25 billion through FY20.
This is an incredible amount of potential repurchases, as it represents more than one-third of the current market cap of the company. To put this in perspective on potential impact for shareholders, Starbucks could report zero earnings growth in absolute dollars over the next two years, yet still provide 50% EPS growth with a 33% reduction in share count.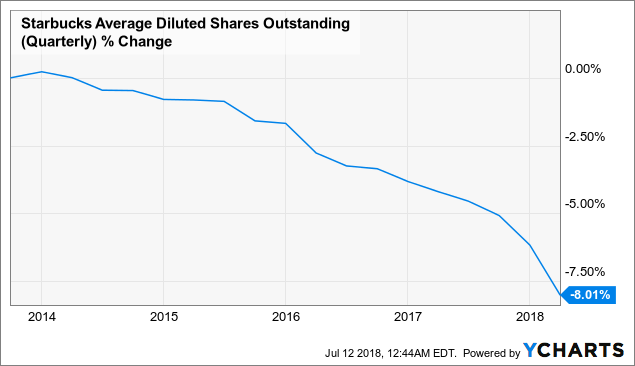 As you can see above, Starbucks does have a decent track record with its repurchase program, as the company has reduced share count by about 8% over the last five years.
Of course, Starbucks will likely grow its actual earnings as well, as it's produced stellar growth numbers over the years. Earnings have grown at a nearly 20% rate over the last decade and by more than 15% annualized over the last five years.
The growth has been quite consistent as well, with 2017 being the only year with less than 10% earnings growth. Earnings are expected to increase by 17% in 2018, and continue expanding at a low-teens rate going forward.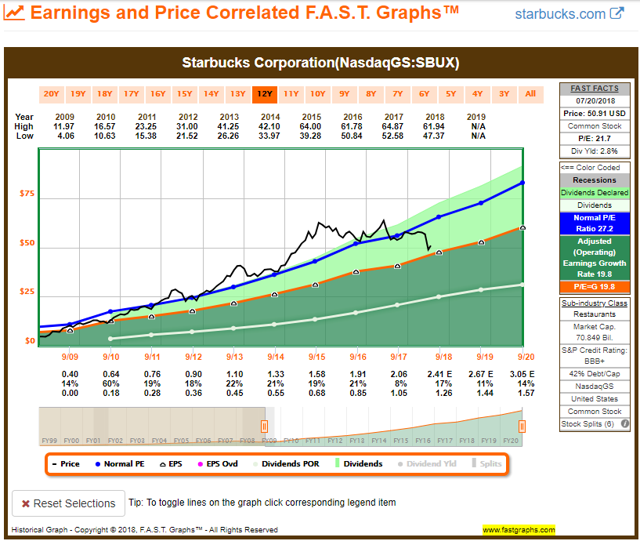 Shares are trading at just over 21X expected 2018 EPS of $2.41, which is the lowest valuation in the stock since 2010. With the 20% dividend increase and drop in share price, Starbucks is now yielding about 2.8%, which is by far an all-time high for the stock.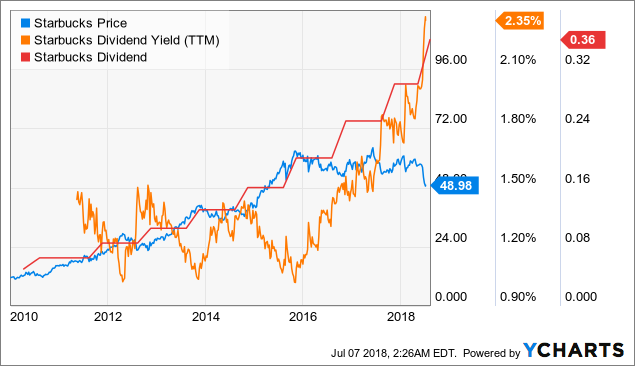 I realize that there are question marks for the company, as Howard Schulz is stepping down as CEO, it's fighting bad publicity due to a racially-charged event at one of its stores, and continued fears of a Chinese trade war raises concerns of future growth in the country.
That said, I think the risk/reward is pretty attractive right here, as the combination of reasonable valuation, a near 3% yield, and double-digit earnings growth backed by a shrinking share count should lead to attractive total returns for long-term investors.
Walgreens Boots Alliance Inc. (WBA) announced a 10% increase to the dividend on June 28th along with its quarterly earnings report. In addition to the double-digit increase in the dividend, the company also increased its share buyback authorization by $10 billion.
This marks the 43rd consecutive year that Walgreens has raised the dividend, and it has done so in impressive fashion, with an annualized growth rate of 17.8% over the last decade.
Unfortunately for investors, this announcement coincided with Amazon's (AMZN) announcement that it will be acquiring the on-line pharmacy startup PillPack.
This renewed fears that Amazon will enter into direct competition with pharmacies, and caused shares of Walgreens to fall more than 10% as a result.
While the market clearly didn't like the news, I think the reaction was overdone, as Walgreens is still the dominant player in the industry, and should continue to be going forward.
Walgreens has an excellent track record of growth, with a twenty year EPS growth rate of 12.4%, during which it produced double-digit or better growth in sixteen of those years.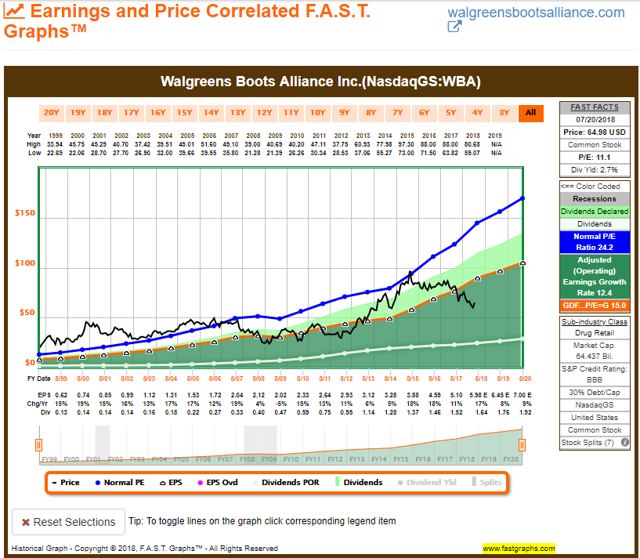 Walgreens has also shown the ability to retire shares, as it steadily reduced share count prior to the acquisition of its initial 45% stake in Alliance Boots in 2012, and since acquiring the remaining 55% stake at the end of 2014.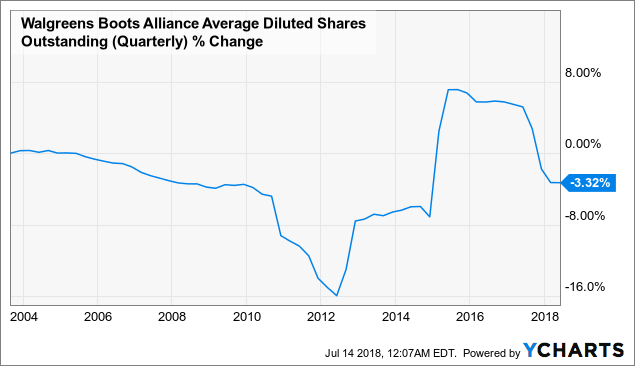 The announcement of an additional $10 billion in share purchases should move the needle, as that represents nearly 16% of the company's current market cap.
Shares are trading at a PE of just 10.9, which is the lowest valuation in the stock since the summer of 2012. The price drop, along with the dividend increase, has pushed the dividend yield up to 2.7%, which is near historical highs for the company.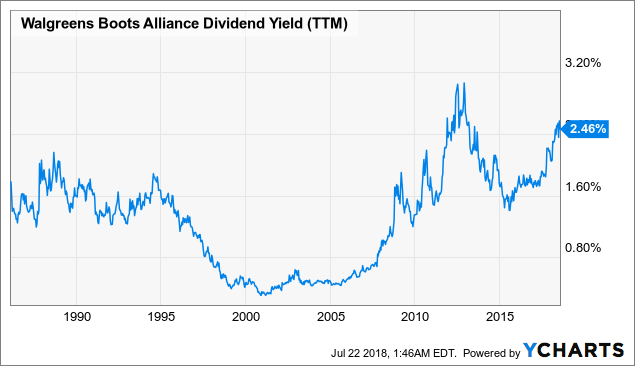 Shares have historically traded at PE of 16-18, so the current valuation is a huge discount to fair value. This low valuation, decent 2.7% yield, and expectations for double-digit growth makes Walgreens Boots an excellent opportunity for long-term investors.
Wells Fargo & Company (WFC) announced its intention to raise the dividend by 10.3% on June 28th. Along with the dividend increase came the announcement that it will be stepping up share repurchases - up to $24.5 billion for the four-quarter period.
This dividend boost was the largest since 2014 and was much higher than the 1.33% and 2.63% increases seen in 2016 and 2017. It also brings the dividend yield up to nearly 3%, which is one of the highest offered by the big banks.
I think this could mark an inflection point in the dividend for Wells Fargo, as 2018 looks to mark the end of several years of lackluster earnings growth. Analysts are currently projecting 11% EPS growth this year, which would be the first double-digit increase since 2013.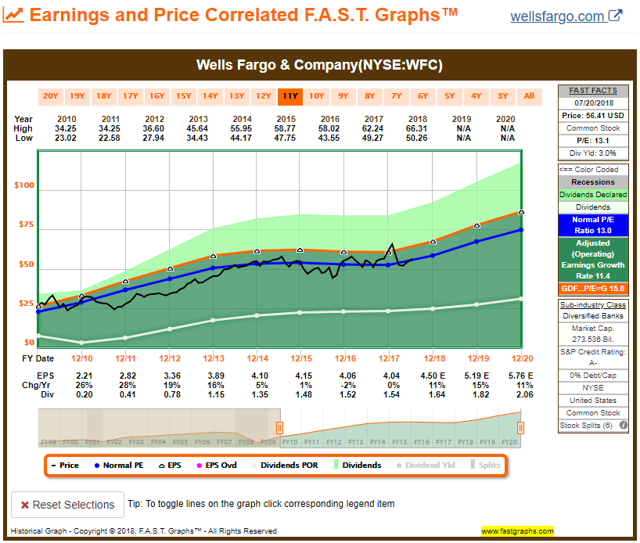 The share repurchase announcement is also a positive, as the $24.5 billion amount represents roughly 9% of the current market cap of the company.
This should be able to make a meaningful impact on share count, and continue the trend of decreasing shares for the company.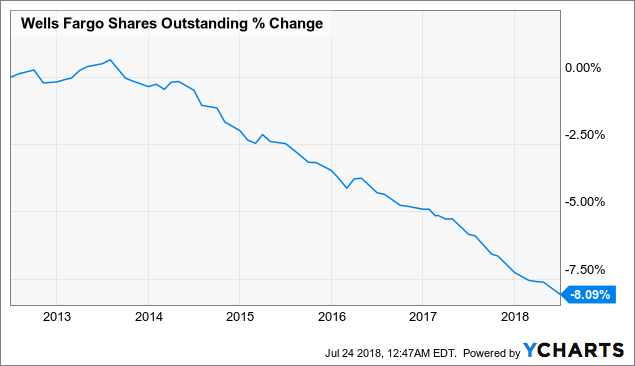 Wells Fargo should continue to benefit from higher interest rates and a strong U.S. economy, and analysts are now projecting 12-13% annual EPS growth over the next five years.
Shares are now trading at just 12.5 times expected 2018 earnings, which is a discount to the normal PE of 13 seen over the last decade. That attractive valuation coupled with a near 3% yield and double-digit EPS growth buoyed by strong share repurchases should lead to attractive returns for investors.
Conclusion
Buying companies following a dividend increase is an opportunistic way to lock in higher yields than typically seen for a stock. Coupling that with a market sell-off produces even better opportunities for investors.
I can understand the market's concerns about each of the four companies listed above, but it seems the sell-offs are overdone and the resulting cheap valuations make them attractive investment opportunities. The cheaper prices along with recent dividend increases also provide higher yields than typically seen in these stocks. In the case of Starbucks, it has resulted in what appears to be the highest yield ever for the stock, and in the case of Philip Morris, has resulted in one of the highest yields in the consumer staples sector.
Walgreens and Wells Fargo also look attractive, as their cheap valuations and double-digit dividend increases have raised their yields above normal levels.
I see all four of these companies as nice investment opportunities, and think each are capable of providing double-digit annual total returns in the coming years. Philip Morris is especially attractive for income investors, while the other three provide an attractive combo of 2.5-3% yields and potential double-digit income growth that should richly reward long-term shareholders.