The Japanese yen firmed in the past few days in the wake of media reports suggesting the country's central bank was considering imposing changes to its interest rate targets and asset purchase program. Bund and US yields rose sharply yesterday as the market is apparently getting ready for the BoJ exit announcement.
Chart 1: EUR/JPY and USD/JPY movements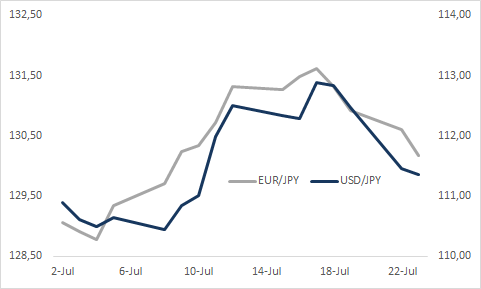 Source: Reuters
The BoJ (Bank of Japan) so far failed to comment on Reuters' allegations of an unusually active discussion among the BoJ members before this month's policy decision, with changes to the BoJ interest rate targets and stock-buying techniques on the table.
However, I would think twice before making any investment decision based on rumors, as evidence is suggesting that it is more likely that the BoJ will ease policy further than increase interest rates or lower bond purchases in the near term. Let us not forget that the only dissenting vote at June meeting suggested to strengthen monetary easing.
Governor Kuroda then stated:
"Each country must opt for the best monetary policy in light of its economic and price conditions. Japan's economy is seeing labour markets tighten and the output gap improving, but prices aren't rising much. As such, it's most appropriate to patiently maintain our powerful monetary easing."
In addition, just two weeks ago, Reuters reported that governor Kuroda stated that the BoJ will maintain its ultra-easy policy until inflation hits its 2% target.
The BoJ will update their forecasts as part of the quarterly Outlook Report at their meeting at the end of the month. Recent across-the-board undershoot in CPI inflation suggests that the BoJ will have to lower its above-consensus core CPI inflation forecasts for FY18-20 (median of majority of Policy Board members: +1.3% for FY18, +1.8% for FY19, +1.8% y/y for FY20). Let us not forget that the BoJ already lowered its inflation assessment at their meeting in June. In detail, the BoJ stated that they expect that consumer price growth will range between 0.5% and 1.0% in 2018, contrary to the previous expectations of 1%-alike growth.
Chart 2: Core CPI movements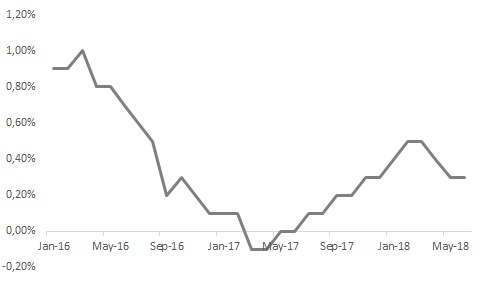 Source: Reuters
Japanese real GDP growth underperformed in the first quarter with a decline of -0.6% qoq as private consumption growth deteriorated. Contrary to expectations for Q1 real GDP growth to be revised up in the second reading, the figure was unchanged. Furthermore, consumption-related indicators have generally appeared sluggish into Q2 as real household spending fell again by 1.3% yoy in April.
Chart 3: Real GDP growth (qoq)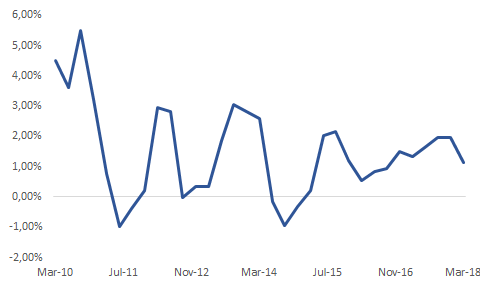 Source: Reuters
Furthermore, government budget balance targets and Ministry of Finance's FY2018 bond issuance plan are based on keeping the long and short-term interest rates at current lows. I discussed this in detail in JPY: Weaker in the medium term for those who want to take a deeper look.
Counting in recent governor Kuroda rhetoric and other members' votes at the meeting in June, I do not see any reason why the central bank would suddenly decide to change its monetary course. Macro data released in the meantime (inflation, personal consumption) only confirmed that inflation and personal consumption are weak. Government budgetary targets and bond issuance plan, really on current interest rate levels, are only adding to my suspicion about potential BoJ policy changes. With that said, I would sustain from purchasing yen or shorting bonds until we get better clarity about the future monetary policy course from the BoJ.
Disclosure: I/we have no positions in any stocks mentioned, and no plans to initiate any positions within the next 72 hours.
I wrote this article myself, and it expresses my own opinions. I am not receiving compensation for it (other than from Seeking Alpha). I have no business relationship with any company whose stock is mentioned in this article.