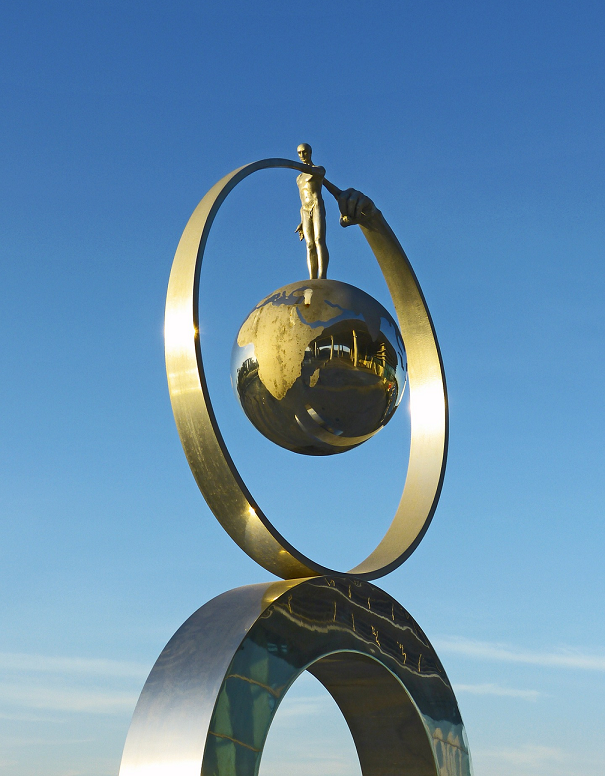 Image credit: Pixabay.
Investment Thesis
Majority of the Federal Open Market Committee (FOMC) members agree on further policy rate increases beyond the neutral point in years 2018 and 2019. Hence, analysts would expect the possibility of market pricing to align closer with US Fed projections. There may even be some upside potential to the policy rate projections as the unemployment rate moves towards 3.4% by the end of 2019 while core inflation climbs above 2%. The US dollar downtrend has been agitated. However, it allowed an upside potential to most gold price forecasts of analysts. However, this won't happen before late 2019 or 2020.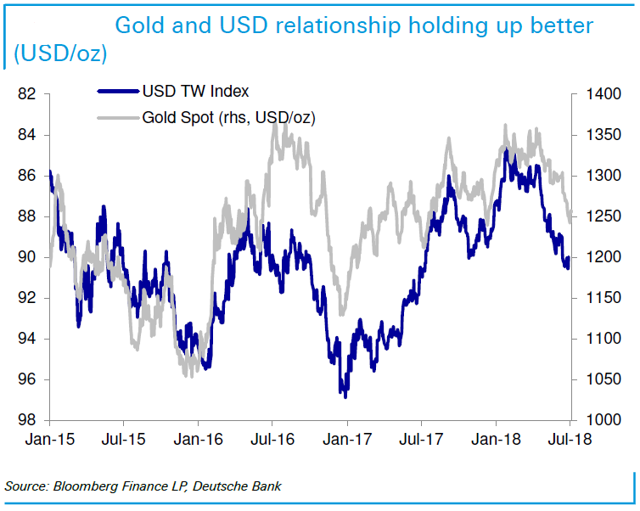 Source: Bloomberg, Deutsche Bank
Analysts recommend base metals including aluminum, copper, nickel and steel for US investors. They are also positive on the steel sector in the US as a result of demand/supply factors including declining imports. This trend should continue in the short term.
In this equity portfolio strategy, we will validate the market speculation that base metal companies are a preferred choice of stocks. We will also look at some forward looking indicators for base and precious metals going to 2019.
Gold
Based on Deutsche Bank (NYSE:DB) estimates, gold price trended lower from May's $1,320 per ounce towards the recent $1,260 per ounce. Deutsche bank believes that any "re-establishment of the real interest rates relationship could well drive further downside in gold prices towards their revised 2018 price target of $1,210 per ounce. Their 10-year Treasury yield target now stands at 3.50% towards the end of 2018. It implies as much as 60 basis points upside to inflation rates.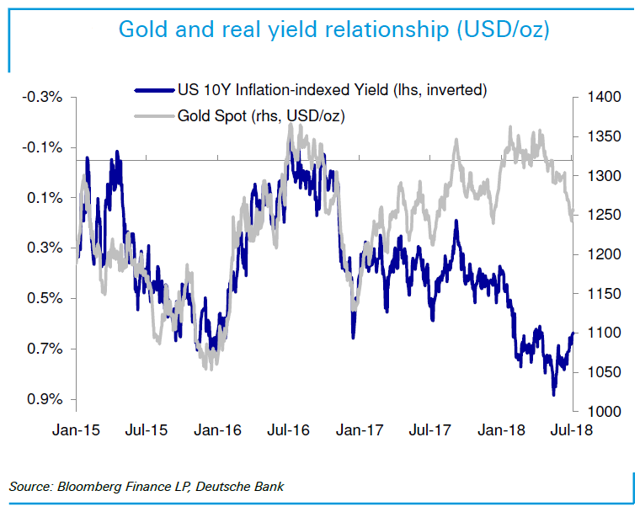 DB added the US dollar regained some unexpected late cycle strength thanks to the first strengthening signs from the European Central Bank (ECB) that a very cautious normalization of the monetary policy will be sensitive to economic data more specifically the dovish repricing. Any potential upward movement in gold prices as a result of trade tensions will continue to be a minimal impact as long as the economic impact is perceived to be manageable. This will be the impact regardless what could be considered as an outright trade war. The economic impact will be minimal as long as the S&P/Shanghai Composite ratio remains on an upward path towards multi-year highs.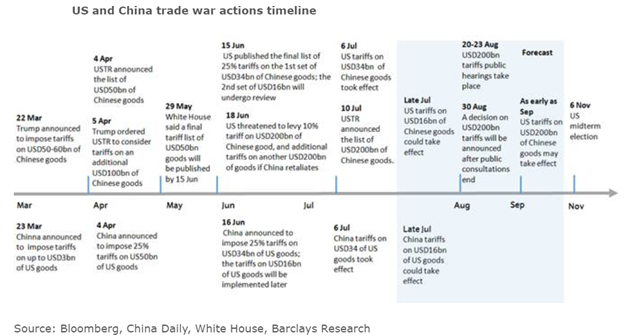 Source: Bloomberg, China Daily, White House, Barclays Research
Analysts recommend a Hold on GoldCorp (GG) (price target at $13/share) as gold production fell 2% quarter-on-quarter to 580,000 ounces on lower grades at Penasquito and Pueblo Viejo, which are mostly stockpiles. Share catalysts would include further update on the progress of the company's 20/20/20 strategy, which consists of reducing costs by 20% and increasing production and reserves by 20%.
Similarly, analysts maintain a Hold on Newmont (NEM) ($41/share price target), as the stock is fairly valued and the ramp-up of new projects such as Merian is now fully recognized. They also have a Hold on Kinross ($3.90/share price target), as the development of Tasiast and Round Mountain was perceived by investors as potential positives for future years.
Copper
The outlook for copper remains positive on medium to long-term fundamentals. Copper price is constant with an average LME price of $7,175 per ton towards the end of 2018 while in 2019 it is estimated at $7,500 per ton (based on DB estimates). Higher prices are supported by an expectation for the global refined market to turn into deficits from 2018 to 2020.
Analysts believe that supporting this bullish phase for the copper market will cause a state of stagnation of global mine supply. The supply is forecast to increase at a Compound Annual Growth Rate (CAGR) of just over 1% year-on-year from 2018 to 2020. This compares to an average 4% year-on-year growth in the previous five year period.
They expect a strong refined output growth from China to continue in the second half of 2018. However, investors expect global refined output growth to fall in the third quarter given a number of disruptions at ex-China smelters accompanied by a loss of close to 700,000 tons per year.
The second half of 2018 should see improved production volumes and costs for NEM. Copper sales were estimated at 24 million pounds, which is lower by 12% quarter-on-quarter. Copper price is expected to average $3.12 per pound versus $2.88 per pound in the first quarter of 2018.

Source: Deutsche Bank estimates.
Silver
Last year, for the fifth year in a row, the silver market recorded another deficit of 26.0 million ounces. Mine supply fell for the second consecutive year by 4% in 2017, following 13 consecutive annual increases prior to 2016. This was as a result of years of capital expenditure reductions in combination with supply disruptions, particularly in the Americas. With scrap supply contracting by 1% in combination with net-hedging of 1.4 million ounces, total silver supply fell by 2% to just under one billion ounces.
The London Bullion Market (LBMA) silver price averaged $17.05 per ounce in 2017, down by 0.5% year-on-year. Prices traded in a range of $15.22 per ounce to $18.56 per ounce. Despite the slight decline in the annual average price, the LBMA silver price still managed to gain 3.8% throughout the year, mostly because of a weaker dollar. However, silver price performance fell behind that of gold, reflecting the market's risk-off attitude over much of the year.
In 2017, Pan American Silver (PAAS) produced 25 million ounces of silver and 160,000 ounces of gold at consolidated cash costs of $4.55 per payable ounce of silver. By 2020, the company expects to produce 30.5 million to 33.0 million ounces of silver. Consolidated all-in sustaining costs per silver ounce sold are expected to be between $8.50 per ounce to $11.00 per ounce.
Steel
Generally, analysts remain positive on the steel sector in the US. This positive view, however, would only last short term based on specific demand/supply including falling imports. They believe the steel sector will be constantly clouded by rising trade conflicts. However, investors could rely on a few select names in the steel industry. Key underlying fundamental themes such as China's supply-side reform agenda and healthy global demand growth trends remain in place.
The steel sector would improve the most this year as indicated by declining leverage from 1.6X in 2017 to 0.8X year-to-date (Deutsche Bank estimates). Industrial companies should decrease a similar amount from 1.4X in 2017 to 0.8X towards the end of 2018. Analysts forecast the precious metals subsector to keep the leverage ratio at 0.7X in 2018.
My Takeaway
Looking forward, I believe that the future rise in gold price this year is expected to deliver positive spillover effects for silver. Subsequently, investors can expect silver to outperform gold in 2018 at some time, given it's a smaller and less liquid market, coupled with a slight recovery in investments.
I prefer copper exposure through First Quantum (recently upgraded to Buy from Hold by Deutsche Bank). While I acknowledge the increasing risks of a trade war, I trust that the bilateral talks would resume at some point. It is possible the different parties could reach a compromise. The agreement might become similar to recent deals with South Korea, Brazil and Argentina.
From the steel industry perspective, I feel that the metal market seems to be ignoring the fact that domestic steel companies (i.e. US and elsewhere) remain to be the end beneficiaries, with home market steel pricing expected to remain at elevated levels. Global capacity utilization is rising and analysts expect it to reach more than 75% in 2018, which could begin to support the pricing power for steelmakers and allow some sustained margin expansion.
I also believe that the managements of some metal miners have been open to the idea of inorganic operational growth. This has been more visible over the past few quarters. I expect this trend to continue due to their strategic goal of strengthening their balance sheets. I believe investors could look forward to strong returns of capital by end of 2018, with companies still focusing on lower steady-state gearing. I do not expect major M&As more frequent every now and then, while capex is likely to creep, rather than jump.
Although it is obvious that most metal miners focus their earnings potential from more efficient capital management, there are other ways to achieve inorganic growth. That would include mergers and acquisitions, divestitures, share buybacks and higher dividend yields. The number of transactions for acquisitions and divestitures has slowed down this year. It is on pace for 36 deals this year down from 61 last 2016 and 56 in 2017. However, through June, $1.4 billion worth of acquisitions have been announced in addition to $0.2 billion of divestitures by north American metal mining companies, indicating net acquisitions of $2.5 billion on an annualized basis. So, we anticipate 2018 to increase in value of deals.
This article was written by Gold News business journalist Hans Centena. If you found this article to be informative and would like to hear more about my investment research, please consider hitting the "Follow" button above.
Disclosure: I/we have no positions in any stocks mentioned, and no plans to initiate any positions within the next 72 hours. I wrote this article myself, and it expresses my own opinions. I am not receiving compensation for it (other than from Seeking Alpha). I have no business relationship with any company whose stock is mentioned in this article.
Additional disclosure: Gold News is not a registered investment advisor or broker/dealer. Readers are advised that the material contained herein should be used solely for informational purposes. Investing involves risk, including the loss of principal. Readers are solely responsible for their own investment decisions.