Mosaic (MOS) is breaking out higher on positive fundamental support. A recovery in the price of agricultural commodities is leading to a turnaround in its share price. Moreover, analysts are becoming more bullish on its broader industry fundamentals. Although its top- and bottom-line growth have not shown a significant reversal higher yet, its share price is forming a bottoming pattern in the $20s. I am buying stock in this name as its fundamentals fuel investor optimism.
Profile
MOS produces and markets concentrated phosphate and potash crop nutrients worldwide. The company operates through three segments: Phosphates, Potash, and International Distribution. It owns and operates mines, which produce concentrated phosphate crop nutrients, such as diammonium phosphate, monoammonium phosphate, and ammoniated phosphate products; and phosphate-based animal feed ingredients primarily under the Biofos and Nexfos brand names.
The company also produces and sells potash for use in the manufacturing of mixed crop nutrients and animal feed ingredients, and for industrial use; and for use in the de-icing and as a water softener regenerant, as well as fluorosilicic acid for water fluoridation. In addition, it provides nitrogen-based crop nutrients and animal feed ingredients, and other ancillary services; and purchases and sells phosphates, potash, and nitrogen products.
Fundamental Narrative
MOS looks attractively valued at current levels as its broader operating environment improves, alongside the company's positive positioning in regions like Brazil and India.
Management expects strong business performance to continue throughout the rest of the year. This is due to the underlying performance of its three business units continuing to reflect significant operational improvements. North America had delays planting in recent quarters, leading many to doubt the 2018 crop, but farmers outside of the U.S. are generally enjoying good economic results, according to its earnings call. For example, Brazil was a highlight, with grower economics coming in strong due to stable commodity prices and a weakening real. Potash and phosphate prices built on their momentum during the quarter, with strong on-farm demand and delayed purchasing in India, Brazil, as well as other key growing regions all providing extended price support.
In potash, prices have continued a steady ascent. During the most recent quarter, its average sale price was $239 per tonne, which is up $45 per tonne from the mid-2016 lows. Global demand is strong, highlighted by the fact that Canpotex, a Canadian potash exporting and marketing firm, is fully committed through June in spite of the lack of a contract with China, according to management. New supply continues to be delayed beyond prior expectations, with management now believing prices will remain firm into the second half of 2018.
Moving to phosphate prices and margins, there was also an increase during the quarter, belying the theory that supply coming to market in 2017 and 2018 would pressure margins. Average first quarter stripping margins have increased year-over-year from $233 to $262 per tonne as management's actions to remove higher cost production helped lead to a balanced supply/demand picture. Overall, market conditions are constructive as MOS expects demand in India and Latin America to increase in coming quarters.
Brazil remains a region extremely promising for the agricultural industry, according to management. For example, Brazil soybean production provides MOS with a hedge against any ongoing Chinese tariffs on U.S. soybean and helps demonstrate the value of its strategy to build on America's powerhouse.
Across the industry, fertilizer producers' estimates and stock price targets were raised at Stifel recently due to the "de-risked" price forecast for all three major nutrients, according to Seeking Alpha. Stifel expects continued caution regarding expectations for an immediate and lasting rebound in prices, but sees higher multiples on fertilizer companies because significant downside corrections are less likely in the current crop price and currency environment. Moreover, nutrient affordability is supportive of potash and phosphate consumption, while elevated energy prices should also partially offset downside risk in nitrogen from new capacity additions. This positive news led to an upgrade for MOS, further improving shareholder optimism.
Moreover, MOS also got a boost from another analyst upgrade, according to Seeking Alpha. Bank of America Merrill Lynch (BAC) issued a two-notch upgrade to Buy from Underperform with a $35 price target, raised from $24, as the firm believes 2018 will mark a bottom in global phosphate utilization rates, with there now being more upside risk to consensus estimates as the cycle improves, according to the report. The firm foresees relief from the near-term negatives of recently introduced low-cost capacity, especially as Chinese production and exports prove less threatening than expected.
Below is a chart of the company's revenue and earnings per share over the last three decades. Since 2010, declining agriculture commodity prices have weighed on its operations, leading to declines in both metrics. Over the last year however, there has been a slight pickup in revenue. EPS remains weak, but there is optimism for the future as market conditions are in the process of reversing higher, which could benefit both top- and bottom-line growth going forward.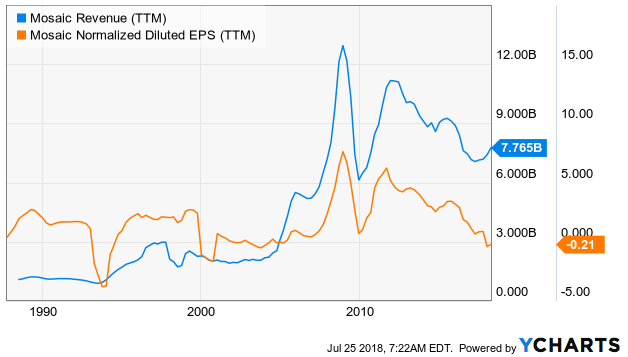 Price Action
MOS's share price has weakened considerably in recent years due to deteriorating market conditions. Its share price has fallen from roughly $120 before the financial crisis, to now under $30. Although its fundamentals are still in the process of recovering, its share price has formed a solid bottoming pattern in the $20s, signaling that investor optimism may be increasing. The recent breakout above $29 was significant as this level had acted as resistance in recent months.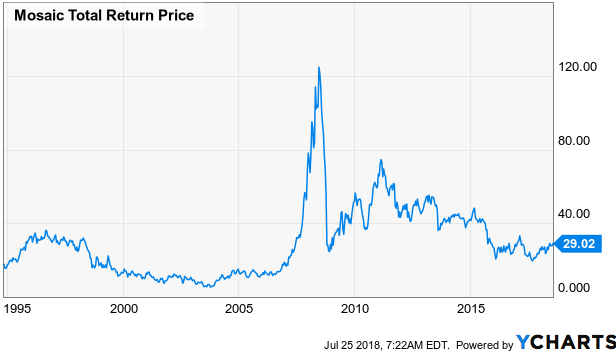 Conclusion
MOS's risks lie with the fact that it is in a very cyclical industry, beholden to movement in agricultural commodity prices. Although commodity prices have weakened over the last decade, an economic recession could lead to further declines in its operating environment. This could cut off its recovery before it really begins to build momentum, likely leading its share price to trade sideways or weaken in coming quarters. Industry fundamentals are currently bullish though, with management, as well as outside analysts reiterating the validity of the recovery. I am buying stock in this name as fundamentals lead to an upside breakout in its share price.
Markets move quickly. To take advantage of the highs and lows - especially in today's volatile environment - you need a strategy that's nimble and flexible. My approach is both, and it enables me to move in and out of assets and sectors while continually generating double-digit annualized returns. Sign up for Absolute Returns today to see how I manage my portfolio in the continuously changing market environment. Many believe absolute returns and beating the market are mere fiction, but I assure you they're not. See for yourself how you can benefit from my approach, and how your portfolio can profit, regardless of market conditions.
Disclosure: I am/we are long portfolio. I wrote this article myself, and it expresses my own opinions. I am not receiving compensation for it (other than from Seeking Alpha). I have no business relationship with any company whose stock is mentioned in this article.