Preamble
The Gold Bugs Index, the HUI closed at 168 recently having tried to hold but falling through the support at 180. The HUI remains some 73.33% off its high (630-168) made in 2011. This poor showing is a disappointment and something of a puzzlement for gold bugs around the world. Since 2016, gold has been in an uptrend but has recently pierced its support causing concern for those investors who still hold gold and silver stocks. Silver prices have staged some moderate rallies but overall, they have been heading south with a corresponding lacklustre performance by the stocks.
As speculators we now have to reassess the current situation and ask whether we should sell, hold or look upon this unloved sector as a buying opportunity.
A Quick Look at The Chart of the HUI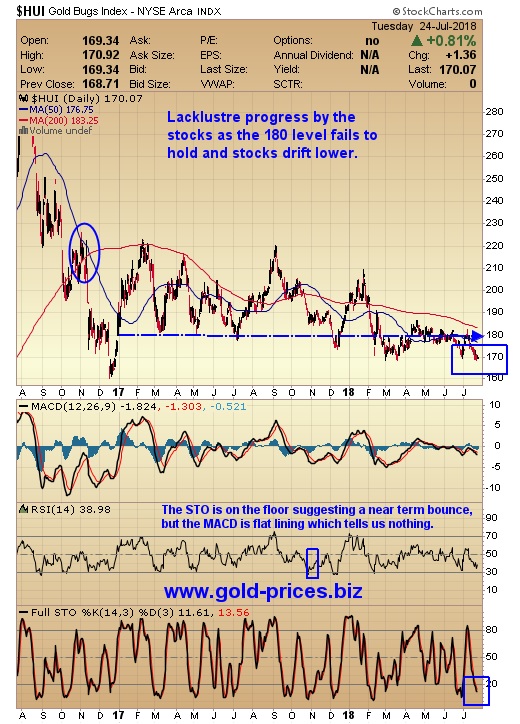 Lacklustre progress by the stocks as the 180 level fails to hold and stocks drift lower.
The STO is on the floor suggesting a near term bounce, but the MACD is flat lining which suggest that we are in neutral territory.
As charts go it paints a sad picture and not one that we can take much comfort from.
Influential factors
There are a vast number of factors to take into consideration before acquiring any precious metals mining stock as we have covered many times. However, in general terms it appears to us that the gold's progress is largely dependent on the progress of the US Dollar. Since February, the dollar has this year risen from 88 to 94 on The US Dollar Index, registering a 6% gain, which in turn has seen a fall of around $100/Oz ($1320/Oz to $1220/Oz) in the price of gold, or around 7%.
On the positive side, the stocks could have suffered a lot more than they have, but they do remain out of favour and will remain so until the underlying precious metals put in a serious rally. There are alternatives to investing in this sector, such as the stock market in general which has had a good 10-year run. There are also a plethora of cryptocurrencies hitting the market on a frequent basis which their promoters reckon are the best thing since sliced bread. If we then throw in dominance of the paper market in gold, the effect of 'options expiry', a younger generation that does not see a place for precious metals, then it becomes difficult to identify the catalyst that will ignite the precious metals sector.
Conclusion
It is very hard to pick the bottom for this particular bear phase other than to say the selling could be exhausted and the downside limited. We also have the upcoming meeting of the FOMC scheduled for 31 July/01 August which will likely herald in another rate hike, adding more strength to the dollar. President Donald Trump has said that he was not 'thrilled' with the Fed's rate hikes and argued that higher rates would nullify the work that his administration has done to boost the economy. How much sway the president has with the Fed remains to be seen; his comments may slow the rate of hikes by the Fed, but this next one is a near certainty.
To address the question of buy, sell or hold, I can only give you my personal opinion and that is I am not selling stocks and will continue to hold the portfolio that we have acquired. As for a buying opportunity, I would like to wait for this next rate hike to be implemented and then reassess the landscape before hitting the acquisitions trail once more.
I wish I could be more positive but this isn't the time; patience is the order of the day – for now.
Go gently, these are dangerous waters.
Please feel free to fire in your comments whether you agree with us or not, as the more diverse comments we get, the better informed we are.
If you wish to see our posts on gold, silver and the associated stocks, then please hit the follow button in order not to miss out.
Cheers, Bob K
Disclaimer: www.gold-prices.biz makes no guarantee or warranty on the accuracy or completeness of the data provided. Nothing contained herein is intended or shall be deemed to be investment advice, implied or otherwise. This letter represents our views and replicates trades that we are making but nothing more than that. Always consult your registered adviser to assist you with your investments. We accept no liability for any loss arising from the use of the data contained on this letter. Options contain a high level of risk that may result in the loss of part or all invested capital and therefore are suitable for experienced and professional investors and traders only. Past performance is neither a guide nor guarantee of future success.
Disclosure: I/we have no positions in any stocks mentioned, and no plans to initiate any positions within the next 72 hours.
I wrote this article myself, and it expresses my own opinions. I am not receiving compensation for it (other than from Seeking Alpha). I have no business relationship with any company whose stock is mentioned in this article.