By now, you've read about Pandora's (NYSE:P) earnings report and seen the post-release carnage. I've already written that I remain long the stock and can find no reason to alter the long-term course I set last year in the face of nothing more than near-term pressure. Because several of us have covered that part of the story - from bearish and bullish angles - quite well, I want to move the conversation forward.
I think I am one of the better-equipped people on Seeking Alpha to do that. I actually have an open line of communication with executives at Pandora.
On Wednesday morning, I had somebody ask me if the people at Pandora gave me "any sense of what was to come with the earnings release." I had to laugh. Of course, they did not. In fact, prior to earnings, they're pretty tight-lipped about everything. I've found that to be the case at most companies I interact with.
Clearly, Pandora did not share any inside information with the brokerage firm, Stifel, which upped guidance and lifted its price target on P just a day before the not-so-well-received report. For the record, this was my reaction to Stifel's bullishness:
Heading into the report, I am not nearly as bullish, but you must consider my perspective. I own Pandora for the long-term. What happens tomorrow matters, of course, but it's very unlikely that anything I hear tomorrow will shake me out of the stock ...


I knew the company was close to tipping the iceberg - I've been yelping about it for months. I just did not know it was this close. It will be interesting to see if Stifel spoke too soon.

In terms of how to play it ... I am not sure you should. I consider it a pretty big risk ahead of earnings.
One thing Pandora executives speak freely about is their long-term vision for the company. And that has remained consistent and confident through the many ups and downs in the volatile stock. The company, like Amazon.com (NASDAQ:AMZN), Apple (NASDAQ:AAPL) and others, does not manage to the stock price.
The stock probably deserves the haircut it's getting for missing estimates and coming in under the street's forward-looking projections. That said, long-term investors need to take note of several key points being overlooked through this temporary hysteria.
First and foremost, growth has not gone away. That's hardly the case. Triple- and double-digit growth still abounds across the board. That's evident in the Q4 report as well as the just-released February 2012 audience metrics:

The reason, at least in my estimation, as to why Pandora missed makes me even more bullish. Rolfe Winkler articulated this sentiment nicely in the Wall Street Journal. Now, on the call, CEO Joe Kennedy tried to explain things away by referring to soft ad sales in January and other advertising-related data. I guess he has to do that because, ultimately, that's what the street demands. They want excuses and then the analysts chastise you for making excuses. It's all wrapped up in short-term, short-sighted thinking.
The following, excerpted from Tuesday's call, is really all Kennedy needed to say to appease long-term investors: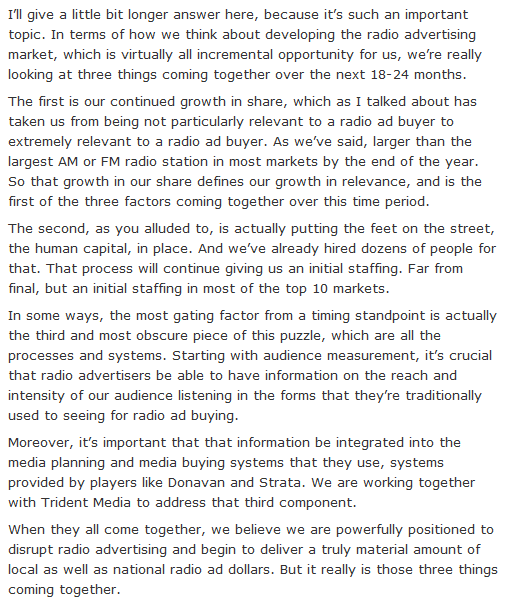 That's the most important part of the entire call and this whole post-earnings mess. Pandora is effectively creating new markets for radio advertising. In doing so, they must partially conform to the old ways of doing things, as to give prospective buyers something they're used to seeing. Both wide-ranging processes take time to come to fruition. But, as Kennedy and others at Pandora stress, the opportunity is gigantic.
Let's consider the various pieces of what's coming together for Pandora. And, remember, the biggest problem the company faces is a good one to have. It cannot possibly ramp up infrastructure fast enough to even come close to fully capitalizing on the opportunity they're fore-fronting in radio advertising/mobile.
As it stands, Pandora has sales offices in Oakland, New York City, Los Angeles, Chicago, Atlanta, Portland, Detroit and Dallas. From these cities, Pandora can sell regionally. For example, local teams in Oakland can cover the San Francisco Bay Area or local sales folks in LA can cover Southern California. Not only does Pandora need to get people on the ground to sell local, regional and national ads, but the company, as it disrupts radio advertising, needs to sell a new way of doing things to ad agencies comfortable with old ways of doing business.
It's not all that different from what's happening in cable and satellite television. The old guard continues to come around to the notion of multi-platform delivery of content. They have no choice. Consumers demand access to programming across devices. The old guard now, increasingly, delivers just that.
People who receive advertising will do it differently going forward as well. They'll do it via new and innovative platforms, with much of the consumption coming on mobile devices. Here's something Pandora reported along with its earnings release:
We made tremendous progress in mobile monetization during FY 2012. Total mobile revenue more than quadrupled vs. FY 2011, growing from approximately $25 million in FY11 to over $100 million in FY12. In fact, based on recent data we've seen in an eMarketer analysis, we believe that Pandora achieved more mobile ad revenue last year than any entity other than Google.
I asked Pandora VP of Corporate Finance and Investor Relations Dominic Paschel about the Google (NASDAQ:GOOG) claim. Here's his verbatim reply via email:
Look at the chart where you see GOOG at 35.7% and with our disclosure of $100M, that puts us at 6.9% ahead of Apple (even discounting the fact that some of AAPL and GOOG's numbers likely include some of our remnant.

Dom
Now I understand where there's a hole in Pandora's analysis. The eMarketer report was not ranking things when it mentioned Google, Apple and Milllennial Media. There's a chance that companies/ad networks not mentioned fall in between Google as the undisputed No. 1 and Pandora's claim of being No. 2. Frankly, the particulars there do not matter much to me either way as a long-term investor.
The eMarketer report clearly shows that mobile ad revenue is only just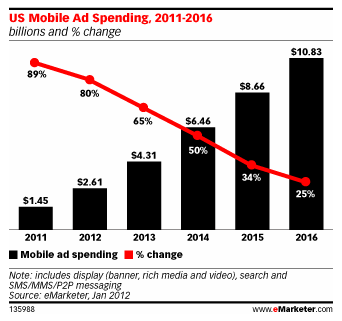 about to burst and wherever it fits in, Pandora is in an incredible position with enormous room for growth. While it might not seem like a good day for Pandora in early March 2012, there's not much doubt in my mind that its share of that $10.83 billion in 2016 will be nothing short of game-changing in radio advertising and new media in general.
Pandora's fiscal year does not match up with a regular calendar year (Pandora's FY ends at the end of January), therefore these numbers do not represent exact science. I do, however, think they accurately paint the picture.
eMarketer data shows us that Pandora captured roughly 6.9% of total mobile ad spending in 2011, which is the company's FY2012, minus one month. If Pandora owns just 7% of all mobile ad revenue in the U.S. in 2016, it will bring in $758.1 million four years from now. I expect that 7% number to actually be much higher.
Lots of folks like to quote Warren Buffett on Seeking Alpha. Honestly, I tire of the practice. But, if you think you have a handle on the future of the spaces Pandora runs in, you probably should be greedy when others are fearful. Or, more aptly, when others act and react to what the media and Wall Street latches onto. This week represents little more than one moment in the life of a company. These fits of hysteria and surface-scratch looks at yesterday's numbers and near-term guidance should mean very little in the mind of a long-term investor who has done his or her homework.