Quick Take
ToughBuilt Industries (TBLT) intends to raise gross proceeds of $17.25 million from a U.S. IPO, according to an S-1 registration statement.
The firm provides several construction power tools, such as tool belts, pouches and bags, kneepads, sawhorses, and miter saw stands.
TBLT is growing topline revenue and gross profit, has significant expansion plans and the IPO is slated to include warrant coverage.
When we learn further details from management, I'll provide a final opinion.
Company & Technology
The Las Vegas, Nevada-based retail company was founded in 2012 to build quality tools meant to last generations, offering a limited lifetime warranty.
Management is headed by Co-Founder, President, CEO and Director Michael Panosian, who has been with the firm since the beginning and was previously Co-Founder and CEO at Pandun, Inc.
ToughBuilt has developed numerous power tools and accessories; it is preparing to launch its first rugged smartphone, with a planned launch for 2019.
The firm is also developing a line of construction clothing, also slated for early 2019 launch.
Below is a brief consumer review video of ToughBuilt's pouch clip-on system:
(Source: Low Voltage Dude)
Customer Acquisition
TBLT sells its products primarily through major retailers in the home improvement and construction products categories, both within the U.S. and in the UK, Australia, Canada and other global market areas.
The firm is in active discussions with major retailers such as Lowe's, True Value and other distributors.
Notably, 'Management anticipates, within the near term, adding to its customer base up to three major retailers, along with several distributors and private retailers within six sectors and among 56 targeted countries.'
Selling and G&A expenses as a percentage of total revenues net of allowances have been declining as revenues have increased, as the figures below indicate:
Q1 2018: 33.8%
2017: 42.7%
2016: 47.7%
Market & Competition
According to a 2017 market research report by Markets and Markets, the construction power tools market is expected to grow from $27.2 Billion in 2017 to $35.6 Billion by 2023, at a CAGR of 4.6% between 2017 and 2023.
The main factors driving market growth are increasing sales of commercial vehicles across the world, the growing construction industry in emerging economies, and rising demand for cordless tools.
Due to North America's extensive use of power tools for both industrial and residential use, this region is expected to dominate the market during the forecast period. The growth in construction, manufacturing, and automotive industries will greatly contribute to North America's dominance. Another factor is the regions rising popularity of DIY which is motivating consumers to drive demand for cordless tools.
Major competitive vendors that sell construction power tools include:
Financial Performance
TBLT's recent financial results can be summarized as follows:
Strong topline revenue growth, but at a decelerating rate
Uneven gross profit growth
Fluctuating gross margin
Reduced cash used in operations
Below are the company's financial results for the past two years (Audited GAAP for full years):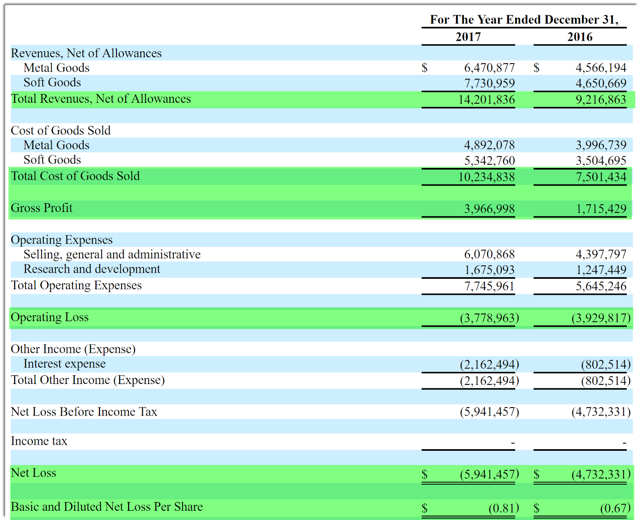 (Source: ToughBuilt S-1)
Total Revenue ($)
Q1 2018: $3.9 million, 34.5% increase vs. prior
2017: $14.2 million, 54.3% increase vs. prior
2016: $9.2 million
Gross Profit ($)
Q1 2018: $965,434
2017: $4.0 million
2016: $1.7 million
Gross Margin (%)
Q1 2018: 24.6%
2017: 28.2%
2016: 18.5%
Cash Flow from Operations ($)
Q1 2018: ($1.0 million) cash used in operations
2017: ($1.4 million) cash used in operations
2016: ($4.2 million) cash used in operations
As of March 31, 2018, the company had $7,964 in cash and $12 million in total liabilities.
IPO Details
TBLT intends to raise $17.25 million in gross proceeds from an IPO of its Class A units comprised of common stock and warrants.
Management says it will use the net proceeds from the IPO as follows:
[i] $1,500,000 to the production of new tools,

[ii] $1,000,000 to the production of apparel and accessories,

[iii] $2,000,000 to the development of technology and design, including intelligence sensors, accessories and other technologies,

[iv] $3,000,000 to sales and marketing,

[v] $3,500,000 to repayment of debt which bears an annual interest rate of 10% and has a maturity date of September 1, 2018,

[vi] $500,000 to repayments of notes payable to insiders which bear an annual interest rate of 10% and has a maturity date of September 1, 2018,

[vii] $1,500,000 to working capital and

[viii] $500,000 to pay salaries and bonuses due to our named executive officers in 2018. We have presumed that we will receive aggregate gross proceeds of $15,000,000 and deducted $1,500,000 payable in offering costs, commissions and fee.
Management's presentation of the company roadshow isn't available yet.
The listed bookrunner of the IPO Joseph Gunnar & Co.
Expected IPO Pricing Date: Not on calendar.
An enhanced version of this article on my Seeking Alpha Marketplace research service IPO Edge includes:
Commentary
Opinion on the IPO
Members of IPO Edge get the latest IPO research, news, market trends and industry analysis. Get started with a free trial.
Disclosure: I/we have no positions in any stocks mentioned, and no plans to initiate any positions within the next 72 hours. I wrote this article myself, and it expresses my own opinions. I am not receiving compensation for it (other than from Seeking Alpha). I have no business relationship with any company whose stock is mentioned in this article.
Editor's Note: This article discusses one or more securities that do not trade on a major U.S. exchange. Please be aware of the risks associated with these stocks.