Written by Bob Ciura for Sure Dividend
With the S&P 500 Index at record highs, the average dividend yield in the S&P 500 is under 2%. In addition, interest rates still relatively low. As a result, investment income is hard to find today for investors who desire income, such as retirees. In order to find higher dividend yields in today's market, it seems that investors have to take outsized risks on stocks with sky-high yields, but also questionable fundamentals.
But investors should remember that just because a stock has a high yield, does not necessarily mean it is a buy. At times, a high dividend yield is a red flag, and a signal that the fundamentals are deteriorating. A stock with a very high dividend yield but eroding financials could result in a dividend cut.
Fortunately, with a little bit of digging investors can find dividend stocks that offer high 5%+ yields, and also have secure payouts. This article will discuss 4 dividend stocks with 5%+ yields and the fundamental strength to maintain their payouts.
Safe High-Yield Dividend Stock #4: AT&T (T)
AT&T is among the safest high-yield dividend stocks in the S&P 500. It is a telecom giant, with a huge level of cash flow and a market capitalization of $221.6 billion. It offers a wide range of services, including wireless phone, cable TV, and satellite TV through its subsidiary DirecTV.
On 7/24/18, AT&T reported mixed second-quarter financial results. Revenue of $38.99 billion fell by 2.1% from the same quarter a year ago and missed analyst expectations by $300 million. However, earnings-per-share of $0.91 beat estimates by $0.06 per share. Adjusted earnings-per-share increased by 15% year-over-year, while operating cash flow rose 17.5% to $10.2 billion.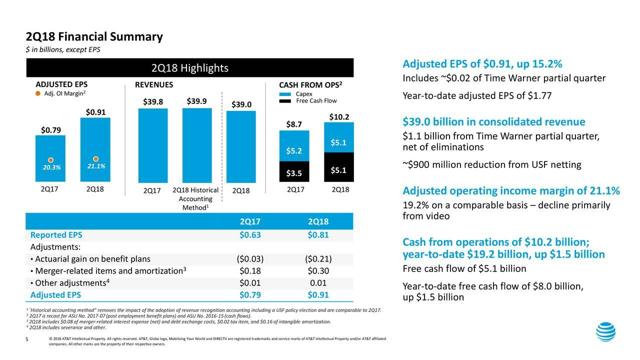 Source: Earnings Presentation, page 5
Continued growth is likely now that AT&T has completed its $81 billion acquisition of media giant Time Warner Inc. This was a major win for AT&T, after the Department of Justice sued last year to block the deal on antitrust grounds. AT&T and Time Warner put together will have over 140 million mobile subscribers, and 45 million video subscribers. AT&T is now a content behemoth, as Time Warner controls a number of huge media properties, including TBS, TNT, HBO, and the Warner Bros. movie studio. AT&T will also acquire AppNexus, for approximately $1.6 billion according to The Wall Street Journal. This deal will help AT&T enhance its advertising and analytics platform. With such a huge content library, it makes perfect sense for AT&T to expand on its advertising potential.
In addition, 5G rollout is a catalyst for AT&T's large wireless business. AT&T had continued prepaid growth with 356,000 phone net additions last quarter, and the company plans to bring mobile 5G service to 12 U.S. cities in 2018.
AT&T has multiple growth catalysts for the future. In the meantime, investors can buy the stock with a high dividend yield of 6.6%, and the high likelihood of continued dividend increases. AT&T is a Dividend Aristocrat, with over 30 years of dividend increases under its belt. We believe the dividend is highly secure. Average consensus among the 20 analysts currently covering AT&T, is for the company to generate earnings of $3.46 per share in 2018. With an annualized dividend payout of $2.00 per share, AT&T will likely have a dividend payout ratio below 60% for 2018.
Safe High-Yield Dividend Stock #3: Philip Morris International (PM)
Philip Morris International is a blue-chip dividend stock with a 5.4% yield. The company manufactures and distributes tobacco products and has the international rights to the Marlboro cigarette brand. The company has six of the world's top international 15 tobacco brands. Philip Morris International reported a strong second fiscal quarter. Revenue of $7.73 billion increased 11.7% year-over-year and beat analyst expectations by $200 million. Adjusted earnings-per-share of $1.41 beat by $0.18 per share and increased over 20% from the same quarter last year.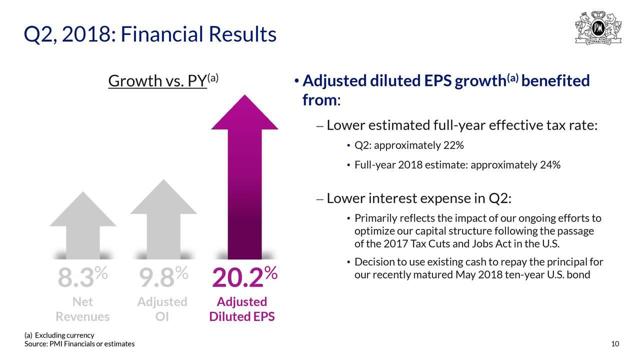 Source: Earnings Presentation, page 10
The major risk for Philip Morris International is the continued decline in smoking rates. The company reported a 1.5% decline in cigarette shipment volume last quarter. In preparation, Philip Morris International has rolled out its next-generation product line, called IQOS, which heats tobacco rather than burn it. IQOS is part of Philip Morris International's broader "reduced-risk" product line, which collectively brought in $3.6 billion of revenue last year.
Growth in this category has been impressive. Philip Morris International's heated tobacco unit shipment increase 73% last quarter. IQOS HeatSticks reported 15.8% market share in Japan in the 2018 first quarter, up from 10.8% in 2017. It is already the #2 brand in Japan, according to the company. Eventually, it plans to bring IQOS to India, the second-largest smoking market behind China. The sheer number of smokers in China and India, along with other core international markets, means Philip Morris International should continue to grow earnings in the years ahead. By 2025, the company expects reduced-risk product sales could reach $17 billion-$19 billion per year.
As a result, we believe the company can sustain the dividend. The company is expected to earn $5.07 per share in 2018, at the midpoint of guidance. The annual dividend of $4.56 should be sufficiently covered by earnings, with the possibility of another dividend increase next year.
Safe High-Yield Dividend Stock #2: BP plc (BP)
BP is an integrated oil and gas major based in the U.K., with a market capitalization of $150 billion. It operates business across the oil and gas spectrum, including upstream, midstream, and downstream. BP was hit hard by the downturn in oil and gas prices from 2014-2016, but it has enjoyed a steady recovery since. For example, in the 2018 first quarter, BP beat analyst expectations for both revenue and earnings. Revenue of $68.17 billion exceeded consensus estimates by $220 million while earnings-per-share of $0.78 beat by $0.10. BP's underlying replacement cost profit soared 71% for the quarter, to $2.6 billion.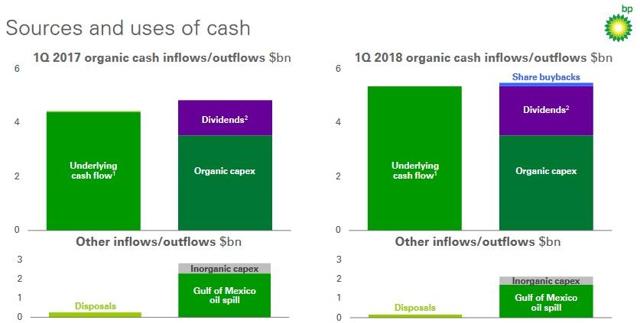 Source: Earnings Presentation, page 8
Growth was due to a 6% increase in production, as well as a nearly 25% jump in average oil prices. The first-quarter was BP's sixth in a row of production growth. In addition, earnings were fueled by the resumption of BP's share buyback program. Now that BP's cash flow has recovered, the company has resumed buying back its own stock. Last quarter, BP repurchased 18 million ordinary shares at a cost of $120 million. Since BP started the buyback program in the fourth quarter of 2017, it has repurchased 69 million shares at a total cost of $460 million.
Going forward, BP's biggest growth catalyst is its lineup of new projects, which includes six large upstream projects set to begin production during 2018.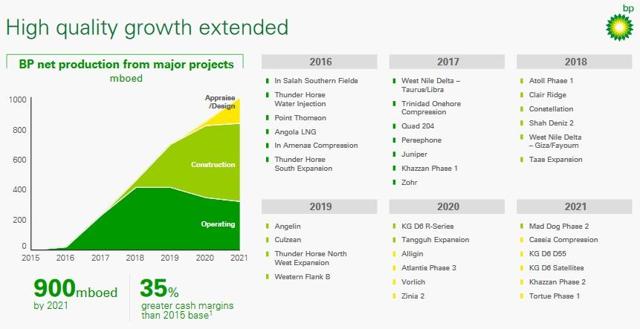 Source: 2018 Investor Update Presentation, page 36
For example, the Atoll project in offshore Egypt is one of BP's most important near-term projects. Atoll began gas production in the first quarter, ahead of schedule and under budget. BP owns 100% of this project. The Atoll field contains an estimated 1.5 trillion cubic feet of gas and 31 million barrels of condensates.
In all, new projects will add 800,000 barrels of new daily production by 2020, and 900,000 barrels of new production capacity by 2021. With this growth, we believe BP's $2.40 per share dividend is secure. Consensus analyst estimates call for BP to generate earnings-per-share of $3.34 in 2018, which would more than cover the dividend.
BP also has a manageable debt load, which is also a positive for the dividend. At the end of last quarter, BP had a gearing ratio of 28.1%, which is within the company's target range of 20% to 30%. BP's dividend is solidly covered at a Brent price of $50 per barrel, with solid coverage now that Brent is well above $70.
Safe High-Yield Dividend Stock #1: GlaxoSmithKline (GSK)
GlaxoSmithKline is a healthcare company based in the U.K. It has a diversified business model, with pharmaceuticals, vaccines, and consumer products.
Glaxo reported second-quarter earnings on 7/25/18. Sales increased 4% in constant currency, led by 16% sales growth for vaccines. Consumer products sales rose 3%, followed by pharmaceuticals at 1% growth. Adjusted earnings-per-share increased 10% for the quarter, due to sales growth, margin expansion, and lower R&D expense.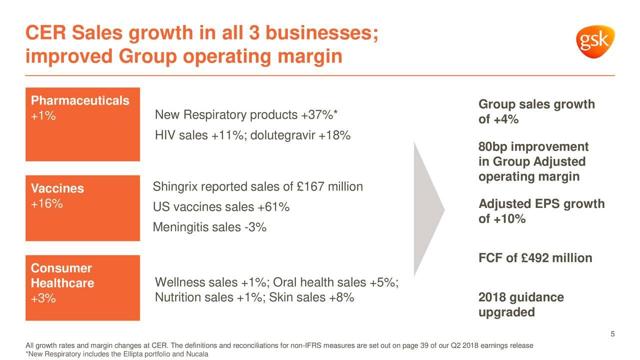 Source: Earnings Presentation, page 5
This is a transition period for Glaxo. Its pharmaceutical business has suffered from patent losses in the core respiratory portfolio, including Advair and Avodart. In response, Glaxo is transforming itself. In 2014, GlaxoSmithKline sold its oncology drug portfolio to Novartis (NVS) for $16 billion. In exchange, GlaxoSmithKline received several of Novartis' vaccine products for $7 billion. In addition, the two companies created a consumer health joint venture. Glaxo eventually purchased the remaining 36.5% stake in its consumer products joint venture from Novartis, for $13 billion. The consumer portfolio includes brands like Sensodyne toothpaste, muscle gel Voltaren and Nicotinell.
The portfolio transformation has reduced Glaxo's exposure to pharmaceuticals, which are more volatile than consumer products. And, the environment for pharmaceuticals is more challenged today, with public and political scrutiny over drug prices.
Glaxo is focusing R&D spending on critical growth areas moving forward. Approximately 80% of GlaxoSmithKline's R&D will be allocated to its two most important therapeutic areas, respiratory and HIV/infectious diseases. Glaxo is investing heavily in very promising therapeutic areas, such as HIV, with the launches of Tivicay/Triumeq, and also meningitis. Glaxo also recently announced it will invest $300 million in genetics startup 23andme.
For 2018, adjusted earnings-per-share is expected to increase 7%-10% if no generic competitor to Advair is introduced in the U.S. this year. If there is an Advair competitor, earnings are still expected to grow by 4%-7%. Through 2020, GlaxoSmithKline expects low-to-mid single digit revenue growth each year, along with mid-to-high single digit earnings growth.
We expect Glaxo to report earnings-per-share of $2.92 in U.S. dollars for 2018. Glaxo expects to pay a dividend of 80 pence for 2018, which amounts to roughly $2.11 per share in U.S. dollars (as one ADS equals two ordinary shares). As a result, the dividend appears to be secure and covered by earnings.
Disclosure: I am/we are long BP, T.
I wrote this article myself, and it expresses my own opinions. I am not receiving compensation for it (other than from Seeking Alpha). I have no business relationship with any company whose stock is mentioned in this article.