Tech Data (NASDAQ:TECD) has traded poorly over the past year as concerns over heightened industry competition and missed earnings expectations have taken their toll. From a high of $111, TECD stock now languishes in the mid $80s. A deal also to purchase Avnet's Technology Solutions business (the "TS business") has also added a measure of uncertainty to the picture. Throw in a retiring CEO and you get a stock trading at a tremendous bargain at only 8.2x 2018 earnings, and at a mere 6.4x EBITDA.
The good news is, this is an extremely well-run company, one that generates slow but steady growth, tons of FCF and solid ROEs year in and year out. As a distributor of IT products, it doesn't matter who wins the tech wars. It only matters that technology spending continues upward. Indeed, EPS has grown over the past five years at a compounded annual growth rate of 13%, Returns on Equity (ROEs) continue to impress at 12% last year, and even the most recent quarter showed solid organic sales gains of roughly 5% (or "mid-single digits" per management, for the three months ending April 2018).
On a free cash flow basis (excluding working capital), TECD should throw off roughly $12 in FCF per share this year, putting Tech Data at a huge 14.4% FCF yield. Should the company trade back to its normalized range of 10-14x earnings, which are still quite conservative multiples given the attractiveness of this business, in 24-36 months, TECD could easily trade back to $112 to $157 per share, upside of 30-80%. As a check, comps trade today at 11x 2018 earnings, which would imply $114 per share today, an upside of 34% and a multiple that TECD typically trades at.
Summary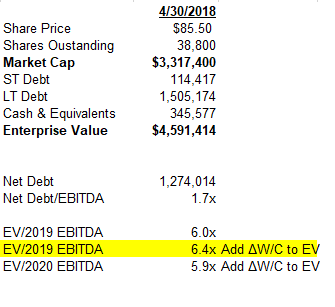 Source: Author. Note all figures in thousands except ratios and per share data
Business
Tech Data is distributor of a variety of finished technology products. They distribute in multiple categories, primarily to value-added resellers (VARs) and retailers. The company purchases products from roughly 1000 vendors, with Apple (AAPL), HP (HPQ), and Cisco (CSCO) representing 14%, 12% and 11% of sales respectively. They turn around and sell these products to over 125,000 VAR's, direct marketers and retailers.
The mix of sales is as follows: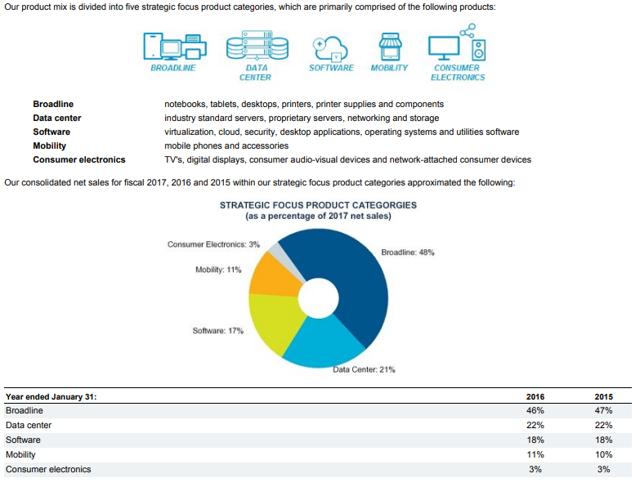 Source: 2017 10-K
The above is a bit dated, as it hasn't been updated by the company post the TS deal, but paints a general picture of their product mix. Overall, the Americas segment last year generated $334mm of the company's EBIT (~53% of total), Europe $271mm (43%) and Asia $23mm (4%).
Most VARs utilize TECD as the complications of purchasing hundreds of different products from dozens of vendors is virtually impossible for smaller resellers. Tech Data provides inventory management, marketing support and financing too. Overall, TECD operates 27 strategically located logistics centers in the Americas, Europe and Asia.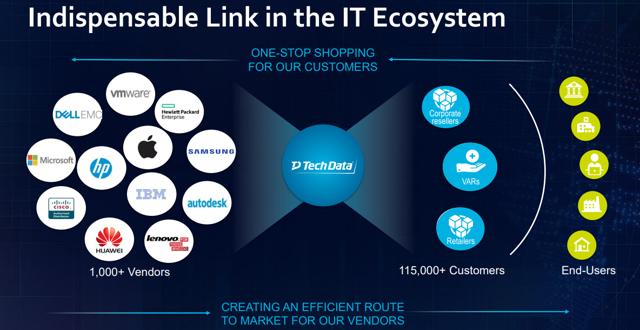 Source: Company presentation
While many investors often grumble that this is a low-margin, low-value-added business (which I will argue is not economically true), the reality is that there is a huge moat in negotiating purchase agreements with hundreds of vendors for thousands of products. There also are significant purchasing synergies that TECD gets from bulk buying that they can pass along to their VARs. This is not a business going away anytime soon.
From an economic perspective, I view TECD as simply making a commission on sales, whose commission tends to be a stable 5% year to year. The company can return unsold product to vendors, and so doesn't carry real inventory risk a la a true retailer would.
Viewed this way, the business looks more like the service business that it is. Specifically, EBITDA as a percentage of gross margin illustrates that this really an asset light, low capex business model with high margins. EBITDA margins calculated this way run in the 30-35% range.
Capex will run around $80mm this year on an EBITDA figure north of $750mm. Leverage is low at 1.7x debt/EBITDA, and interest costs will be around $100mm this year. Like I said, they generate tons of free cash flow.
The company, based in Clearwater, FL, actually IPO'd in 1986, and generated $0.22 in EPS in their first full year of business (FYE January 1988). This year, in 2018, the company should do roughly $10.37 in EPS (Street figures actually for the FY ending January 2019).
Over just about any term time frame that I looked, TECD has generated substantial returns for shareholders. From June 30, 1986 to June 30, 2018, Tech Data has provided 13.5% annual returns to holders. Taking a more recent, through the cycle view, from January 2008 through 2017, TECD investors would have made 10% annually (vs. 8.4% invested in SPY including re-invested dividends).
The 10-year EPS growth track record is even better at 16.6% CAGR. With total returns at only 10%, clearly, the stock has simply gotten a lot cheaper from a valuation perspective. While not a great comp, Microsoft (MSFT) has grown earnings in the past 10 years at a 7.6% CAGR, and trades today at 24x calendar year 2019 earnings. TECD suffers at 7.8x 2019 calendar year earnings despite its phenomenal record.
Here is a 10-year view of earnings at Tech Data.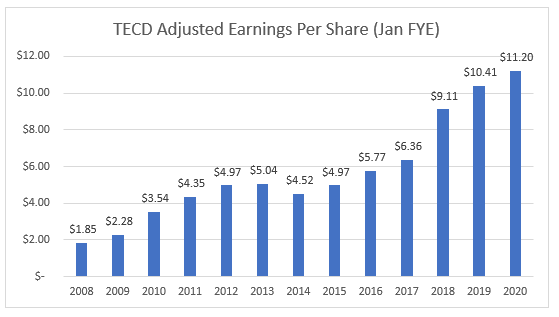 Source: Data from 10-Ks, chart created by Author
Note that 2019 represents the fiscal year ending January 2019.
The only hiccup along the way was in 2013-2014, when a new Enterprise Resource Planning (ERP) system was installed. Naturally an ERP system is vital in this business, and TECD's installation caused significant problems. In 2014, sales fell 3% as customers faced ordering delays and other problems. The company lost market share, and also was late in filing its 10K that year, worrying customers and vendors alike. However, implementation issues ultimately were resolved and customer trust regained. At the time, I wrote up TECD on Seeking Alpha, calling it a buy around $49 (up 75% since then).
Avnet TS Acquisition
Tech Data's purchase in February 2017 of Avnet's TS business was a slight change in their strategy. The TS business sells computers and servers to larger enterprise customers. Software and consultative services are required too, as these are more complex sales and installations. While generally higher margin, the TS business is facing data center competition, and seeing some revenue weakness. TECD paid $2.6BB (2.4BB in cash and the rest in stock) for TS. Their plan is to move up the value chain in terms of business, hopefully to capture these higher margin data center sales.
With TECD paying almost 10x EBITDA pre-synergies for TS, the jury is still out on whether this was a good deal, particularly when considering it could purchase its own shares at under 7x. However, given the high FCF nature of the TS business, and the expected synergies, this deal could work out quite well if they can maintain and/or grow revenue.
Comps
The major competitors for Tech Data are Ingram Micro (purchased by a Chinese company in 2016) and Synnex (SNX). Arrow and Avnet compete in a slightly different segment, selling components and as well as data center products.
Below is a summary of TEV/EBITDA and P/E multiples: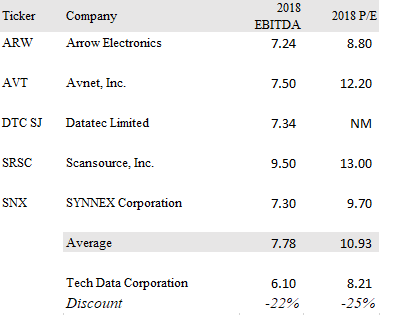 Source: Author
While Avnet and Arrow trade at much better multiples than TECD, one would think that they have performed better over time than Tech Data. In fact, Avnet has been quite a mess, with 2018 EPS (June FYE) expected to be $3.53, vs. $4.06 in 2013. Why this trades 4 turns better than TECD is beyond me.
Arrow has grown earnings at a 10% clip in the past 5 years. Solid but not as impressive as TECD at 13%. And yet, it garners a healthier multiple as well, trading at 7.2x EBITDA and about 9x earnings.
Synnex is the best publicly traded comp. There is no component business, and they are a broadline distributor. With more growth, it trades at quite high multiples.
I think the bear case for TECD is that Avnet has suffered over time because of its TS business, where revenue and EBITDA have drifted lower as more customers switched to the cloud. They unloaded their ugly duckling to Tech Data, who overpaid for it.
However, even viewed this way, if TS is roughly $270mm of their $760mm in EBITDA, and is worth a heavily discounted 6x multiple, then the remaining businesses at TECD should be worth at least where the comps trade, which is 7.8x. That would still value the stock at $108 per share, an upside of 26%. To me, Tech Data is evolving smartly so that they have the capabilities to sell higher margin data center business.
But at the end of the day, I think it comes down to management. TECD has seen every cycle imaginable and continued to prosper. Their formula is simple: generate healthy ROEs and FCF, maintain low debt levels, repurchase shares when cheap, and evolve as the industry evolves. The occasional tuck-in acquisition has bolstered growth too. The past year has been a good example of management capability, with a smooth integration of the TS business, as well as putting up decent numbers amidst industry pressure.
As noted, competition became fiercer in the wholesale industry, starting around mid 2017. Margin pressure as well as a "few" vendors cutting back on rebates also have investors scared. Nevertheless, Q1 sales grew mid-single digits organically (excluding TS sales and currency changes). While Q2 guidance looks about flat on a revenue basis, EPS guidance is $2.05 per share (compared to $1.74 in Q2 2017, the July quarter).
Free Cash Flow
Below is a summary of earnings and FCF for TECD: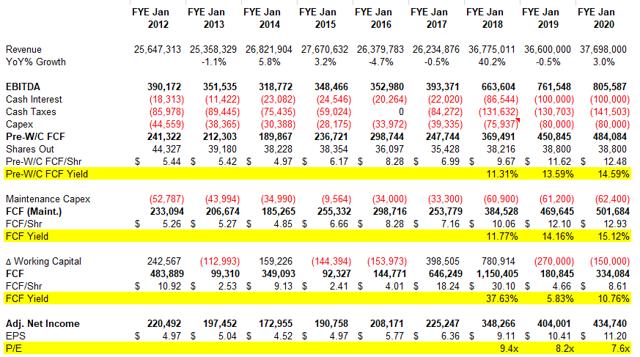 Source: Author. Note all figures in thousands except ratios and per share data
Note the tremendous levels of FCF. Since 2009, the company has used free cash to buy back a whopping 30% of the stock in the open market. While there is no dividend here, management has indicated again that buybacks will be utilized with FCF.
Risks
- IT spending. CIOs often go through refresh cycles, as do vendors. This year, Gartner forecasts IT spending growth of 6.2%, followed by 2.8% spending growth in 2019. Tech Data grew sales around 5% organically in Q1, but these figures will ebb and flow.
- TS acquisition. Competition and/or lost market could impact the top line for that part of their business. Synergies are expected to be $50mm from this deal, but could fail to materialize for any number of reasons.
- Management. Former CEO Bob Dutkowsky this month transitioned to Chairman of the company, handing the CEO reins over to Richard Hume. Bob ran TECD for over a decade, and comments across the board seem to suggest that he was an excellent manager. Given that they have and will continue to work closely together, I don't expect any transition issues.
- Earnings visibility. Like any number of businesses with literally thousands of customers, it is difficult to project more than say one quarter out. Management has previously provided their "2019 Modeling Assumptions," but the Street often gets earnings estimates wrong. See what happened March 8 this year when Q4 earnings were released and management put forth Q1 EPS guidance of $1.45 (vs. the Street at 1.98!). The stock dropped from $107 to $87. Lo and behold, ultimately, EPS came in at $1.84, but the damage was done. On the flip side, this was the catalyst that has created the buying opportunity today.
- Gross margin risk. While economically TECD takes little real inventory risk, there has been some fluctuation in its gross margins over time. From 2011 to 2017, gross margins varied within a tight 5.0% to 5.4% range. Recently, with the closing of the TS acquisition, margins have moved higher to 5.8% last year, and 6.1% in Q1 this year. TS services are higher margin. But with tough competition, expected to last through 2018 according to the company, there is a chance margins could fall toward its historical lows, impacting earnings.
- Amazon (AMZN) risk. Always a concern. For simple computer gadgets and consumer devices, Amazon is your guy. For a company that needs servers, networking gear, software and security apps installed, unless Amazon builds an entire IT integration group, it seems pretty unlikely to really compete here.
Conclusion
There could be bumps along the way here, but I like the management team. They operate the business conservatively and have the best track record in the space. The market today seems not to appreciate the value-added, high free cash flow nature of this business however. But at 8x earnings, literally half the multiple of the S&P 500, this seems borderline a no-brainer. I would not recommend this stock however to those with a short time horizon. Earnings volatility is high, and the market seems to hate value stocks today.
In 5 years though, it is very likely that EPS can continue to compound at 5-10% per year levels (assuming 2-3% revenue growth, 3-4% EBITDA growth with a little leverage, and buybacks that average another 3-4% a year). That would put EPS in the $13-$16 per share range in that time, leading to continued solid investor returns.
Sources: 10-Ks, 10-Qs, press releases, conversations with management, company presentations, transcripts and Bloomberg