The U.S. toy market is undergoing massive changes for two reasons – the accelerating shift towards online and the demise of Toys "R" Us. A third danger looms on the horizon – tariffs on toy imports from China.
First –the effect of a trade war on the toy market in the United States:
At this point it seems more and more likely that the ongoing trade war between the United States and China will extend to the entirety of Chinese imports into the U.S. – all $500 billion worth. If that in fact happens we shall see two major consequences. At this point toys are officially classified with the HS Code 9503.00.00, under the U.S. Harmonized Tariff Schedule and are generally duty free. However, if the widely held expectation that an expansion of these tariffs would encompass toys at a rate of 25% comes about then the impact would be swift and major. It is unlikely that the manufacturers would be willing to absorb this added cost, nor would the retailers, and you would hence be likely to see a price increase across-the-board of at least 10%. I consulted with a number of national buyers to determine what they thought the likely fallout from this price increase would be and they pretty uniformly told me that they would have to reduce their purchase quantities by about 20% at least until consumer reactions to this price increase was assessable.
One of my friends – an executive at a medium-sized toy manufacturer – asked his toy buyer at a large retailer just what would happen to existing Purchase Orders if such a cost increase were to occur. The response was that this was the vendor's problem. The retailer would insist on being delivered the goods ordered on the date specified, in the quantities specified, and at the price specified. Any costs arising from a tariff imposition would be the vendor's responsibility.
Since such a tariff would probably be restricted to Chinese goods, the manufacturers most dependent on Chinese production would be worst hit. This definitely includes all but the largest companies since the smaller ones are those that rely on one or two Chinese subcontractors for all their imports. Having been hurt already by write-offs caused by the Toys "R" Us debacle, they would again be penalized by massive cost increases. A significant percentage would not survive this double whammy.
Of the bigger companies, Lego is in best shape since they do not sell any Chinese-made toys in the U.S. market. Mattel (MAT) is also in pretty good shape since they have own manufacturing companies in Canada, Indonesia, Malaysia, Mexico and Thailand plus a large number of third party manufacturers around the globe. The company could hence shift production relatively easily away from China to these other countries and Is probably already in the process of doing so. Hasbro (HAS) is in a tougher spot. At this point, they produce 65% of their products in China with the majority of the non-Chinese goods being made in the United States. These 65% cannot readily be moved to non-tariff countries and Hasbro would hence face significant cost increases.
Secondly – the trend to online:
Online purchases of toys have skyrocketed since 2011 and went from an estimated 15% of the total then to 40% last year. This is how the trend developed: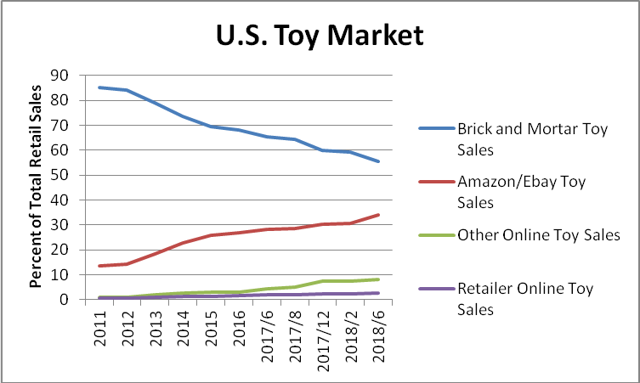 Source: Klosters Retailer Panel
At this point, all the national buyers I consulted on the subject believe that there is a limit beyond which the online toy sales percentage will not grow – at 50% of the total. There are two reasons for this. One is that the purchase of a toy tends to be a visual and tactile experience which computer access cannot equal. The second is that the growth rate of the main driver – the Amazon Third Party vendors who represent the majority of Amazon's toy sales – has begun to flatten out.
As a result, brick-and-mortar toy sales in the U.S. have stagnated. In fact, by end of 2017 they were 5% below what they were six years earlier. If you are a retailer this represents a major quandary. You cannot ignore the pull toys have over the consumer. At the same time, devoting expensive shelf space to a stagnating category is neither efficient nor commercially defensible. Until the meltdown of Toys "R" Us, the major retailers – e.g. Wal-Mart and Target – resorted to a strategy whereby they gradually allocated part of their toy space to other product categories – categories that either offered more growth or better margins , such as Baby products in the case of Target and Consumer Electronics in the case of Wal-Mart.
This shift to online has a number of disadvantages for the large toy manufacturers. One is that their whole promotion model still depends on a symbiosis between advertising and in-store presence which in turn are to a significant degree focused on triggering impulse buying. The second is that the child tends to be the decision maker in the store setting which is typically not the case online. The third is that movement in the store is driven by push-through dynamics whereas online it is the consumer who pulls the product through the pipeline. There is also the often overlooked fact that Amazon's success in the toy space is to a major degree due to the nimbleness of its third-party vendors, mainly small manufacturers, and much less to what the first-party vendors, the large toy companies, are able to accomplish. In other words, the large toy companies at this point are passive passengers on the online train and they will have to learn to manage the process or they will be left behind.
Thirdly , ToyRUs' death:
There is little doubt that TRU's bankruptcy was self-inflicted, unnecessary and sloppily executed. It also represents a stain on the professional and personal reputation of the executives in charge of this debacle. The manner in which they screwed their vendors and their employees gives the term "greed" and "incompetence" a totally new meaning.
However, what TRU's death is not is a fundamental dislocation of the U.S. toy business. Both industry executives and financial analysts have trumpeted the notion that the loss of Toys "R" Us is irreparable and massive and would result in a permanent decline in the business done by both the retailers and the manufacturers. This is of course nonsense. Toy purchases are event-driven and these events are not going to go away. There is no way that a mother will tell her four-year old that there are no toys for Christmas because there are no longer any Toys "R" Us stores nearby. Grandparents will continue to bring toys when they visit their little darlings; parents will not stop bringing a toy to their child in hospital; and kids will continue to expect toys for their birthdays.
Yes, there is likely to be a temporary dislocation. In assessing this it is useful to keep two metrics in mind. One is the seasonality of the toy business; the other the time factor governing the migration of the Toys "R" Us toy business to other retailers. The good news is that both mesh nicely: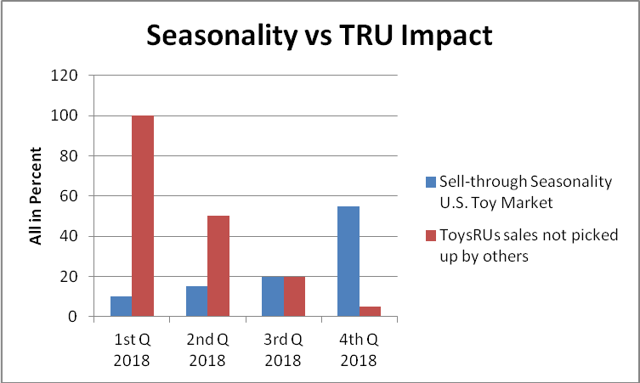 Source: Klosters Retailer Panel
In other words, the worst impact is at a time when people buy least toys and the least impact is when people buy lots of them.
A quantification of this results in the following picture:

Source: Klosters Retailer Panel
In other words – yes, there is an impact caused by Toys "R" Us' demise. It means that the toy market in the U.S. in 2018 will not have the organic growth of 4.5% you would expect but rather only a measly 0.8%.
The migration of the Toys "R" Us business is already evident from two metrics. One is the extent to which Target has ramped up their toys space to take advantage of this migration. The other is the change in retailer market shares between end of September last year, when TRU declared bankruptcy, and end of June this year.
First, toy space allocation by Wal-Mart (WMT) and Target (TGT).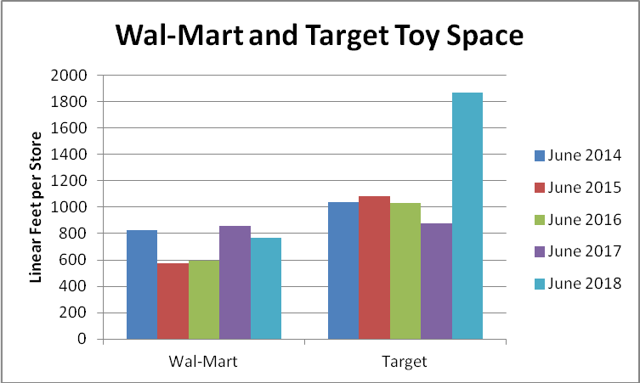 Source: Klosters Retailer Panel
This tells us that Target has sharply reversed its strategy of reducing toy space to the benefit of other product categories whereas this does not seem to be the case of Wal-Mart which suggests that Target was quicker off the mark than its major competitor I understand from national buyers at both retailers that two things are happening. One is that both have totally revised their space allocation for fourth quarter. The other is that both are actively recruiting new vendors – those that were successful with Toys "R" Us and who are now out on a limb without it.
Both the shift to online as well as the demise of Toys "R" Us have had a significant effect on retailer market shares: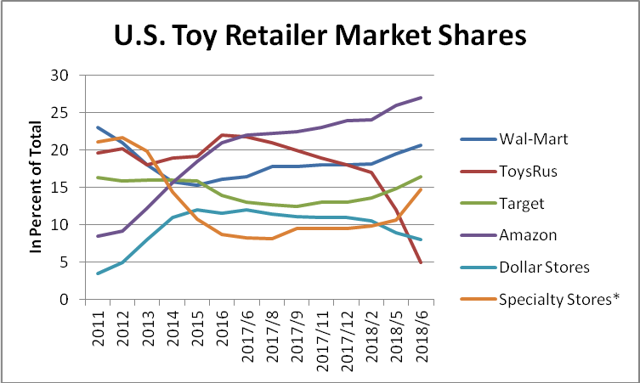 Source: Klosters Retailer Panel
*including Game and Hobby Stores, J C Penney, Kohl's and Barnes + Noble and Specialty Stores – Learning Express etc.
Note that Amazon's market share includes both First Party and Third Party Toy Sales
The only retailer – other than TRU itself – negatively affected are the Dollar chains which found themselves at a competitive disadvantage given the clearance prices offered by TRU. However, this is expected to be a passing phenomenon.
What is interesting is the sharp reversal in the market share for Specialty retailers, particularly the small Mom-N-Pop stores who after years of decline began to grow again just about the time when Toys "R" Us declared bankruptcy. Looking back, this should not be too surprising. The Toys "R" Us consumer's first focus typically was never price, it was choice and quality. As the TRU stores wound down, these same consumers had to find alternatives. Neither Wal-Mart nor Target offered the same product assortment and were often not in the same geographical neighborhood. However, the ubiquitous little stores, estimated at somewhat less than 10,000 nationwide, traditionally had to focus on products not carried by the big box retailers and this is now paying off for them. With the exception of Lego and to a lesser degree Mattel, all other major toy manufacturers – Hasbro, Spin Master (OTC:SNMSF) , Jakks (JAKK) etc – have never paid too much attention to these stores and this is going to hurt them now that the tide is shifting.
As a result, their toy category sales are distinctly different from those you see at Amazon and the mass retailers:
| | | |
| --- | --- | --- |
| Toy Categories | Traditional Toy Market overall | Specialty Toy Market only |
| | % | % |
| Action Figures | 6.2 | 5.0 |
| Arts and Crafts | 3.7 | 11.0 |
| Building Sets | 9.0 | 20.0 |
| Dolls | 13.1 | 9.0 |
| Games/Puzzles | 10.1 | 10.0 |
| Infant/Preschool | 14.6 | 18.0 |
| Youth Electronics | 3.0 | 2.0 |
| Outdoor/Sports | 21.3 | 5.0 |
| Plush | 6.3 | 8.0 |
| Vehicles | 6.5 | 4.0 |
| All other Toys | 6.3 | 8.0 |
| Total | 100.0 | 100.0 |
Source: Klosters Retailer Panel
What stands out is the inordinately strong presence of Building Sets in the Specialty Market mix. I asked Bob Breneman of Willikers Toy Shop in Portsmouth, N.H., about it. This is what he had to say:
Lego is a strong seller in the construction toy category as are Magnatiles and Swivel-Snaps which are a great toy for STEM & STE(NYSE:A)M. What sets Swivel-Snaps apart from other construction toys is their flexibility and durability. It's a rare combination in a toy to have movement that doesn't break apart easily. Children like the satisfying click when connecting the pieces. As a general statement, we steer away from most mass-market lines to differentiate ourselves and we're less likely to be subject to the price comparisons on those readily available toy lines.
The other category that is clearly stronger at Specialty than at Mass is Preschool. I asked another specialty toy retailer, one located in New York City, about it. The owner said that the greatest change he had seen was the manner by which Mattel's and Melissa + Doug's learning toys had replaced Leapfrog and VTech. He also mentioned that the entire Learning category had shifted from consoles and software to developmental toys and that Mattel was now clearly the leader in this.
I spoke to Denis Normand of Denis Normand Consulting on the subject of these specialty stores. Denis knows the space well, having been SVP at Spin Master and EVP at Moose Toys. I asked him what it took for a toy manufacturer who previously totally depended on Toys "R" Us to now break into this channel. This is what he thought:
"Engaging good agents and distributors to gain entry to specialty stores, and new emerging channels, is an essential first step. New clients looking to break in must be prepared to present to the distributors and the retailers not only a great new innovative product, but also a strong, creative business and Go To Market plan to support their launch. Buyers are looking beyond blocking charts indicating social media and influencer use. They are well prepared and keen to understand how your brand or product will break through amongst the other options. A newcomer to this market must build on a comprehensive business plan and try to establish a success story for its brand. A good website and, a compelling social media presence are very good starts. Specialty Stores are a growing channel and well worth targeting, now more so than ever. The opportunity is now - one major distributor has told me that his bookings for fourth quarter are up 25%!"
For the smaller toy manufacturers who relied to an inordinate degree on Toys "R" Us both as a customer and as a showcase for their products, a pivot to the specialty stores channel would seem to be a logical and also essential strategy. It also appears to be an easy way of doing things – get a distributor who has lots of sales agents and watch the orders roll in. However, In my own experience, selling through distributors and their independent sales agents is not as quite straightforward as it sounds. Yes, it is a relatively inexpensive way to dip your toe into the water. However, you tend to get what you pay for – which is not very much. Sales agents tend to go for the low hanging fruit and unless you lower the tree branch yourself – through advertising, reaching out via social media, working with the directly as well and other means – you are unlikely to get very far. Yes, you will get retailer feedback through these sales agents and you will also get the occasional sale, but this is about it. To get real results, you will need to see the distributor and his sales agents simply as a tool to amplify your own efforts and it is these efforts that will get you the wide distribution and the retailer support you need.
Disclosure: I/we have no positions in any stocks mentioned, and no plans to initiate any positions within the next 72 hours. I wrote this article myself, and it expresses my own opinions. I am not receiving compensation for it (other than from Seeking Alpha). I have no business relationship with any company whose stock is mentioned in this article.