I've been striving for years now to find a fair and objective means of testing the relative merits of:
the HYI strategy of investing in investments such as CEFs, BDCs, mREITS and MLPs which pay high dividends or distributions - typically over 8% per year.
the DGI approach to investing in companies which pay dividends which are lower but grow consistently over time.
simple, "set and forget" S&P 500 index funds as recommended by Warren Buffett.
Proponents of each style of investing have touted "backstudies" which purport to prove the superiority of their favored investment philosophy. Others have written up how their own portfolios - after years of buying and selling, and not always within the parameters of their stated investment strategy - have performed. I've been trying to formulate a fair and verifiable test method which is unaffected by survivorship bias and the trading skills of individual investors.
"Backstudies" are almost useless for comparing the merits of differing investment philosophies.
In December 2014 Seeking Alpha author High Yield Investor published an article describing the backstudy he had made comparing the results of a HYI portfolio to a DGI portfolio between January 1, 2007 and December 31, 2013. High Yield 50/50 Portfolio Strategy Built With BDCs And MREITs. The conclusion? The HYI portfolio produced more than twice the total return of the DGI portfolio.
In March of this year SA author Dividend Pancake wrote an article doing a 20 year back test of the top 11 DGI investments recommended by Dave Van Knapp that month and concluded that if those stocks had been bought 20 years before, their combined return "would have delivered dramatically higher total returns than the S&P500." Back Testing David Van Knapp's High Quality Dividend Growth Criteria
And in 2016 I wrote up a back test that found that at that time for the past five years index>DGI>HYI. High Yield Vs. DGI Vs. Index Funds: 5-Year Backstudy Update
One problem with these exercises is "survivorship bias" in the choices of the components to backstudy for the portfolios. Any investments that have performed poorly over the years won't make the cut today in whichever screening process is used to pick the investments to study. You won't - can't - pick the stock of a company which has gone bankrupt or been dissolved. Survivorship bias tends to make current selections look better looking back than decisions made using the same standards in the past would have actually worked out going forward because bad choices that would have been made get washed out. In fact, the more "bad choices" a sector offers the better that sector will look in a backstudy.
The results of actively managed portfolios are skewed by the relative skill of the investor.
Tracking the results of actively traded portfolios assembled by an investor in accordance with his or her understanding of an investment strategy isn't a whole lot better, even though it's "forward looking." A skilled, knowledgeable investor will always do better than one who spends less time studying the market, is ruled by emotion, etc. Bad choices should get cut off - even at a current loss - minimizing their effect on the overall performance of the portfolio. So while most active portfolios should perform better than a static, "buy and hold" portfolio assembled at one point in time and studied for its performance going forward, that doesn't help too much in assessing the value of the investment philosophy underlying the investment choices. And I wanted to study the merits of the investment philosophy itself, not the skill of individual investors. (I have more comments on this below.)
So the problem presents itself: how do you formulate a study to assess the relative merits of DGI, HYI and Index investing that is not skewed by survivorship bias or the skill level of different investors?
Actual investment choices that would have been made in 2007 by DGI and HYI investors.
In the comments section of Dividend Pancake's article it was pointed out by several readers that the 11 investments included in that backstudy would not have been chosen 20 years before, making the conclusion pretty useless. I chimed in to point out that a "front" study based on Dave Van Knapp's actual portfolio from 10 or 20 years in the past would have been more valuable. And that got me thinking.
Why not find a representative list of the kind of investments a DGI or HYI investor would actually have made in 2007, just prior to the market peak, prior to the financial crisis, and prior to the long economic recovery following the Great Recession, and then see how that selection of investments would have performed going forward, over the next 11 years? So that's what this is.
DGI:
For the DGI test portfolio I turned to the list of S & P Dividend Aristocrats as of 2007. Some on the original list had merged, etc. and could not be tracked for purposes of this study. I ended up with 54: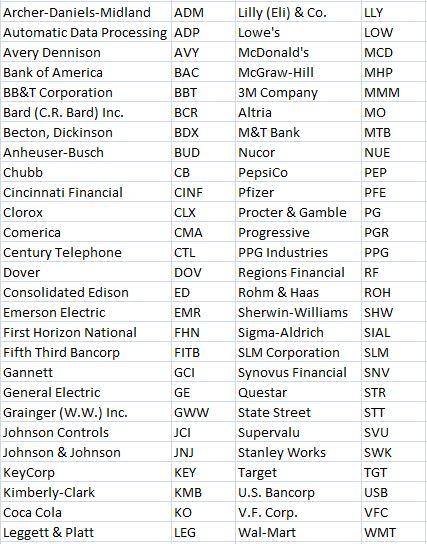 Those companies paid average dividends of about 3% in 2007 and all had increased their dividends year over year for many years, making them credible DGI picks in 2007.
HYI:
For the HYI portfolio I turned to a high yield "fund of funds" - Cohen & Steers Closed-End Opportunity Fund (NYSE:FOF) which invested in a variety of high yield funds, directly and indirectly holding CEFs, REITs and MLPs, and paying a distribution of over 8%. I dug up its year end SEC schedule of the funds it held in 2007. Many had merged or otherwise become unable to track and were excluded; two had been dissolved but I was able to track their performance through to their ends, so they were included. This is the resulting list of 52 of FOF's largest holdings representing about 90% of the total investment of the fund: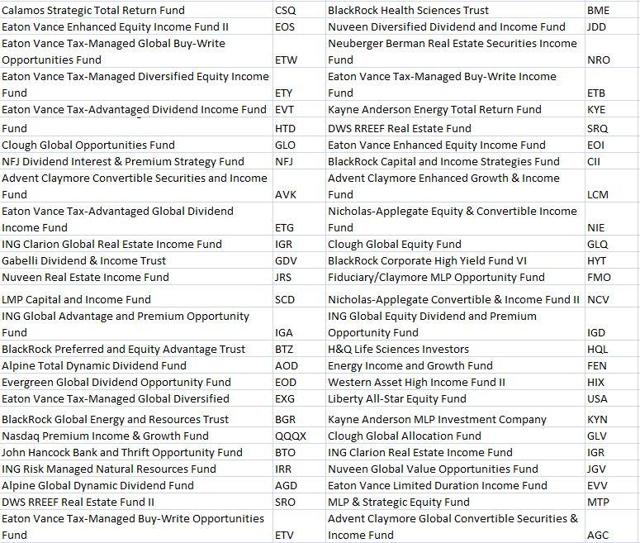 In 2007 those holdings had an average distribution yield of around 9% and represented a diverse variety of HYI investments.
Index fund.
In 2007 Warren Buffett bet that actively managed funds would not beat an S&P 500 index fund over time. Buffett's Million dollar bet. I chose SPDR S&P 500 ETF (NYSEARCA:SPY) as my index fund. SPY is not a static fund - it is based on the S&P 500 and therefore has a turnover of about 3-4% per year. However, it is a "set and forget" investment, and it is readily trackable and a fair representation of "the market" and the index fund investing philosophy.
The test.
The next step was to see the total return of each component of the portfolios over the ensuing decade with all dividends and distributions reinvested and compounded and determine the average return of the portfolio. I used the Dividend Channel drip returns calculator to crunch the data, and to provide, for comparison, the return from SPY over the same period of time (July 23, 2007 - July 20-23, 2018.)
These were my results:
DGI:
Total return (%) from July 23, 2007 to July 20-23, 2018
Archer-Daniels-Midland
ADM
65.11
Automatic Data Processing
ADP
336.51
Avery Dennison
AVY
113.44
Bank of America
BAC
-24.93
BB&T Corporation
BBT
84
Bard (C.R. Bard) Inc.
BCR
329.36
Becton, Dickinson
BDX
305.79
Anheuser-Busch
BUD
245.24
Chubb
CB
182.17
Cincinnati Financial
CINF
169.7
Clorox
CLX
181.69
Comerica
CMA
113.53
Century Telephone
CTL
-11.31
Dover
DOV
182.72
Consolidated Edison
ED
179.99
Emerson Electric
EMR
92.75
First Horizon National
FHN
-37.63
Fifth Third Bancorp
FITB
-3.75
Gannett
GCI
-68.63
General Electric
GE
-52.32
Grainger (W.W.) Inc.
GWW
350.67
Johnson Controls
JCI
195.21
Johnson & Johnson
JNJ
183.47
KeyCorp
KEY
-27.03
Kimberly-Clark
KMB
139.33
Coca Cola
KO
135.75
Leggett & Platt
LEG
237.85
Lilly (Eli) & Co.
LLY
138.17
Lowe's
LOW
313.31
McDonald's
MCD
327.22
McGraw-Hill
MHP
1.19
3M Company
MMM
195.47
Altria
MO
378.45
M&T Bank
MTB
122.21
Nucor
NUE
61.33
PepsiCo
PEP
139.33
Pfizer
PFE
135.7
Procter & Gamble
PG
74.37
Progressive
PGR
292.45
PPG Industries
PPG
230.76
Regions Financial
RF
-29.24
Rohm & Haas
ROH
37.03
Sherwin-Williams
SHW
605.47
Sigma-Aldrich
SIAL
240.29
SLM Corporation
SLM
-29.86
Synovus Financial
SNV
-27.69
Questar
STR
74.09
State Street
STT
42.55
Supervalu
SVU
-92.46
Stanley Works
SWK
201.8
Target
TGT
52.04
U.S. Bancorp
USB
111.42
V.F. Corp.
VFC
448.34
Wal-Mart
WMT
138.67
Average
144.09
SPY total return
127.53
Relative performance
+13%
HYI:
| | | |
| --- | --- | --- |
| Total return (%) from July 23, 2007 to July 20-23, 2018 | | % |
| Calamos Strategic Total Return Fund | CSQ | 137.2 |
| Eaton Vance Tax-Managed Global Buy-Write Opportunities Fund | ETW | 111.8 |
| Eaton Vance Enhanced Equity Income Fund II | EOS | 154.9 |
| Eaton Vance Tax-Managed Diversified Equity Income Fund | ETY | 113.4 |
| Advent Claymore Convertible Securities and Income Fund | AVK | 46.72 |
| John Hancock Tax-Advantaged Dividend Income Fund | HTD | 196.7 |
| Clough Global Opportunities Fund | GLO | 77.01 |
| NFJ Dividend Interest & Premium Strategy Fund | NFJ | 41.31 |
| Eaton Vance Tax-Advantaged Dividend Income Fund | EVT | 97.31 |
| Eaton Vance Tax-Advantaged Global Dividend Income Fund | ETG | 63.47 |
| ING Clarion Global Real Estate Income Fund | IGR | 4.79 |
| Gabelli Dividend & Income Trust | GDV | 127.9 |
| Eaton Vance Tax-Managed Buy-Write Opportunities Fund | ETV | 168.4 |
| LMP Capital and Income Fund | SCD | 73.29 |
| BlackRock Global Energy and Resources Trust | BGR | 26.85 |
| BlackRock Preferred and Equity Advantage Trust | BTZ | 45.96 |
| Alpine Total Dynamic Dividend Fund | AOD | -15.02 |
| Evergreen Global Dividend Opportunity Fund | EOD | 11.64 |
| Eaton Vance Tax-Managed Global Diversified | EXG | 82.53 |
| ING Global Advantage and Premium Opportunity Fund | IGA | 82.68 |
| Nasdaq Premium Income & Growth Fund | QQQX | 260.7 |
| John Hancock Bank and Thrift Opportunity Fund | BTO | 150 |
| ING Risk Managed Natural Resources Fund | IRR | 12.92 |
| Alpine Global Dynamic Dividend Fund | AGD | -26.22 |
| DWS RREEF Real Estate Fund II | SRO | -91.6 |
| Nuveen Real Estate Income Fund | JRS | 38.13 |
| BlackRock Health Sciences Trust | BME | 306.9 |
| Nuveen Diversified Dividend and Income Fund | JDD | 96.15 |
| Neuberger Berman Real Estate Securities Income Fund | NRO | 8.59 |
| Eaton Vance Tax-Managed Buy-Write Income Fund | ETB | 121.2 |
| Kayne Anderson Energy Total Return Fund | KYE | -20.68 |
| DWS RREEF Real Estate Fund | SRQ | -74.26 |
| Eaton Vance Enhanced Equity Income Fund | EOI | 114.8 |
| BlackRock Capital and Income Strategies Fund | CII | 133.3 |
| Advent Claymore Enhanced Growth & Income Fund | LCM | 18.7 |
| Clough Global Equity Fund | GLQ | 103.2 |
| Nicholas-Applegate Equity & Convertible Income Fund | NIE | 132.6 |
| BlackRock Corporate High Yield Fund VI | HYT | 135.1 |
| Fiduciary/Claymore MLP Opportunity Fund | FMO | 27.3 |
| Nicholas-Applegate Convertible & Income Fund II | NCV | 82.66 |
| ING Global Equity Dividend and Premium Opportunity Fund | IGD | 40.17 |
| H&Q Life Sciences Investors | HQL | 271.1 |
| Energy Income and Growth Fund | FEN | 85.45 |
| Western Asset High Income Fund II | HIX | 103.1 |
| Liberty All-Star Equity Fund | USA | 87.61 |
| Kayne Anderson MLP Investment Company | KYN | 32.3 |
| Clough Global Allocation Fund | GLV | 66.77 |
| ING Clarion Real Estate Income Fund | IGR | 4.79 |
| Nuveen Global Value Opportunities Fund | JGV | 38.63 |
| Eaton Vance Limited Duration Income Fund | EVV | 85.08 |
| MLP & Strategic Equity Fund | MTP | 15.83 |
| Advent Claymore Global Convertible Securities & Income Fund | AGC | -14.46 |
| | | |
| Average | | 76.82 |
| SPY total yield, 7/2007 - 7/2018 | | 127.53 |
| relative performance: | | -40% |
Performance of actively managed portfolios vs. static portfolios.
DGI produced results which were better than SPY and almost twice the return of HYI in a static portfolio test.
But what about an actively managed portfolio? (I knew people would object to my protocol, so I looked at this as well.) For this data I could look at FOF as managed through the years, but beyond that I had to rely on the reporting periods of the people involved. While many people write about their investment portfolios on Seeking Alpha, most do not provide trackable results over an extended period of time. I found the following:
HYI:
FOF 2007-2018: -30% vs. SPY
I used the bulk of FOF's holdings for my HYI portfolio, but FOF itself is not a static portfolio - it is an actively managed "fund of funds." So how did FOF perform over the same time period? FOF had a total return, with reinvested dividends, of 89.93%. That's 20% better than the static portfolio, but still trails SPY by 30%.
High Yield Investor and Steven Bavaria 2014-2018: -30% vs. SPY
In my previous 4 1/2 year comparison of HYI vs. SPY in High-Yield Investment Strategy Fails I found that an investment portfolio composed primarily of the components of the portfolios of High Yield Investor and Steven Bavaria published in 2014 had a total return from May 2014 to July 2018 of less than half the return of SPY over that same period. But both of those investors reported that their actively managed portfolios actually returned between 66% and 69% of SPY's return over roughly comparable periods. [see Conclusion] Again, active portfolios performed better than the static one did, but still trailed SPY by about 30+%.
DGI:
Dave Van Knapp 2008-2016: +10% vs. SPY
Since it was a discussion of Dave Van Knapp's "DGP" dividend growth portfolio that triggered this, it's only fair to see how his portfolio fared. With the guidance of an article on FinancialDave's Blog and the use of the Wayback Machine I was able to find a copy of an article in which Dave Van Knapp set out the components of his DGP portfolio as of May, 2008. These were the choices Dave Van Knapp actually made back then when he had fully funded his DGI portfolio in May 2008:
The last time David Van Knapp updated the progress of his "DGP" portfolio on Seeking Alpha was January 1, 2017, reporting results from June 1, 2008 to December 31, 2016. He reported that his portfolio, as actively managed over the years, had returned 101% of his initial investment. [see Dividend Growth Portfolio - 2016 Review And 2017 Preview.] His initial 2008 portfolio would have returned 102.3% from June 1, 2008 to December 31, 2006 if left alone. SPY returned about 92% over that period, so his actual return (and the static return from his original portfolio) both beat the index by about 10% - pretty close to the margin by which the larger DGI portfolio in this study outperformed SPY.
Part Time Investor, 2012 - 2018, +6% vs. SPY
The Part Time Investor reported that his K.I.S.S. DGI portfolio had outperformed SPY by 9% during the five years from 2012-2017, [see K.I.S.S. Portfolio] but lagged SPY by 3% during the first half of 2018 for a net of about +6% [see Q2 update.]
And what about DGI index funds?
NOBL 2013-2018: -12% vs. SPY
ProShares S&P 500 Dividend Aristocrats (NOBL) is a fund started in October 2013 based on an index of large cap dividend aristocrats. It has an annual turnover rate of 16%. Since its founding, it has underperformed SPY by about 12%. (I provided incorrect information about this in a previous article, based on flawed data from Dividend Channel.)
REGL, 2015 - 2018: -4% vs. SPY
ProShares S&P MidCap 400 Dividend Aristocrats (REGL) is a fund of mid cap dividend aristocrats started in February 2015 with an annual turnover rate of 25%. Since it started it has underperformed SPY by about 4%.
Conclusion
There's a lot of data points here. I expect to get a lot of tl;drs. But for the average investor seeking guidance about how to invest his or her retirement savings the results consistently support an objective conclusion: With DGI you have a reasonable prospect of beating "the market" as represented by SPY, particularly over a longer period of time.
With a HYI portfolio of high-yielding CEFs, BDCs, MLPs and mREITs you probably don't. A diversified portfolio composed of those elements has consistently had returns that are about 30% lower than the market as a whole over long periods with varying economic conditions, even when actively managed by skilled investors who reinvest their dividends on an ongoing basis.
Disclosure: I am/we are long ED, JNJ. I wrote this article myself, and it expresses my own opinions. I am not receiving compensation for it (other than from Seeking Alpha). I have no business relationship with any company whose stock is mentioned in this article.
Editor's Note: This article covers one or more microcap stocks. Please be aware of the risks associated with these stocks.