This report covers the week ending July 27, 2018. Daily data for July 21 to July 26 is estimated. Daily data for July 27 is forecast.
TOTAL SUPPLY/DEMAND BALANCE
We estimate that aggregate demand for American natural gas (consumption + exports) totaled around 535 bcf last week (down 1.0% w-o-w, but up 7.0% y-o-y). The deviation from the norm stayed positive, but declined slightly: from +22% to +21% (see the chart below). According to our calculations, aggregate demand for U.S. natural gas (on a weekly basis) has been above 9-year norm since February 24, 2017. The weather conditions cooled down a bit – especially in Central and Midwest parts of the country. We estimate that the number of cooling degree-days (CDDs) dropped by some 3.0% w-o-w, but were still as much as 9% above last year's level.
Total exports were essentially flat. According to Marine Traffic data, no less than six LNG tankers (total natural gas carrying capacity of 21 bcf) departed from Sabine Pass over the past seven days. Also, two vessel (6 bcf capacity) has departed from Cove Point. In annual terms, total exports were up 32.0%.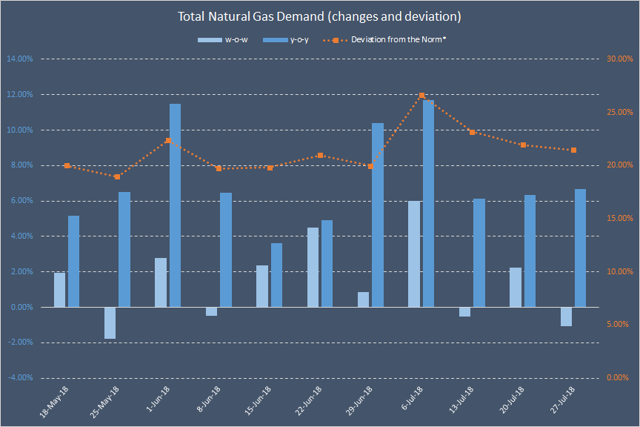 * norm defined as simple average over the last nine years. Source: Bluegold Research
We estimate that dry gas production has been expanding in annual terms for 60 consecutive weeks now. While daily output is up only 4.2% (or 3.2 bcf) since last December, annual growth rate still appears strong due to base effects. Currently, we estimate that dry gas production will average 81.6 bcf/d in July, 82.0 bcf/d in August and 82.7 bcf/d in September. The aggregate supply of natural gas (production + imports) averaged around 90.0 bcf per day for the week ending July 27 (up 11.0% y-o-y, but flat w-o-w). Overall, total supply/demand (NYSE:SD) balance should be positive at around 96 bcf. The volume is some 9 bcf larger than a week ago and 9 bcf above 5-year average for this time of the year (see the chart below).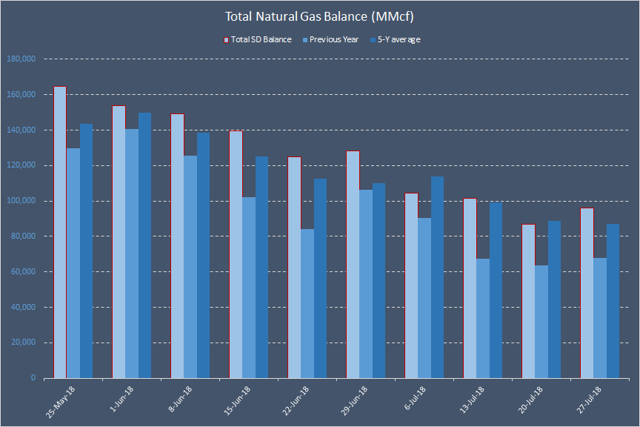 Note, that the total Supply-Demand Balance does not equal storage flows. Source: Bluegold Research
In the simplest of terms, and with all other things being equal, this kind of volume is bearish for natural gas prices, since it is above last year's level and also above the historical norm. However, the market is forward-looking and this week's data is, to some extent, irrelevant for traders. The price is often a function of a 2-week weather forecast, but as we are moving in the shoulder season, other factors start to play an important role.
STORAGE AND TRADING
Winter forecast and the adequacy of natural gas inventories are beginning to preoccupy traders' minds. Indeed, we have noticed a sharp increase in open interest for some of the ICE's financial gas products – notably, EIO-EIA End of Storage Index Future. That index currently stands at 3,455 bcf, which we still believe is a bit too optimistic. Our own EOS storage index is currently at 3,337 bcf. So there is still a 118 bcf "bullish gap" between our projection and market expectations. This "bullish gap" is the primary reason why we have been focusing more on long positions rather than on short positions throughout this injection season. It is also the primary reason why, most recently, we have been confidently buying the dips in August and September contracts.
However, now that September contract has reached a strong resistance near 2.794-2.800, it is time to take some profit off the table. We have significantly reduced our long exposure today – firstly, to pocket the profit, but also to carry less risk over the weekend.
This Thursday, the EIA reported an injection of 24 bcf. Total storage now stands at 2,273 bcf, which is 557 bcf (or 19.68%) below 5-year average for this time of the year. Currently, we expect EIA to report an injection of 43 bcf next week (final estimate will be released on Wednesday). Even, if we are incorrect in our assessment, it is almost a certainty that next week EIA will confirm that storage level has declined below 5-year minimum. We predicted this almost two months ago – see this article.
Overall, at this point in time, we expect storage flows to average +49 bcf over the next three reports. Natural gas inventories deviation from 5-year average should expand from -557 bcf (-19.68%) today to -563 bcf (-18.88%) for the week ending August 10.
Thank you for reading our weekly report. We also write a daily update of our forecast for key natural gas variables: weather, production, consumption, exports, imports and storage. Interested in getting this daily update? Sign up for Natural Gas Fundamentals, our Marketplace service, to get the most critical natural gas data.
Disclosure: I/we have no positions in any stocks mentioned, and no plans to initiate any positions within the next 72 hours. I wrote this article myself, and it expresses my own opinions. I am not receiving compensation for it (other than from Seeking Alpha). I have no business relationship with any company whose stock is mentioned in this article.