Breakout Forecast Selections for Week 31:
Market conditions continue with low breakout momentum and worsening negative momentum. The positive momentum gauge continues to decline into the red at 23 down from a value of 27 at the end of the prior week. These low momentum conditions signal a reduction in momentum selection reliability - be cautious.
The negative momentum gauge increased from a low value of 18 last week to a medium value of 40 for negative momentum. The all time low for the positive momentum selection gauge is 8 during week 14 of 2018 and all time high is 120 during August 2017. Last published report: Week 30 Breakout Forecast

My momentum gauges are based on the count of the momentum stocks screened as either positive accelerating and negative accelerating stocks based on my research algorithm. The combination of the two different types of momentum categories screened by my algorithm may help validate the quality of the overall market momentum strength.
Total Return Chart: +77.27%
The Total Return Chart reflects total return of all stocks in the weekly portfolio.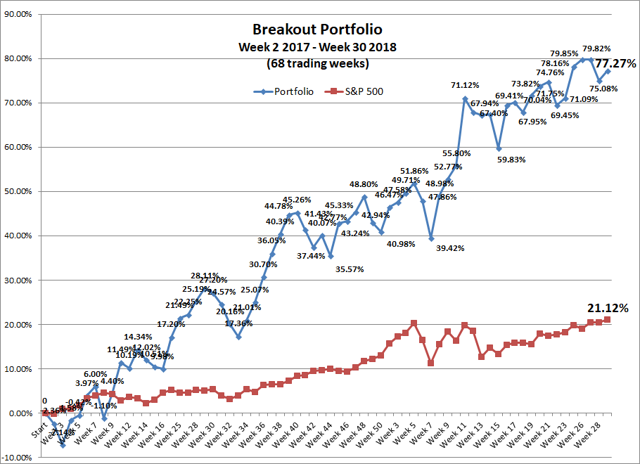 Market fund flow update July 27 from ETF.com:
Fired up by the week's good news, investors pushed the S&P 500 to as high as 2,848 on Wednesday, less than 1% below its record high set in January. Though it slipped back by week's end, investors remained optimistic, adding $6.6 billion to U.S.-listed ETFs, including $6.2 billion into U.S. equity ETFs, during the week ending Thursday, July 26.

Year-to-date inflows now stand at $143.6 billion. ~ ETF.com
This week I have selected 8 breakout stocks from the following sectors: 2 services, 2 healthcare, 2 basic materials, 1 consumer goods, and 1 technology.
The two sample selections from the eight positive momentum stocks for this week include:
Harvard Bioscience (HBIO) - Healthcare / Medical Instruments & Supplies
Solaris Oilfield Infrastructure (SOI) - Basic Materials / Oil & Gas Equipment & Services
Thumbnail images of the Breakout Forecast Portfolio Week 31

Caution: These stocks are not necessarily recommended for long term buy/hold unless you are comfortable with very large price swings. As I continue to observe, strong momentum events usually last from one to three weeks and may encounter some substantial decline before returning again to positive gains.
Note: These are the most volatile selections I offer from among all the different Value & Momentum portfolios. Proposed entry points for each of the selected stocks are as close to the highlighted prices in yellow on the charts at market open. All stocks are selected for high short-term breakout results over one to three weeks.
Breakout Stock Selections for Week 31
Note: all breakout stocks are selected based on my algorithm to increase the frequency of 10% gains within a short period of time. Price targets are estimated through an unrelated technical charting process for those who are looking for estimated exit points, however it is possible the momentum in these selections may move well beyond the initial target.
Harvard Bioscience (HBIO) - Healthcare / Medical Instruments & Supplies

Price Target: 7.00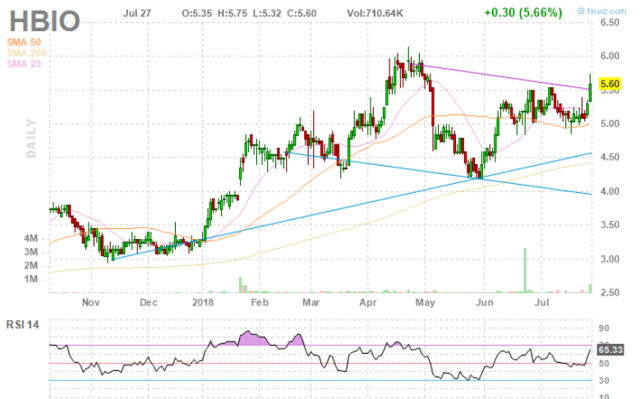 Harvard Bioscience, Inc. develops, manufactures, and markets scientific instruments, systems, and lab consumables used in life science basic research, drug discovery, and clinical and environmental testing.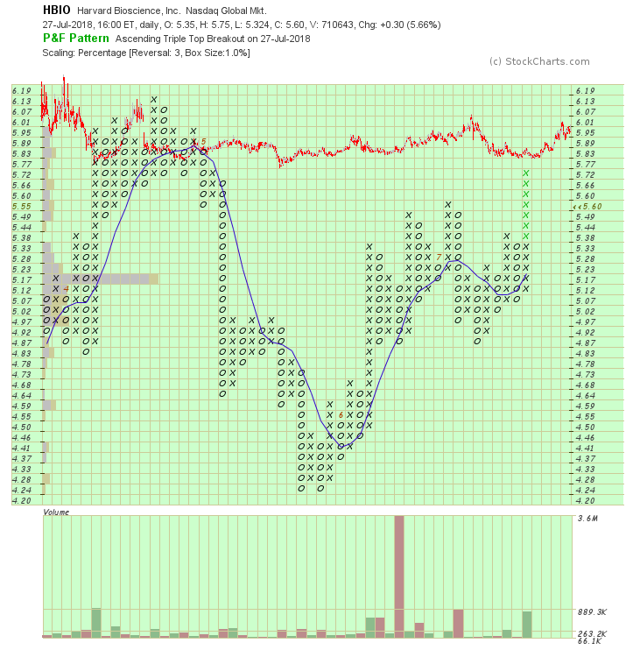 Solaris Oilfield Infrastructure (SOI) - Basic Materiasl / Oil & Gas Equipment & Services

Price Target: 17.00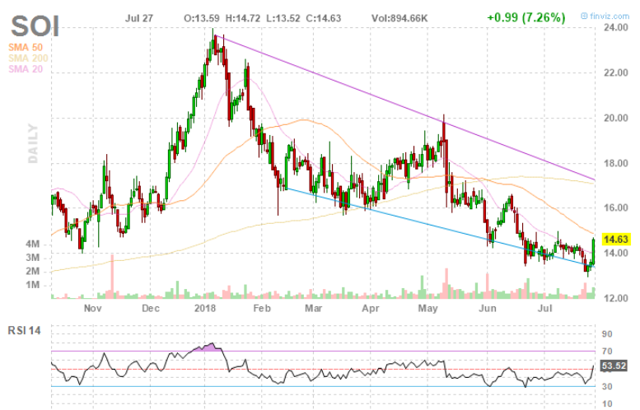 Solaris Oilfield Infrastructure, Inc. manufactures and sells patented mobile proppant management systems to unload, store, and deliver proppant at oil and natural gas well sites in the United States. The company's systems are designed for transferring large quantities of proppant to the well sites.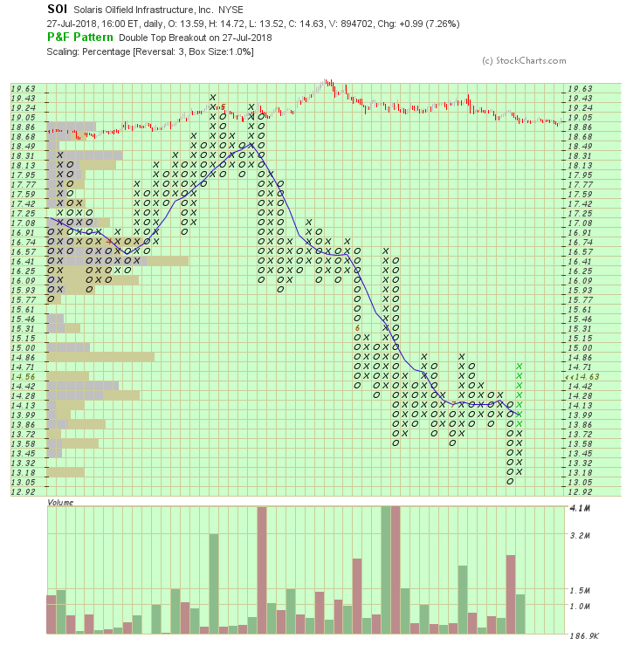 2018 Chart: +36.08% YTD
Cumulative return with 1-Week holding period.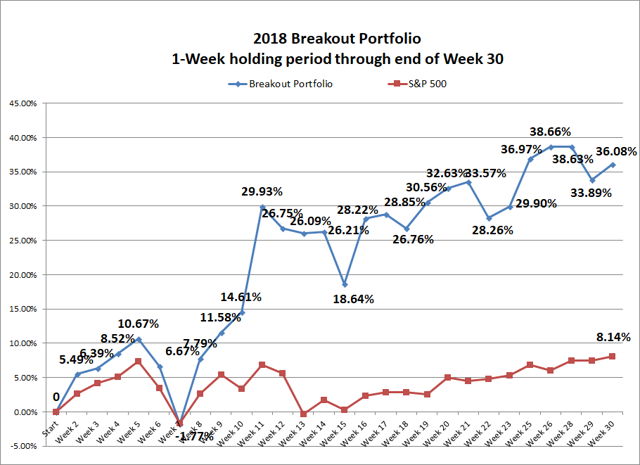 Performance Results
Total Breakout portfolio returns from prior weeks are listed below to illustrate the rolling returns of prior top performers and total portfolio returns beyond 1 to 3 weeks of initial momentum selection:
| | |
| --- | --- |
| Breakout Forecast | Portfolio gains past 5 weeks / Top 3 Performing Stocks |
| Week 26 | -5.63% / (ATTU) +32.08% (TST) +15.46% (NR) -2.55% |
| Week 25 | -17.12% / (QTNT) +9.85% (AIRG) +5.17% (MOBL) +1.06% |
| Week 23 | 0.00% / (BVX) +16.75% (MEIP) +8.09% (GEMP) +4.55% |
| Week 22 | -0.30% / (BPI) +83.33% (VSTO) +3.75% (MNTX) -1.08% |
| Week 21 | -3.32% / (VTL) +23.44% (RUBI) +20.24% (GALT) +9.43% |
*The most current weekly portfolio results (including all the value and forensic portfolios) are available to subscribers HERE.
Long Term Portfolio Returns
As a reminder of the other longer term portfolios being tracked and updated regularly with portfolio spreadsheets listed in the Tools section, here are the returns through Week 30.
Planned Portfolio Report Schedule*
The new Piotroski-Graham enhanced value portfolio has been released for July and can be found HERE as part of the alternating formation schedule with the Forensic portfolios as shown below. The annual Russell 3000 anomaly selections for 2018/19 have also just be released and can be found HERE.
The Positive and Negative Forensic Portfolios for August are about to be released.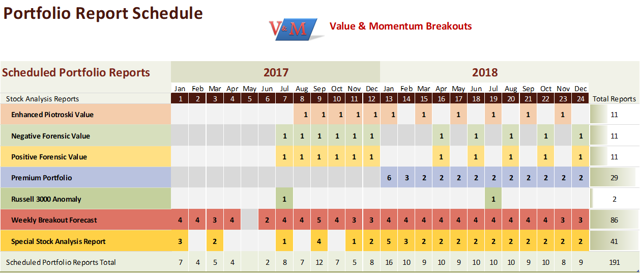 * subject to changes as life unfolds
Please click the "Follow" button at the top of the page to enjoy free updates and select real-time alerts if you want the most timely updates on the progress of each of the different portfolios I offer that are outperforming the S&P 500 in each of their respective time periods.
To Subscribe to Value & Momentum Breakouts, click on the link HERE.
I think these breakout stocks will serve you well in Week 31 and beyond. I hope you all do well with these stocks and always diversify to minimize some of the market risks. All the very best, and have a great week of trading!
JD Henning, PhD, MBA, CFE, CAMS
Disclosure: I/we have no positions in any stocks mentioned, but may initiate a long position in HBIO, SOI over the next 72 hours. I wrote this article myself, and it expresses my own opinions. I am not receiving compensation for it (other than from Seeking Alpha). I have no business relationship with any company whose stock is mentioned in this article.
Editor's Note: This article covers one or more microcap stocks. Please be aware of the risks associated with these stocks.