Midstream outpaced the broad market and posted a fourth straight positive week. MLPs again led the way, with a 1.5% gain. The MLP Index is up 4.7% over those 4 weeks. The Alerian Midstream Energy Index (AMNA), the most inclusive midstream index, was up 0.9% and has posted a year-over-year total return of 0.1%, slightly ahead of the Alerian MLP Index.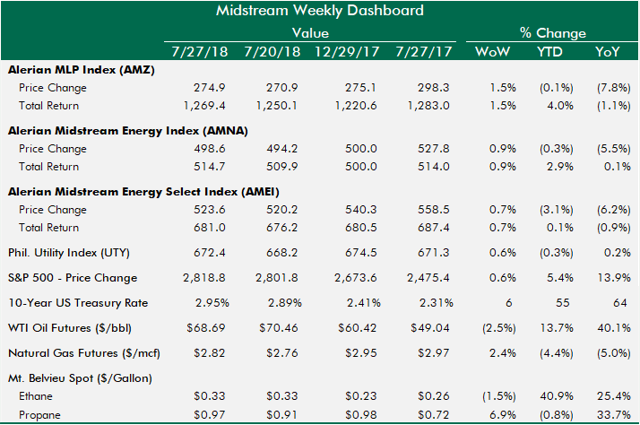 Earnings momentum is continuing: MPLX was the second of the mega cap midstream companies to report strong results, and several other MLPs posted encouraging results, project updates and fresh expansion plans. But it's still just a taste. Next week, Enterprise Products Partners (NYSE:EPD), Williams Companies (NYSE:WMB), ONEOK (NYSE:OKE), TransCanada (NYSE:TRP), Enbridge (NYSE:ENB), Buckeye Partners (NYSE:BPL), and Magellan Midstream (NYSE:MMP) all report.
While the broad market was rocked by a few high-profile tech disappointments, and while some early producer results have disappointed, midstream results have been steady, which may lead to further rotation into midstream if the trend continues.
Pulling Teeth - Drop Down MLPs Stalling
A few notable refinery-backed MLPs also reported this week. Refinery results have been very strong and high utilization drove strong results for refinery-sponsored MLPs. But on conference calls, Q&As about strategic outlooks have had the familiar feeling to those of us with kids in the 8-12 age range.
After a long day of school or camp, my kids have little interest in telling me any details on their day. "How was your day?" "Fine." It takes extensive interrogation to get the smallest incremental detail, and it can get frustrating.
That same feeling of pulling teeth was evident on conference calls of a few refinery-sponsored MLPs this week. One management team refused to give any indication on strategic growth from here or when an update of said outlook would be coming. The other was coy on future growth, indicating they would calibrate growth in 2019 to maintain top-tier status among peers, which seems arbitrary and doesn't inspire much confidence.
Drop-down MLPs were originally sold on the strength of their potential drop-down backlogs and the growth visibility afforded by the combination of that backlog and healthy capital markets. With equity capital markets still in a state of atrophy today, that original plan is not viable.
Some MLPs originally setup as drop-down vehicles have matured into MLPs able to grow with development projects ("organic growth"). Others appear to be stalling in case the equity markets return and the original plan can be employed. They don't appear to have a back-up plan. It's like towards the end of the movie Speed, when Keanu Reeves' character starts driving the bus around in circles at an airport to buy time until he can figure out a plan.
Capital markets are not going to return to their prior health. Extreme IDR valuations and GP IPOs aren't coming back. Patience is not the answer, it's just a waste of time.
Winners & Losers
Non-midstream MLP HCLP spiked Monday after its big distribution announcement and finished the week up 40%. HESM was the only traditional midstream MLP in the top 5, taking advantage of its quarterly opportunity in the spotlight.
In the bottom 5, AMID was the worst performer, crushed after its surprise 75% distribution cut Friday. DM gave some of last week's gains back this week. EQM is still a quarter or two away from the big catalysts the market is waiting on. BPMP sold off hard with other drop-down MLPs Friday, and MMLP was down after selling a high-quality midstream asset when it has few of those to spare, although the multiple received was high.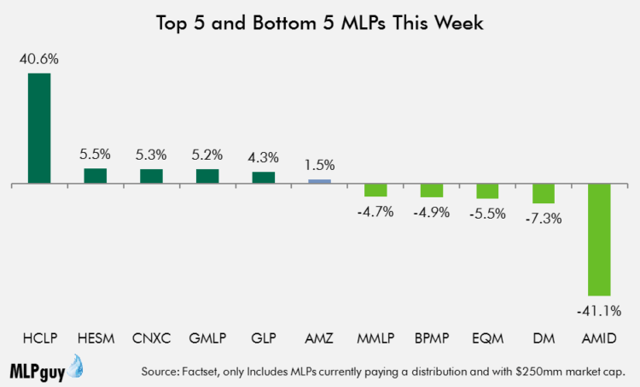 HCLP was in the bottom 5 last week and AMID was in the top 5. On the YTD leaderboard, HCLP leapfrogged all others in last week's top 5. AMID joined the bottom 5, near the bottom. Looking at the bottom 5 worst performing MLPs this year, 3 have cut their distribution (TCP, BKEP, AMID), one is expected to cut its distribution (BPL), and the other is DM.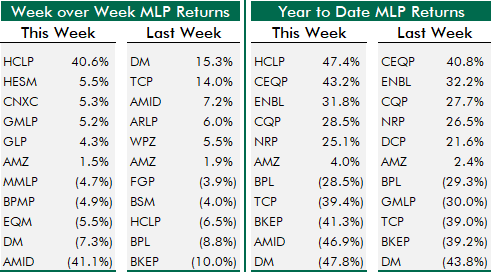 General Partner & Midstream Corporations
Fewer fireworks in the midstream corporation and GP group this week, and the group overall underperformed MLPs slightly. EQGP was the big outlier, down 6% after earnings this week. TGE was the biggest winner.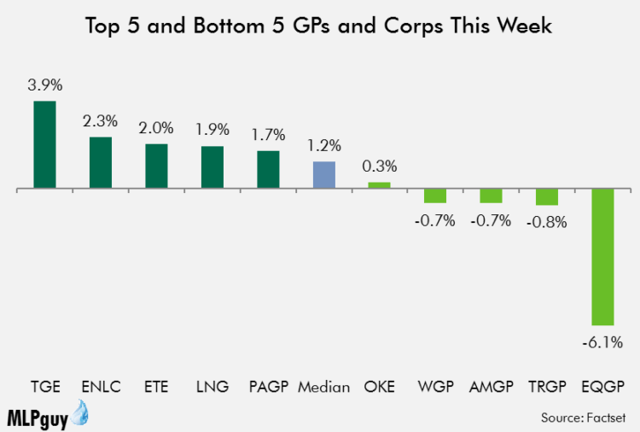 TGE, ETE and ENLC were all in the top 5 last week. EQGP repeated at the bottom of the group. OKE made it a second straight week in the bottom 5, which we haven't seen all year. On the YTD leaderboard, OKE remains well ahead. In the race for second place, PAGP climbed ahead of TRGP.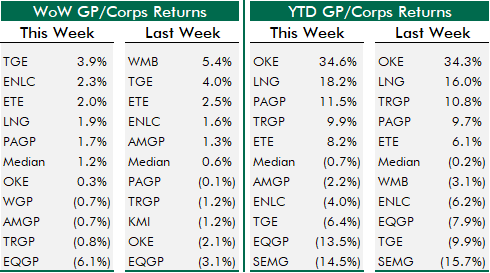 Canadian Midstream
Even less excitement in stock prices north of the border. TRP slightly underperformed, KML and GEI slightly outperformed.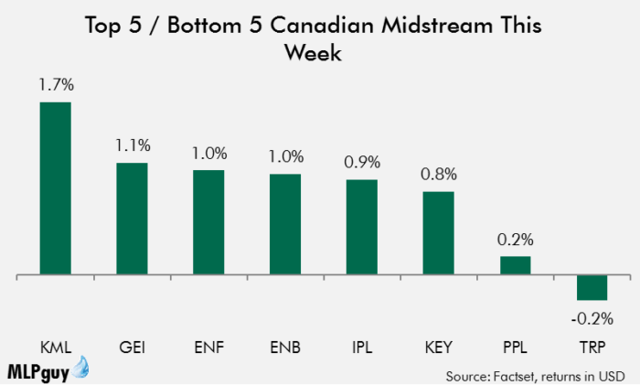 YTD, Canada continues to lag MLPs and U.S. corporations. Just 2 of 8 stocks are positive, although none are down double digits either.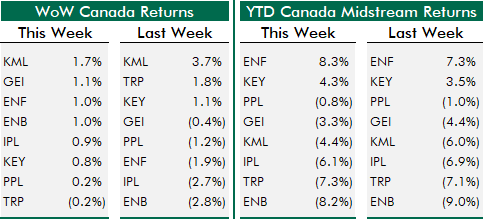 News of the (Midstream) World
Busy, busy week of distribution announcements, earnings, project updates, and an asset swap. And earnings season hasn't even reached cruising altitude yet. Fasten your seatbelts.
Capital Markets
Hi-Crush Partners priced $450mm of 9.5% senior notes due 2026 at par (press release)
Growth Projects / M&A
ONEOK announced the acquisition of Martin Midstream's 20% interest in the West Texas LPG Pipeline for $195mm (press release)

OKE will become the sole owner of the West Texas LPG after the expected closing on July 31
Williams Partners (NYSE:WPZ) and Crestwood (NYSE:CEQP) announced expansion of 50/50 JV Jackalope Gas Gathering System and associated Bucking Horse gas processing facility in the Powder River Basin (press release)

Bucking Horse capacity will be increased from 120 MMcf/d to 145 MMcf/d by the end of 2018 and a second plant will be added on the current Bucking Horse footprint adding an additional 200 MMcf/d by the end of 2019

CEQP also provided updates to its Delaware Basin development program (press release)

Summit Midstream (NYSE:SMLP) announced agreement with XTO Energy, an Exxon (NYSE:XOM) subsidiary, to become a foundation shipper on SMLP's Double E Pipeline project under a 10-year take-or-pay agreement (press release)

SMLP and XOM also executed an equity option which provides XOM the right to become an equity partner in Double E

Double E is an interstate natural gas pipeline with various receipt points in the Delaware Basin, New Mexico, and Texas and delivery points around the Waha Hub

SMLP will launch a binding open season in August and expects initial throughput capacity will total in excess of 1 Bcf/d
MPLX announced expansion of its Permian infrastructure (press release)

MPLX recently completed definitive agreements with Kaiser-Francis Oil Company where MPLX will develop a 200 MMcf/d gas processing plant in Loving County, TX, and natural gas gathering infrastructure in Lea County, NM

MPLX also acquired a 10% equity interest in the Agua Blanca Pipeline which is fully subscribed at 1.4 Bcf/d and can be expanded to 2 Bcf/d
EPIC Crude Oil Pipeline announced successful completion of its first open season adding Diamondback Energy (NASDAQ:FANG) as a strategic partner and signing new primary shippers (press release)

Shippers have now secured 425,000 bpd of capacity on the Permian-to-Corpus Christi pipeline with FANG having 50,000 bpd and other shippers securing 200,000 bpd

FANG also acquired an option for a 5% equity stake in the pipeline, bringing total option interests outstanding to 50% (including NBL at 30% and APA at 15%)

EPIC is beginning a second open season on August 1 and considering upsizing from a 24-inch line to a 30-inch line
Hi-Crush Partners announced acquisition of FB Industries and an amendment to an existing supply agreement (press release)
Distribution Announcements
38 distribution announcements this week, which ranged from very high (HCLP) to very low (AMID) and everything in between

In total this quarter, I tally 62 distribution/dividend announcements in U.S. midstream

30 increases, 30 flat and 2 cuts (AMID, BKEP)

BPL next week will be closely monitored, but beyond that we are close to finished with the quarterly distributions