In June, I introduced our Option Dividend Strategy to seek annual cash flow returns of 10-12%+ utilizing a combination of dividend income and option premium income. To illustrate how the strategy works, I presented a table of 5 equities with dividend yields of at least 2%. If interested, I would suggest you read my previous article to get the gist of how the strategy works. In any event, the following 2 tables are the ones used in the article. They summarize the dividend and option income for the July options cycle: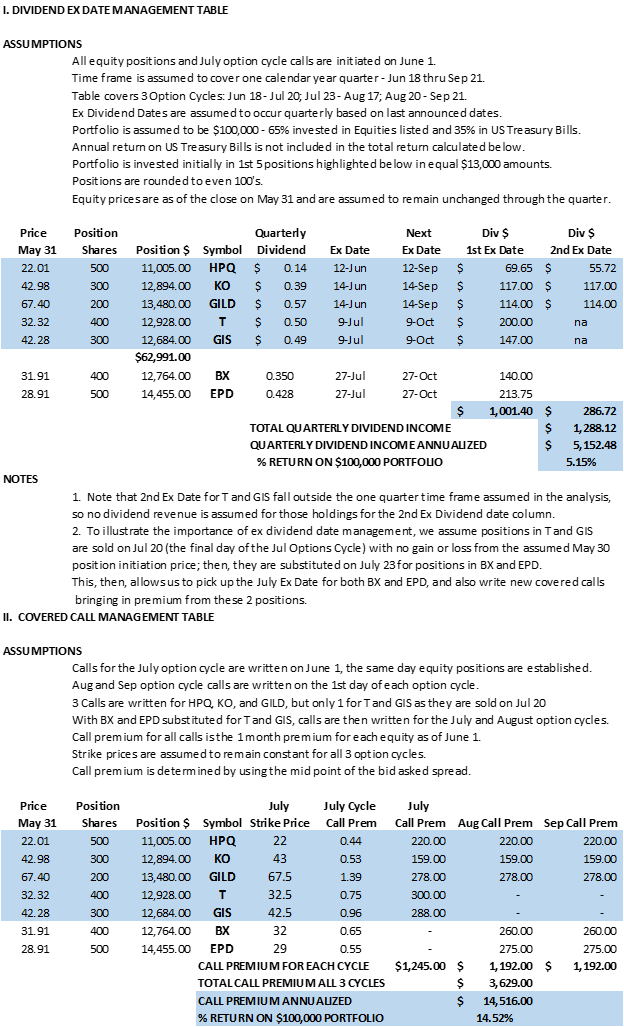 With the July option cycle ending this past Saturday (July 21), I thought it would be helpful to examine how well this introductory portfolio actually performed during the July cycle and to establish new positions as necessary for the current August options cycle. The following table shows the actual premium taken in from writing the July covered calls, dividend income realized, and the realized equity gain/loss for the cycle. The actual cash flow during the cycle represented a 1.6% return for the period, and an annualized 16.57% return.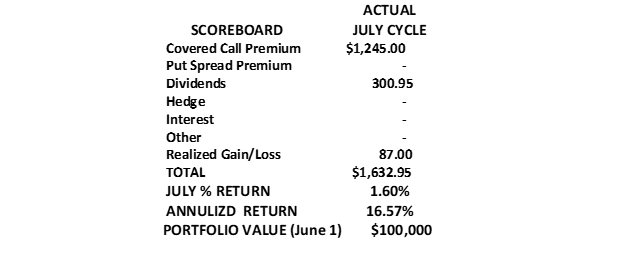 However, given the increase in price of 4 of the equity positions (HPQ, KO,GILD,GIS) at expiration, above the July option call strike price, we assume these shares would have been called away leaving us with only T (AT&T) from our original 5 positions, and, therefore, the necessity to add 4 new positions to maintain our 5 position portfolio. I should also mention that the 4 equity positions that were called away, resulted in a small, net realized gain of $87. To maintain our 5 stock portfolio, 4 new positions have been added for the current August options cycle: TWO (Two harbors Investment Corp), BPL (Buckeye Partners LP), HSBC (HSBC Holdings plc, and WMT (Walmart Stores). I have also added an August credit put spread for SKT (Tanger Factory Outlet Centers). The key factors used for selecting these and all portfolio equities are: general analyst support, stock is fundamentally cheap on key metrics, dividend yield is above 2%, option premium is attractive, ex dividend date is within the current options cycle, and stock is cheap on a technical basis. Any equity included in the portfolio should meet or surpass at least 4 of these 6 conditions
The following 2 tables illustrate the current equity positions, option income and dividend characteristics of the portfolio for the August options cycle: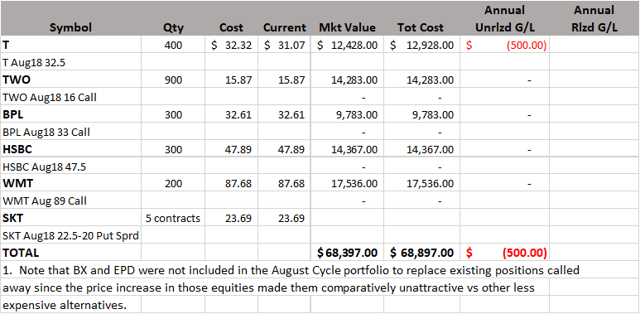 If we extend our Scoreboard above to include the August options cycle, we can get a pretty good idea of what performance of the portfolio should look like for August compared to July. Obviously, we can't know at this moment how changes in the market will impact our equity positions, but we do know what our call premium and dividend income will be for the cycle, assuming strike prices do not end up in the money.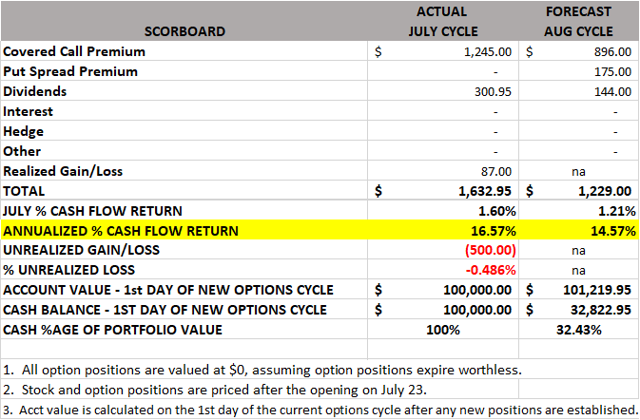 There are numerous other factors to consider when managing this type of portfolio. You will notice, for example, that given the small loss in T, we have an unrealized loss of $500, or .49%, as we move into the August options cycle. Given the fact that we are normally not more than 70% invested at any given time, I typically do not become concerned until the unrealized loss exceeds 5%.
I've found that over the almost 10 years that I have been involved in this strategy, that it does require regular investor attention. It is most certainly not a "buy and forget" kind of strategy. I find that if I can devote at least 5 hours per week to equity analysis and trading that I can realize the 10-12%+ returns I am shooting for. Frankly, I do most often spend a good bit more time than 5 hours per week because I enjoy the process of searching out new stocks for my portfolio. Normally, I keep an "approved list" of about 20-30 equities that I am essentially agnostic about owning and meet my investment criteria described above. If any of my positions are called away because I am assigned on my covered calls (as occurred during the July options cycle that just ended), I know I will always have a replacement that meets my criteria for portfolio inclusion. I also keep an up to date "watch list" consisting of another 20 – 30 equities that don't quite meet my criteria but are close.
You'll notice that there are several other categories in my scoreboard above. Covered calls and dividends are my primary sources of cash flow, but occasionally, I do like to use credit put spreads for equities that are on my approved list and that I am comfortable owning should they be assigned to me during an options cycle. The August put spread included for the current cycle, the SKT Aug 22.5 – 20 put spread, offered an attractive premium for putting on the spread as well as a 5%+ dividend yield if indeed I did end up owning the stock. Most importantly, and as most SA readers who follow Tanger Factory Outlet Centers will agree, SKT is a quality REIT with solid upside. Whether my put spread expires worthless and I simply keep the call premium, or if I am assigned the stock and I write a covered call on the position and book the dividend going forward, I would anticipate superior cash flow returns for SKT.
From time to time, I will employ other option strategies that offer solid returns with acceptable risk. I should also mention that options strategies can be quite complex. Typically, I stay away from the more complex kinds of options trades and focus on strategies that are easy to understand and where risk/return is easily measured. I plan on discussing these strategies in greater detail in future articles.
As always, comments are very much welcome.
Disclosure: I am/we are long HPQ, KO, GILD, T, GIS, TWO, BPL, HSBC,WMT,SKT. I wrote this article myself, and it expresses my own opinions. I am not receiving compensation for it (other than from Seeking Alpha). I have no business relationship with any company whose stock is mentioned in this article.