My model for business is The Beatles. They were four guys who kept each other's kind of negative tendencies in check. They balanced each other and the total was greater than the sum of the parts. That's how I see business: great things in business are never done by one person, they're done by a team of people. - Steve Jobs
Insmed (NASDAQ:NASDAQ:INSM) is an intriguing company brought to our attention by a member of the Integrated BioSci Investing ("IBI") community. As a growth bioscience, Insmed is targeting several promising rare diseases. If the developing franchises prove to be successful, Insmed can become a multi-bagger investment. In observing the share price movement for the past 52 weeks, we noticed that the stock has enjoyed a gain of $7.63. It is currently exchanging hands at $24.98 for +43.9% profits for the said period. Despite the significant appreciation, we'll assess whether there are further upsides via a fundamental analysis. Moreover, we'll focus on the upcoming catalyst, ALIS for non-tuberculous mycobacterial lung infections.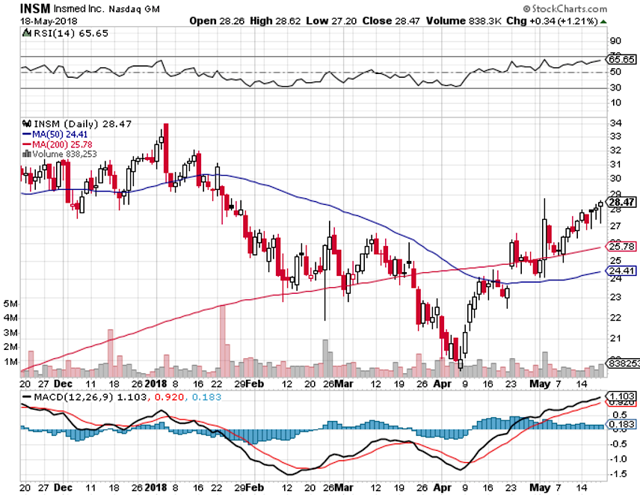 Figure 1: Insmed stock chart. (Source: StockCharts)
Fundamental Analysis
Based in Bridgewater, New Jersey, Insmed is focused on the development and commercialization of novel therapeutics to service rare diseases with strong unmet needs. Leveraging on its expertise, the company seeks to transform the lives of patients battling serious rare conditions such as bronchiectasis and pulmonary arterial hypertension (i.e. high blood pressure in the lung) as shown in figure 2.

Figure 2: Therapeutic pipeline. (Source: Insmed)
Successful innovation is driven by the sound ideas, prudent corporate mission, and the strong management. That being said, Insmed has an exceptionally strong team with deep experience and proven track record of success in research, drug development, and commercialization (Figure 3). This team is led by the entrepreneurial and collaborative spirit embodied by its President and CEO Will Lewis.
Notably, CEO Lewis joined Insmed back in Sep. 2012 as President and CEO and a member of the Board of Directors. He has the strong track records of accomplishment as the former co-Founder, President, and CFO of Aegerion Pharmaceuticals (NASDAQ:AEGR). Lewis earned his Juris Doctor and Master of Business Administration from Case Western University. And, he spent over a decade in investment banking with JPMorgan (JPM), Robertson Stephens, and Wells Fargo (WFC).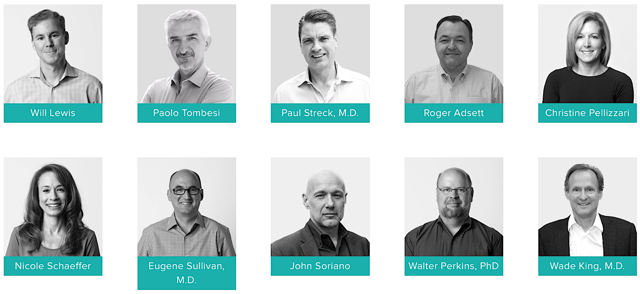 Figure 3: Management. (Source: Insmed)
Moving toward the pipeline assessment, the lead molecule in development is ALIS, indicated for non-tuberculous mycobacterial ("NTM" or "MAC") lung infection. Comprising of a safe and efficacious antibiotic (amikacin), ALIS is a molecule that encased amikacin in the firm's proprietary liposomal technology (Figure 4). Liposomes are tiny microscopic particles that harbour a water-soluble drug like amikacin inside its hydrophilic (i.e. water-loving) core. Since Organic Chemistry dictates that "like dissolves likes," amikacin (a water-loving antibiotic) is well stabilized inside the water-dominant core of ALIS.

Figure 4: Liposomal technology. (Source: Insmed)
A little info about the active pharmaceutical ingredient ("API") amikacin. As an aminoglycoside antibiotic class, amikacin is administered via intravenously ("IV") or intramuscularly ("IM"), and it is used to cure a broad range of gram-negative infections. The encasement inside a liposome via ALIS will further improve amikacin's efficacy while minimizing its potential negative effects.
As expected, the preclinical data demonstrated that ALIS liposomes are readily taken up by key immune cells in the lungs (the alveolar macrophages). Functioning to "swallow," macrophages engulf the inhaled particles ("ALIS") and thereby deliver amikacin inside the infected cells of the lungs. This ingenious delivery approach is similar to the "Trojan horse" tactic employed by Achilles million years ago.
The sound underlying science, as mentioned, is translated into the robust Phase 3 trial that investigated the efficacy and safety of ALIS in patients afflicted by refractory (resistant) NTM ("MAC") lung infections. When ALIS was given in combination with the conventional guideline-based therapy ("GBT"), 29% of the patients achieved complete MAC clearance by 6 months (Figure 5). This was confirmed by the gold standard (three consecutive negative sputum cultures). Investors might question why it takes so long to eradicate MAC infection. The lengthy treatment does not mean that ALIS is not efficacious. Rather, MAC is a highly difficult-to-treat condition often requiring multiple drugs over many months.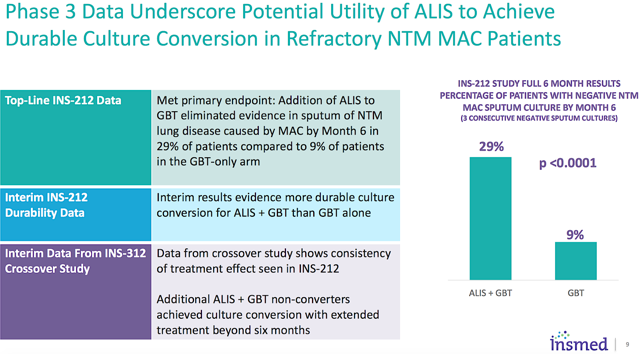 Figure 5: Strong phase 3 data of ALIS. (Source: Insmed investor presentation)
With the strong advanced clinical data, ALIS is now approaching its regulatory milestones. On June 15, 2018, Insmed announced that the FDA has set the Advisory Committee ("ADCOM") Meeting to review the data supporting the New Drug Application ("NDA") of ALIS for Aug. 07, 2018. Of note, the NDA for ALIS was filed on May 27, 2018. And, the agency tentatively set the Prescription Drug User Fee Act ("PDUFA") on Sep. 28, 2018. ALIS already gained the designation as an orphan (rare) drug, a breakthrough therapy, and a Qualified Infectious Disease Product ("QIDP") under the Generating Antibiotic Incentives Now ("GAIN") Act. Looking ahead, CEO Lewis remarked,
Currently there are no approved therapies for this rare, progressive and potentially fatal disease, representing a significant unmet need. We are pleased to have the opportunity to interact with the Advisory Committee as we work to bring forward what could be the first approved inhaled therapy in the U.S. for this serious and debilitating lung infection.
Pertaining to the financial picture, we'll take a view of the latest quarterly results. For Q1 2018 (ended on March 31), Insmed posted $68.5M ($0.89 per share) net losses compared to $37.4M ($0.60 per share) declines for the same period a year prior. The total operating expenses for the respective frames came in at $62.8M and $36M. The increase was due to higher external manufacturing and developing expenses related to ALIS (as the firm is readying for its launch).
Investors should be cognizant that it is the norm for a relatively young bioscience like Insmed to incur significant losses for many years prior to banking a net profit due to the lengthy and low success rate of the innovation process. Be that as it may, it only takes one blockbuster to make your investment worthwhile.
Regarding the balance sheet, there was $686.6M in cash and equivalents (a 444% improvement from the $126M). Total liability stood at $35M. It is notable that the cash position is greatly deepened. The improved cash is important for Insmed, as the firm is anticipating the upcoming ALIS launch. Based on the $62.7M quarterly burn rate, there should be adequate cash to fund operations for at least two years (prior to the need for any additional financing).
Final Remarks
Insmed is nourishing a highly promising pipeline of stellar molecules that have the (more than favorable) chances of delivering positive clinical outcomes. We only assessed the ALIS franchise in this research. Despite its small market potential, it is likely that ALIS can gain the corresponding positive regulatory outcomes (the ADCOM and PDUFA) for Aug. 7 and Sep. 28. Investors should also note that a stock usually rallies subsequent to a positive clinical binary. Conversely, it can ironically depreciate on certain situations (but typically no more than 20%) following a positive event. Notably, it's best that investors do not count out Insmed as the other pipeline molecules have a much more robust market than ALIS.
Risk-wise, the main concern for Insmed at this point in its growth cycle is if ALIS can earn a positive regulatory outcome. That said, the other risk is if other molecules in the pipeline can post positive clinical outcomes. Any negative binary at this point can cause the stock to tumble over 50% and vice versa.