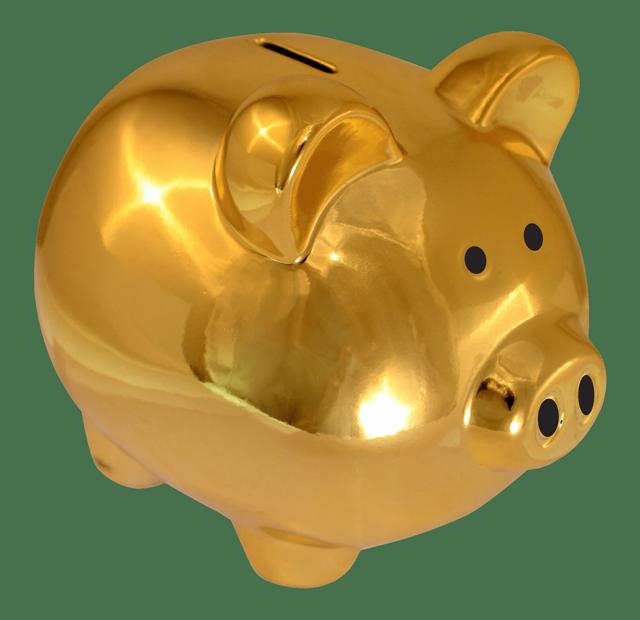 What did I think at my last portfolio review?
I last wrote about my portfolio at the end of May. I was nicely on target to hit my income goal of $27,045 for the year although my total portfolio value was down from its peak earlier in the year. I wasn't too concerned about the short term price decline, and in fact took advantage of it to buy several stocks I wanted at low prices.
Based on some comments in the comment sections of prior articles, there is some confusion as to the starting value of my portfolio. So to clear that up, I posted below is a screenshot of my broker's report for 2015, which shows the starting value of my portfolio (which is also the ending value from the last day of 2014). Adding all of the separate parts together, the starting value of the portfolio is $397,597.
I start with showing performance in 2015, even though I began constructing the portfolio in 2014 because my purpose is to show how I am managing the portfolio. The process of constructing it from the proceeds of several 401(k)s was fairly complex and I no longer have good records of the specifics. Also simulating such transactions for the two index funds I am using to show comparisons would be very difficult. Also, in case this wasn't clear before, the account is a traditional IRA. And at 56 years of age I still have a long time before I have to worry about mandatory withdrawals.
All data presented in this article comes either from my broker or from this tool. It is free to use, so you can run your own comparisons if you wish.
What has happened since?
It has been about 2 months since I last wrote about my DGI portfolio. In the two months I have used dividends to buy more shares, re-balanced some positions and started selling off the fraction shares I have. My broker has sold its brokerage business to E*Trade and as part of that transition all fraction shares have to be sold. I have started to do that for most of my positions where the next ex-dividend date is past the date where action must be taken.
So below is what the account looked like as of Saturday morning, July 28.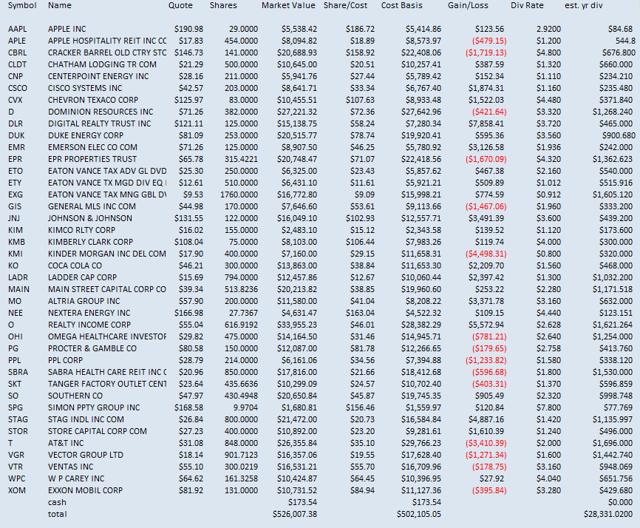 Some might notice that the total "cost basis" for the portfolio is listed at $502,105 in the table above and wonder why it is so different from the starting value of the portfolio. This is because what my broker calls "cost basis" isn't what most people would think. When Sharebuilder started, as the name implies, it was a brokerage service designed to help small investors build positions in stocks of various companies. To do this the broker made it very easy and cheap to regularly purchase shares (the original cost was $4 a month to buy all the shares you wanted). The broker also had several options to regularly purchase bundles of stocks. It was much harder and more expensive to sell shares.
So many of the displays were designed to show how well an investor was doing with their regular share purchases. Sharebuilder keeps track of how much you pay for each share you own (they started doing this from the start, well before they were required by law to do so). So, if you are always accumulating more shares, the cost basis column, which shows how much you paid for the shares you own, contains a value that most people would expect. Since it was envisioned that few people would be selling shares, the cost basis column only shows how much you paid for the shares you currently own. However, if you sell some shares, what the cost basis column shows is what you paid for the shares that remain, no accounting for profit or loss is made on the shares you used to own but no longer do. So the reason why the table shows the "cost basis" of my portfolio is now ~$105K above its starting value is that between dividends paid, net proceeds from share sales, and $26,500 added from another 401(k) rollover, I have added that much additional cash to buy more shares. Hopefully this explanation clears up any misunderstandings about what various terms on the data from my broker actually means.
I continued to buy shares of both NEE and AAPL, about 18 more of NEE and about 21 more of AAPL. You can see the impact of dollar cost averaging in each purchase. I got more shares at the lower prices. Ordinarily I make these purchases with $1500, but since with the broker change over the feature that allows me to do this was ending, I maximized the amounts I used to buy shares.

I closed out my small position in WEC Energy (WEC) and used to to buy more Dominion Energy (D). Dominion is a good company with a good dividend and great dividend growth so I took the opportunity to use my gain in WEC to buy more income and income growth from D while it is still beaten down in price. This purchase and the recent price actions served to make Dominion my second largest position, replacing AT&T (T) in that spot.

While I still have confidence in both Sabra (SBRA) and Omega Healthcare Investors (OHI), I did decide towards the end of June to lower my exposure to the SNF sector. So I used the money gains from trimming those positions to buy more Tanger (SKT). I also bought shares of the CEF EXG (EXG) to make the exchange be revenue neutral.

I also bought more Cracker Barrel (CBRL). I really want to get that nice special dividend that will be paid out in August.

The other major move I have made in my portfolio is moving funds from the REIT Chatham Lodging (CLDT) to REIT Apple Hospitality (APLE). I move funds when the prices are such that APLE has a higher yield. My aim is to get the two positions about equal in size.

In the trade show above, I traded 100 shares of CLDT and thus $11 of monthly dividend income, for 130 shares of APLE and thus $13 of monthly dividend income. This is an opportunistic trade made when the relative pricing makes it worth doing.
In June I rebalanced several positions over the course of a couple of weeks. I sold 50 shares of Emerson Electric (EMR) to buy more CBRL and more Johnson and Johnson (JNJ). I sold another 25 shares of EMR.

Next I trimmed back my position in STAG Industrials (STAG) since that has had a big run-up in price. I went significantly over-weight when the price was low, so now it's to cash in those gains and get back to a more reasonable sized position. I used those proceeds to buy more NEE and T (this company is now very low in price so this looks like a good opportunity to get some good dividends inexpensively). Next I sold some shares of Digital Realty (another company I bought heavily when its price was very low) and used that money to buy some more Southern Company (SO). Finally, I trimmed back my SBRA position and put those funds into Ladder (LADR) a commercial eREIT. I wanted to reduce my exposure to the SNF sector and since the price of shares were about what I paid for them in the first place, this looked like a good opportunity to reduce risk.

Some have asked for a benchmark, so here are two
Many investors like to benchmark their results so that they can have a better handle on how they might have done using some broad index fund. My standard for comparison has always been how fast my dividend income is growing. My target growth rate is 12% more dividend income each year than the year before. By that standard, my DGI portfolio here is doing very well. I have beaten my goal each year so far. While that is only just coming up on 4 years, other earlier portfolios have also beaten that goal. I have every reason to believe that will be able to continue to meet my goal.
Using the Portfolio Visualizer tool, it wasn't very hard to model two benchmark portfolios, one using the ETF SCHD (SCHD) and the other using the ETF (SPHD). Both, for ETFs do a good job of modeling DGI behavior, SCHD was chosen because it is a larger fund and SPHD because it has a higher yield. The primary point of comparison is how the three portfolios meet my income goal. I include information on the total return of each model portfolio in the interests of transparency and because I have to scroll past those results to get to the income data in the results of the Portfolio Analyzer tool.
I redid the model portfolio data for this article because I noticed that while I started with a dollar amount that corresponded to the value of the stocks I owed, in later years I used the total value of the account. That is only a couple of hundred dollars' difference, but I wanted to be consistent. Also I changed how I modeled the addition of $26,500 added to the account in a roll over from a 401(k). Previously I modeled the two funds from January 1, 2015 to April 30, 2017 added $26,500 to the balance and then used that total as the starting point to model what happened over the remaining period. Now I model both funds over the entire period and add to their totals for 2017 and 2018 the numbers generated from a model that starts with $26,500 on May 1 2017. The reason I did this is to eliminate the possibility that some dividends were missed when I divided things around May 1, 2017.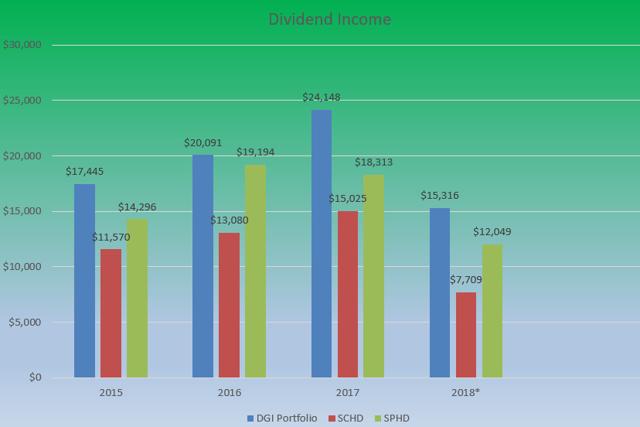 The 2018 results are as of market close on July 27. I expect about $180 more in dividends on July 31 in my DGI portfolio. I think it's clear that my DGI portfolio performed better than either of the two ETFs. SCHD produced significantly less dividend income and isn't growing it as fast. SPHD did better on both yield and growth, but the payments declined in 2017. Part of that was caused by the share price going up so much (as you will see below with the total return chart), but it is also disappointing in that it cut the annual dividend per share payments. My DGI portfolio is also well ahead this year. It so far has collected 14.6% more dividends than this time last year (that will go up to 15% when the $180 I expect on Tuesday comes in). Because ETFs don't have consistent quarter to quarter payments of dividends, it's hard to tell how much better I am doing that the ETFs, but it's looking good.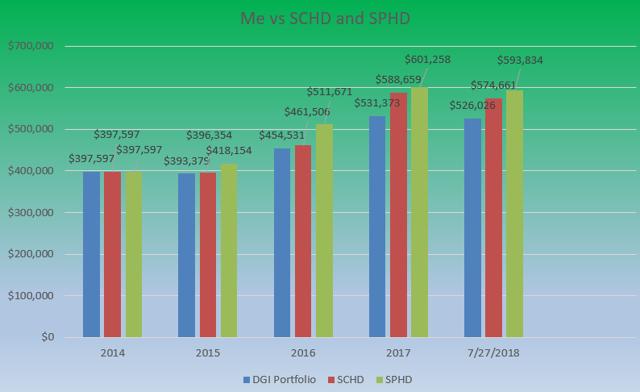 The total return numbers do not come out so clearly in my favor. Starting in right away with SPHD and by the end of 2017 for SCHD, the ETF based portfolios have a larger value than my DGI portfolio. Keep in mind both that I am not really paying much attention to capital gains while the ETFs are and that dividend reinvesting works best over longer periods of time. So it's not unexpected that the ETFs pulled ahead some this early. Also keep in mind that the purpose here is to provide income. Right now, with all the dividends being reinvested that doesn't make as big a difference as it would if the income needed to be paid for living expenses. When that time comes, rather than increasing the share count, the ETFs will be reducing it while my DGI portfolio sees no such reduction (or a lesser one given its higher income production).
Also, while this is an even shorter time frame, YTD my DGI portfolio is doing better than the 2 ETF based portfolios on a total return basis. Using the Portfolio Analyzer tool to see YTD performance (and for comparison purposes I started them out with $531,373 which is what my DGI portfolio was worth at the start of the year), it's easy to see that Portfolio 1 (which is 100% SCHD) is ~$6K down from my DGI portfolios value and Portfolio 2 (which is 100% SPHD) is down ~$180 more than my DGI portfolio (note that my total account value is reduced by just under $1K of short option contracts I hold).


Conclusion
I am well on target to meet my goal of growing my income this year by 12% over what I got last year. Right now I am just under 15% ahead of where I was last year. I should be over 15% ahead when the final 3 dividend payments for July come in (from the CEFs EXG (EXG), ETO (ETO) and ETY (ETY). I August I have a special dividend coming from CBRL of $528.75 that I did not get last year. That should push me even higher. I also still have some time to add shares that will increase the dividends from some of my positions. I should collect somewhere around $11,800 in dividends from existing shares as well as more than $600 in special dividends.
Dividend growth investing does work provided your goals include income from dividends. Sure, it's not fast at first, but it does build up speed. Right now I am on track, and even a little bit ahead, of producing $100,000 a year in income in just 11 more years. And unlike share prices, most dividends go up each year (or at least you can identify companies where that will be the case).
My current broker is selling out to E*Trade and many of the features that I liked are going away. So I'd be interested to hear what other folks think of their brokers. From what I can see with E*Trade the commissions will be going up a bit and the feature I liked best where I could schedule buys to happen and get a dollar amount of shares (instead of a specific number of shares) isn't supported there. Anyone have a broker with those features or some other unique feature?
Note: I hope you all got something out of this article. I do appreciate the time you took reading it. If you are one of those who follow me here, I appreciate it; if you'd like to include yourself amongst those individuals, please hit the "Follow" button next to my name as well as following other contributors whose work you enjoy. As always, please leave any feedback and questions you may have in the comments below.
Disclaimer: This article is intended to provide information to interested parties. As I have no knowledge of individual investor circumstances, goals, and/or portfolio concentration or diversification, readers are expected to complete their own due diligence before purchasing any stocks mentioned or recommended. The price I call fair valued is not a prediction of future price but only the price at which I consider the stock to be of value for its dividends.
Disclosure: I am/we are long AAPL, APLE, CLDT, CBRL, STAG, OHI, SBRA, D, EMR, ETO, EXG, ETY, JNJ, LADR, SKT, SO, T. I wrote this article myself, and it expresses my own opinions. I am not receiving compensation for it (other than from Seeking Alpha). I have no business relationship with any company whose stock is mentioned in this article.